Monthly Horoscope August 2021: Astrological Prediction for Zodiac Signs with Love, Money, Career and Health
Monthly Horoscope for August 2021: Despite the fact that 2021 for many will be a new year: getting education, experience or mastering a specialty, it is not recommended to start training in early August.
Monthly Planetary Overview
It is better to postpone the start until the second half of the month. The horoscope for August 2021 warns that the air signs of the zodiac are the least lucky. It is important for them to wait out the first weeks of the month, and especially not to work too much, while not letting important things out of their sight.
The horoscope for the month of August recommends to the signs of the elements of the earth to be attentive to your health and money: thefts and ailments are possible. Keep track of your diet and wallet. But the water signs in the middle of the month will come off to the fullest: someone will have a new romance or a short but vivid hobby will appear, someone will have unforgettable trips. August 2021 will be held under the motto: many things to do at the same time and very frequent mood swings. For most of the zodiac signs, the horoscope for August promises to chase several hares at the same time. As a result, it will not be clear what to bet on, and as a result: a month of empty hassle and unnecessary body movements.
In the third decade of August, namely from the 20th, Uranus will begin its retrograde motion. Uranus is the planet of unexpected decisions, sudden ideas and plans, so forgotten ideas will return to your head. The August 2021 horoscope warns that the likelihood of a radically new opinion on certain things is high. At this time, it is advisable to be on the wave and not be afraid to experiment, introduce new things and look at the world with a fresh look. Rest at the end of the month is recommended for fire signs, it is also worth visiting a sanatorium and doing disease prevention. At the end of the month, the horoscope for August strongly discourages serious surgical interventions.
The horoscope for August 2021 as a whole foreshadows that the month will be hot, but it will not bring serious negative events to most of the signs. You need to be prepared for the fact that plans for education, promotion, vacation or travel can change dramatically at any time, and you will have to adapt very quickly to the prevailing force majeure. Fast response and editing plans is the motto for August for all zodiac signs. And it doesn't matter in what area. Those who are not ready to learn and adapt quickly will be thrown overboard. It is important to prove to the world and to yourself in August that the goals and plans that have been set are vitally important to realize. The second important message of the month is that you cannot go with the flow, you need to be ready for action at any time, and most importantly, to new solutions for yourself.
Monthly Zodiac Horoscope for August 2021
Aries
The first sign of the Zodiac, Aries are the trailblazers. Passionate and independent, Aries will never do something just because everyone else is doing it—a Ram needs to be 100 percent committed to the task at hand.
Monthly Love Horoscope - During the first two weeks the sky for your loves is transparent. You are full of new ideas. In a relationship or single your energy is overflowing. We can't imagine you not capable of such resources. You are living the moment, a bright future awaits you. Your priorities are targeted, your loves are light and airy.
Single persons will be blessed with new love partnerships this month. You will use your sensuality and magnetism to attract the opposite sex. There is no problem in succeeding in your search for love.
Monthly Money Horoscope - You may hope for promotion in work, and this can contribute to an increase in income. You could make handsome gains through your business or vocation, and also, thanks to your life partner. The Aries professionals should enjoy a generous money flow this month. Those in the architectural field can hope for handsome progress. They may also get good professional opportunities abroad. There might also be marked advancements in the financial status of physicians. Those in the acting field could sign new contracts.
Monthly Career Horoscope - The employed might progress in work, and also get increment. But you may have to put up with an increase in workload, and this can contribute to pressure and sleeping disorders. Meditation and regular exercises like walking could help tackle depression and sleep disorders. But people working in communication and printing fields may make good progress or gains. Those expecting employment opportunities abroad might get their wish fulfilled with jobs in a foreign land. A few of you may buy some utility items for domestic use.
Business prospects look moderate. There may also be an increase in competition. It makes sense to refrain from making new investments in business now. Profits from trade could be average. However, those in partnership business can hope for significant gains. You are advised to be cautious while handling accounts.
Monthly Health Horoscope - Work pressure may result in depression, while you might also have to experience sleep disturbances. Please practice regular meditation and walking exercises, and this could help you overcome troubling issues. Elderly women may suffer from joint pains, and it is better for them to seek medical advice.
Taurus
Smart, ambitious, and trustworthy, Taurus is the anchor of the Zodiac. Amazing friends, colleagues, and partners, Taureans value honesty above all else and are proud that their personal relationships tend to be drama free.
Monthly Love Horoscope - This looks to be the ideal time for those holding back their love feelings and keeping those locked up, to express them out to their love interests. The husband-wife bond may become more cordial. But, your father and, or mother's health might require attention.
Monthly Money Horoscope - There may arise in your mind this month an intense urge for making more money and increasing your life's comforts. You can also extend a helping hand to others and receive some help from them, too, in case of need. You might also be involved in virtuous acts like charity. Your family members could feel proud of such noble acts of yours. You are likely to go the whole hog in starting or running the business. You may also accept the trading opportunities that come your way and perform well. You might also entertain ideas of venturing into some new business. Customers could also feel happy and satisfied and appreciate your business acumen.
Monthly Career Horoscope - The employed are likely to receive appreciation for their endeavors. Your work efficiency and performance may earn your superiors' admiration. Some of you can also receive electronic gadgets like mobile phones, laptops, etc., from the office. Taurus professionals are likely to handle all their activities with self-confidence. While this is good, it is not, however, advisable for you to be over-confident. Some of you may buy some electronic gadgets for use in your profession.
Monthly Health Horoscope - You should enjoy robust health. You are unlikely to suffer from any major health issues, but still, you need to be cautious. As there are chances for stomach-related ailments like constipation, you have to be particular about your food intake. However, you may be happy in general, and this should make you hale and hearty.
Gemini
Smart, passionate, and dynamic, Gemini is characterized by the Twins, Castor and Pollux, and is known for having two different sides they can display to the world. Expert communicators, Gemini is the chameleon of the Zodiac, adept at blending into different groups based on the vibe and energy they perceive.
Monthly Love Horoscope - Family relationships may not be cordial. There could also be some misunderstandings with your maternal relatives. Tension in family life can prevent you from spending enough time with your life partner. Due to this, you might have to encounter some bitter moments in your marital bond.
Monthly Money Horoscope - Money flow looks to be average now. But those in the fields of writing, acting, and fine arts could make a good income. People engaged in foreign trade can also hope for considerable earnings. Still, you may have to work hard to meet your targets. Others, too, might be required to put in sustained efforts to reach their goals. Overall, your financial position looks to be moderate now.
Monthly Career Horoscope - The planetary placements this month do not look promising for your career growth. Even your hard work may give you only limited results. This month itself is likely to be full of ups and downs when you might be able to expect only mediocre results. However, you could learn many new things at this time. Business persons may gain through business-related trips. Those engaged in foreign trades and export-import business can get an opportunity to go abroad for business reasons. Your trip in the Northern direction could get you some good opportunities. Some of you may convert a business trip into a family outing.
Monthly Health Horoscope - You cannot expect to remain in pink of health now. So, please be very careful. You may be plagued by lethargy and fatigue, and this can reflect in your activities. Tension in the job could also affect you and cause problems. You are advised to seek medical advice, even in case of minor discomfiture.
Cancer
Emotional, intuitive, and practically psychic; ruled by the moon and characterized by the crab, Cancer has so much going on in its watery depths. Cancers may seem prickly and standoffish at the first meeting, once they make the decision to become friends with someone, that person has a friend for life.
Monthly Love Horoscope - There can be parental interference in your marriage-related matters, and this could become the cause for dissatisfaction of some of the youngsters. But differences between husband and wife may get resolved, and they might enjoy an intimate, cordial, and happy life. You may also be able to maintain an amicable relationship with relatives, friends, and others. This can make you happy.
Monthly Money Horoscope - There are possibilities of your cash flow increasing this month. The expenses may also be under control, and these can help you manage your day-to-day requirements with ease. You could also save money for the future.
Monthly Career Horoscope - You may be required to devote time to sorting out the problems at the workplace this month. You could possess the natural ability and skills to resolve such issues; still, you can find it hard to handle them now. Your communication skills might also be less effective. Hence, it is advisable for you not to have important discussions or meetings during this time. You may have to wait patiently for a few more weeks for beneficial results.
Business competition can be tough now, and this may leave you worried. The chances of any significant business growth also look remote. You might face some small delays, too; still, you are likely to manage things overall. Your work efficiency could improve gradually, while you may also gain through short trips.
Monthly Health Horoscope - There are strong possibilities of your past health complications rearing their heads again, now. So, it may be essential for you to go in for thorough investigations on medical advice. Even in case of minor discomfiture, please approach the physician and get treated immediately. Also, avoid pollution, and stay away from congested places. Regular exercises can help you maintain your fitness levels.
Leo
Bold, intelligent, warm, and courageous, fire sign Leois a natural leader of the Zodiac, ready to blaze a trail, vanquish injustice, and make a name for themselves along the way. Blessed with high self-esteem, Lions know that they possess enviable traits—and they're proud of them.
Monthly Love Horoscope - Love relationships can be sweet and pleasant for the young. There are chances for the tender feeling of love blossoming in a few hearts. The married may also enjoy a cordial relationship. Your life partner could like and appreciate your sense of beauty, artistic sentiments, and outlook, and this might add to the intimacy between you both.
Monthly Money Horoscope - The planetary positions indicate an upswing in your economic status now. Lady luck may smile, and fortune can come calling on you. Some of you could make income through your friends. This might also be the right month for you to invest in stock markets. You could receive advice from an elderly person on financial matters. You may face fresh challenges in business dealings. If you manage things wisely, you can succeed and meet the targets. Business competitions are likely to go up, but you could overcome those by adopting new techniques. You may also appoint new employees in the office.
Monthly Career Horoscope - Your office atmosphere should be conducive for your performance, and there is unlikely to be any impediment to your progress now. Your hard work may also earn recognition and praise from your superiors. However, you are advised not to enter into any argument with colleagues or higher authorities. Official trips can work to your advantage. You are likely to work with confidence, deliver in your leadership role, and earn a good income. Some of you might get new job responsibilities. Overall, your name and fame could go up at work.
Leo professionals might advance through new work opportunities. You may work with self-confidence, finish your tasks on time, and make significant gains through your profession. This can earn you recognition now. Try to take others' criticism in your stride, and this could help you with beneficial results.
Monthly Health Horoscope - You are likely to remain fit. Those suffering from stomach problems like indigestion may get relief. However, please avoid fast food or junk food. Taking nutritious and timely food can help you maintain your health well. Regular exercises could also help you remain hale and hearty.
Virgo
Smart, sophisticated, and kind, Virgo gets the job done without complaining. Virgos are amazing friends, always there to lend a hand and also lend advice. Practical Virgos are incredibly adept at big picture thinking, and planning out their life, their vacations, and what they're going to do today isn't a drag it makes them feel in control and secure.
Monthly Love Horoscope - Your heart may be overflowing with love and affection now. Your love for your life partner might be genuine, and this could make you both feel quite happy now. Please respect the sentiments of the elders in the family, and this can help you maintain a harmonious relationship.
Monthly Money Horoscope - You may look for new ways to augment your income. Your financial position might not be comfortable at the beginning of the month, but there could be gains for you by mid-August. This can help improve your economic condition. This also looks to be the right time for you to pay back your loans.
Monthly Career Horoscope - You should be working efficiently now. Those set to join employment may be eagerly looking forward to the opportunity with enthusiasm. This period can prove lucky for those in the media field. You could be seeking the advice and guidance of others and working with self-confidence. There can be a marked advancement in business prospects. You may also get good opportunities to make sizable profits. So, be prepared to make the best use of the opportunities that come your way. You might face stiff competition in business but could beat back the challenges and succeed in your endeavors.
Monthly Health Horoscope - You are unlikely to suffer from any major health disorders. Still, the middle-aged may suffer from joint pains, muscular aches, and the like. It is advisable to seek doctor's opinion immediately, even in case of minor inconveniences, now. It is also necessary to undergo regular medical check-ups to maintain your fitness.
Libra
Intelligent, kind, and always willing to put others before themselves, Libras value harmony in all forms. Ruled by Venus, the planet of beauty, Libra adores a life that looks good. As the master of compromise and diplomacy, Libra is adept at seeing all points of view and excels at crafting compromises and effecting mediation between others.
Monthly Love Horoscope - Those in marriageable age may find suitable life-partners of their liking this month. You might receive the support of your family members for choosing your partner and fulfilling your wishes. This could be an advantageous time even for the married, when you both can lead a harmonious marital life.
Monthly Money Horoscope - You might face financial strains. Expenses could be high, whereas your economic condition may not be satisfactory. You can still improve the situation by putting in hard work. You may be required to meet the monetary demands that can come up suddenly this month, while you may need to save for the future, too. Hence, please handle financial matters with caution.
Monthly Career Horoscope - You could face some challenges in the job. Some of you can get a promotion at work, but that might not give you satisfaction. You may receive some indirect help for solving your problems. You might also be able to overcome a few of your difficulties by speaking things out openly at the workplace. It is advisable for the Libra professionals not to make any promises this month. It is better that you do not also start any new activity now; instead, focus on finishing the job on hand first. Your co-workers can be helpful to you at this time.
Monthly Health Horoscope - Your health may get affected due to stress. Overwork at home and in the office can also cause fitness concerns. Please do not accept any new responsibility at this time. It is advisable for you to take a short break from work, rejuvenate yourself, and resume work with added vigor.
Scorpio
Passionate, independent, and unafraid to blaze their own trail no matter what others think, Scorpios make a statement wherever they go. They love debates, aren't afraid of controversy, and won't back down from a debate.
Monthly Love Horoscope - There are chances of differences of opinion with your partner on money matters, at the latter part of the month. But good opportunities may come up subsequently, leading to improvement in your financial position. You can get whatever your life partner wants and thus make him or her happy. You may also spend quality time with them, and this can contribute to happiness in the family. You might take your spouse out, too, and have an open-hearted discussion with him or her.
Monthly Money Horoscope - You could get a promotion in your job and earn more income as a result. With the free flow of money, your financial position can become stable. You may not suffer from any major losses, and this should give you consolation. You might also be able to manage your expenses with your savings. Family may enjoy comforts and luxuries now.
Monthly Career Horoscope - There may not be any significant career progress, and this can leave you disappointed. Even hard work might not get you results commensurate to your efforts. Cooperation and support from others, too, may not be forthcoming at the workplace, and you could find it difficult to finish pending tasks. You can also find it hard to lead a team and get things done.
You may have to come out with smart work for running your business successfully; whereas, your mind might be thinking about family issues constantly. However, you can think cleverly and make some good business moves at the latter part of the month and thus make up for the loss of time in trading operations. You might also make some clear and crucial decisions to raise your business to a higher level.
Monthly Health Horoscope - Your immunity could increase and help you maintain good health now. You are likely to become strong and may not face any major health disorders. Even if you suffer from any minor ailment, it can get cured easily. Still, be careful with your food intake. Also, daily exercise can help you maintain your fitness well.
Sagittarius
Independent and strong-willed, Sagittarius personalities are all about going off the beaten path. Sagittarius isn't afraid to step away from the pack and is a natural-born leader who goes after what he or she wants, regardless of what other people think.
Monthly Love Horoscope - Love matters might succeed. Family bonds also look good. While you may enjoy harmonious family relationships, rapport with children can also become strong. All these could ensure peace and joy in family life. Some of you may also proceed on outstation pleasure trips with friends this month.
Monthly Money Horoscope - Planets seem to be favorably placed, and thanks to this, you are likely to enjoy stable finances. You may undertake a new job or business in order to increase your income, and this can give you long-term benefits. Your expenditure might not be much now, and you could spend money on spiritual matters. Overall, there are bright chances of a promising financial position for you this month.
Monthly Career Horoscope - The employed may work efficiently and rise to good positions. You can also hope for job promotion and increment. But please be careful while dealing with superiors. Also, you might encounter minor impediments on your path to progress, and so be cautious about them. But your eloquence should lead you to success, now.
Monthly Health Horoscope - You are likely to be active and enthusiastic now. Still, overwork may tell on your health, and there are chances for you suffering from leg or back pains. So, please do take good care of your fitness.
Capricorn
Smart, hardworking, and fully in control of their destiny, a Capricorn will always get what they set their mind to, in both personal and professional life—no excuses. Capricorns may get a reputation as stubborn, but they simply know what they want, and also know how they wish other people would behave.
Monthly Love Horoscope - Please avoid arguments and fights at home, and this can help you have peace in the family. This may also help maintain a harmonious relationship with everybody in the family. It is also necessary that you understand others' sentiments and act accordingly. Through adjustments, accommodation, and 'give and take,' spouses might be able to enjoy good intimacy between them.
Monthly Money Horoscope - Your financial position can be encouraging. If you are facing any legal issues in respect of property or will, those may get resolved in your favor this month. You could win property-related court cases and receive handsome money. This might improve your economic condition.
Monthly Career Horoscope - The employed may get their superiors' praise, while some can be entrusted with new responsibilities. There are chances for those looking for employment opportunities to get good jobs in the month-end. You might generally work with a lot of focus now. There are possibilities for the self-employed and those involved in trade to get bank loans that they were expecting or waiting for. This also looks to be the right time to make investments in new business or expand your business with the help of new technology. However, it is better you do not share your business matters with anybody else. This can save you from getting deceived by those who consider you as their competitor.
Monthly Health Horoscope - You may generally remain fit and manage to maintain your health well this month. Please do meditation, Yoga, etc., regularly, and these can also help you remain hale and hearty.
Aquarius
Independent and enigmatical, Aquarians are unique. There is no one quite like an Aquarius, and because each is so incredibly individual, it can be tough to describe them as a group. Aquarians don't like labels, and may shy away from any adjective—even the good ones you might bestow upon them.
Monthly Love Horoscope - There are chances for differences of opinion between spouses, even on minor issues. Hence, avoid arguments with your life partner. Instead, try to have a free and open-hearted discussion with him or her, which can help improve the harmony between the two. You could also devote quality time to family members and have pleasant interactions with them. This, too, may help improve family bonds.
Monthly Money Horoscope - Those in the medical, law and writing fields could make considerable income this month. You may also earn money through your creativity and efficient operations. Traders, too, can hope for good profits. You may also go for new business investments. Overall, this might well be the time when many of your dreams get fulfilled.
Monthly Career Horoscope - You may have to work hard to excel in your job. Your superiors could be impressed with your work; still, they can point out your shortcomings, too. So, please be tolerant in this regard, and try to convert your weaknesses into strengths. You might gain through official trips, while you could also be entrusted with new responsibilities. However, you may have to wait patiently for some more time for the likes of promotion and increment.
Monthly Health Horoscope - Please take a balanced diet at proper timings, which can help you maintain your fitness. There are chances for some problems in the throat or neck region now. Please seek medical opinion even in case of minor health disorders, and go for investigations, where necessary. Also, add vitamin-rich vegetables to your intake. This could prevent you from incurring any major ailment.
Pisces
Smart, creative, and deeply intuitive, Pisces can be close to psychic. Pisces feel things deeply and have incredibly strong gut reactions. A Pisces "knows" things from deep within, and can often judge whether a person or situation is good or bad.
Monthly Love Horoscope -The married can enjoy a more congenial bond, where you may receive the love and affection of your spouse. Those involved in love relationships could feel happy, thanks to their partners. You might also take your life partner to places like parks, cinema theaters, etc., and spend some pleasant moments. Overall, this could well be the time when you share joy and happiness with your relatives.
Monthly Money Horoscope -This appears to be a fortunate month for you, financially. You may make efforts to invest money even in risky propositions while also plan to make investments in new businesses. You could lend money to needy friends, too, now. But those people might not return the amount to you when you ask for it. So, please be cautious in this regard.
Monthly Career Horoscope - You may receive due recognition from superiors and co-workers for your creativity and enthusiastic performance at work. This can encourage you and make you work happily. Authorities might also entrust you with new job responsibilities, and your performance can receive all-round appreciation. Your strengths like administrative capacity and speaking skills that can attract customers may help businesspersons succeed this month. Those in the creative, music, and cinema fields could be quite successful, in particular, now.
Monthly Health Horoscope - You may not experience any major health disorders this month. The favorable atmosphere prevailing around you is likely to give you peace. You might spend some pleasant times with family, relatives, and official circles, which can add to your physical and mental wellbeing.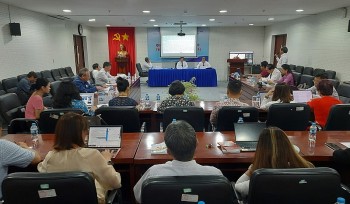 Friendship
The Vietnam - India Friendship Association's Ho Chi Minh City branch, the Ho Chi Minh City Union of Friendship Organizations (HUFO) and the Southern Institute of Social Sciences on March 21 held a scientific seminar themed "Vietnam - India relationship: tradition and present".