More and More Join in Covid-19 Fight in Vietnam
This support can contribute to Vietnam's ongoing fight against the Covid-19 pandemic.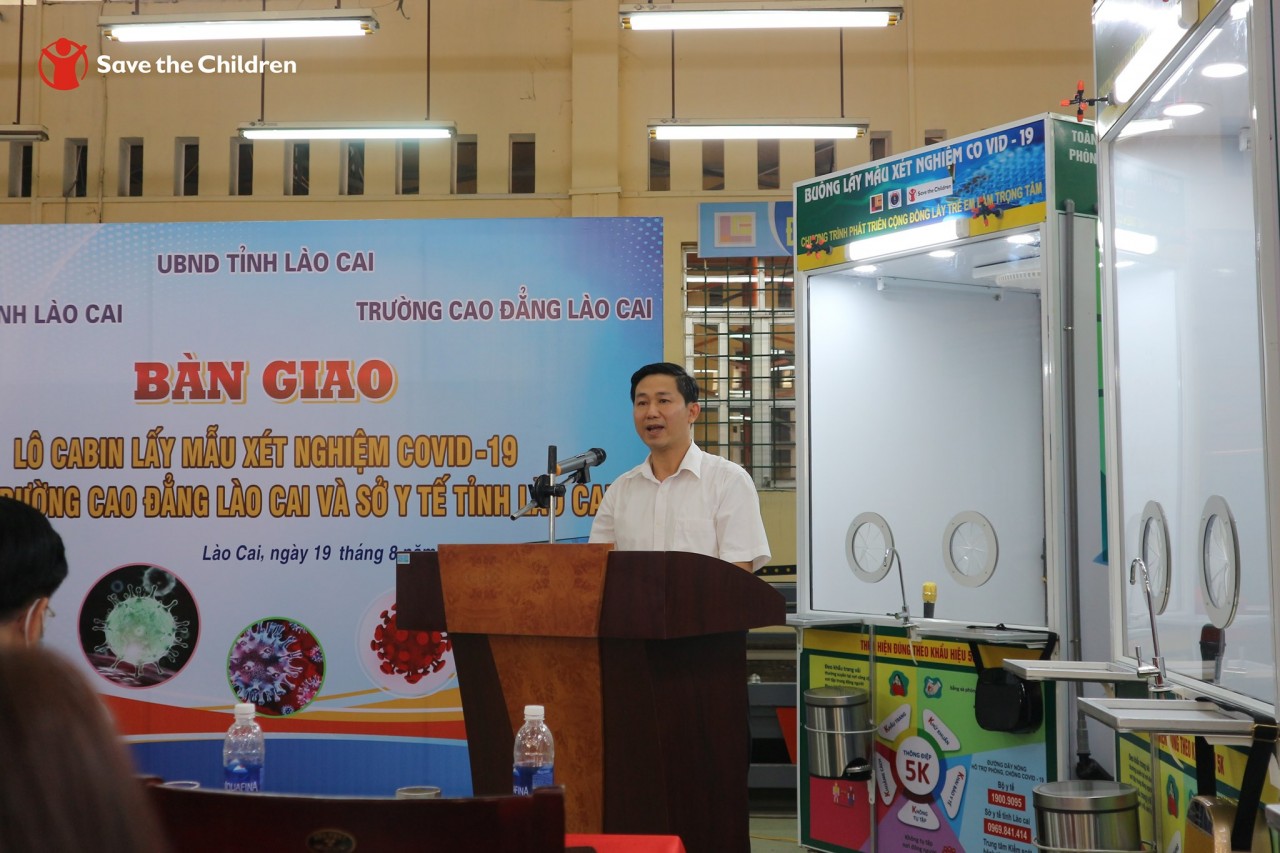 At the hand-over ceremony. Source: Save the Children
Lao Cai Department of Health (DOH) and Save the Children on Aug. 19 handed 13 Covid-19 testing booths and 10,000 quick test kits to support their ongoing efforts to prevent and control the pandemic.
The 13 testing booths were handed over to Lao Cai General Hospital, Lao Cai Children's Hospital, Lao Cai city General Hospital, checkpoint Km237 on the Noi Bai – Lao Cai highway, and Health centers in the eight districts. The 10,000 quick test kits were handed over to Lao Cai Center for Disease Control and Department of Health.
Save the Children's Covid-19 emergency support package was provided in response to Lao Cai DOH's request from in July 2021. This timely support is highly appreciated by Lao Cai Health Department for its contribution in the province's Covid-19 prevention work.
Speaking at the ceremony, Luc Hau Giang, vice director of Lao Cai Health Department said, "The booths' quality was deemed satisfactory by the department. With support and resources from the Child-centered Community Development Program, it took only one month for the Lao Cai Vocational College to finish production of the testing booths. Today, we hand over 13 booths to Lao Cai Department of Health."
Taking samples from the booths ensures the safety for both medical staff and the people being tested, thus minimizing the risk of infection, he added.
Previously, Save the Children has supported Lao Cai Health Department to buy three hotline phones for the Command center for Covid-19 prevention and control to use in coordination between treatment centers, quarantine centers, and for reliable information about Covid-19. Furthermore, five training courses on dealing with vaccine-related complications and emergencies were organized for about 300 health workers from the General Hospital and districts' health centers.
Up to the morning of Aug. 20, the "Help Vietnam Breathe - Vì Nhịp Thở Việt Nam" campaign of VinaCapital Foundation has successfully raised VND 15.574.179.250. 45 ventilators and 30 days of Personal Protective Equipment have been donated to Covid-19 treatment hospitals in HCMC, Long An province and Can Tho province.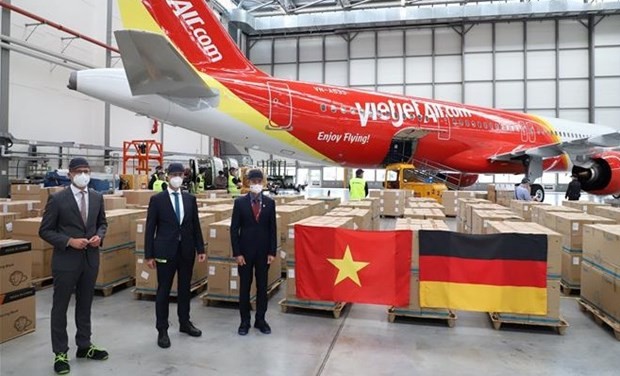 10 tonnes of relief goods worth EUR 616,100 (USD 720,000) donated by German friends and Vietnamese people living in the country. Photo: VNA
Elsewhere, the administration of Berlin city on Aug. 19 presented 30,000 Covid-19 quick test kits to Vietnam to support the country's fight against the pandemic.
This is also a gift of gratitude to Vietnam and the Vietnamese community in Germany for their donation of masks and other goods for Berlin in the past time, Christian Rickerts, Secretary of State for Energy and Digital Affairs in the Berlin Senate Department for Economics, Energy and Public Enterprises stated at the hand-over.
Earlier, many localities of Germany presented quick test kits, ventilators, face masks and medical supplies to Vietnam.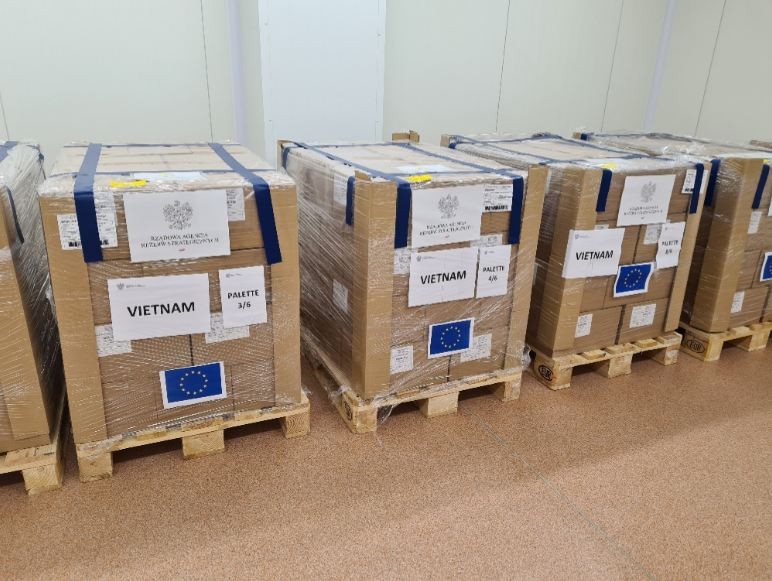 Poland's handing over the Covid-19 vaccines to Vietnam is a way to support the country's efforts to mitigate pandemic risks. Source: Ministry of Foreign Affairs Republic of Poland
More than half a million doses of Astra Zeneca Covid-19 vaccine have left Poland for Hanoi on Aug. 20 (local time). It is a gift from Poland for Vietnam, which is experiencing an increasingly difficult situation.
The dispatch ceremony was attended by Anna Goławska, Undersecretary of State in the Ministry of Health; Paweł Jabłoński, Undersecretary of State in the Ministry of Foreign Affairs; Michał Kuczmierowski, head of the Government Agency for Strategic Reserves, Paweł Jabłoński, Undersecretary of State at the MFA, and Vietnamese Ambassador to Poland Nguyen Hung.
In the coming weeks, more medical equipment and personal protective equipment will be shipped to Vietnam.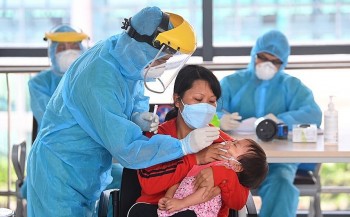 National
Nearly 72 million vaccine doses have been administered nationwide, with 20.7 million people getting their second shot.