Vietnamese in Europe Support Covid-19 'Vaccine Passports'
Many Vietnamese in Europe support the "vaccine passport" rule that France and many other countries apply when the Covid-19 pandemic is still complicated.
Eiffel Tower staff check the "vaccine passports" of guests in Paris, France on July 21. Photo: AFP
Minh Phuong, supports the "vaccine passport" regulation that France and many other countries apply, believing it will help the world return to normalcy.
"I support this regulation because it helps people avoid the situation of having to close again. Currently, I have not had any difficulties with the new regulation," Minh Phuong, a Vietnamese living in Paris said.
Starting August 9, people in France will need to present a certificate of health to be allowed to enter coffee shops, restaurants or take intercity trains, as an extension of the President Emmanuel Macron's plan to reduce the risk of spreading the pandemic and encourage vaccination.
A health certificate generated with a QR scan code, issued to people who have been fully vaccinated, tested negative for nCoV within 72 hours, or have recovered from Covid-19.
"This certificate and vaccination campaign will help us avoid new curfews and blockades," said Health Minister Olivier Véran.
Previously, from July 21, the French government began requiring the presentation of health certificates at cultural venues such as cinemas, theaters and museums. The French regulation has been met with harsh criticism from a part of the population, when continuous protests have taken place over the past several weeks. They argue that regulation is taking away freedom.
"Freedom means nothing if we infect our friends, neighbors or grandparents. Freedom has to go with responsibility," Macron said.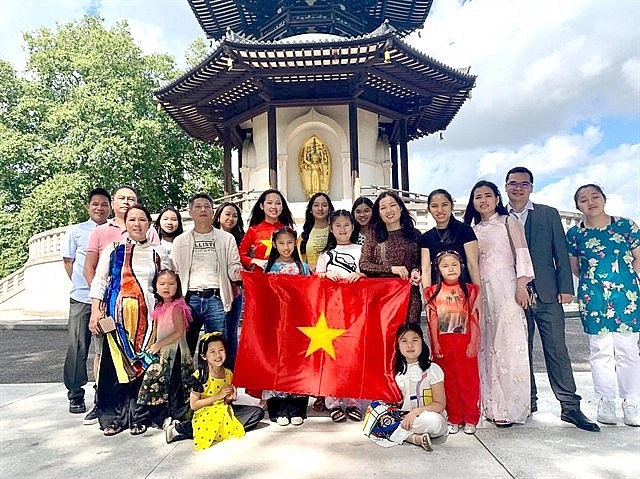 Overseas Vietnamese are pictured at the inauguration of Joining Hands With Vietnam To Overcome Covid-19 campaign in London, UK. Photo: VNS
Minh Phuong said that issuing a QR code and using it is quite simple and convenient. Like many people, she feels happy that life is gradually returning to normal, after months of lockdown or other restrictive measures.
To protect herself against the threat of Covid-19, especially the contagious new variants, Phuong quickly completed the vaccination program. "I've had two shots of the Pfizer vaccine," she said.
France is the 5th largest pandemic area in the world, with more than 6.4 million infections and more than 112,000 deaths since the outbreak of Covid-19. The country of more than 65 million people started implementing a vaccination program from the end of December 2020. Currently, more than 68% of the population has received at least one dose, while more than 57% complete the vaccination program.
Like France, Italy has begun to deploy "vaccine passports" to gradually bring life back to normal. From August 6, people in Italy need to present a "green card" before entering restaurants, museums, gyms, theaters. The rule also applies to teachers, staff and students of schools, as well as passengers on domestic flights, ferries and long-distance trains.
Holders of a "green card" must meet one of the requirements such as having been vaccinated with at least one dose, recovering from infection within 6 months or having a negative test result for Covid-19 within 48 hours.
Lan Anh, an exchange student in Sicily, Italy, shared that government regulations are necessary in the context of the current complicated pandemic.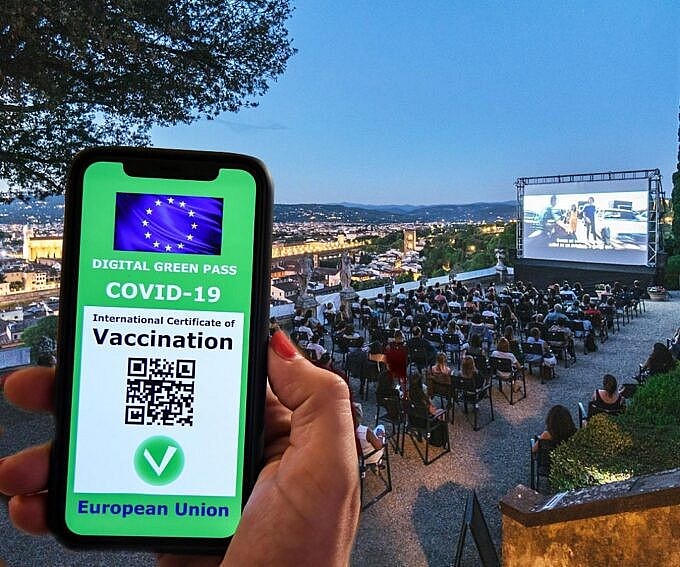 Green pass in Italy. Photo: theflorentine
"I support this regulation, because it contributes to reducing the risk of infection. With the current pandemic situation, this is necessary," she said.
Because of a history of allergies, Lan Anh is currently not vaccinated against Covid-19. Therefore, she always takes all other precautions to protect herself such as limiting contact, wearing a mask and disinfecting every time she goes out.
"The area where I live has also lifted restrictions. Life in general has returned to normal. Prevention measures now mainly rely on people's awareness," Lan Anh said.
Italy, a country of more than 60 million people that was the epicenter of the Covid-19 pandemic in Europe last year, has recorded more than 4.4 million infections and more than 128,000 deaths from the pandemic. Nearly 67% of the population has received at least one dose of the Covid-19 vaccine, of which nearly 56.7% have received the full dose.
Italy was the first European country to make vaccination mandatory for doctors and health workers in both public and private systems. Non-injectors are prohibited from having direct contact with the patient.
Lan Anh shared that she had completed an exchange program in Italy, so she also limited going out to avoid the risk of infection. It is expected that she will return to Vietnam this month, but the plan is stalled due to the pandemic.
"At the moment, I can't be sure of a return date," she said.