More provinces in Vietnam to kick off Covid-19 vaccination program
As major localities are about to start the second round of Covid-19 vaccination, certain provinces less vulnerable to the virus, including Tuyen Quang, Phu Yen, Vinh Long are injecting the very first dose of AstraZeneca vaccine.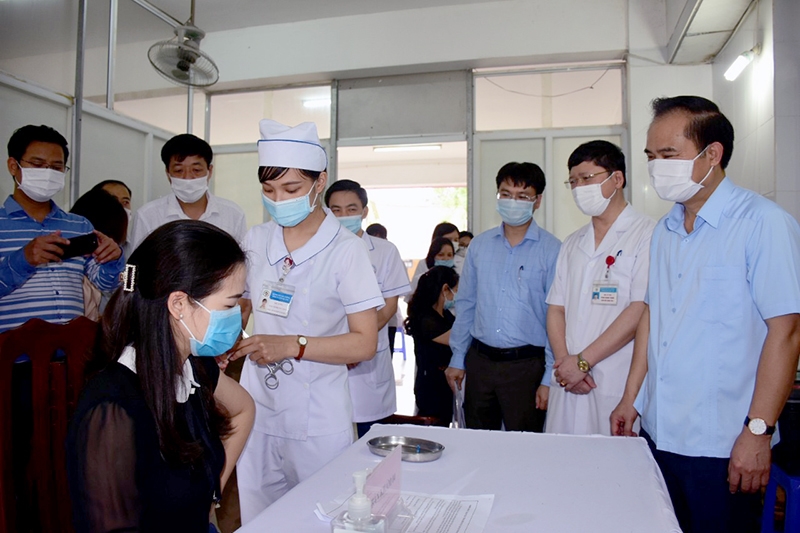 Tuyen Quang authorities checking Covid-19 vaccination implementation at the province (Photo: NDO)
Tuyen Quang province, northern Vietnam, on April 20 starts to roll out its first injection of AstraZeneca vaccine to frontline staff at three major hospitals. Provincial authorities plan to inject the first 1,000 doses on April 20-28 and 3,500 more doses on May 3-15.
Meanwhile, the southern province of Phu Yen launched its inoculation program simultaneously in nine affiliated districts, towns and cities. On April 19 morning only, 150 people on the prioritized list were given the jabs.
The Health Ministry has so far distributed 5,600 AstraZeneca doses to Phu Yen. Another 950 doses are also given, dedicated to the police and border force who are conducting missions at Covid-19 quarantine zones and checking points.
Dr. Nguyen Thi Ngoc Mong, Director of Phu Yen Department of Health, provincial authorities are targeting over 95 percent of high-risk individuals are safely immunized against the novel coronavirus. They are also doing their utmost to ensure 30 percent of local population are vaccinated by late 2021 and raise the rate to 80 percent by late 2022.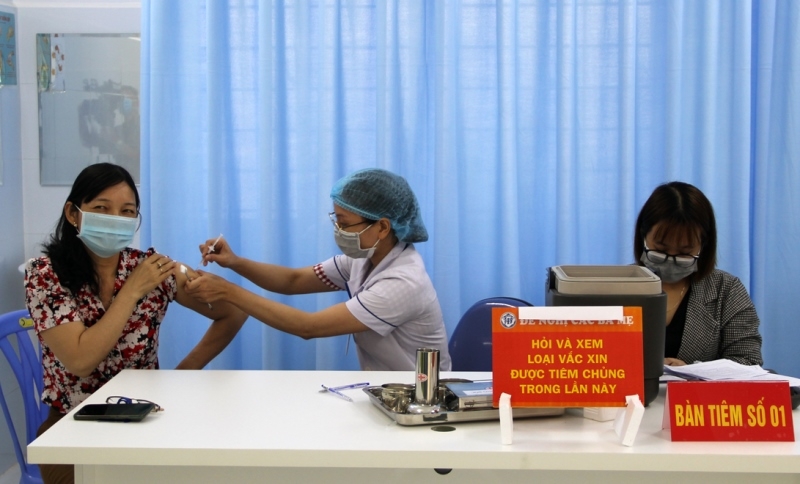 First round of vaccination at Phu Yen General Hospital (Photo: NDO)
The first 50 individuals in Vinh Long receiving Covid-19 vaccine on April 20 kicks start the province's first round of vaccination campaign which is scheduled to take place at Vinh Long General Hospital.
Vinh Long received a batch of 5,600 AstraZeneca doses from the Health Ministry on Monday, just one day before the commencement of the inoculation program. The vaccine vials are preserved at Vinh Long Center for Disease Prevention and Control (CDC).
All recipients in afore-mentioned provinces belong to prioritized group, who are frontline medical personnel who directly treat Covid-19 patients, medical staff in charge of sampling, contact-tracing; police force and boder guards working at high-risk areas; members of Covid-19 prevention and control Steering Committee; essential workers.
Vaccination procedures are done in line with Health Ministry's safety protocols.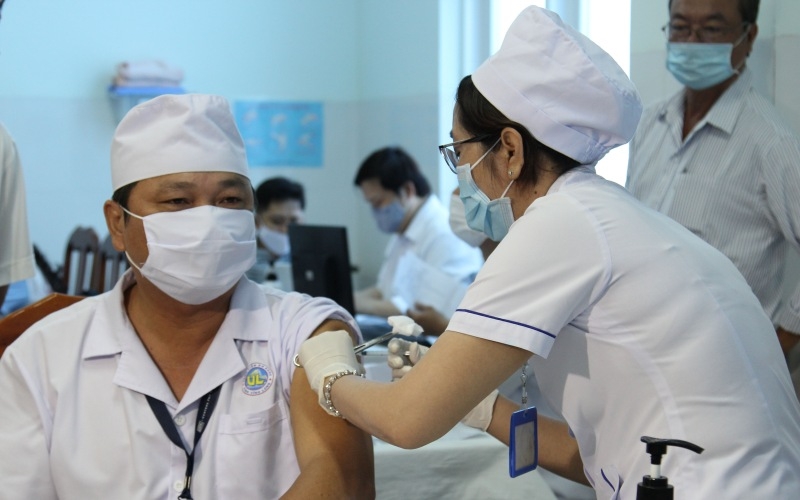 One medical staff in Vinh Long province getting the first shot of Covid-19 vaccine (Photo: NDO)
In the meantime, many provinces and cities across the country are entering their second round of Covid-19 vaccination campaign. Most of the localities have been supplied the vaccine for the campaign, according to the National Institute of Hygiene and Epidemiology (NIHE). Only five localities, namely Bac Ninh, Ha Tinh, Cao Bang, Phu Yen and Bac Giang, have kick-started the second phase, while many other have yet to endorses it, the NIHE reported, VOV reported.
The immunization campaign in some localities has yet to meet expectations. Besides, the duration of vaccine use is quite short, up to 2 months, to monitor, said the NIHE.
The institute proposed the administrations of cities and provinces soon approve the plan to deploy the campaign, the second phase, so as to achieve the progress of the program.
The Ministry of Health earlier warned localities to complete the vaccination plan before May 5, and it would recall the delivered vaccine if any locality does not use it up.
To date, more than 80,800 people have been vaccinated against COVID-19 since the campaign was launched on March 3, according to the MoH.
The Health Ministry on April 16 announced its plan to continue the nationwide vaccination plan with AstraZeneca vaccine although many European countries have stopped injecting the jab over fears of blood clots.
On April 1 morning, the first batch of Covid-19 vaccines sourced via Covax, containing 811,200 doses, arrived in Vietnam.
Previously, global vaccine access mechanism Covax planned to supply Vietnam with 1.37 million Covid-19 vaccine doses produced by British-Swedish firm AstraZeneca on March 25. But due to a lack of supply, only 811,200 doses were made available in the first batch.
Rana Flowers, UNICEF's representative in Vietnam, said Covax still guarantees to give Vietnam over four million vaccine doses by the end of May despite supply shortage.
Vietnam has so far received about 117,000 AstraZeneca vaccine doses for its mass Covid-19 inoculation program from 30 million doses it has ordered from the producer. It expects to receive 60 million doses in total this year from multiple sources, though the plan may be partially delayed into 2022.
The country seeks to secure 150 million Covid-19 vaccine doses this year to cover 70 percent of its population. It expects to start producing its own Covid-19 vaccine by the end of this year's third quarter, according to the health ministry.