Vietnam confident in handling coagulation post Covid-19 vaccination
With Telehealth system implemented at 1,500 medical facilities across 63 provinces and cities, Vietnam is confident in handling coagulation as a side effect after Covid-19 injection.
A medical worker holds up a Covid-19 vaccine dose by AstraZeneca at the National Hospital for Tropical Diseases in Hanoi, March 8, 2021. Photo: VnExpress
According to Associate Professor Dao Xuan Co, Deputy Director of Bach Mai hospital, the treatment of coagulation disorder post-Covid-19 vaccination is the same as other blood clotting disorders.
With the distant medical treatment system deployed to all localities by the Health Ministry so far, Co said, leading experts can virtually guide medical personnel at lower-level facilities to handle any unexpected post-injection reactions, including coagulation, quickly and effectively.
The Health Ministry has established the Covid-19 Vaccination Safety Steering Committee with members who are leaders of the Ministry, top experts in vaccination, transmission, CPR, hematology, cardiology, neurology, etc.
The experts are in charge of coordinating localities to screen, monitor, and handle unexpected events post-injection, prioritizing safety during vaccination.
Co affirmed that Covid-19 vaccine recipients could rest assured that they were safe as coagulation rarely happened.
"Were there any coagulation, the Health Ministry can immediately mobilize leading experts to conduct urgent consultation and guidance to provide the most optimal treatment regime via Telehealth system", Co was quoted by VNE as saying.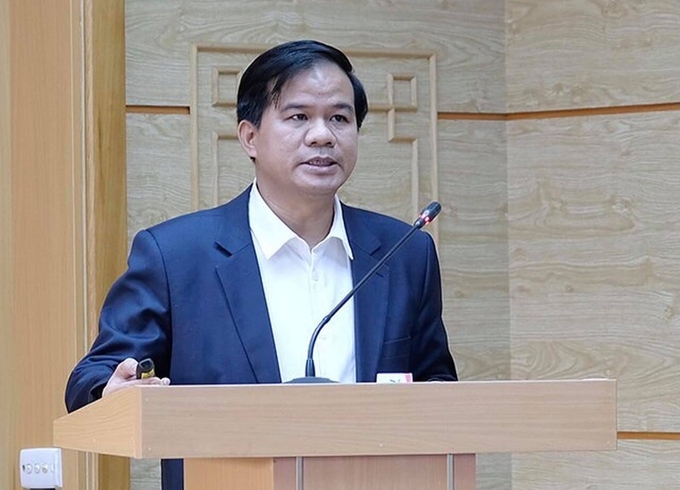 Associate Professor Dao Xuan Co (Photo: VNE)
After getting the jab, recipients must self-monitor their health, and visit nearest medical establishment in case they display any of these symptoms, headache, blurred vision, double vision, convulsions, numbness, paralysis; chest pain, difficulty breathing; persistent abdominal pain, etc.
Vietnam has so far rolled out vaccination in 22 provinces and cities for over 80,000 people. No coagulation reaction reported.
The Health Ministry on April 16 announced its plan to continue the nationwide vaccination plan with AstraZeneca vaccine although many European countries have stopped injecting the jab over fears of blood clots.
According to Deputy Director of the National Institute of Hygiene and Epidemiology Duong Thi Hong, Vietnam's health sector has adopted many measures to ensure the safety of Covid-19 AstraZeneca recipients. Firstly, all recipients have their health screened before administration. "We use the post-vaccination response monitoring system, part of the National Expanded Program on Immunization, which has been implemented methodically for more than 10 years", Hong was quoted by Vnexpress as saying.
The system records post-vaccination responses daily.
All medical workers are trained on how to use vaccines and how to treat cases with reactions by experts in clinical and emergency resuscitation. "Vaccination in Vietnam is always companied by a treatment system", Hong said.
Although Vietnam to date hasn't yet reported any case of blood clotting after inoculation, the Ministry of Health has accelerated to development guidelines on vaccination safety, Hong said.
In addition, Vietnam has implemented an e-health record system so that vaccine recipients can report their situation after inoculation. The health facilities will synthesize and analyze data on this system daily.
The World Health Organization (WHO) and the European Medicines Agency (EMA) said blood clots were very rare side effects of the AstraZeneca vaccine, adding that the vaccine's benefits far outweigh its risks. Thus, countries should continue to use it.
The world is experiencing an insufficient supply of vaccines. Therefore, Vietnam has had to make efforts to procure the vaccines to inoculate its citizens.
The blood clots complication post AstraZeneca injection have reported in several countries in Europe. Following the incident, 9 European countries, including Denmark, Norway, Iceland on March 11, 12 announced to suspend or ban AstraZeneca's vaccine in their COVID-19 inoculation programs. Local authorities are investigating the new dangerous complication.
The European Medicines Agency (EMA), however, advocates the use of the UK's candidate. It said there are just 30 cases displaying blood clots out of over 5 million vaccinated individuals in Europe. Scientists are currently scrutinizing every report of side-effects post-AstraZeneca inoculation.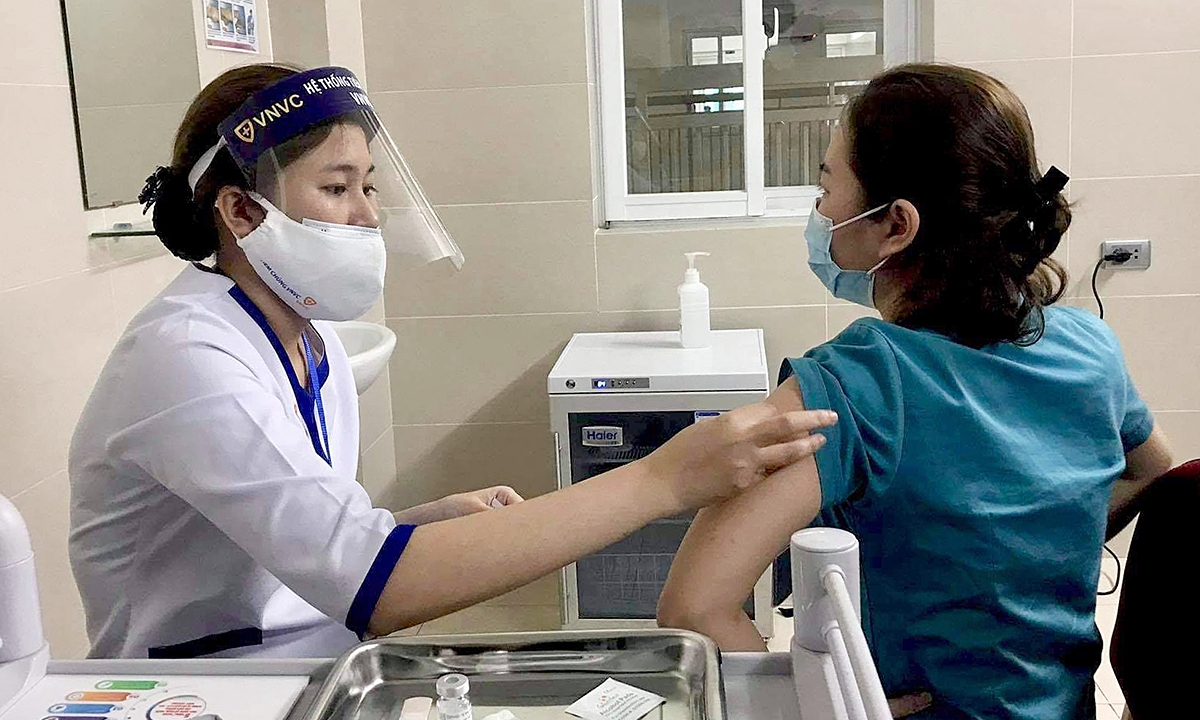 A medical worker in Hanoi's Thanh Nhan Hospital receives her first Covid-19 vaccine shot, March 9, 2021. Photo by VnExpress/Bao Loan.
The UK-developed vaccine has been used in 25 nations across the world, including Vietnam. So far, statistics said the most common reactions after getting the vaccine, accounting for over 10 percent, are headache, nausea, muscle pain, joint pain, tenderness, fatigue, restlessness, fever, chills, etc. Less than 10 percent develop redness and swelling at the injection site. Reports from 4 clinical trials with nearly 24,000 volunteers show these symptoms would disappear within 7 days. Such reactions after the second dose are at a much lower rate than the first one.
On April 1 morning, the first batch of Covid-19 vaccines sourced via Covax, containing 811,200 doses, arrived in Vietnam.
Previously, global vaccine access mechanism Covax planned to supply Vietnam with 1.37 million Covid-19 vaccine doses produced by British-Swedish firm AstraZeneca on March 25. But due to a lack of supply, only 811,200 doses were made available in the first batch.
Rana Flowers, UNICEF's representative in Vietnam, said Covax still guarantees to give Vietnam over four million vaccine doses by the end of May despite supply shortage.
Vietnam has so far received about 117,000 AstraZeneca vaccine doses for its mass Covid-19 inoculation program from 30 million doses it has ordered from the producer. It expects to receive 60 million doses in total this year from multiple sources, though the plan may be partially delayed into 2022.
The country seeks to secure 150 million Covid-19 vaccine doses this year to cover 70 percent of its population. It expects to start producing its own Covid-19 vaccine by the end of this year's third quarter, according to the health ministry.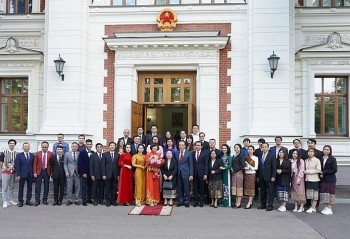 Friendship
The Vietnamese Embassy in Cuba will make efforts to consolidate and cultivate the special Vietnam-Laos relationship in the spirit of respect and support for mutual benefits.