More relief funds to flood-hit localities in Vietnam
Australia is poised to make an initial contribution of AUD 100,000 (USD 71.000) in immediate humanitarian assistance to Vietnam which has suffered huge losses caused by floods and landslides during the past two weeks.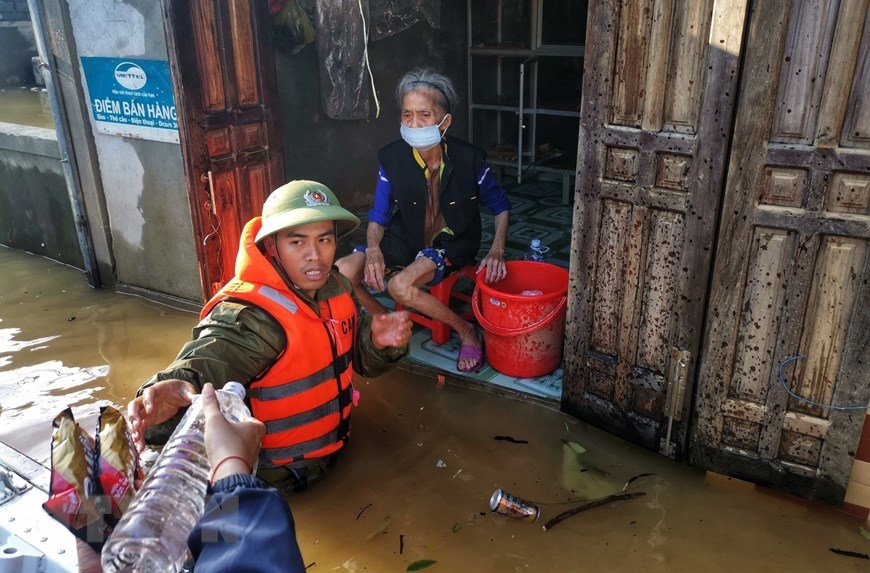 Food handed over to residents hit by the recent flooding. Photo: VNA
According to an announcement on its Facebook fanpage on October 23, the Australian embassy said the country will provide AUD 100,000 in immediate humanitarian support for Vietnam.
"More than 5 million people have been affected by recent flooding and landslides in Vietnam's central provinces, with >65,000 evacuated and many more homes, schools and livelihoods damaged or destroyed. When Australia experienced devastating bushfires over the summer months, we here at the Embassy in Hanoi, and the Consulate-General in Ho Chi Minh City, were overwhelmed by the outpouring of support from the Government of Vietnam and our Vietnamese friends and colleagues both here and back home. As Vietnam now faces its own crisis in the wake of severe flooding and landslides, we are with you. We grieve with you for lost loved ones and heroic first responders," it said.
"We will make available an initial contribution of AUD100,000 in immediate humanitarian assistance, and will continue monitoring relief requirements as the extent of the impact comes to light," it added.
China on the same day has pledged to provide USD 1,000 in aid to help the country overcome consequences of the devastating floods and landslides.
"In recent days, the central provinces of Vietnam experienced severe floods, causing heavy loss of life and property, and the Chinese side shared with these losses. On October 22, Premier of the State Council of the People's Republic of China Li Keqiang and Foreign Minister Wang Yi sent telegraphs to Vietnamese Prime Minister Nguyen Xuan Phuc and to express his deep sympathy over flood-caused losses in Central Vietnam. The Red Cross Society of China (RCSC) will donated USD 100,000 to support flood-hit residents to overcome consequences of flooding," the statement of Chinese embassy in Hanoi said.
"We believe that, under the leadership of the Party and Government, Vietnamese people will surely overcome natural disasters, quickly stabilize lives and restore production," it added.
The Vietnamese Embassy in Brunei held ceremony to call for donations. Photo: VNA
Taiwan also donated USD 400,000 on October 23 to Vietnam in aid.
Richard Shih, Taiwan's representative in Vietnam, said the Taiwanese business community in Vietnam, as well as non-governmental organizations from Taiwan, have mobilized themselves to send relief to the stricken areas in the country's central region.
He expressed his hope that the victims will be able to reconstruct their homes and return to a normal life as soon as possible.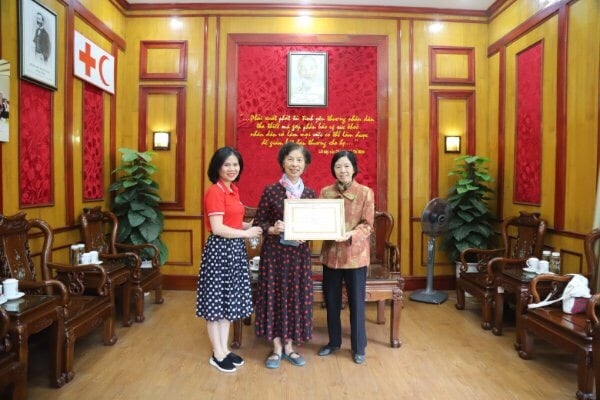 The club of Vietnamese alumni once studied in Cuba supports flood victims. Photo: Vietnam Red Cross Society
On the morning of October 26, representatives of the club of Vietnamese alumni once studied in Cuba, came to the headquarters of the Vietnam Red Cross Society to hand over 15 million VND (USD 647) for people in flood areas.
According to the Office of the Central Steering Committee on Disaster Prevention and Control, as of October 25, flooding left 130 dead and 18 missing.
The floods also inflicted substantial damage upon local agriculture, irrigation, and transport infrastructure./.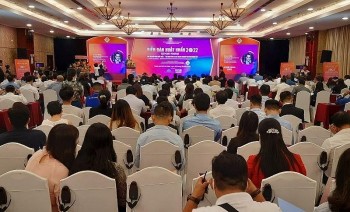 Focus
Vietnam News Today (Dec. 9): Vietnam - Singapore innovation centre helps firms transform production; HCM City among most searched destinations by travelers; Vietnamese digital technology industry's revenue estimated at 148 billion USD in 2022; Two Vietnamese films up for consideration at Oscars.