Vietnamese Ambassador meets with RoK's National Assembly Speaker
Vietnamese Ambassador Nguyen Vu Tung was received by the National Assembly Speaker of Republic of Korea (RoK) Park Byeong-seug at the Speaker's office on October 22.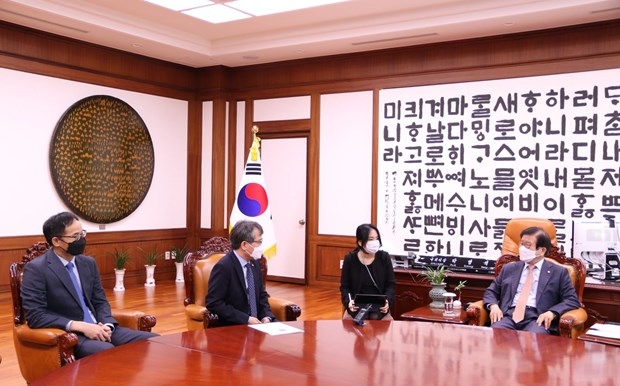 Speaker of the National Assembly of Republic of Korea (RoK) Park Byeong-seug (R) receives Vietnamese Ambassador Nguyen Vu Tung in Seoul. Photo: VNA
During the reception, he affirmed Vietnam is a central cooperation partner in the RoK's New Southern policy.
The RoK top legislator welcomed the ambassador who took up the post in the RoK at a time when bilateral ties are growing in all aspects, and the two countries are important partners of each other in politics-security and trade-investment. People-to-people exchanges between the two countries are also expanding.
He also made mention of the RoK's successful handling of the pandemic, adding that both the RoK and Vietnam are models of success in controlling the COVID-19, and expressed his wish to visit Vietnam, the first Asian country he chooses to visit as National Assembly speaker, at an early date.
Ambassador Tung confirmed that Vietnam attaches importance to bolstering the Vietnam-RoK strategic cooperative partnership, especially at a time when Vietnam along with other ASEAN member countries and the RoK are actively implementing the New Southern policy.
He asked the RoK to continue supporting the Vietnamese community in the RoK, and vowed to work hard to make contributions to the development of Vietnam-RoK ties as the two countries are looking forward to the 30th anniversary of diplomatic relations (December 12, 1992-2022).
As their meeting ended, Ambassador conveyed a letter from Speaker of the National Assembly Nguyen Thi Kim Ngan congratulating Speaker Park on his inauguration and extending an invitation to the country.
Êarlier, Ambassador Tung presented his credentials to Korean President Moon Jae-in in Seoul on October 16.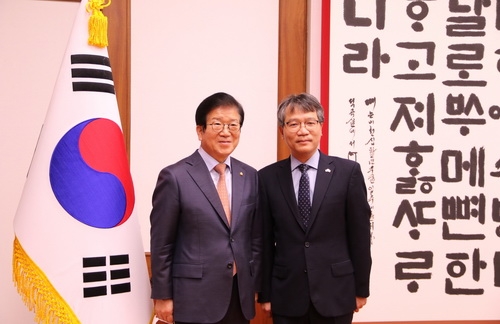 National Assembly Speaker Park Byeong-seug met with Vietnamese Ambassador Nguyen Vu Tung, who paid him a courtesy visit. Photo: VNA
The RoK's government has decided to provide a humanitarian aid package worth 300,000 USD for Vietnam to help it overcome consequences of recent floods in its central region, the RoK's Ministry of Foreign Affairs announced on October 22.
According to the ministry, heavy rains that have lasted since October 6 claimed more than 100 lives in central Vietnam. Floods also forced over 90,000 people to evacuate and submerged about 130,000 houses. Property losses are extremely great.
The ministry said it hopes the donation will contribute to urgently supporting flood-hit people, helping them soon stabilise their lives.
In the coming time, the RoK government will continue its efforts to support countries and people in difficulty who are not only affected by natural disasters but also by other humanitarian crises, the ministry said./.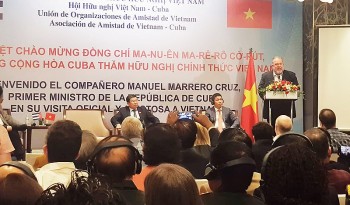 Friendship
Cuban Prime Minister Manuel Marrero Cruz met representatives from the Vietnam-Cuba Friendship Association in Hanoi on September 30, as part of his visit to Vietnam from September 28 to October 2.