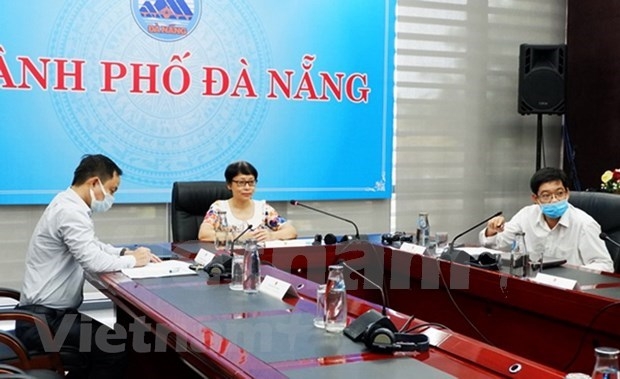 The Da Nang side at the online meeting. Photo: VNA
This marks a significant event that is taking place amid complicated developments relating to the novel coronavirus (COVID-19) pandemic in the Central European nation.
At the function that took place on September 15, the sides discussed their strengths for joint work in tourism, advanced technology, and IT, with Da Nang asking Brno to soon arrange specific discussions for the establishment of the cities' friendship and cooperation relations in the coming time.
More specifically, Da Nang currently enjoys strengths in terms of developing information technology and high technology, whilst it has also set a goal of becoming a big, ecological, smart city, in addition to being a centre for start-up and innovation.
Most notably, the central-costal city boasts an array of natural strengths for tourism development, sharing plenty of similarities with the city of Brno in the Czech Republic. Based on this, representatives from the Da Nang Tourism Department suggested the sides exchange experience to promote the value of cultural and natural heritage, as well as to organise exhibitions and workshops at regional and international levels, among others. The collaboration is expected to help boost tourism development of both sides in the future.
Brno city side at the online meeting. Source: VOV
Ivo Bednar, head of External Relations Office of Brno, highlighted the Czech city as a centre of technology and tertiary education which hosts one of the largest trade fairs in Eastern Europe and is considered to be a top travel destination in the Czech Republic.
His city has so far set up bilateral relations with 16 big cities worldwide, he added.
Through the active support of the Vietnamese Embassy in the Czech Republic, along with the Vietnamese Association in Brno and the South Morava region, the relationship between Da Nang and its Czech partners has created plenty of opportunities for both networking and development, especially following leaders of the Vietnamese city taking a business trip to the Czech Republic in 2019.
With these strengths, Bednar believes that the establishment of a partnership will serve to create conditions for the two cities to intensify exchanges whilst learning from each other for the purpose of mutual development.
After the discussion, a MoU was signed, aiming to reinforce the special friendship that exists between the people of the two cities, whilst opening a window of opportunity for co-operation in a number of fields. This includes investment, tourism, and high-quality services, in addition to resort real estate, high-tech industry, innovative urban construction and start-up, education, information technology, electronics and telecommunications industries, and the digital economy.
The signing of the MoU is also a special event that marks the 70th anniversary of diplomatic ties between Vietnam and the Czech Republic. For Da Nang, the signing of the MoU will help to boost friendship and co-operation ties with Brno as the pair work on becoming twin cities./.
Hannah Nguyen