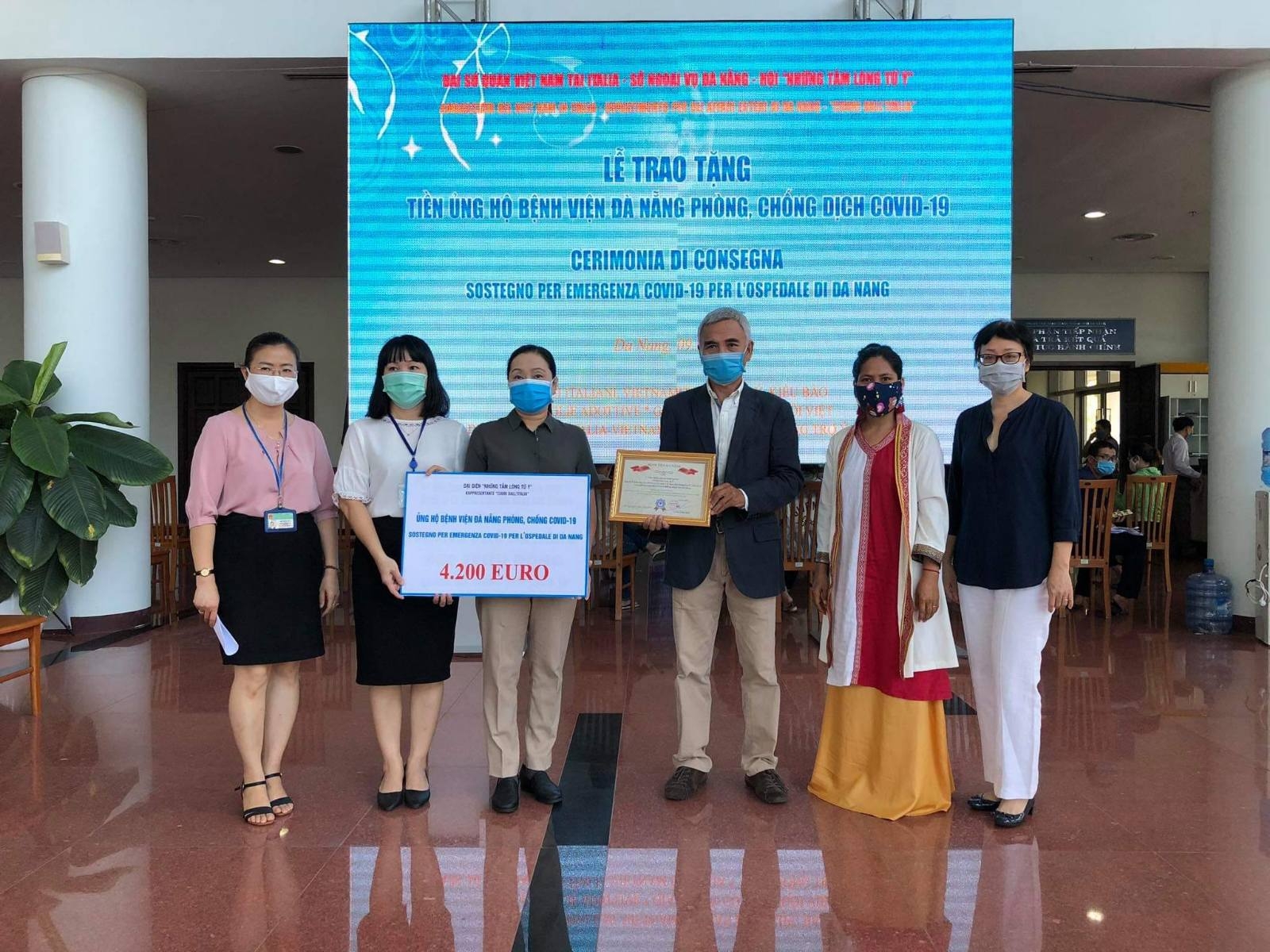 Representatives of the Italy-Vietnam Mutual Assistance Association, in coordination with Da Nang city's Department of Foreign Affairs, send the amount of EUR 4,200 to Da Nang Hospital to join hands in response to the COVID-19 pandemic.
Overseas Vietnamese people, families with Vietnamese adopted children in Italy, and Italian friends, have raised EUR 4,200 (about VND 4,988) to support Da Nang Hospital.
In a letter to the Vietnamese community in Italy, the Italy-Vietnam Mutual Assistance Association expressed that at the beginning of the COVID-19 outbreak, Vietnam had only recorded 415 cases and had had no deaths.
This success is due to appropriate and timely preventive measures of the government: from intensive management to the smallest units to detect and promptly address infection cases, to quarantine, social distance, and effective communication on pandemic prevention measures.
However, after many days when Vietnam recorded no cases among the community, a "new wave of COVID-19 pandemic" began on July 25 from the tourist city of Da Nang. Therefore, the Italy-Vietnam Mutual Assistance Association decided to launch a donation drive to support Da Nang Hospital's response to the pandemic.
Speaking at the handover ceremony, Nguyen Chu, representative of the Italy - Vietnam Mutual Assistance Association, shared, "Although we know that our donation is like a grain of sand at sea, we still want to express our sincere and close feelings, offering mutual support to those who are in need right now."
They always think about Vietnam homeland and wanting to share difficulties with people in the country, especially when doctors, nurses and medical staff on the front lines of the coronavirus pandemic. This is also an action in response to the noble gesture that Vietnam has shared and supported Italy during the outbreak in April this year, he added.
Dr Tran Thi Khanh Ngoc, Deputy Director of the Da Nang General Hospital, thanked the donors for their generosity and active support to help her hospital overcome the challenging time during the ongoing coronavirus pandemic.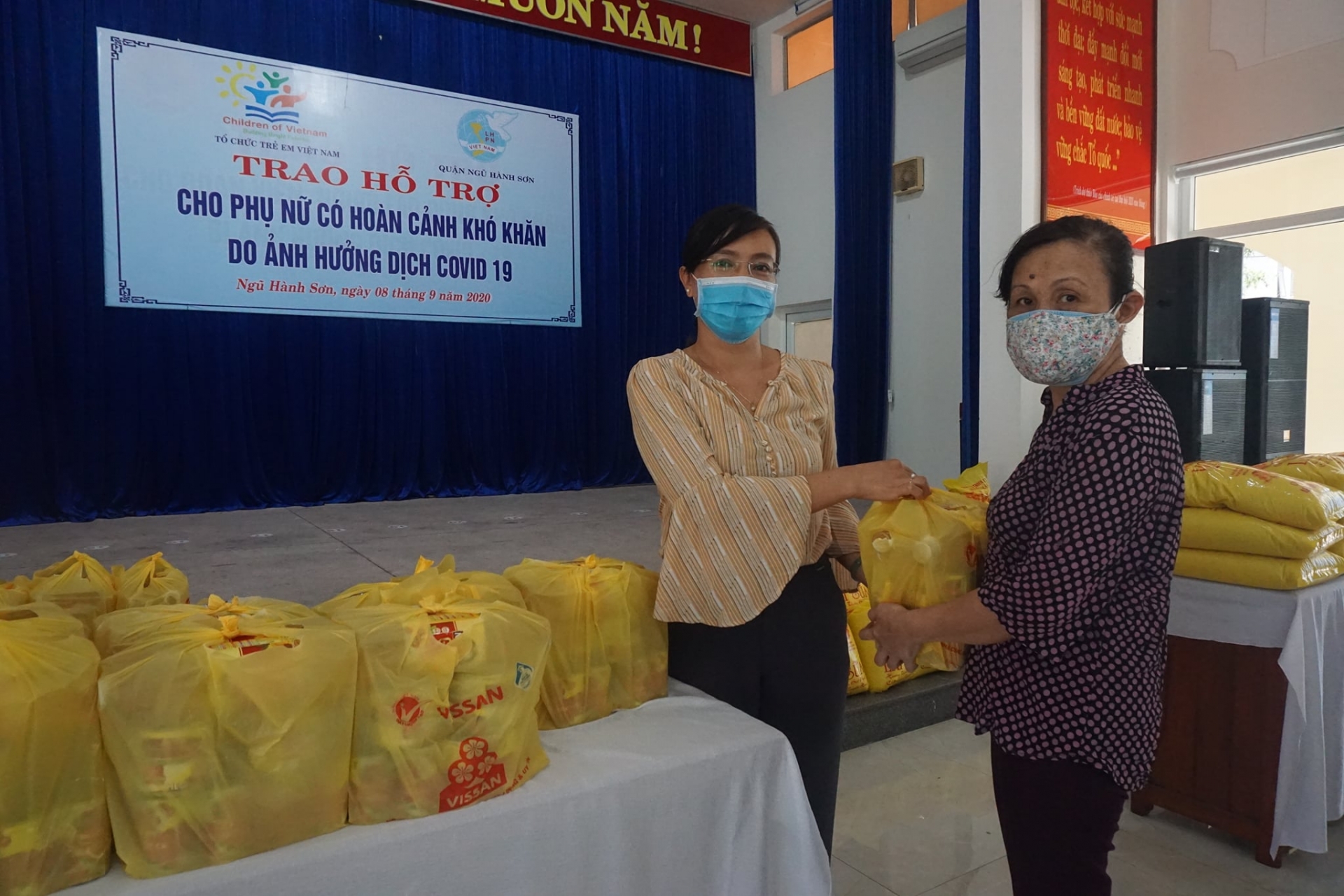 Children of Vietnam gives 100 gifts to poor women, single mothers and those affected by COVID-19 across the Ngu Hang Son district.
Meanwhile, the Ngu Hanh Son chapter of the Da Nang Women's Union in collaboration with the Children of Vietnam organisation already gave 100 in-kind gifts, totalling nearly VND 50 million (USD 2,163), to poor women, single mothers and those affected by COVID-19 across the district.
With no new case of COVID-19 recorded over the past 12 hours, the total number remained at 1,059 as of 6pm on September 10, according to the National Steering Committee for COVID-19 Prevention and Control.
So far, Vietnam has 691 locally-transmitted cases, 551 of whom are related to Da Nang since the pandemic broke in the central city on July 25.
Three more patients were given the all-clear on September 10, raising the total number of recovered patients to 893.
Da Nang, site of the latest outbreak of COVID-19 since July 25, started loosening social distancing measures caused by COVID-19 pandemic starting from 0:00 on September 5, after the epidemic had been put under control./.
Hannah Nguyen