Must-see destinations in Cao Bang province
A border province in northeastern Vietnam, Cao Bang mesmerizes tourists with its breath-taking nature and history-imbued destinations.
Ma Phuc Mountain Pass
On your journey to discover Cao Bang, you will get the opportunity to traverse through Ma Phuc Pass with its majestic landscapes. Stopping by this mountain pass to contemplate the beauty of northeastern Vietnam is an experience you will never forget.
Located in Tra Vinh district, the 3.5-kilometer-long Ma Phuc is one of the most beautiful mountain passes along the National Road 3, which starts in Hanoi and ends at Ta Lung border gate in Cao Bang province. To reach the top of the mountain pass, tourists must go through its seven steps.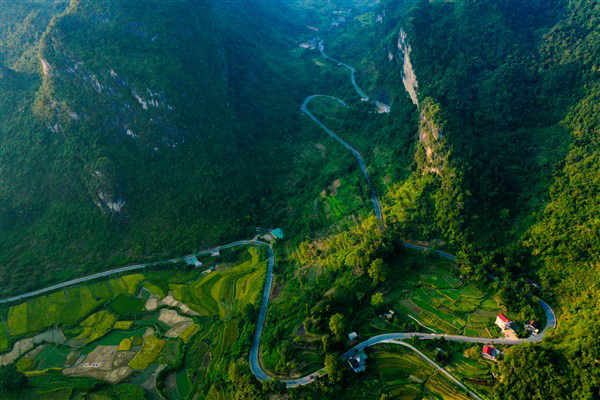 Ma Phuc mountain pass. Photo: Bao Cao Bang
Ma Phuc winds between two limestone mountain ranges and is a unique geosite where many submarine volcanoes were active 260 million years ago. Along the way, tourists can see pillow basalt - blackish-green rocks with rounded shape - close to the white limestones. If you enjoy the triumphant feeling of conquering narrow and winding mountain passes in Vietnam, do not forget to check out Ma Phuc mountain pass.
Ban Gioc Waterfall
The journey to Ban Gioc Waterfall will take you immense, mountainous landscapes. Straddled the border between Guangxi province of China and Cao Bang province of Vietnam, Ban Gioc is the fourth largest cross-border waterfall in the world and the largest natural waterfall in Southeast Asia. The western side of Ban Gioc belongs to Vietnam, while its eastern side is claimed by China, where it is called Detian Falls.
Measuring 208 meters wide, Ban Gioc is surrounded by lush green, pristine jungle. What makes Ban Gioc Waterfall a captivating destination is the collection of dazzling cascades, flowing along massive limestones down to the jade-like river below. The thundering sound of water hitting the cliffs can be heard from afar.
Ban Gioc Waterfall. Photo: VnExpress
Cao Bang has two distinct seasons: The dry season from October to May and the rainy season from June to September. Many professional trekkers believe that the best time to visit Ban Gioc is between August and September when the waterfall is full of clear water and easy to traverse through.
Ban Gioc Waterfall is about 360 kilometers from Hanoi. Tourists can explore the scenic landscapes along the way by hiring a motorbike or taking inter-provincial buses.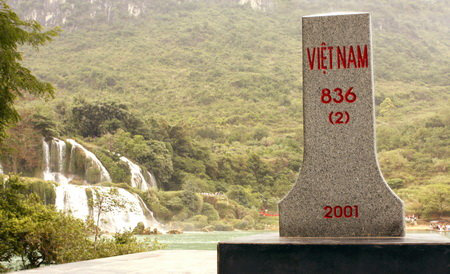 Border sign in Ban Gioc - Vietnam's territory. Photo: Tuoitre
Nguom Ngao cave
Nguom Ngao locates in Dam Thuy commune of Trung Khanh district, Cao Bang province, about three kilometers away from Ban Gioc Waterfall. Carved deep into the mountain, Nguom Ngao is considered one of the greatest gifts Mother Nature has given to Cao Bang. The 2,144m-long ancient cave attracts tourists from Vietnam and abroad. There are three main entrances to the cave: Nguom Ngao, Nguom Lom and Ban Thuon. In the traditional language of the Tay ethnic minority group, Nguom Ngao means "tiger" or "cave of the stone valley".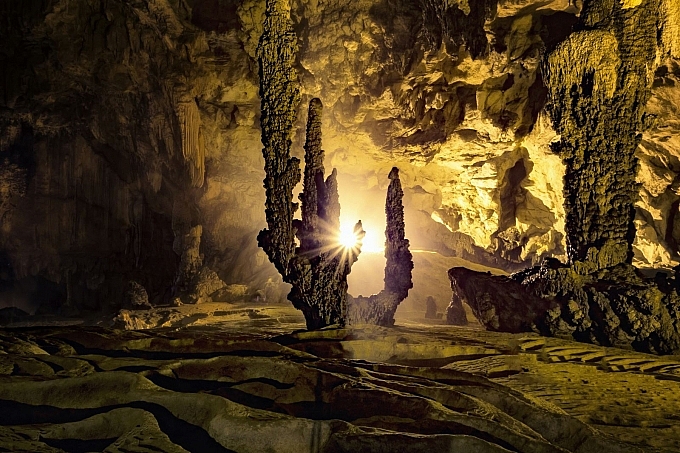 A corner of Nguom Ngao cave. Photo: Travelmag.vn
Entering the cave, tourists will be mesmerized by its fanciful beauty. Nguom Ngao has an impressive collection of stalactites hanging from the roof and stalagmites growing from the ground. Coming in all shapes and sizes, these mineral formations have been deposited for millions of years by dripping water.
Thang Hen Lake
The next destination in Cao Bang that you must not miss is Thang Hen Lake. Lying over 1000 meters above sea level, the lake is situated in Quoc Toan commune in Tra Linh district of Cao Bang province. Cao Bang has 36 natural freshwater lakes, of which Thang Hen is the largest.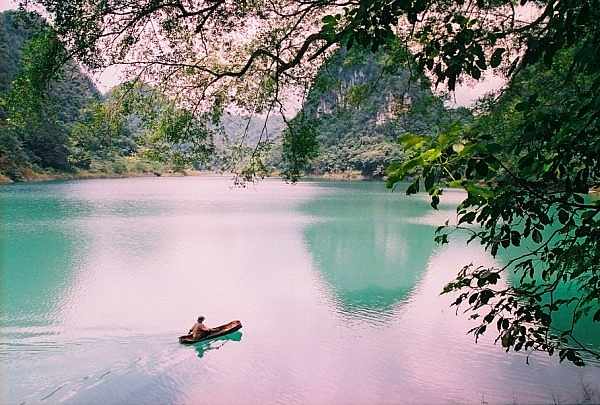 Thang Hen lake. Photo: Travelmag.vn
Shaped like the back of a bee, Thang Hen is about 100 – 300 meters wide and 500-1000 long. The lake is situated deep in a mountain and covered in lush green forest, creating charming and poetic scenery. At Thang Hen's head lies a giant cave, where water flows out days and nights. Whether in the dry or wet season, the water in Thang Hen retains its jade-like color, even when other lakes turn opaque and burgundy-like as the rain starts.
Pac Bo Di historical site
If you are a history lover, do not forget to visit Pac Bo historical site, named after Pac Bo village of Ha Quang district, about 40 kilometers away from Cao Bang city. Pac Bo means "the starting point of a river" in the language of the Nung ethnic minority group. It was closely associated with an important stage in the life and career of President Ho Chi Minh in the period 1941-1945.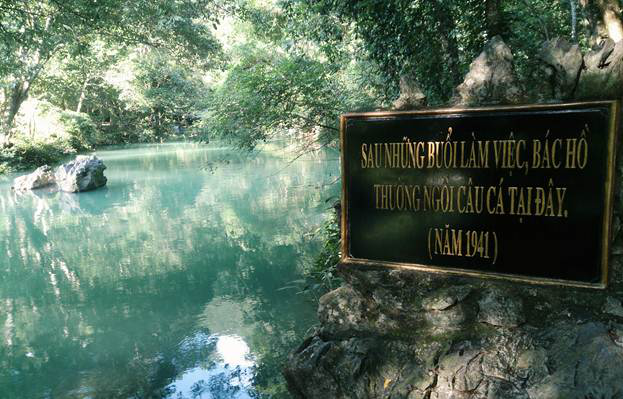 A part of Pac Bo historical site. Photo: Smile Travel
(on the sign: Uncle Ho often went fishing here after work in 1941).
Uncle Ho chose Pac Bo as his base upon returning to Vietnam in early 1941, after 30 years of searching for a way to liberate the country. In this historical site, President Ho Chi Minh convened the 8th meeting of the Party's Central Committee, during which the Viet Minh Front was established, and national liberation was identified as the prime target of the Vietnamese revolution.
Coming to Pac Bo, you can explore various scenic sites of historical significance, such as the house of Ly Quoc Sung, Cao Bo cave, Lung Lan cave, Nguom Nai cave, and Lenin Creek.
Phuc Sen Forging Village
Phuc Sen Forging Village is relatively unfamiliar to many tourists coming to Cao Bang. Located in Quang Uyen district - about 30 kilometers away from Cao Bang city, the village is where the Nung An, a branch of the Nung ethnic minority group, resides. The Nung An has been practicing forging for over 300 years.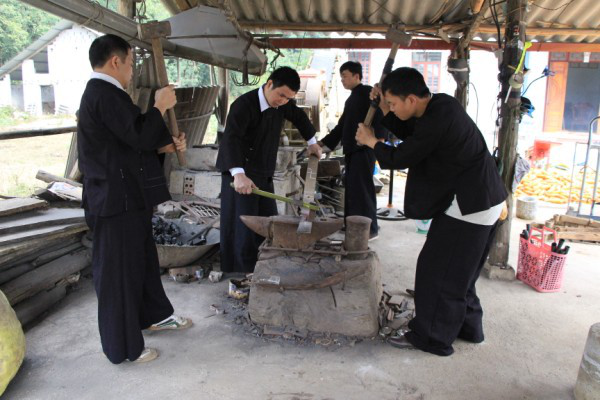 Forging a knife. Photo: Bao Cao Bang
At first, the Nung An only forged equipment used in agriculture and their daily lives. They gradually diversify their range of products, and nowadays have gained a reputation for their top-notch craftsmanship across the northern and central highland regions of Vietnam, and the border counties of Guangxi province in China.
Phuc Sen forging village is one of Vietnam's unique trade villages. In Phuc Sen, you can witness the whole process of making a forged product from the very start, and explore the culture of the Nung An.