My body produces antibodies well post Vietnamese homegrown vaccination, Deputy PM said
Deputy PM Vu Duc Dam said he was in stable health condition while his body generates substantial amounts of antibodies against nCoV after getting two trial shots of Vietnam's Nanocovax vaccine.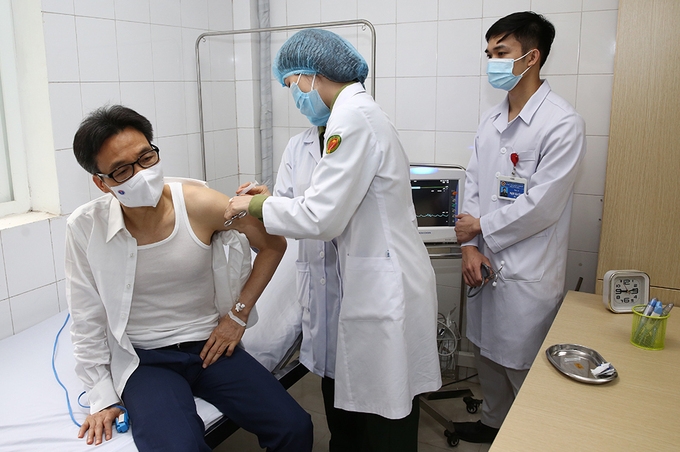 Deputy PM Vu Duc Dam got the second shot on March 26 (Photo: VNE)
"I was a little dizzy after the first shot in February, no fever. The reactions were stronger after the second shot in late March, with dizzy and mild fever which wore off after two days", the Deputy Prime Minister said on April 1 afternoon, adding that he had been well informed of the possible reactions post-inoculation and the rest of the volunteers reported no serious side effects.
"After the first dose, my body produces antibodies at a good level. However, everything is still under human trials, we couldn't ascertain when the exactly homegrown vaccine is available. If things go as planned, Vietnam might have the first domestic Covid-19 vaccine in late Q3 or early Q4", he was quoted by VNE.
The Vietnamese Government in early 2020 determined to urgently expedite homegrown Covid-19 vaccine researches and manufacturing, for the country is populous and might face financial troubles when it comes to importing vaccines during a prolonged pandemic period.
"I had told myself I would volunteer for the human trials in the first place", Dam said. "Everyone's health is equally precious. I am the Deputy Prime Minister, but first and foremost, I am a Vietnamese citizen. As the head of the National Steering Committee for Covid-19 Prevention and Control, I should do everything I could so that vaccines are doled out in Vietnam in the earliest time".
The Military Medical Academy started injecting the second dose of Nanocovax vaccine on all volunteers during phase 2 of human trials from March 25 – April 6. Deputy PM Vu Duc Dam and Deputy Minister of Science and Technology Pham Cong Tac were given the second shot at the Academy on March 26 morning.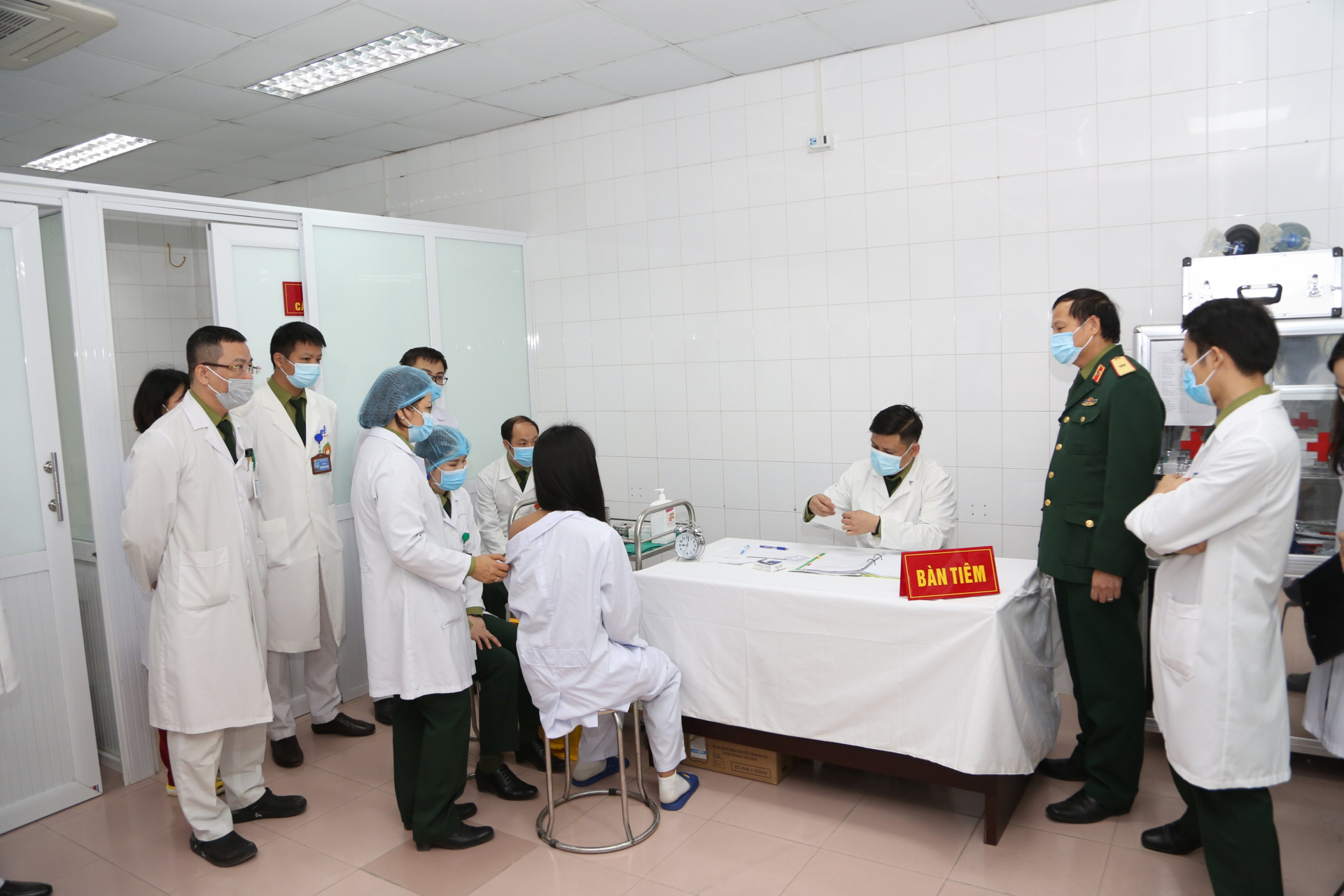 Two groups of 20 people each are testing the 25mcg and 50mcg doses, receiving their first injections on December 17 and 26, respectively. (Photo: suckhoedoisong.vn)
Do Quyet, director of the Military Medical University, said that after the second shot, the safety and efficacy of antibody generation and its antiviral ability will be re-assessed. These criteria were met after the first shot, he said.
"The Nanocovax vaccine is effective against the U.K variant," he added.
Quyet also said that Vietnam can compare the efficacy of Nanocovax with that of the AstraZeneca vaccine, which has been approved by the World Health Organization (WHO), obtaining an international license if the comparison is favorable.
He expressed confidence that Vietnam will have a commercially viable vaccine by the end of September, according to VNE.
Nanocovax, developed by Nanogen Biopharmar since May 2020, is the first locally-made vaccine candidate in Vietnam to enter human trials. It is priced at VND120,000 ($5.17) per dose. Along with injections, Vietnam's COVID-19 Nanocovax vaccine will also be developed in the form of eye-drop and nasal spray for special subjects.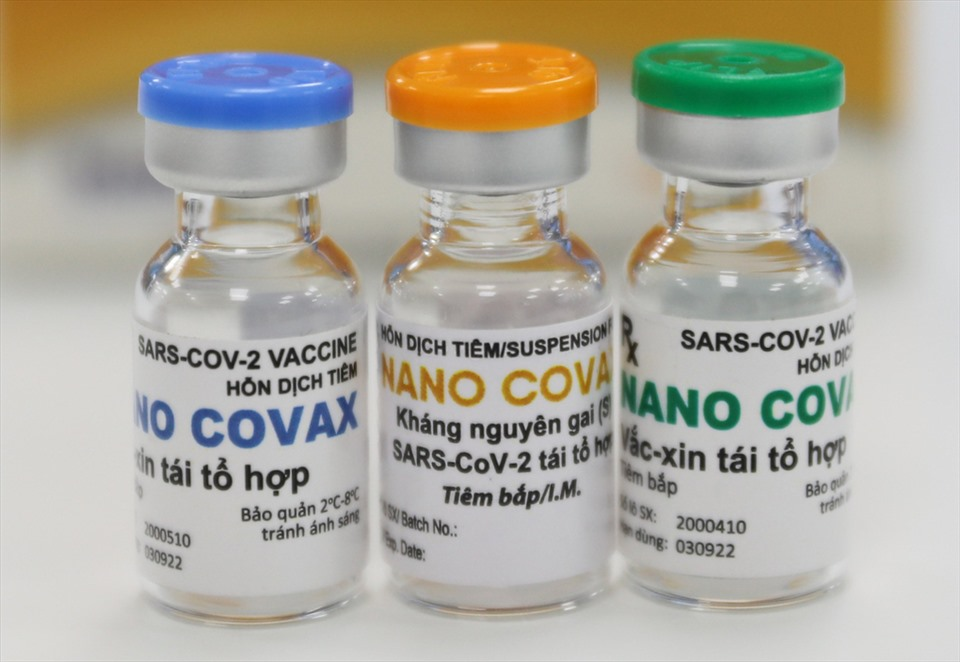 Developed by the Nanogen Pharmaceutical Biotechnology JSC and the Vietnam Military Medical University, Nanocovax is Vietnam's first candidate vaccine against the novel coronavirus to reach the human trial stage. Photo: Lao dong (Labour) newspaper
Vietnam is expecting 60 million doses of the UK's AstraZeneca vaccine, with 30 million sourced via Covax and another 30 million by order.
The 811,200 doses of AstraZeneca vaccine arrived at Noi Bai International Airport Thursday morning is the first batch among the 30-million-dose allocation from the global vaccine access mechanism Covax. Over 3,3 million more doses are scheduled to land in Vietnam in May while the rest will arrive by late 2021, according to Zing News.
The 30 million doses, which are supplied by the United Nations International Children's Funds (UNICEF) via Covax, are deemed to cover 20 percent of the Vietnamese population, prioritizing frontline workers.
On February 24, the first 117,600 purchased doses arrived in the country and have been administered to nearly 50,000 prioritized recipients in the National Expanded Vaccination program.
On March 23, Vietnam greenlighted Russia's Sputnik V vaccine for emergency use.
Regarding domestically produced Covid-19 vaccines, the country is eyeing self-provision of vaccines in Quarter 3 this year, as soon as the homegrown Nanocovax finishes its third phase of human trials.
Economy
In the first two months of 2023, India's mobile phone exports exceeded $2 billion, equivalent to over Rs16,500 crore, due to increased production and shipments from manufacturers, particularly Apple and Samsung. This surge in exports brings the total export value to over $9 billion since April 2022.