New Covid Variant Omicron Affects Vietnam's International Flight Resumption Plan
The new Covid-19 variant Omicron will affect Vietnam's plan to resume international flight routes, according to the transport ministry.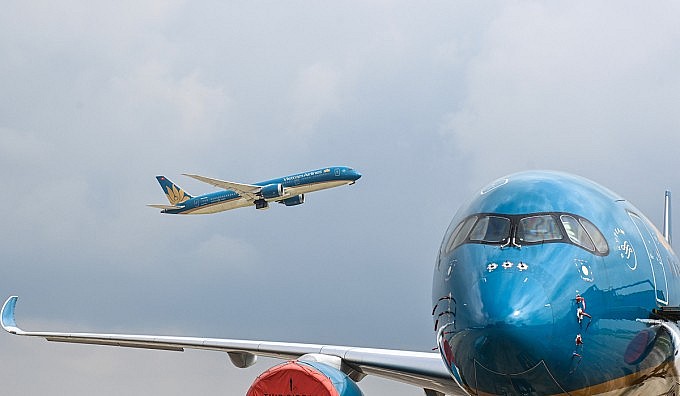 Vietnam's plan to resume international flight routes might be changed due to new variant Omicron. Photo VnExpress
The roadmap of Vietnam's international flight resumption has been devised with details for specific periods but due to the new variant Omicron, Vietnam will have to hold discussions again with other countries, said transport deputy minister Nguyen Ngoc Dong at the Government's regular press briefing on Thursday.
Dong said all countries wanted to reopen international flight routes to facilitate traveling and tourism as well as to help repatriate citizens.
The resumption plan must be considered based on the pandemic prevention and control capacity of each country, vaccination rate and reach consensus of relevant countries and territories, he said.
The appearance of new variant Omicron has made countries and territories to be more cautious in resuming international flights. Vietnam is holding discussions with relevant parties to fix the plan, Dong told reporters.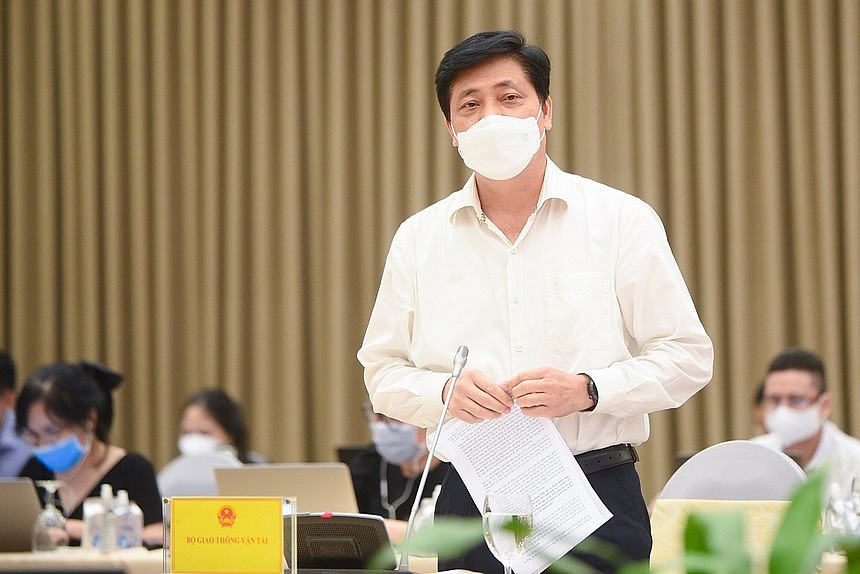 Transport deputy minister Nguyen Ngoc Dong. Photo Zing News
Earlier Vietnam planned to resume international aviation routes with 12 countries and territories from December with roadmap divided into three phases.
According to the roadmap submitted by the transport ministry to the Government, in the first phase since the first quarter of 2022, flights between Vietnam and China, Hong Kong, Japan, South Korea, Chinese Taiwan, Thailand, Singapore, Malaysia, Laos, Cambodia, France, Germany, Russia, UK and Australia will resume.
There will be four flights for each country every week. The expected number of passengers entering Vietnam each week will reach about 12,000.
Passengers must receive two doses of Covid vaccines or recover from the virus and be quarantined at paid sites in seven days. Unvaccinated passengers must be in a 14-day quarantine.
In the second phase since the second quarter next year, international flights will not require centralized quarantine for those who have vaccine passports. Airlines can arrange flights depending on the demand with capacity of about seven flights per week for each country.
Those with vaccine passports will have to self quarantine for three to seven days. Otherwise they will be put in paid centralised quarantine in 14 days.
The third phase from the third quarter of next year, airlines will be allowed to decide flight routes and flight frequency themselves.
Since March 2020, international flights departing from Vietnam could carry passengers and goods but the flights landing needed special permission from Vietnamese authorities, Viet Nam News reported.
Between April 2020 and September 2021, more than 274,000 people entered Vietnam by air including 110,000 Vietnamese citizens returning home on repatriation flights and other 30,000 passengers arriving Vietnam with combo packages (air tickets, hotel, travelling and Covid-19 testing fees).
Last month, Vietnam recorded about 7,500 international return flights, with a total of 350,000 passengers.
In early September, a flight from Japan to Vietnam carrying 297 Vietnamese passengers became the first to enjoy the shortened seven-day quarantine policy under a trial vaccine passport program.

All passengers on the flight that landed at the Van Don Airport received two doses of Covid-19 vaccines, with the second dose administered at least 14 days but no more than 12 months prior to the date of entry, cited VnExpress.

On November 20, a total 204 South Koreans landed on Kien Giang's Phu Quoc, becoming the first international tourists to visit the island after nearly two years due to Covid-19.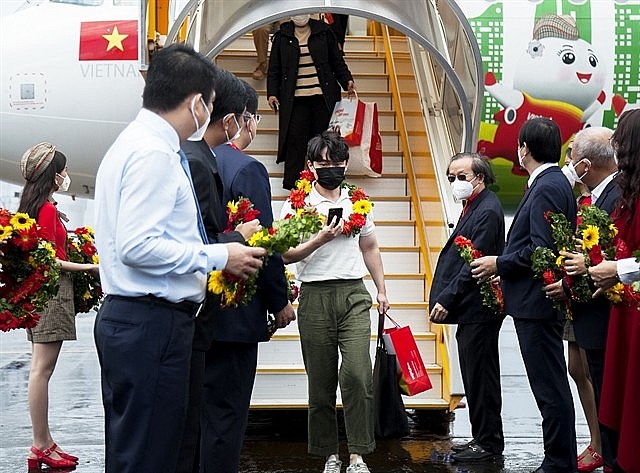 The first South Korean tourists arriving on Phu Quoc Island on November 20,2021 received a warm welcome from Vietnamese authorities and Vietjet Airline. Photo VNA
They furnished proof of negative Covid tests using RT-PCR method validated by authorities in the host country 72 hours before departure.
On November 26, World Health Organization (WHO) designated the variant B.1.1.529 a variant of concern, named Omicron, on the advice of WHO's Technical Advisory Group on Virus Evolution.
According to WHO, as Omicron has been designated a Variant of Concern, there are several actions WHO recommends countries to undertake, including enhancing surveillance and sequencing of cases; sharing genome sequences on publicly available databases, such as GISAID; reporting initial cases or clusters to WHO.
In Asia, Japan reported its first case of the Omicron variant on Tuesday, less than a day after the country imposed sweeping restrictions on inbound travel to prevent the new strain from spreading domestically, Japan Times reported.