New Guinness Record: 107-Year-Old Japanese Sisters Are the World's Oldest Identical Twins
Two Japanese sisters Umeno Sumiyama and Koume Kodama have been confirmed as the oldest living identical twins by Guinness World Records, by the age of 107 and 130 year olds.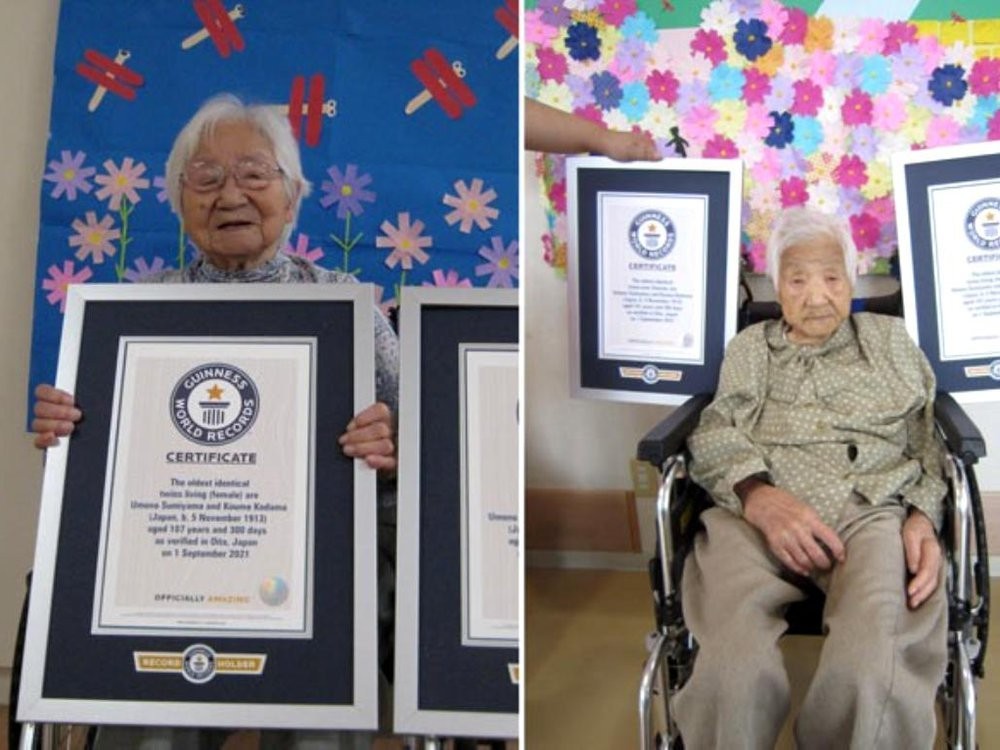 Umeno Sumiyama (left) and Koume Kodama (right) with their official certificates Guinness World Records
On September 1, sisters Umeno Sumiyama and Koume Kodama turned 107 years and 300 days old, officially breaking the record for the world's oldest living identical twins. The Japanese siblings are also the oldest identical twins to have ever lived.
As Mari Yamaguchi reports for the Associated Press (AP), Sumiyama and Kodama were born on Shodoshima island in western Japan on November 5, 1913. They were the third and fourth of 11 siblings.
The announcement was made on Monday to coincide with Respect for the Aged Day - a national holiday in Japan.
Due to the current situation with Covid-19, and as a precaution, the sisters - who live in different parts of Japan - were sent their official certificates to be presented by staff at their separate care homes, according to BBC.
"Their upbringing was similar to that of a TV drama"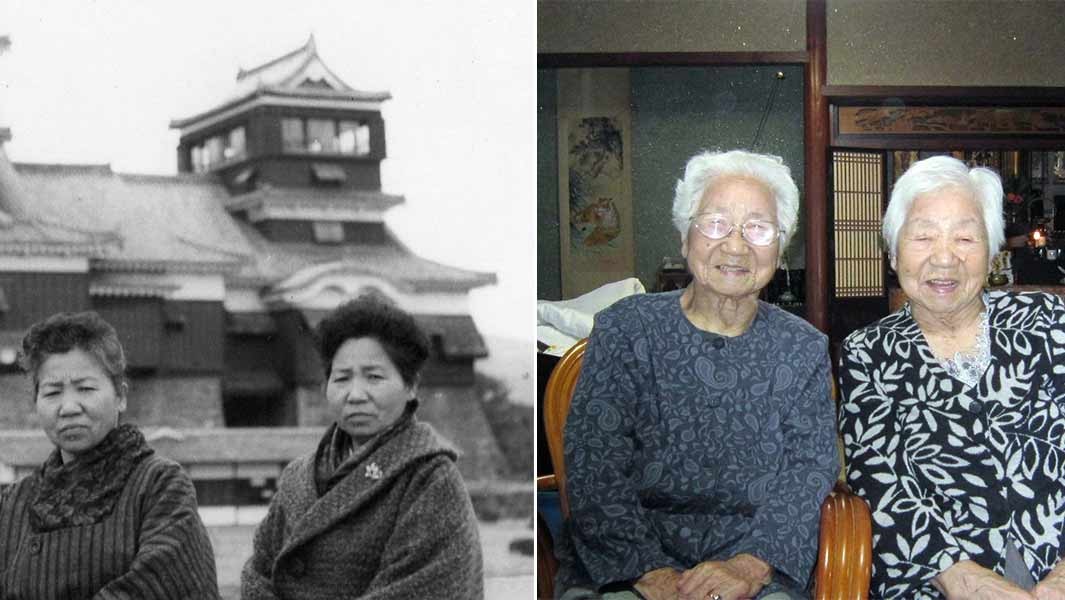 Photo: Guinness World Records
According to their family members, the twins are both sociable and positive and hardly worry about things. Apparently, Umeno is more strong-willed, while Koume is more gentle.
The sisters parted ways after elementary school, with Kodama going to Oita, a town on Japan's southern main island of Kyushu, to work as a maid, notes the AP. She stayed on Kyushu and got married. Sumiyama remained in their hometown and later started her own family there.
The twins experienced two world wars. Umeno had to vacate her home towards the end of the Second World War as an air raid shelter was constructed in the mountain behind it, only for the war to end shortly afterwards.
Group photo from earlier days. Here, Koume can be seen sitting in the very right of the second row, while Umeno is the third one from the left in front row. Photo: Guinnes World Records
Because the twins were over 300 km apart, they were unable to catch up regularly, and mainly saw each other at weddings and funerals. However, once they were around the age of 70, they travelled together for Buddhist pilgrimages on several occasions.
As Umeno and Koume got older, the twins joked about reaching the age of Kin Narita and Gin Kanie, who were not only the previous record holders for the oldest identical twins living, but also a household name in Japan.
When they celebrated their 99th birthday (a custom in Japan), Umeno looked at the photo of Kin and Gin and said "I think we look younger"!
The now-deceased sisters became well known in the late 1990s for both their age and sense of humor. Writing for the Guardian in 2000, Jonathan Watts deemed the duo "the smiling faces of [Japan's] rapidly greying society."
According to Japan's health and welfare ministry, around 29 percent of the country's 125 million residents are 65 years or older. Of these senior citizens, 86,510 are centenarians, half of whom turned 100 this year, notes the AP.
These two sets of twins aren't the only Japanese people to break age-related world records. Kane Tanaka, who celebrated her 118th birthday in January, is the world's oldest living person, while Jiroemon Kimura, who died in 2013 at 116 years and 54 days old, is the oldest verified man in history.
Koume, whose memory is not what it once was, sadly couldn't fully comprehend the significance of receiving the certificate.
However, her family are pleased that Koume's achievement has been officially recognized, given that Koume often talked about Guinness World Records over the years.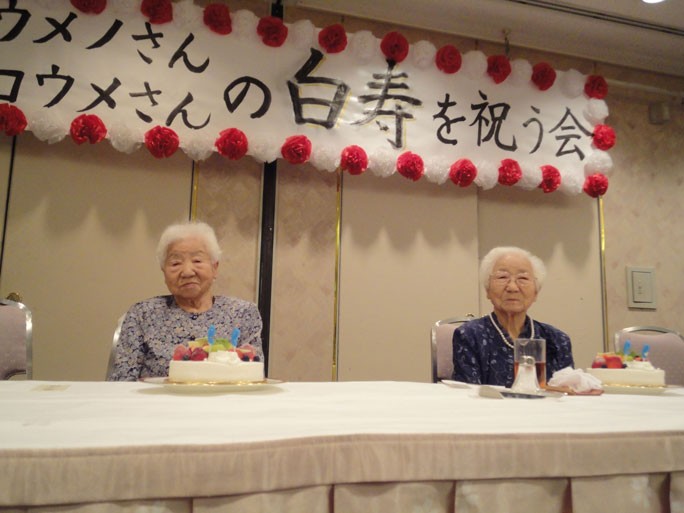 Koume (left) and Umeno (right) celebrating their 99th birthday. Photo: Guinness World Records
Why do the Japanese have the highest life expectancy in the world?
Among the G7 countries, Japan has the highest life expectancy at birth according to 2016 OECD data, particularly for women. Japanese men have a slightly higher life expectancy (81.1 years) than that of Canadian men (80.9 years), while the life expectancy of Japanese women (87.1 years) is significantly higher (2.4 years) than that of Canadian women (84.7 years). The healthy life expectancy of the Japanese, 74.8 years, is also higher than in Canada (73.2 years).
The higher life expectancy of Japanese people is mainly due to fewer deaths from ischemic heart disease and cancers, particularly breast and prostate cancer. This low mortality is mainly attributable to a low rate of obesity, low consumption of red meat, and high consumption of fish and plant foods such as soybeans and tea. In Japan, the obesity rate is low (4.8% for men and 3.7% for women). By comparison, in Canada 24.6% of adult men and 26.2% of adult women were obese (BMI ≥ 30) in 2016. Obesity is an important risk factor for both ischemic heart disease and several types of cancers.
Yet in the early 1960s, Japanese life expectancy was the lowest of any G7 country, mainly due to high mortality from cerebrovascular disease and stomach cancer. The decrease in salt and salty food intake is partly responsible for the decrease in mortality from cerebrovascular disease and stomach cancer. The Japanese consumed an average of 14.5 g of salt/day in 1973 and probably more before that. They eat less salt these days (9.5 g/day in 2017), but it's still too much. Canadians now consume on average about 7 g of salt/day (2.76 g of sodium/day), almost double the intake recommended by Health Canada.
Contribution of genes and lifestyle to the health of the Japanese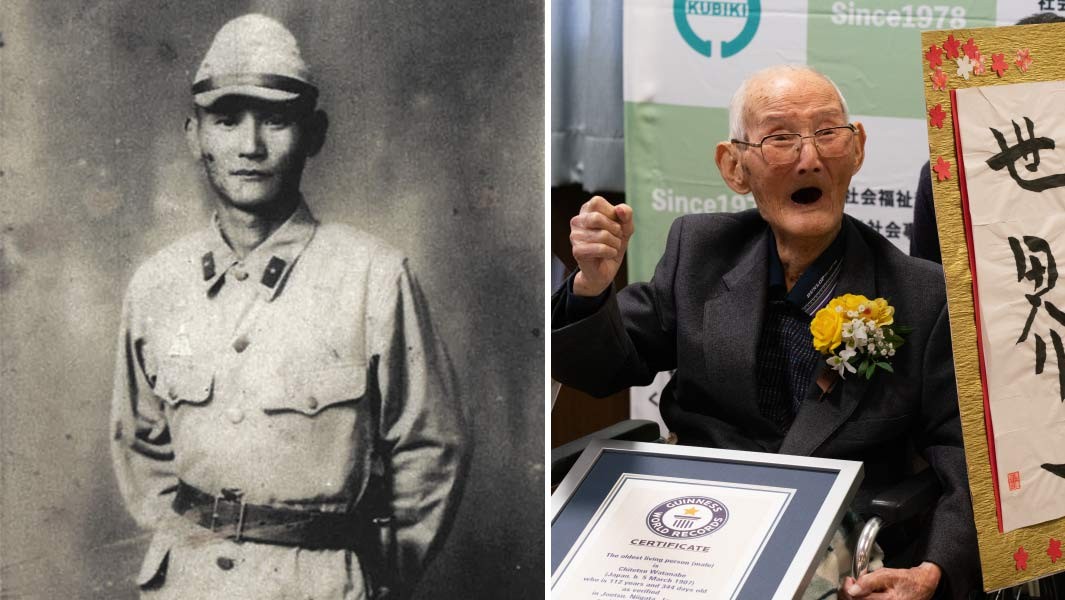 Japan's Chitetsu Watanabe confirmed as the world's oldest man living at 112 years old. Photo: Guinness World Records
Some risk factors for cardiovascular disease and cancer are hereditary, while others are associated with lifestyle (diet, smoking, exercise, etc.). At the turn of the 20th century, there was significant Japanese immigration to the United States (especially California and Hawaii) and South America (Brazil, Peru). After a few generations, the descendants of Japanese migrants adopted the way of life of the host countries. While Japan has one of the lowest incidences of cardiovascular disease in the world, this incidence doubled among the Japanese who migrated to Hawaii and quadrupled among those who chose to live in California according to a 1975 study. What is surprising is that this increase has been observed regardless of blood pressure or cholesterol levels, and seems rather directly related to the abandonment of the traditional Japanese way of life by migrants.
In other words, even if these migrants have the same basic risk as their compatriots who have remained in the country of origin (age, sex and heredity), the simple fact of adopting the lifestyle of their host country is enough to significantly increase their risk of cardiovascular disease.
Although the Japanese diet is different from those of Western countries, it has similar characteristics to the Mediterranean diet. Why not prepare delicious Japanese soy dishes from time to time (for example, tofu, edamame, miso soup), drink green tea, eat less meat, sugar and starch and more fish? Not only will your meals be more varied, but you could enjoy the health benefits of the Japanese diet.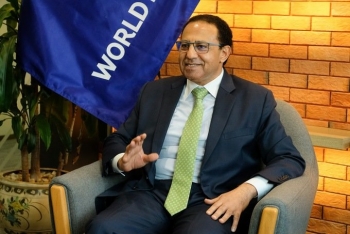 Economy
Vietnam's agriculture is transforming from quantity targets towards profit, environment and farmer income targets. Ahmed Eiweida, Vietnam Sector Leader for Sustainable Development (World Bank).