New Japanese PM likely to consolidate bilateral relationship between Vietnam and Japan
Diplomatic policy for Vietnam under the Abe administration is likely to remain and the bilateral relationship will be strengthened under new Japanese PM.
New Japanese government is likely to continue Abe's policy for Vietnam and to put priority to Indo-Pacific strategy
Chief Senior Economist at the Japan External Trade Organisation (JETRO) Atsusuke Kawada assumed that the Japanese government's diplomatic policy for Vietnam would continue the policy of the Abe administration. This is because Vietnam and other ASEAN countries are very important partners for Japan in the fields of economics, politics, and foreign affairs.
Through the annual dialogue, existing FTAs/EPAs between Japan and ASEAN countries, the framework of CPTPP (TPP11), APEC and RCEP, which is currently in the final adjustment stage, he assessed that the economic relationship between Japan and ASEAN would be further strengthened and deepened in general.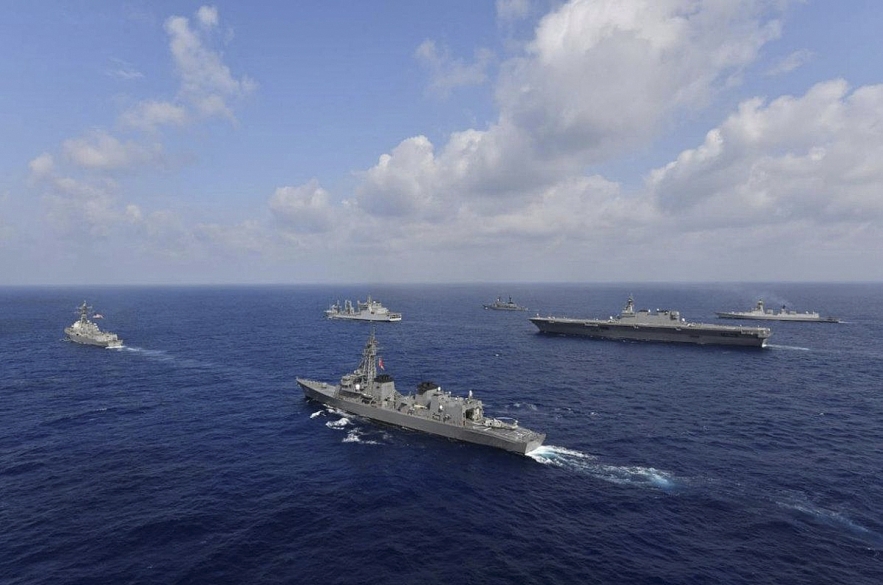 Vessels from the U.S. Navy, Indian Navy, Japan Maritime Self-Defense Force and the Philippine Navy sail in formation in South China Sea, May 9, 2019. Photo handed out via Reuters.
Yoshikazu Kato, currently Adjunct Associate Professor at the Asia Global Institute, University of Hong Kong, said the new administration of Japan will definitely be committed to its Indo-Pacific strategy.
"Japan is aware that it has initiated this strategy and it would be beneficial for all stakeholders including Vietnam who has been positively engaged in the regional rules and values-based cooperation while confronting serious geo-political challenges with China," he said, according to Viet Nam News,
Kato also said that irrespective of the victor in the upcoming presidential election in the U.S., Japan and the U.S. will aggressively promote the Indo-Pacific region to hedge against uncertainties of China's rise.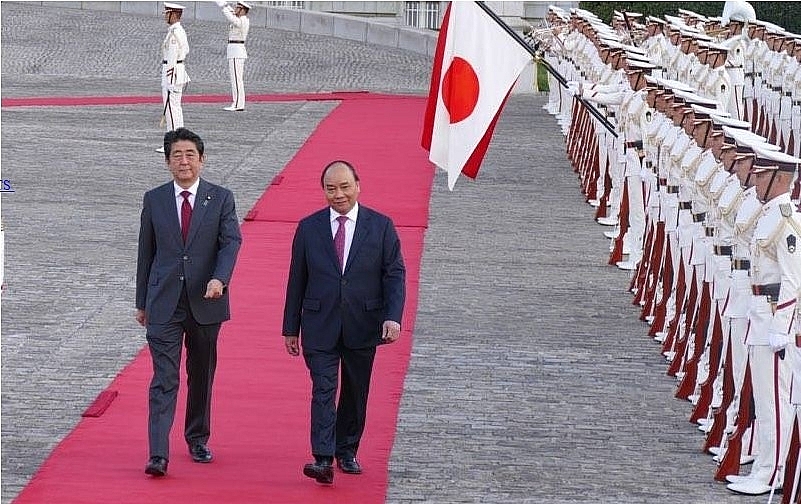 Photo: Nhandan
Stephen Nagy, Senior Associate Professor at the Department of Politics and International Studies, International Christian University, Tokyo, said a free and open Indo-Pacific vision is part of Japan's long term strategy to inculcate itself in the region through economic and infrastructural connectivity as well as diplomatic integration.
"This goal has not changed with Suga and it won't change in overall strategic objectives. Where we might see change is in the peripheral details such as partners, and specific regional initiatives as resources will be scarce in a post Covid-19 recession."
Expected strategies for strengthening the bilateral relationship between Vietnam and Japan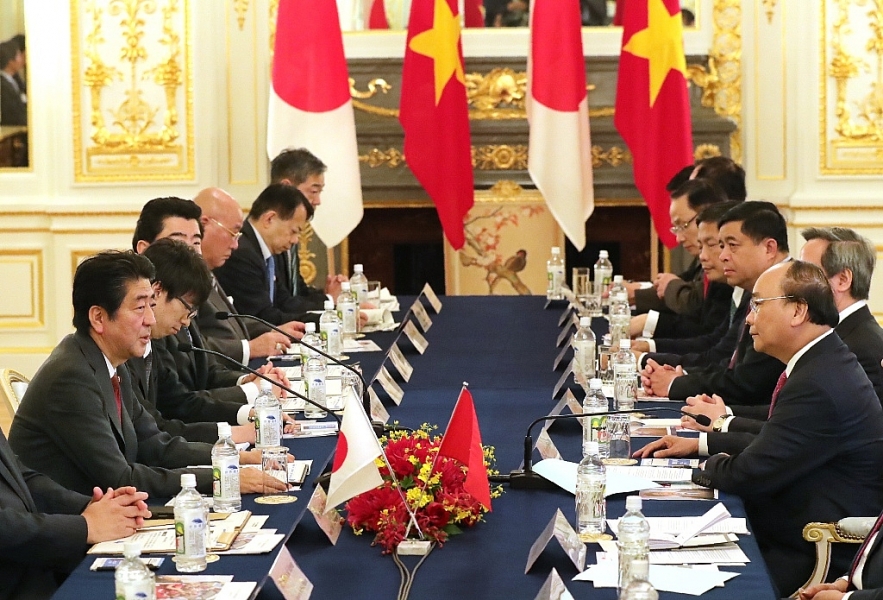 Photo: Japan-forward.com
The JETRO's economist said Prime Minister Abe himself made a great contribution to creating an environment in which Japanese companies can easily conduct business activities in Vietnam, through visiting Vietnam as the first outing destination and building extremely good relationships with Prime Minister Nguyen Xuan Phuc and other Vietnamese leaders.
To strengthen Vietnam-Japan ties in economics, he suggested the two sides further activate human resource exchange and build a mutually complementary win-win relationship, Vietnam Plus reported.
"Japanese companies, facing the declining birthrate and aging population, need more Vietnamese hard-working and talented human resources, and it is possible for Vietnamese people to acquire various technologies and know-how from their work experience in Japan," he said.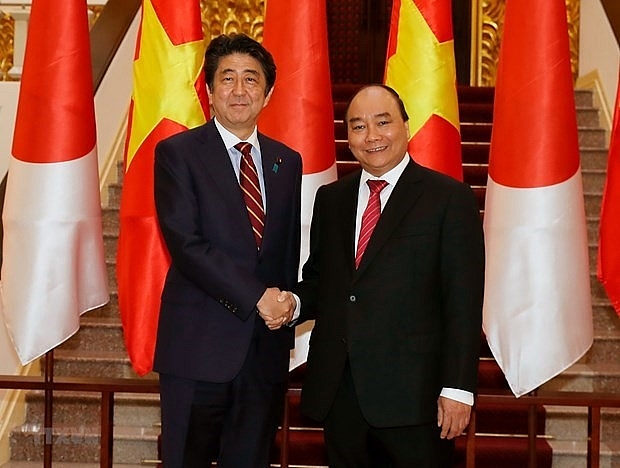 Prime Minister Nguyen Xuan Phuc (right) and his Japanese counterpart Shinzo Abe. (Photo: VNA)
He also expects Vietnamese firms to expand their business activities in Japan, backed by the increase in the number of Vietnamese living in Japan.
The economist went on to say that to attract foreign companies including Japanese companies, it is important for Vietnam to continue improving the business climate and developing human resources.
In order to improve the industrial structure of Vietnam, it seems necessary to work on attracting foreign firms with technology- and knowledge-intensive industries in and around urban areas such as Hanoi, Ho Chi Minh City, and Hai Phong, and labor-intensive industries in rural areas, he noted.
"To that end, it is important that the provinces and cities of Vietnam compete with each other to enhance their attractiveness as an investment destination, including the careful consideration of the companies that have entered the market," according to Kawada.
"PM Suga is not a copy of Shinzo Abe"
Mieko Nakabayashi, professor at the School of Social Sciences of Waseda University, Japan, feels there will be a difference in how Japan confronts China with Suga as PM.
Suga will continue Abe's foreign policy approach on a free and open Indo-Pacific, but his view on China may not be the same as Abe, Nakabayashi said.
"Rather, there is a possibility that it is closer to the viewpoints of Toshihiro Nikai, Secretary General of the Liberal Democratic Party (LDP)."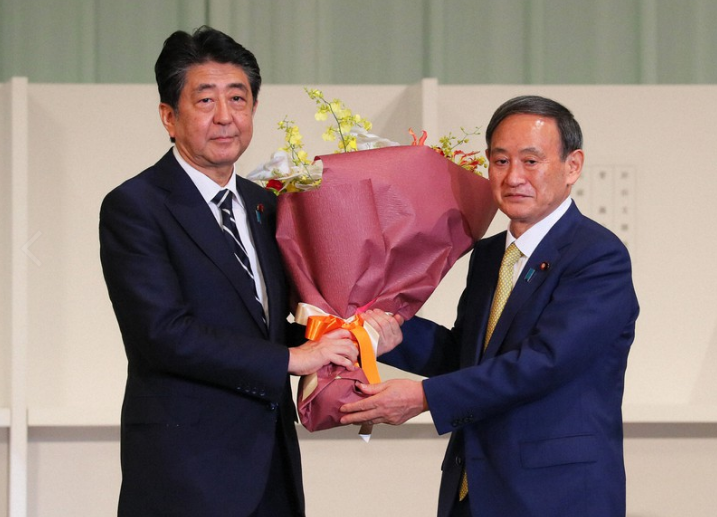 Yoshihide Suga, right, gives a bouquet to outgoing Prime Minister Shinzo Abe after Suga was elected as the new president of the Liberal Democratic Party at a hotel in Tokyo on Sept. 14, 2020. (Mainichi/Naoaki Hasegawa)
"PM Suga is not a copy of Shinzo Abe," Smith of the Council on Foreign Relations said.
There may be similarities in their understanding of Japan's priorities and the policies designed to achieve economic growth, social transformation and foreign policy, but Suga has had a very different political journey, and has a very different set of political skills, she noted.
"Since coming into office last week, PM Suga has identified governance reform as his signature issue. He has emphasized the need for Japan's government to become more rational, and to move expeditiously into the digital era. It will be interesting to see how these skills translate into the prime minister's role," she said.
According to Vn Express, Nagy of the International Christian University made a more specific comparison, saying Suga has already raised the issue of raising the consumption tax to deal with the social welfare needs of today's and tomorrow's aging society, which was different from Abe who tried to rewrite Japan's social contract so that resources could be diverted to the youth rather than the elderly.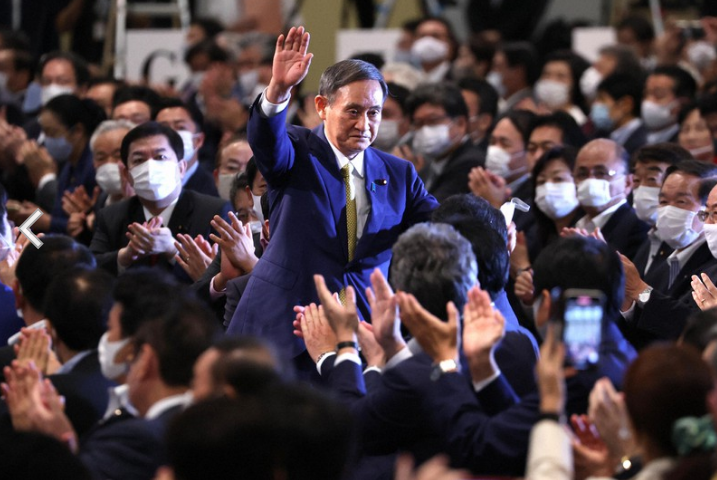 Yoshihide Suga responds to applause from national assembly members after he was elected as the new president of the Liberal Democratic Party at a hotel in Tokyo on Sept. 14, 2020. (Mainichi/Yuki Miyatake)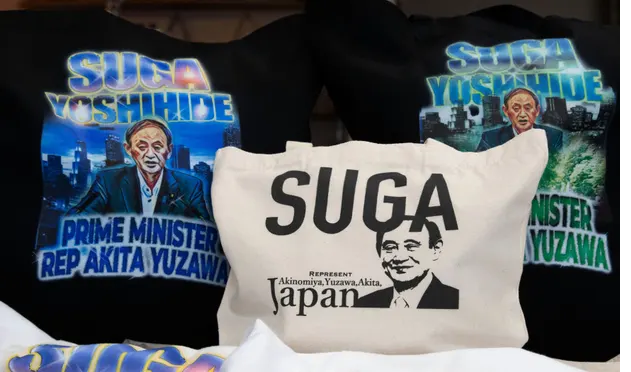 Merchandise featuring Japan's expected new prime minister, Yoshihide Suga, is displayed at a store in his home town of Yuzawa. Photograph: Reuters
He also thinks Suga will be more domestically focused and will likely enlist a skilled set of cadres to implement and execute foreign policy, and that may include former PM Abe as some sort of special envoy or senior statesman to manage the most critical Japan-U.S. relationship.
Kato of the University of Hong Kong felt Suga should go beyond the Abe administration, which had to deal with a lot of personal and cabinet scandals, to show that the new administration would be much cleaner, not just a copy of his predecessor.
Davis of Harvard University said that as the son of a farmer, Suga has a very different personal background from that of Abe and this would allow him to separate himself from the "problems of the Abe administration with corruption and extreme right wing nationalist affiliation."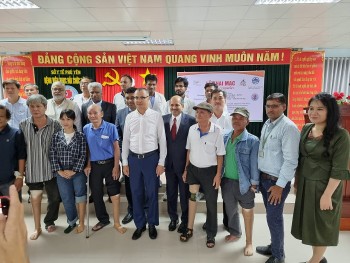 Friendship
This is the 5th time the Jaipur Foot Artificial Limb Fitment Camp has been held in Vietnam since 2018 by the Indian Ministry of Foreign Affairs, Indian agencies and organizations.