Vietnam thanks Japanese PM for important contributions, wishes him good health
Vietnam wishes Japanese Prime Minister Shinzo Abe good health and happiness, stressing that the country is appreciative of his important contributions to promote Vietnam-Japan relations over the years.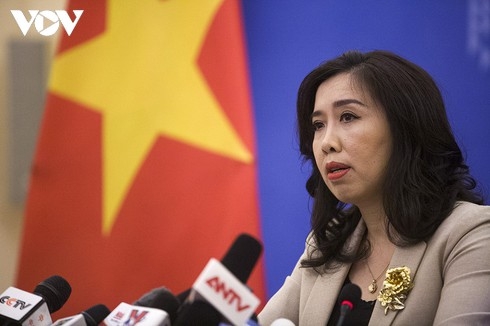 Foreign Ministry spokesperson Le Thi Thu Hang. Source: VOV
Abe, Japan's longest-serving prime minister, announced earlier at an August 28 news conference that he has decided to step down from his post in the middle of a record-long tenure. The move follows repeated hospital visits by the prime minister amid concerns about his health.
He visited Tokyo's Keio University Hospital on August 17 and again on August 24, and it had been pointed out that his health was unstable. Abe has ulcerative colitis, an intestinal disease.
"A relapse of my ulcerative colitis was confirmed in early August. While I get treated for my illness and my physical strength is not in top shape, there mustn't be a situation where I make an error on important political decisions and fail to deliver results. I decided to step down as prime minister," he said.
After his first administration suffered a major defeat in the July 2007 House of Councillors election, his health worsened, and he stepped down after about a year in office. The prime minister's current term as president of the ruling Liberal Democratic Party is due to end in September 2021, meaning he will be leaving early for the second time.
Regarding the announcement of Prime Minister Abe's resignation, Foreign Ministry spokesperson Le Thi Thu Hang emphasized on August 28, "The Japanese people have placed great trust in Mr. Abe Shinzo for many years as Prime Minister of Japan who have made significant contributions to Japan's development and the promotion of cooperation in multiple fields in the region and the wider world."
Vietnam highly appreciates the important contributions made by Prime Minister Abe Shinzo to the development of Vietnam - Japan relations, for the benefit of the two peoples, and for the sake of regional and global peace, prosperity, cooperation and development.
Vietnam wishes Prime Minister Abe good health, and happiness, while hoping that he would continue to make important contributions to the development of Japan as well as to the ties of friendship and cooperation between two countries.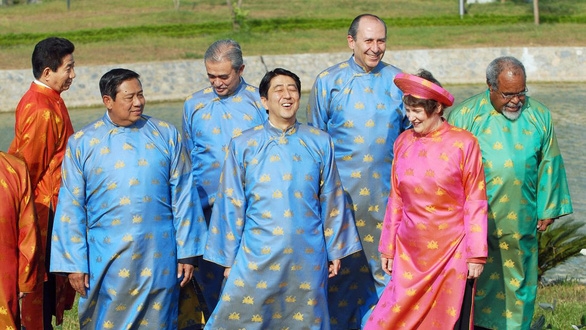 Japanese Prime Minister Abe Shinzo and many heads of state in Vietnam during APEC summit week 2006. Photo: VNA

Prime Minister Nguyen Xuan Phuc in August 2020 holds phone talks with his Japanese counterpart Shinzo Abe for the second times in the past three months. Photo: VGP
Vietnam and Japan established diplomatic ties on September 21, 1973 and issued the Statement of the Joint Vision of Vietnam-Japan relations in 2015, promoting a comprehensive strategic partnership.
The meetings and exchanges at all levels occur regularly between the two countries, bringing important results of cooperation in many fields.
During his term, from 2012 to 2020, and during the short term earlier in 2006, Prime Minister Abe visited Vietnam four times. He also strengthened bilateral relations and contributed to the development of Vietnam-Japan relations for the sake of the two countries' people./.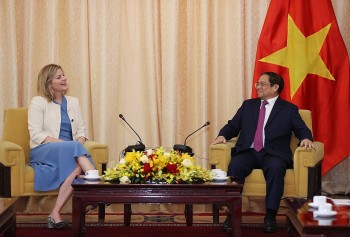 National
The Netherlands committed to cooperate with Vietnam, and together find innovative and sustainable solutions to accelerate green economy transformation.