New Plans Allow Foreign Tourists to Enter Phu Quoc
According to the plan, Phu Quoc will pilot to welcome international guests from October 1.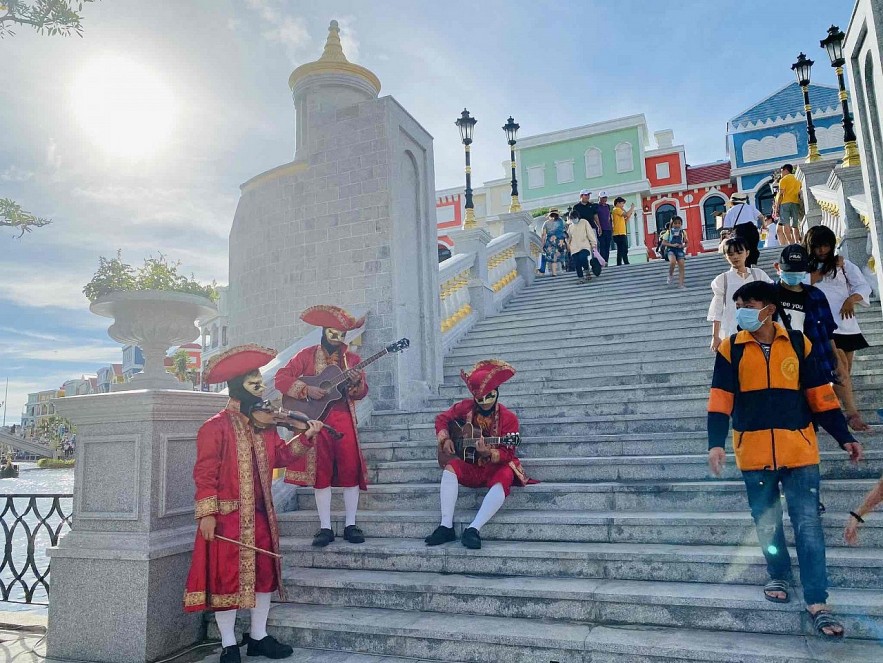 Before the outbreak of the Covid-19 pandemic, Phu Quoc recorded a very high economic growth rate, an average annual increase of about 25-35%. In which, tourism and services account for the highest proportion, increasing annually by 20-30%. Photo: Thanhnien
Visitors need to get 2 doses of Covid-19 vaccine
On September 8, Huynh Quang Hung, chairman of the People's Committee of Phu Quoc city (Kien Giang province) said that on September 9, the leaders of Kien Giang province and the People's Committee of Phu Quoc city will have a working session on the pilot plan to welcome international tourists to Phu Quoc.
Phu Quoc will pilot international visitors for a period of 6 months, expected from October 1.
The new process is divided into two phases.
Specifically, in the first 3 months, Phu Quoc is expected to welcome from 2,000 to 3,000 guests per month through charter flights. Visitors will be served within a limited range of areas, tourist attractions, large-scale resorts, capable of dividing separate and safe areas exclusively for international tourists.
From the 4th month, after the evaluation of phase 1, if done well, it can be deployed to welcome passengers via commercial flights and expand the range and locations to serve international tourists. At this stage, the ministry is expected to welcome from 5,000 to 10,000 visitors per month. During the six-month pilot period, tourism industry leaders estimate that Phu Quoc can welcome between 25,000-40,000 international tourists.
Regarding the conditions for tourists to travel to Phu Quoc, the Ministry of Culture, Sports and Tourism requires a certificate of vaccination with a full dose of Vietnam-recognized Covid-19 vaccine, the time for the second injection is at least 14 days and no more than 12 months from the date of entry. Visitors are also required to have a certificate of recovery from Covid-19 recognized by Vietnam, the time from discharge from the hospital to the date of entry must not exceed 12 months. They need to have a negative RT-PCR/RT-LAMP test result within 72 hours before departure.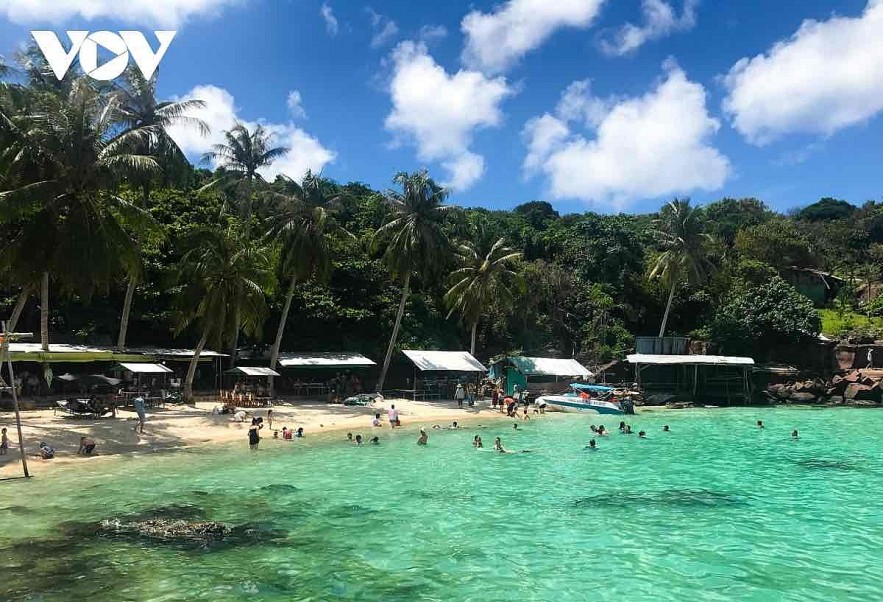 Photo: VOV
In addition, visitors have to register to participate in the package tour program of the travel agency selected by the Ministry and Kien Giang province. The targeted markets are tourists from countries and territories with potential and safety in pandemic prevention in some regions such as Northeast Asia, Europe, the US, the Middle East, and Australia. Some markets that the Ministry of Culture, Sports and Tourism suggests are: China, Korea, Japan, Taiwan, USA, Germany, UK, Russia, France. These are markets where many visitors come to Vietnam and have high Covid-19 vaccination rates.
Developing a European standard vaccination certification system
According to the Vietnam National Administration of Tourism, the unit has worked closely with relevant units under the Ministry of Health and the Ministry of Information and Communications to build a European standard vaccination certification system to be ready to serve international guests.
The system has been integrated into the "Vietnam Safe Travel" application, meeting the requirements of security, safety and information security, supporting tourists from before entering to leaving Vietnam.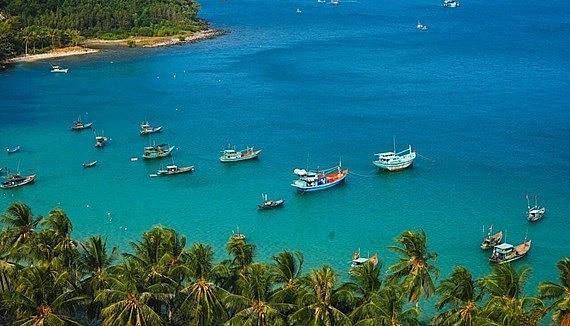 A corner of Phu Quoc. Photo: VNA
At the same time, the "Vietnam Safe Travel" application has been integrated with the "Medical declaration" feature according to the regulations of the Ministry of Health. The data is directly linked to the medical declaration management system of the National Steering Committee for Covid-19 Prevention and Control.
In addition to medical declarations and vaccination certificates, users of "Vietnam Safe Travel" application can access the smart ecosystem such as searching for safe destinations, updating pandemic information in localities, safe tourist digital map, health monitoring, travel insurance, e-tickets, service shopping, tour management, destination discovery.
Prior to that, concluding the August Government's regular meeting held on September 6, Prime Minister Pham Minh Chinh also directed relevant agencies to quickly launch a pilot to attract international tourists to Phu Quoc from now until the end of the year.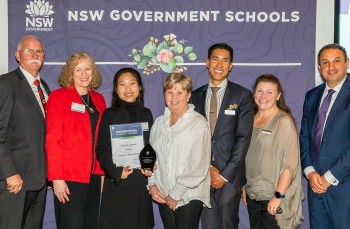 Overseas Vietnamese
The award for international students studying at New South Wales state schools (Australia) honors excellent ones from many countries, including a Vietnamese female student.