Nghe An Seeks Investment Opportunities with India's Haryana State
The north-central province of Nghe An stand ready to boost commercial investments with India's Haryana state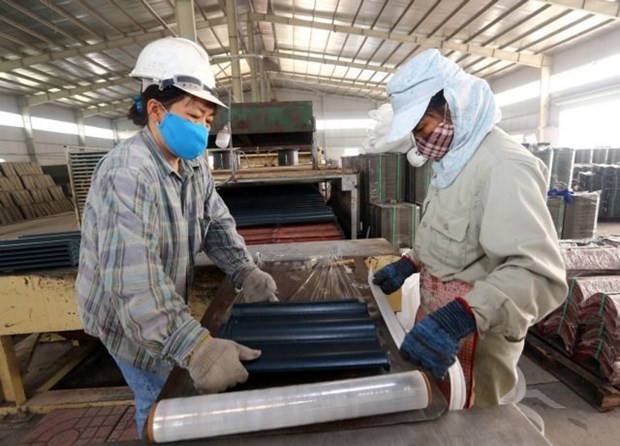 Inside a building material factory at the Vietnam - Singapore Industrial Park. Photo: VNA
Nghe An province's Department of Industry and Trade will coordinate with Trade Office - the Vietnamese Embassy in India to organize an online conference to seek commercial investment opportunities with Haryana state, India, on March 30.
Nghe An Provincial People's Committee on March 18 issued a plan on organizing an online seminar to seek commercial investment opportunities between the province and Haryana state.
According to the plan, the Embassy of India in Vietnam will coordinate with the People's Committee of Nghe An and the Government of Haryana state to organize a seminar to find investment cooperation and trade opportunities between the two areas.
The seminar is also an opportunity for Nghe An to introduce the province's potential, advantages, and policies to support investment, especially investment support in the Southeast Economic Zone and Industrial Parks, creating conditions for investors and businesses in Haryana state to seek cooperation and investment opportunities in the province.
It is expected that the seminar will be held from 1:30 p.m. to 3 p.m. on March 30. At the Indian Embassy in Hanoi, Ambassador of India in Vietnam, Pranay Verma, will chair with Indian associations and businesses in Vietnam.
In Haryana state, the chief deputy minister of Haryana State will chair together with local associations and enterprises.
Nghe An's side will be chaired by the vice-chairman of Nghe An Provincial People's Committee and representatives of Office of Provincial People's Committee; leaders of departments and branches and companies investing in infrastructure business Nghe An.
Nghe An will closely coordinate with the Indian Embassy, ​​Haryana State Government, and related parties to organize the seminar.
The Provincial People's Committee also assigned the Office of the Provincial People's Committee to regularly inspect and support the Department of Foreign Affairs and related units on assigned tasks.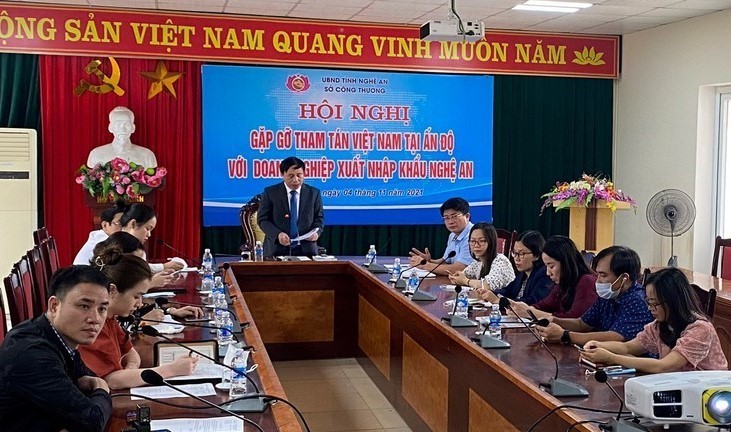 At the meeting to prepare for the upcoming seminar. Photo: moi.gov.vn
The Department of Foreign Affairs shall assume the prime responsibility for connecting information with the Indian Embassy and the Haryana State Government to develop the program and script to organize the seminar; and take prime responsibility for and coordinate with agencies in preparing contents to be exchanged with partners in the seminar.
The Provincial Center for Investment Promotion, Trade and Tourism will prepare the documents to introduce the strengths of Nghe An province and a list of priority projects to attract investment in cooperation with India.
Provincial-level departments and agencies will provide information on the cooperation situation, proposals and direction for cooperation in the near future with Haryana state and prepare contents and documents when requested for the seminar.
Economic and trade ties are essential pillars of the two countries' comprehensive strategic partnership.
Vietnam-India bilateral trade increased rapidly from USD 200 million in 2000 to more than USD 13 billion in 2021, and the two countries are aiming for USD 15 billion this year.
As of February 2022, India ranked 25th out of 140 countries and territories investing in Vietnam with 315 valid projects worth more than USD 918 million, mainly in the processing industry, manufacturing, electricity production and distribution, and mining.
On the other hand, Vietnam had nine investment projects, mainly wholesale and retail ones, in India, whose total value exceeded USD 6 million.
Russia Offers More Oil to India

Beleaguered by sanctions from the western countries and a ban on fuel exports to the United States, Russia is keen to increase its oil and ...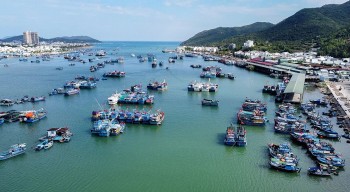 Economy
GDP growth quickened to 7.72% in the quarter ended June, beating the government's 6%-6.5% target.