Ninh Thuan Receives UNESCO Certificate For Biosphere Reserve
On April 14, Ninh Thuan Province held a ceremony to receive a UNESCO certificate recognising Nui Chua area as a world biosphere reserve.
The southcentral province of Ninh Thuan has received a certificate recognising Nui Chua as a world biosphere reserve from the UN Educational, Scientific and Cultural Organization (UNESCO).
According to vietnamplus, the recognition demonstrated international recognition of biodiversity values as well as the efforts of Vietnam and Ninh Thuan to conserve nature and promote sustainable development.
Addressing the ceremony, Vice Chairman of the provincial People's Committee Le Huyen affirmed that protection and conservation programmes for Nui Chua's forest and marine ecosystems and rare species of flora and fauna will continue.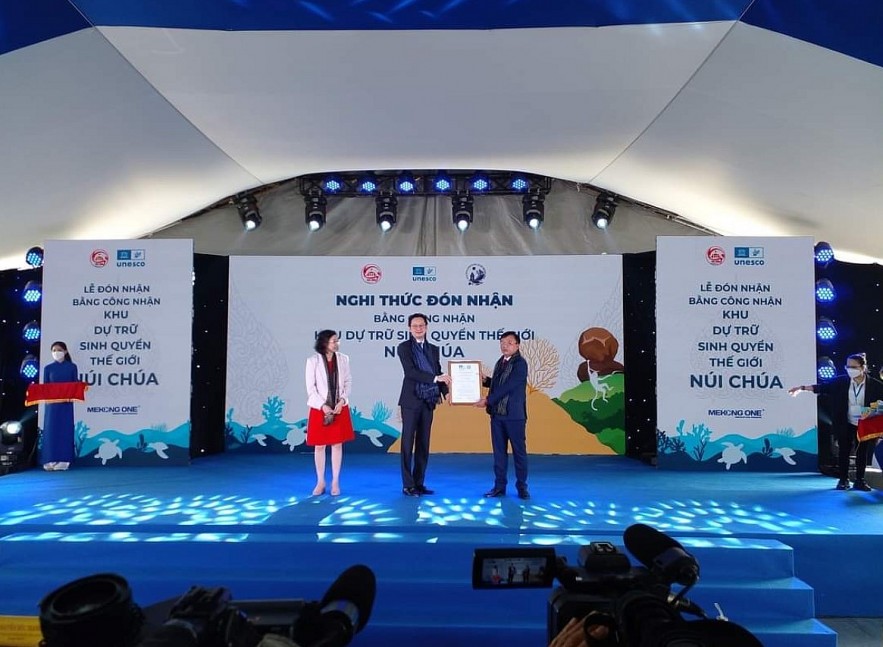 Ninh Thuan People's Committee receives UNESCO's certificate recognising Nui Chua National Park as the Biosphere Reserves. Photo: vir.com.vn.
Ninh Thuan will focus on investing in promoting the ecosystem's values via the development of eco-tourism, scientific research and environmental education, he noted.
This is the global community's acknowledgement of the importance of natural landscapes, biodiversity, and indigenous cultural values. According to Vietnam Investment Review, it demonstrates the appreciation for Vietnam's policies, commitments, and efforts in conserving nature, indigenous cultures, and responding to climate change, along with its implementation of the UN's Sustainable Development Goals in the 2030 Agenda.
The Nui Chua World Biosphere Reserve is the sole standard model of Vietnam's distinctive arid forest ecosystem. Its overall size is almost 107,000 acres, and it includes three distinct environments, forest, sea, and semi-desert. Currently, it is the home of 1,511 and 765 plant and animal species respectively, including numerous flora and fauna species listed in the Vietnam Red Book and the World Red List. Nui Chua has a 40-kilometre coastline and the nation's biggest coastal coral reef, with over 350 varieties of coral and hundreds of marine creatures.
It is a unique location where numerous rare animal species of worldwide importance are being meticulously conserved and protected.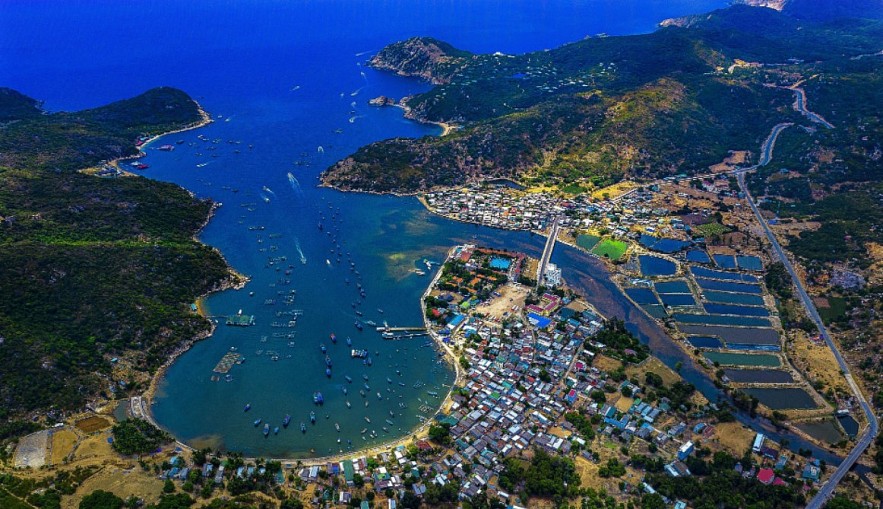 The Nui Chua world biosphere reserve in Ninh Thuan province overlooks Vinh Hy Bay. Photo courtesy of the biosphere reserve, Photo: Nguyen Van Quang
Ambassador and Head of the Vietnamese delegation to UNESCO Le Thi Hong Van said the site meet 7 criteria set by the International Coordinating Council of UNESCO's Man and the Biosphere Program.
"Nui Chua National Park is a place where three natural areas of forest, sea and semi-desert converge, creating rich and diverse ecosystems which are the habitats of various kinds of rare and endemic animals and plants on land and in the sea," said Ambassador Van.
Ambassador Van said it is an international recognition of the diversity and development of natural and biological values and cultural values of the communities as well as the efforts of local people in conserving sustainable biodiversity.
"UNESCO's registration of our two biosphere reserves is not just a title but really opens up many opportunities for us to learn from experiences, promote initiatives in environmental protection, conserve biodiversity, restore ecosystems, promote sustainable development models, and ensure people's livelihoods," said Ambassador Van.
"It is very important as the world is entering the UN Decade for Ecosystem Restoration 2021-2030 and we are making efforts towards post-COVID-19 pandemic socio-economic recovery and development."
Photo: Vu Diep/Tienphong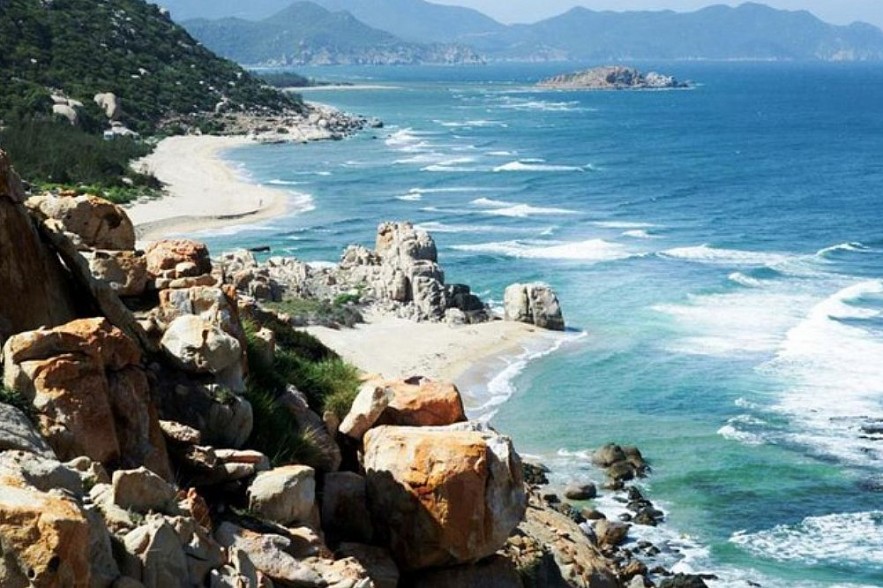 Photo: Vu Diep/Tienphong
She highlighted that this is also an opportunity for Vietnam to demonstrate its commitment to joint efforts in ensuring biodiversity, responding to climate change, protecting the environment, and contributing to global sustainable development efforts.
Among 22 nominees from 20 countries, UNESCO recognized two dossiers from Vietnam, taking the number of global biosphere reserves in Vietnam to 11, one of the highest in the world. In Southeast Asia, it is second only to Indonesia with 19 sites, as VOV News reported.
On the occasion, Vinh Hy Bay, located within the biosphere reserve, also received the title of national relic site from the Ministry of Culture, Sports and Tourism. It is a popular scenic destination ranked among the eight most beautiful bays in Vietnam.
According to UNDP, Vietnam ranks 16th among countries with the richest biodiversity in the world. Dozens of different ecosystems and habitats – including forests, grasslands, mountains, rivers, peat swamps, coastal mangroves, and coral reefs – all play host to thousands of native and migratory species, hundreds of which can only be found within Vietnam's borders.
Ninh Thuan has put strategies in place to conserve and rehabilitate its forest and marine ecosystems, as well as rare flora and fauna species. Nui Chua World Biosphere Reserve will devote its investment resources to conservation, research, and the fostering of ecological values. Activities will include boosting eco-tourism, scientific research, environmental education, sightseeing, and leisure.
The province is also focused on conserving and promoting art, sculpture, ceramics, brocade weaving, and traditional festivals. A methodology for forest conservation, supporting vocational training, and the establishment of grape-growing regions has also been established.
Ninh Thuan has huge potential for development in other industries including renewable energy, high-tech agriculture, and urban development. It is expected to develop an environmentally-friendly economy and take advantage of the opportunities brought by climate change.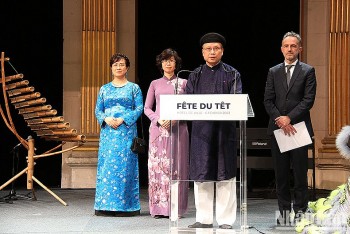 Friendship
Speaking at the celebration on the occasion of Lunar New Year for the overseas Vietnamese in France on February 6, Ambassador Extraordinary and Plenipotentiary of Vietnam in France Dinh Toan Thang emphasized that 2023 is an important milestone to promote the friendship and cooperation between Vietnam and France to the next level.