South Korea's Unification Ministry, which handles relations with North Korea, confirmed that the North had set off an explosion at the joint liaison office at 2:49 pm, in the North Korean border town of Kaesong. Yonhap News Agency added that military sources heard a loud explosion and saw smoke rising from the building. No South Koreans had worked at the office since January when it was closed because of the coronavirus epidemic.
Three days earlier, Kim Yo Jong, the influential sister and prominent adviser of the North's leader, Kim Jong-un, had given warnings that "before long, a tragic scene of the useless North-South joint liaison office completely collapsed would be seen", reported the NY Times. The South Korean government previously also called for an emergency meeting to assess the latest situation on the Korean peninsula and discuss Seoul's responses to Pyongyang's tough stances.
The liaison office was set up in September 2018 at Kaesong at the time when Mr. Kim and President Moon Jae-in of South Korea had convened optimistic meetings and were discussing the possibility of broad economic cooperation. It was expected to facilitate better communication between two countries since their division at the end of World War II in 1945, revealed the Hindustan Times.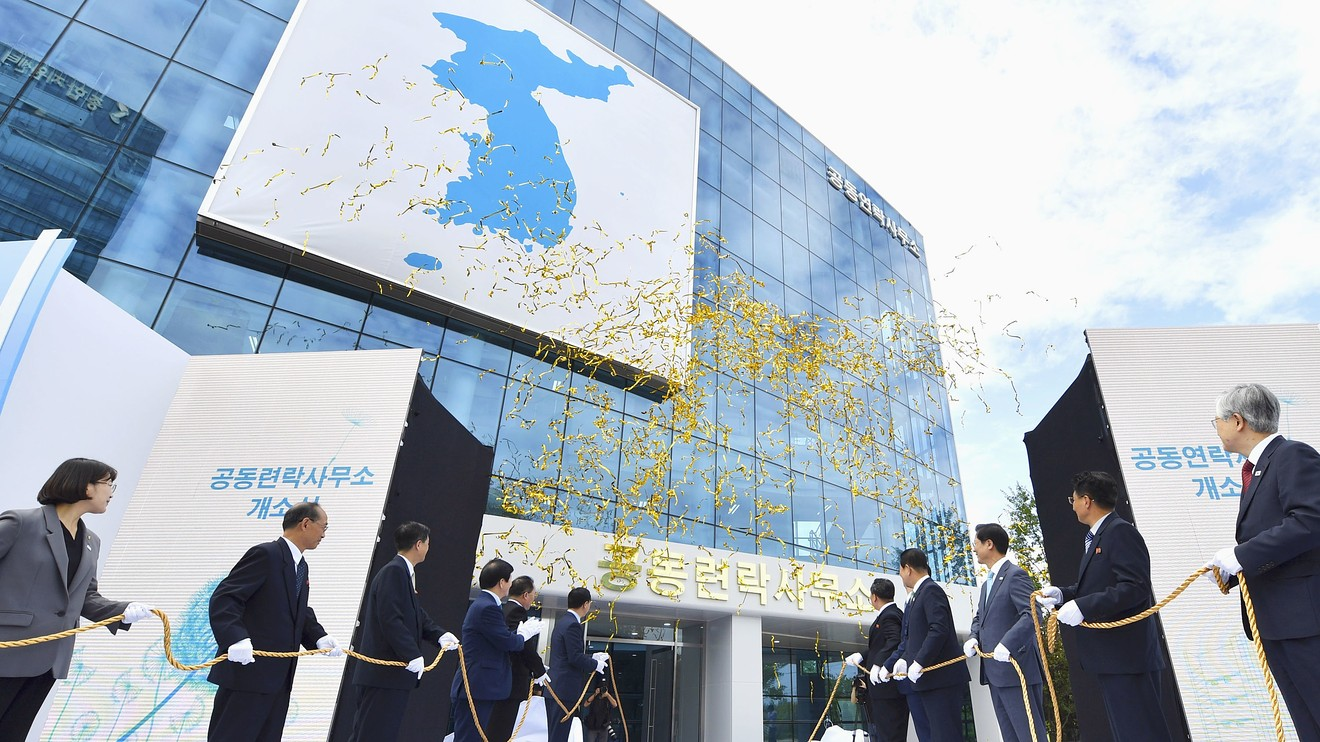 Photo taken on Sept. 14, 2018, shows the opening ceremony for the inter-Korean liaison office in Kaesong, North Korea. (Kyodo)
The opening of the inter-Korean liaison office is regarded as a paramount important step since it would hopefully end decades of enmity between two nations and would lead to the establishment of diplomatic missions in each other's capitals, the NY Times added.
However, inter- Korean relations have broken off since then. On June 5, the North issued the threat of closing the office down. Four days later, Pyongyang severed all contacts with Seoul, embracing one that went through the liaison office. It was said that North Korea was determined to "completely shut down all contact means with South Korea and get rid of unnecessary things."
Last week, Kim Yo Jong referred to the South as an "enemy" and strongly condemned the South as its inability to stop activists from dropping anti-Pyongyang leaflets across the border which denounce Mr. Kim and his repressive government. "I feel it is high time to surely break with the South Korean authorities​," Kim Yo Jong said, adding that the ​"next step​"​ would be taken by the North Korean military. The leafleting has triggered furious responses from North Korea and even the Korean Central News Agency (KCNA) described dropping-leaflet action as a "pre-war preemptive strike", informed the Guardian.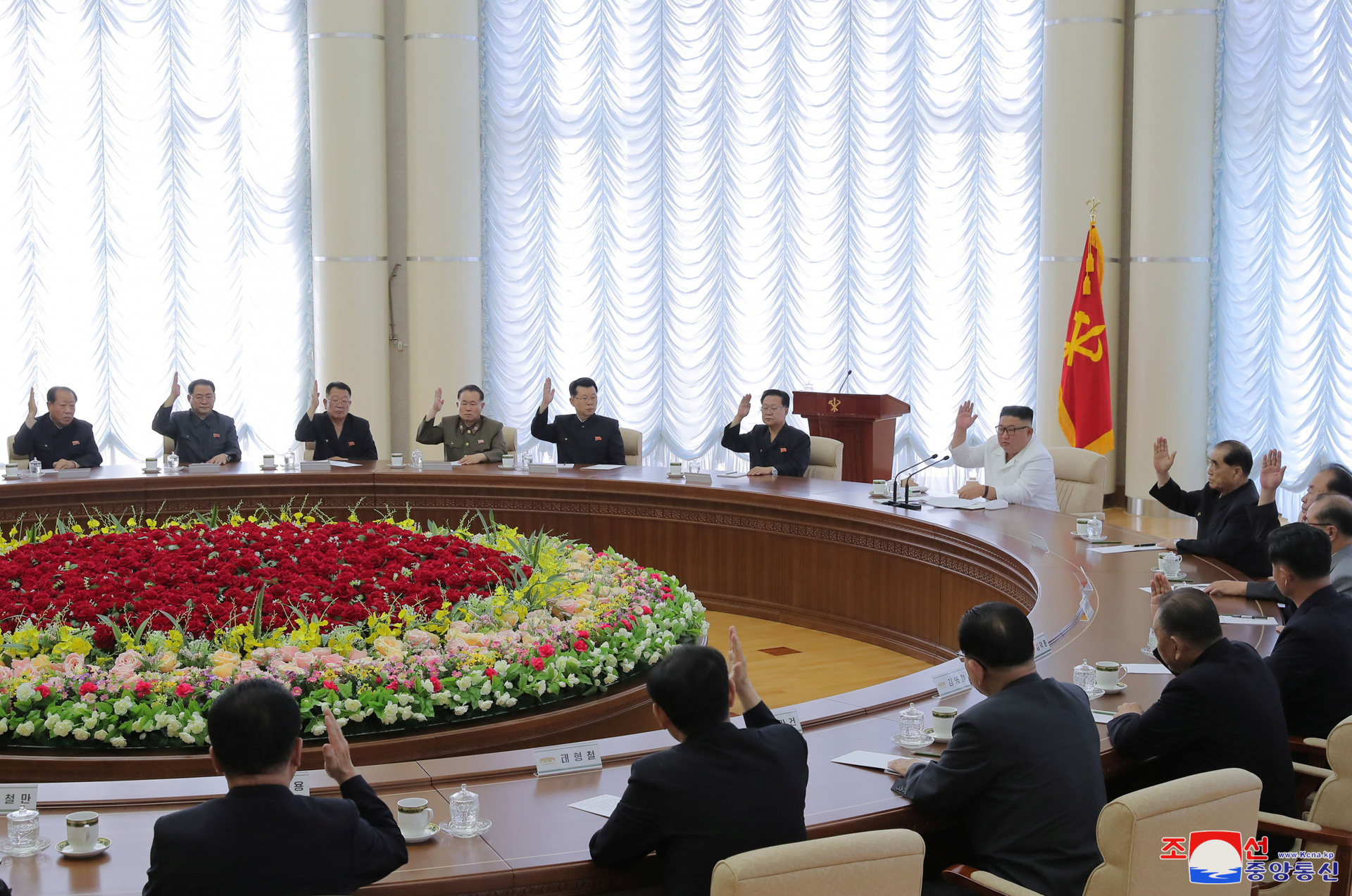 Kim Jong-un, in white, leading a meeting in a photo released by the North Korean state media last week (Photo: NY Times)
Jang Kum-Chol, chief of the United Front Department (UFD) also proclaimed that he lost all faiths in South Korea and warned Seoul would suffer from "tragic time" for not preventing the dropping-leaflet activities.
It is reported that North Korea has prepared to send soldiers into border areas where Kim and Moon stop "all hostile acts" during their first summit in September 2018.
South Korea's government, in response, has filed a police complaint against two defector groups, saying their activities were not helping "efforts to achieve peace and prosperity of the Korean peninsula".
"I regret that North Korea-US and inter-Korean relations have not made progress as expected," Moon said this week in a message to mark the 20th anniversary of the first inter-Korean summit, between Kim Jong-il and Kim Dae-Jung. "But what's most important is trust, which the South and North should build through constant dialogue."
The negotiations have not flourished since a second summit between Kim Jong Un and US President Donald Trump early last year fell apart because of disputes over by how much sanctions should be lifted in return for Mr. Kim's dismantling his main nuclear complex.
Response from South Korea
Hours after North Korea demolished the inter-Korean liaison office in its border town of Kaesong in a surprise provocation Tuesday, South Korea warned of a strong response if the North further worsens the situation, according to Yonhap.
Cheong Wa Dae made the unusually strong warning after holding an emergency meeting of the National Security Council (NSC) standing committee to discuss the matter.
"The government expresses strong regret over North Korea's unilateral explosion of the inter-Korean liaison office building," Kim You-geun, deputy director of Cheong Wa Dae's national security office, told reporters after the meeting. "We sternly warn that we will strongly respond to it if North Korea takes any action that further worsens the situation."
Kim also said the demolition constitutes an action that betrays "the expectations of all people who wish for the development of inter-Korean relations and the settlement of peace on the Korean Peninsula."
"We make it clear that the responsibility for anything that could happen because of the act lies entirely with the North Korean side," he said.
Malie Nguyen