Norwegian People's Aid conducts explosives training in Vietnam
The three-week intensive course on International Mine Action Standards Explosive Ordnance Disposal (EOD) Level 3 was held in Vietnam's central Quang Tri province.
Trainees participating in the training course are exchanging ideas about a hypothetical situation. Photo: Quang Tri newspaper
For the first time, The Norwegian People's Aid Vietnam has conducted a three-week intensive course on International Mine Action Standards Explosive Ordnance Disposal (EOD) Level 3 in Vietnam's central Quang Tri province.
The training course, concluded on June 16, aims to give NPA's most senior technical staff the skills and knowledge they need to achieve the IMAS (International Mine Action Standards) EOD Level 3 competency.
The course was instructed by Paul Eldred, NPA Vietnam Technical Field Manager at Project RENEW in Quang Tri province, who has over 25 years of experience in the EOD, search, and mine-warfare fields.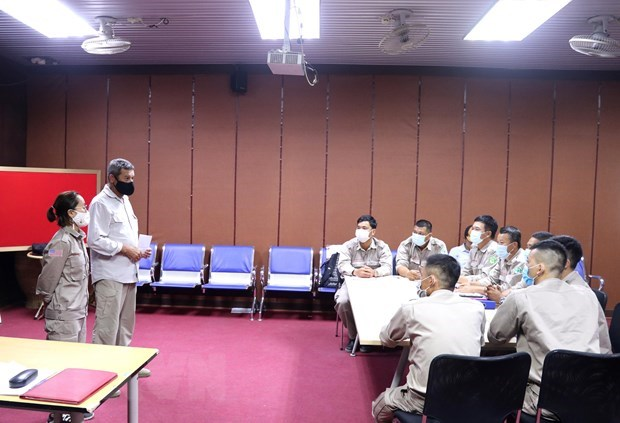 Part of the training course. Photo: VNA
He said the course is an affirmation of NPA Vietnam's commitment with the provincial authorities to improve the qualification of selected programme staff.
"One of the key objectives of NPA is to ensure that Vietnam has qualified personnel capable of dealing with residual explosive ordnance in the long term", he said.
To help achieve this objective, Eldred designed a course with five days of theoretical training followed by 13 days of practical training and assessment. Live demolitions were also carried out during the course, designed to replicate challenging scenarios that the technicians may encounter in their work in central Vietnam – including explosive ordnance in populated areas, or near important infrastructure like power stations and fuel stations.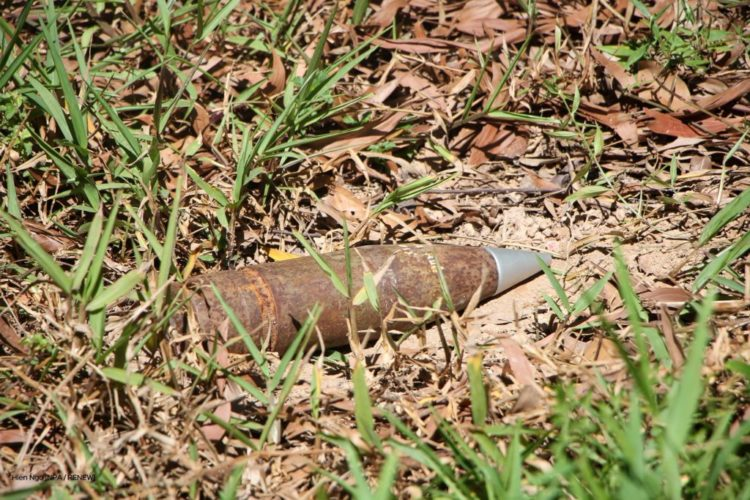 Hypothetical scenario: One 75mm High Explosive mechanical time fuze projectile. Photo NPA via Facebook
The eight trainees are eight senior national staff members from NPA's projects in Quang Binh, Quang Tri and Thua Thien Hue provinces. They are team leaders, supervisors, and operations managers, who have been working for NPA for years.
Prior to course admission, all trainees passed a rigorous assessment, and will be observed, mentored and assessed for an additional six months following the completion of the course before receiving their certification./.
Norwegian People's Aid (NPA) is one of the leading organisations worldwide in mine action and the removal of landmines, cluster munitions and other Explosive Remnants of War (ERW), currently operational in 19 countries around the world.
Since 2007, NPA has provided support to develop EOD capacity for Project RENEW. Since then, NPA has continuously strived to increase the capacity of the project through provisions of additional resources and training. It became the primary donor of Project RENEW since 2012.
Quang Trị was most heavily contaminated by unexploded ordnance (UXO) in Vietnam following the three decades of bombardment in the resistance war against the US.
Up to 82% of the locality's total area is contaminated by UXO from the war. Wartime bombs and landmines have killed more than 3,430 local people and injured 5,100 others in the province.
UXO was scattered over Vietnam, Laos and Cambodia by US bombers, at three times the volume of ordnance dropped in World War II, according to Project Renew.
Since 1975, bombs, mines and UXO left from the war in Vietnam have killed more than 40,000 people and injured 60,000 others, most of whom are sole breadwinners and children.
Vietnam has spent approximately VND12.6 trillion (US$549 million) on bomb and mine clearance in the past decade.