Vietnam, Norway strengthen cooperation in marine aquaculture
Vietnam holds huge potential and Norwegian businesses stand ready to assist the country in the field, Norwegian Ambassador to Vietnam Grete Lochen said.
At the event (Photo: BNews)
To mark the 50th anniversary of the diplomatic ties between Norway and Vietnam (1971-2021), and to celebrate nearly four decades of bilateral cooperation between the two countries in the fisheries sector, on May 21, 2021, the Royal Norwegian Embassy, Innovation Norway, MARD and VCCI co-organized a Webinar on developing Vietnam's marine aquaculture on an industrial scale.
The webinar was followed by a back-to-back Signing Ceremony of a Letter of Intent between the Norwegian Ministry of Trade, Industry, and Fisheries and MARD on strengthening and developing cooperation in the marine aquaculture industry, according to ScandAsia.
In his address, Deputy Minister of Agriculture and Rural Development Phung Duc Tien said that Vietnam's aquaculture development strategy to 2030 and a vision to 2045 aims to turn marine aquaculture into a sector yielding a large volume of products for export and domestic consumption and also encourage industrial fisheries in open waters. Vietnam's marine aquaculture, however, faces challenges in terms of infrastructure, science and technology, feed, disease, and a lack of incentives for stakeholders, among others, he noted.
"Over the last four decades, Norway has provided significant technical assistance to Vietnam's fisheries sector. The bilateral cooperation between the two countries has brought great benefits to both economies and helped to deepen the good cooperation between the two countries", said Deputy Minister Phung Duc Tien.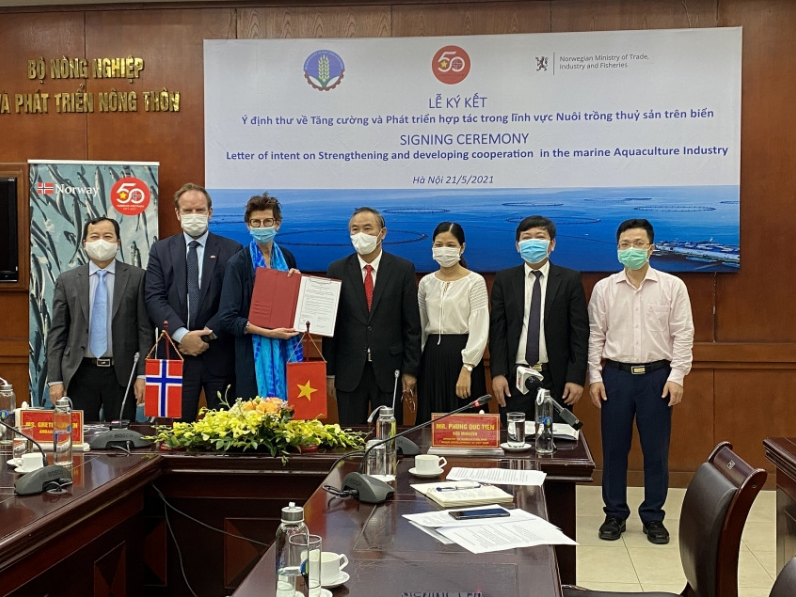 Vietnam holds huge potential and Norwegian businesses stand ready to assist the country in the field, Norwegian Ambassador to Vietnam Grete Lochen said. (Photo: VNA)
For her part, Norwegian Ambassador to Vietnam Grete Lochen spoke highly of the bilateral cooperation in aquaculture over the recent past, adding that Norway has experience in the sustainable development of industrial-scale aquaculture, particularly salmon farming. Vietnam holds huge potential and Norwegian businesses stand ready to assist the country in the field, she added.
Vietnam's marine aquaculture areas have posted average annual growth of 23.3 percent over the last decade, rising from just 38,800 ha in 2010 to 70,000 ha last year, yielding about 610,000 tonnes. Vietnam's fishery strategy for 2021-2030 with a vision to 2045 approved by the Prime Minister in March 2021 sets out a number of targets including to reduce the intensity of ocean resources exploitation and to develop marine aquaculture in the appropriate areas; develop Vietnam's fisheries sector to be modern and more competitive, able to integrate with the global value chain, to bring together authorities, industry, and other organizations to untap the potential and take the advantages of the oceans in a responsible and sustainable way, according to Communist Party of Vietnam Online Newspaper.
To build an advanced and sustainable open ocean aquaculture sub-sector applying modern technologies and management, Vietnam needs to develop it in line with the renewal of production and the building of seamless value chains, in which marine aquaculture businesses will play a key role, VOV cited.
Participants shared information and experience on important factors to ensure the success of marine aquaculture, including planning and policies in State management, human resources training, and green and smart technologies.
The two sides are to create optimal conditions for and help relevant agencies continue working together in endeavors serving marine aquaculture development, such as support in law enforcement and technological application, research, trade promotions, private sector investment, and more.
Friendship
The project office of Zhishan Foundation Taiwan coordinated with the fund for children in north-central Nghe An province to award scholarships for students.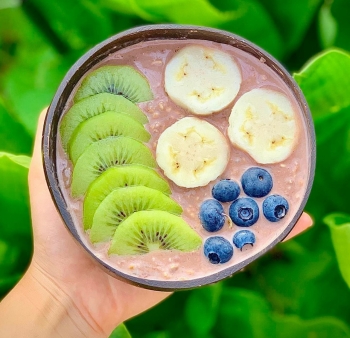 Handbook
Clean eating is not about eating clean or dirty food. It is about what benefical nutrition you consume. Check out 14 simple clean eating dishes to maintain your diet and fitness.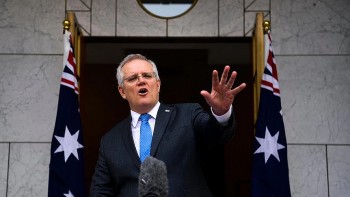 World
Scott John Morrison is an Australian politician serving as the 30th and current prime minister of Australia. He assumed office in August 2018 upon his election as leader of the Liberal Party.