Nui Thanh District, Quang Nam Province: Elderly Fishermen Still Flock to Sea
Elderly fishermen are still heading for the open sea — out of choice and necessity, in a small commune of the central province of Quang Nam. The increased average age of fishermen indicates that older fishermen are continuing to fish beyond their expected retirement age, and younger fishermen are not replacing them.
"Fishing grounds are depleted, the cost of each trip has increased, leading to low income for workers. This makes the fishermen work unattractive to young people, leaving only those between the ages of 35 and 60 clinging to their ships and the sea." That is the current situation described by one of the many fishermen in the fishing village of Tam Quang commune, Nui Thanh district, the central province of Quang Nam.
We arrived at the coastal village of Tam Quang on a mid-month day. When the moon is at its fullest, the fishermen have returned home after a fishing trip at sea. In the alleys, there was the sound of knocking and repairing boats, alongside warm greetings after long days of not seeing each other.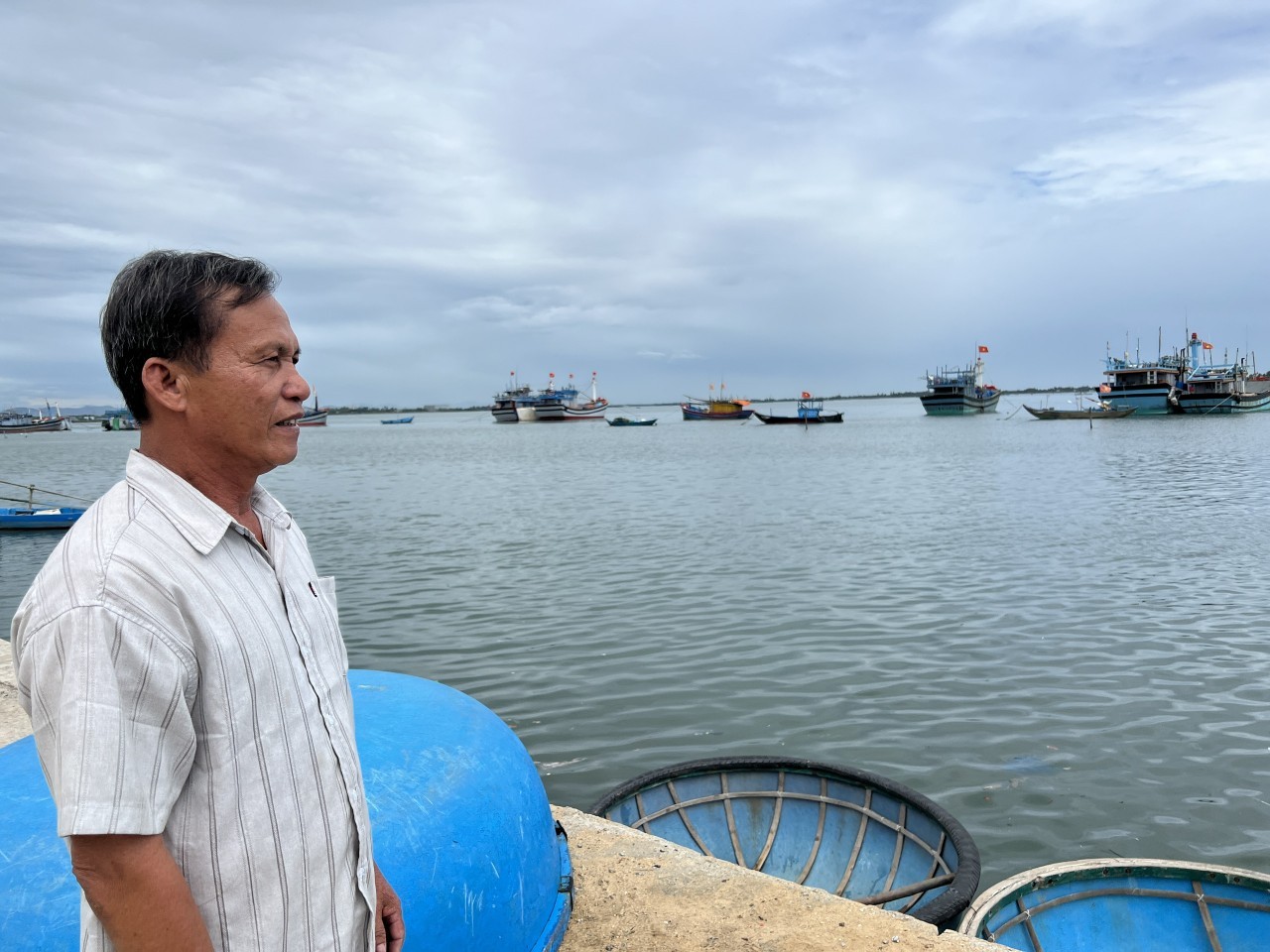 Tran Ho, living at Sam Linh Dong village, Tam Quang commune, Nui Thanh district, Quang Nam province, the owner of the QNa 91478 ship, looks towards the ships.
At this time, Tran Ho, residing in Sam Linh Dong village, Tam Quang commune, owner of QNa 91478 vessel, was at home with his wife, children and two-year-old grandson. Talking about the story of sustaining professional fishing, the man who had been at sea for nearly 30 years suddenly felt depressed.
Pointing to the ships far away, Ho shared that his family has two ships, there are still enough 17 men for a trip in the next few days. The ships anchored there have not gone out to sea since Tet (Lunar New Year). The seafarer took a break to celebrate Tet holiday with ther families but still hasn't come back.
According to Ho, currently, most of the fishermen in Tam Quang, are of high age, even many are ranging from 45 to 65 years old. Young people turn away from the job that their forebears did for generations. His family has two sons in the profession, but the grandchildren also are no longer interested in becoming fishermen because it's risky and hard work, but the salary is not as high as being a blue-collar worker.
Not only Ho, Tran Truong, residing in same village, has three ships with about 20 fishers also facing the same situation. The average age of workers is 45 years old. He finds it very difficult to keep workers stay.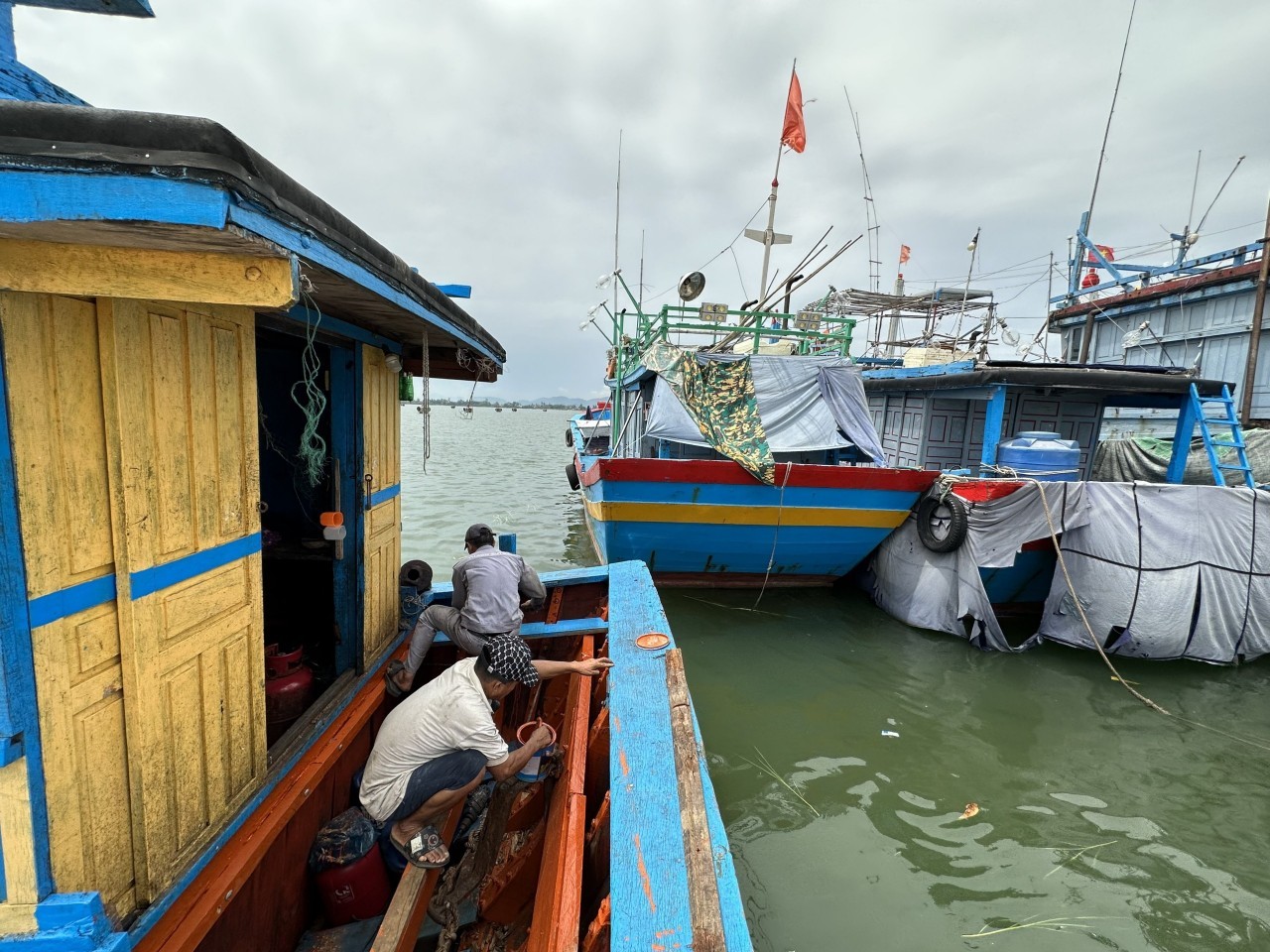 The ships at Tam Quang are being repaired.
Talking about the reasons why the job puts many young people off, ship owners in Tam Quang pointed out that one reason is declining catches due to depleted fishing grounds. Another is high gasoline prices lead to low revenue per trip.
Currently, fisheries do not pay monthly salaries but use the "sharing" method. Specifically, after deducting costs, ship owners and workers share profits, and the more they harvest, the more money they get. If catches are not good, then they have to accept the small paycheck. Now the average seafarer has an income of VND 6 to 9 million (USD 249 - 372) per month, so maintaining the number of professional workers, especially skilled sailors and fishers who can work on ships, is a difficult problem. Many ships had to anchor on shore and operate at a leisurely pace.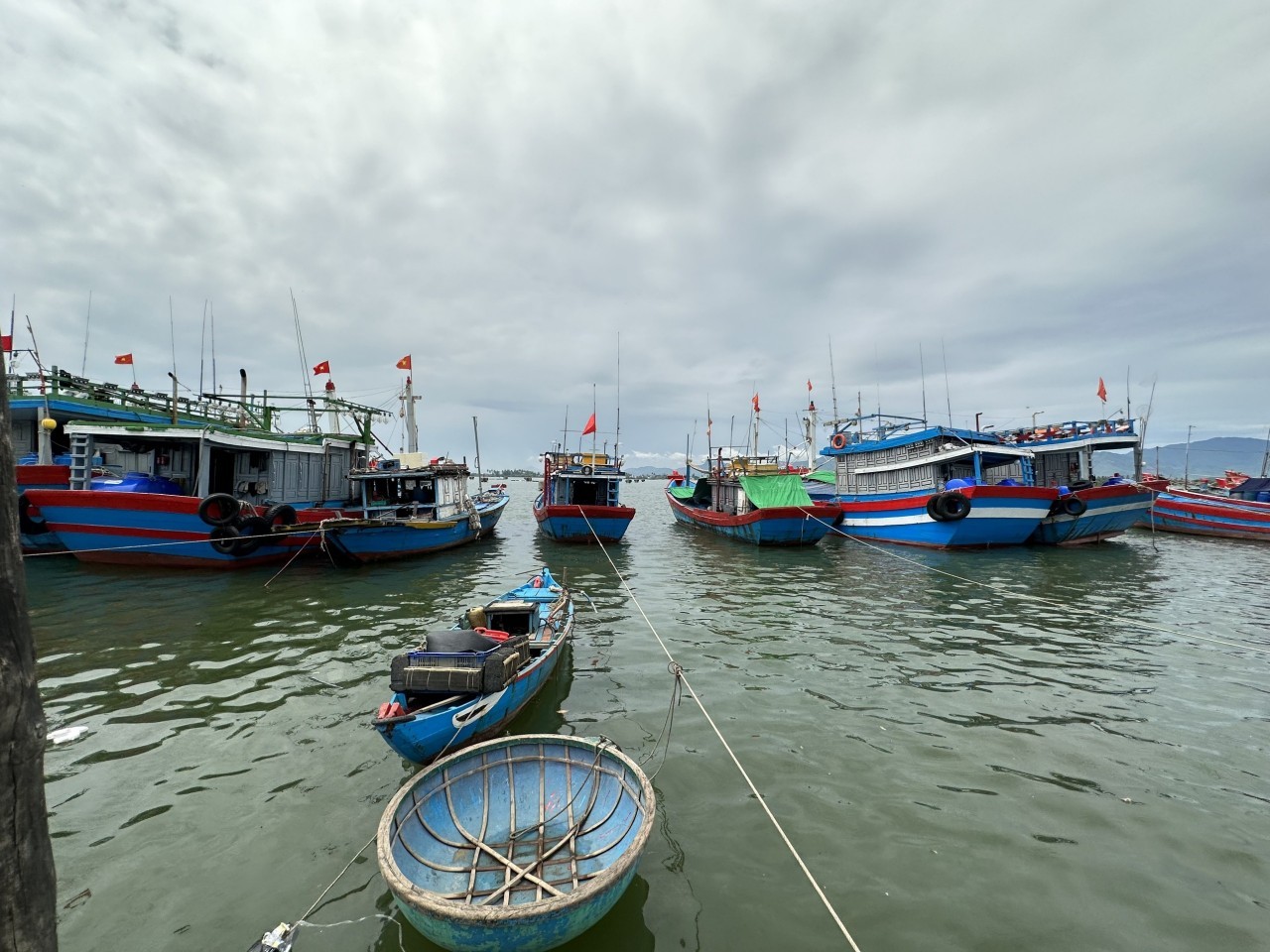 Commercial fishery participants are increasing in age.
"Although I have been a boat captain for more than 20 years, now my income is not much, about VND 60 million (USD 2.490) per year, not to mention this is a difficult and dangerous job. But for generations, fishing has been the traditional way of life of my family, and we want our children to preserve the traditional profession of our ancestors, so we must always try our best. Now, with that level of income, it is not as high as that of a blue-collar worker, only working a few kilometers away from home, so the youngters don't find fishing jobs very attractive anymore," Ho said.
Also according to people with seafaring experience, the high age will cause many limitations in their work, they have fishing experience but do not have the strength to undertake heavy tabs.
Many problems remained
According to Phan Vinh Tien, Secretary of the Party Committee of Tam Quang commune, Tam Quang is the most populous commune in Nui Thanh district with over 13,000 inhabitants, of which 70% live by fishing. The commune has 342 boats, in which 206 ones with a capacity of 900 CV or more.
In order to support fishermen, over the past time, Tam Quang commune has cooperated with agencies and units to propagate for people to understand the law at sea, support means, information and devices.
"In particular, according to the Prime Minister's Decision No. 48/2010/QD-TTg on a number of policies to encourage seafood exploitation in the distant sea areas, many boats in Tam Quang commune have benefited from this policy. This is a great motivation for people to feel secure going out to sea. In addition, the commune also opened many training classes on fishing techniques at sea, how to marinate fish, and preliminarily process products to ensure quality and create conditions to ensure output prices," said Tien.
Regarding labor resources, due to conditions of life and education level of Tam Quang people's children have changed in a positive direction. Local young people going to school, making a safer choice to work in agencies, units, and industrial parks. In order to attract laborers to the fishing industry, it is necessary to improve exploitation to achieve high efficiency, and support generational renewal in local fishing sector.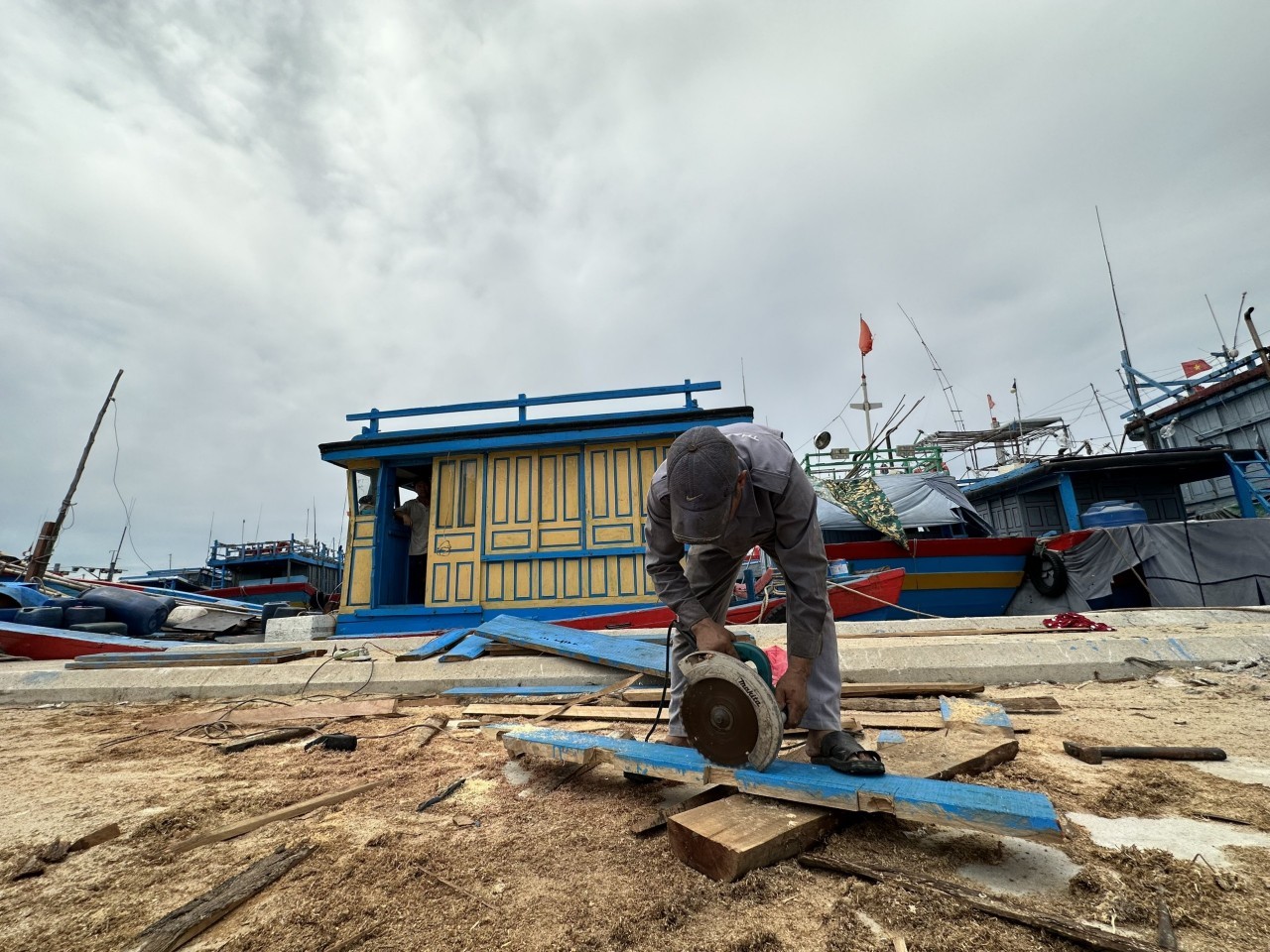 Ship repairing in Tam Quang commune.
According to Ho and Truong, Decision 48 clearly states that each fishing vessel participating in offshore fishing will receive fuel support for up to four trips per year from the State. In particular, fishing vessels with a capacity of 700 CV or more are received the support of 100 million VND (USD 4.150) per trip. Ho's family has two ships with a capacity of 700 CV and over 900 CV, has received these supports regularly. The cost of a trip is about VND 200 million (USD 8.310), so this is a significant support.
Maritime people believe that the implementation of policies to encourage and support seafood exploitation, aquaculture and seafood exploitation services in remote sea areas has contributed to motivating and encouraging fishermen to boldly going to remote sea areas and provide seafood exploitation services, increasing income for fishermen.
This helps fishermen's lives to increasingly improve, contributing to local socio-economic development. At the same time, create conditions for fishermen to build new large-capacity fishing boats for offshore fishing; increase the presence of fishing vessels and fishermen in remote waters, contributing to affirming and protecting the sovereignty of the Fatherland's sea and islands.