Office provides free support for Vietnamese in Italy
The Vietnamese Support Office in Milan has given out free support and consultation for many Vietnamese people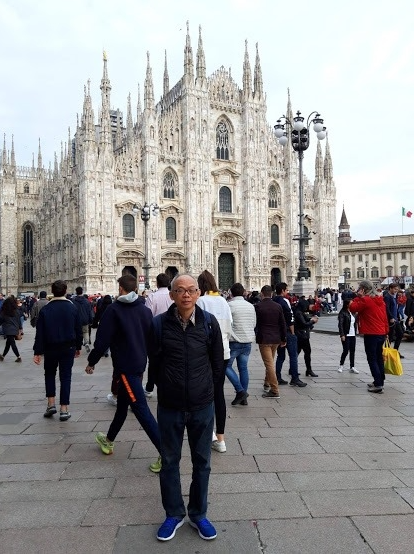 Nguyen Quoc Chinh
The number of Vietnamese who go to Italy to study, live and work has increased for many reasons over the years, such as family reunification, marriage, studying abroad and adoption. Therefore, it is essential for any Vietnamese in Italy to learn the local customs and laws, and to blend in with Italian society.
Language barriers are one set of obstacles that the Vietnamese in Italy are facing. When completing procedures or receiving documents from law enforcement and legislative agencies, many Vietnamese do not understand the issues and requirements of law, so they fall trouble as they leave their applications to expire.
With many years of experience living and working in Italy, in 2018, Nguyen Quoc Chinh (a retired officer) together with a Vietnamese priest Don Jostinh established an office to support Vietnamese people in Milan, Italy. The office is named "Vietnamese Support Office in Milano - Sportello dei Vietnamiti a Milano," and it receives guidance, support and consent of the Caritas Social Center and works under the auspices of the Church of Santa Maria Del Carmine.
The office's activities that relate to law and law enforcement are supported by a group of experienced lawyers in foreigners protection in Italy working at the Caritas Ambrosiana Center - Milan.
"The office is the address where the Vietnamese community in Italy can find support, consultation, and help in difficult circumstances when living in Italy, as well as problems arising in Vietnam. Those problems can be related to identification papers, residence cards, health service cards, household registration, Italian nationality, marriage, inheritance rights," said Nguyen Quoc Chinh.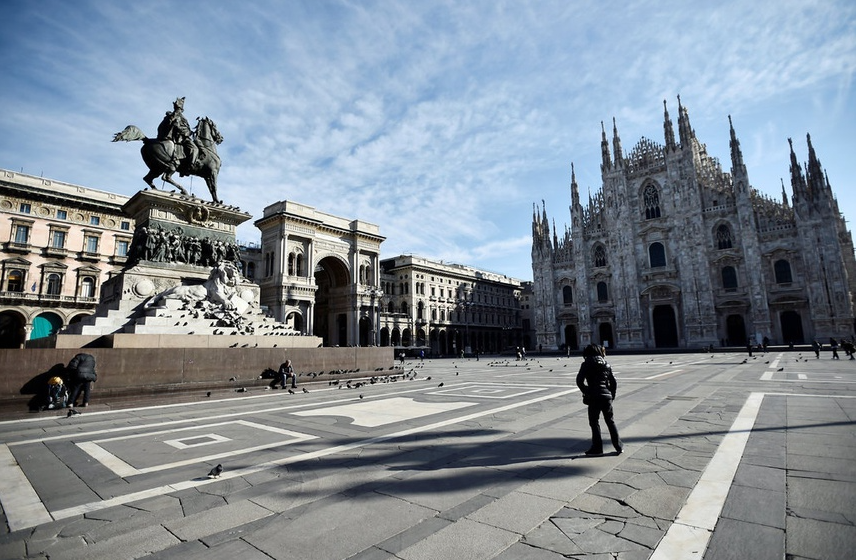 Milan deserted in the Covid-19 period. (Photo: Zing News)
According to Chinh, Vietnamese in Italy can be divided into two groups: Vietnamese students who come to Italy to study and Vietnamese women who married Italians.
The biggest challenge for the group of Vietnamese students is how to find jobs for internships in Italy, and after they find their jobs, turning their residence permit cards from study to work. If they have their working permit cards in Italy, they will have the right to return to Vietnam, get married to Vietnamese and bring their partners to Italy. After several years of legally working, they will get their permanent residence permits; some can even apply for Italian or other European Union countries' nationality.
For Vietnamese women who bring their children to Italy to reunite with their husbands, the office helps translate the children's vaccination records. In Italy, a child must have a vaccination record to attend school. The translation is mainly carried out by Chinh. After translating the records, he sends them to an Italian doctor for editing and returns them to parents so that they can submit the records to schools.
For Vietnamese women who have resided in Italy for a long time and lost their husbands, the office consults on how to claim their husband's retirement pensions. According to Italian law, a widow has 60-90 days to register such a pension under her name. Depending on her husband's salary, she can claim from 65% to 70% of his salary. In addition, the office supports and gives consultations about inheritance rights. They give online and distance translation for those who need to notarize documents to change names on ownership documents.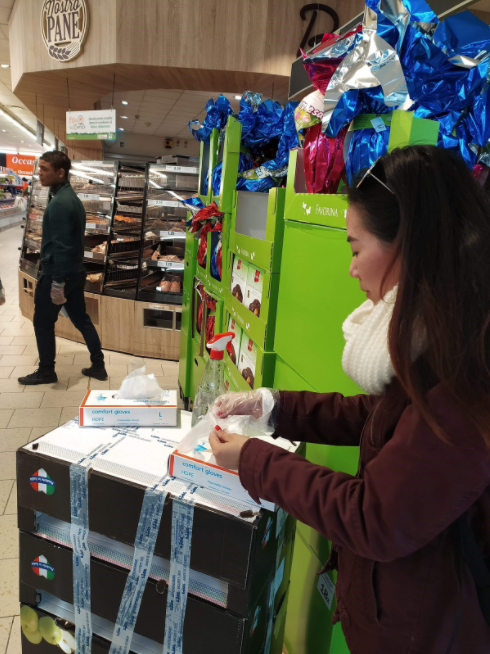 People are asked to wear gloves in supermarkets in Italy. (Photo: Zing News)
According to Nguyen Quoc Chinh, the office is sometimes a place for Vietnamese who transit in Milan to sleep overnight before going to other countries.
"The office has set up emergency sleep shelters for three women, one of whom carried a baby, and five young men" Instead of sleeping in train stations, which pose danger, they can rest in places managed by Caritas Social Center," he said.
Besides regular contact with the Caritas Social Center, the office has also worked with the Fatebenefratelli organization to bring a three-year-old boy that has a rare disease named SMA-2 to Italy for treatment. The boy has been in Italy for two years. Currently, he is treated and cared for by Istituto Besta – Milano and Nostra Famiglia – Bosisio Parini hospitals.
"The Vietnamese Support Office takes humanity and love as its working motto, therefore, all support and consultation are free," said Chinh.
He added that the office still has shortcomings in services, with cases that needed more companionship and help. "I hope that in a near future, the office can still keep on accompanying Vietnamese in Italy, and those who wish to study, live and work in Italy," said Chinh.
The Vietnamese Support Office in Milan (Italy) is located at Santa Maria del Carmine Church, Piazza del Carmine, 2 –Milan, about 10 minutes away from the globally famous church, Duomo di Milano.