Over 20 Provinces and Cities Received Additional Support Packages
Medical supplies, personal protective equipment and support packages will ensure the well-beings and safety of vulnerable population groups in Vietnam
A series of joint efforts of internation organizations underway to support the community in preventing the spread of Covid-19 as well as ensuring food security, especially of children.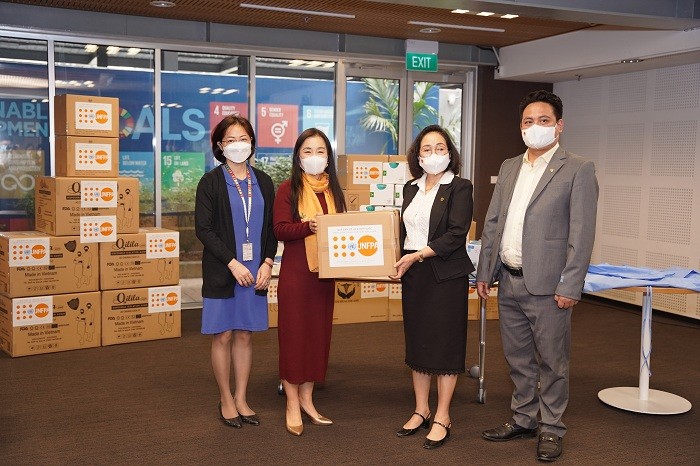 At the handover ceremony in Hanoi. Source: UNFPA in Vietnam
The United Nations Population Fund (UNFPA) in Vietnam on Dec. 15 handed over the Personal Protective Equipment (PPE) and medical equipment to target health facilities in 21 provinces, Ho Chi Minh City, and Hanoi.
Beneficiaries also include medical staff, voluntary caregivers, and the community Covid-19 prevention task forces for the protection of pregnant women, older persons, and women and girls at risk of domestic violence.
Globally, Covid-19 has been catastrophic for women and girls who are already facing a pandemic of violence and discrimination: One in three women experiences physical or sexual violence in her lifetime; one in five girls is married before the age of 18; and hundreds of millions of women and adolescent girls want to avoid pregnancy, yet lack access to reliable, modern methods of family planning.
In Vietnam, the data proves the seriousness of the shadow pandemic. The UNFPA-supported national study on violence against women showed that 62.9% of women experienced one or more forms of violence in their lifetime, and during Covid-19, it seems to have worsened as the number of calls for help doubled in UNFPA supported hotline for domestic violence.
Current data confirm Vietnam's Covid-19 patient tally of nearly 1.4 million and the death toll of more than 27,000 or 2% of the national caseload. And many of the Covid-19 affected are older persons. It is clear that the fatality rate for older persons is higher, and for those over 80, it is even five times higher than the global average.
Pregnancies and childbirth do not stop in pandemics, conflicts or disasters. The UNFPA's modelling study conducted in 2020 revealed that Covid-19 would increase maternal mortality by 44%-65%, which if confirmed would indicate a reversal of developmental gains that Vietnam has achieved over the last 10 years, and it would be a threat to achieve the targets of Sustainable Development Goal 3.
Worth more than USD 450,000, UNFPA's medical supplies aims at ensuring the right and safety of vulnerable population groups in Vietnam and a continuous delivery of quality services on sexual and reproductive health, elderly care, and gender-based violence amid Covid-19.
The UNFPA Representative for Vietnam, Naomi Kitahata confirms that prioritizing the needs of the vulnerable population groups such as pregnant women, older persons, women and adolescent girls at risk of violence is a human rights imperative.
"UNFPA's emergency support today demonstrates our commitments to be fully with the Government of Vietnam and provide life-saving services for sexual and reproductive health, social protection, and gender-based violence prevention and response. UNFPA is working towards achieving a Vietnam with zero preventable maternal deaths, zero unmet need for family planning, and zero gender-based violence and other harmful practices for women and girls," Kitahata said.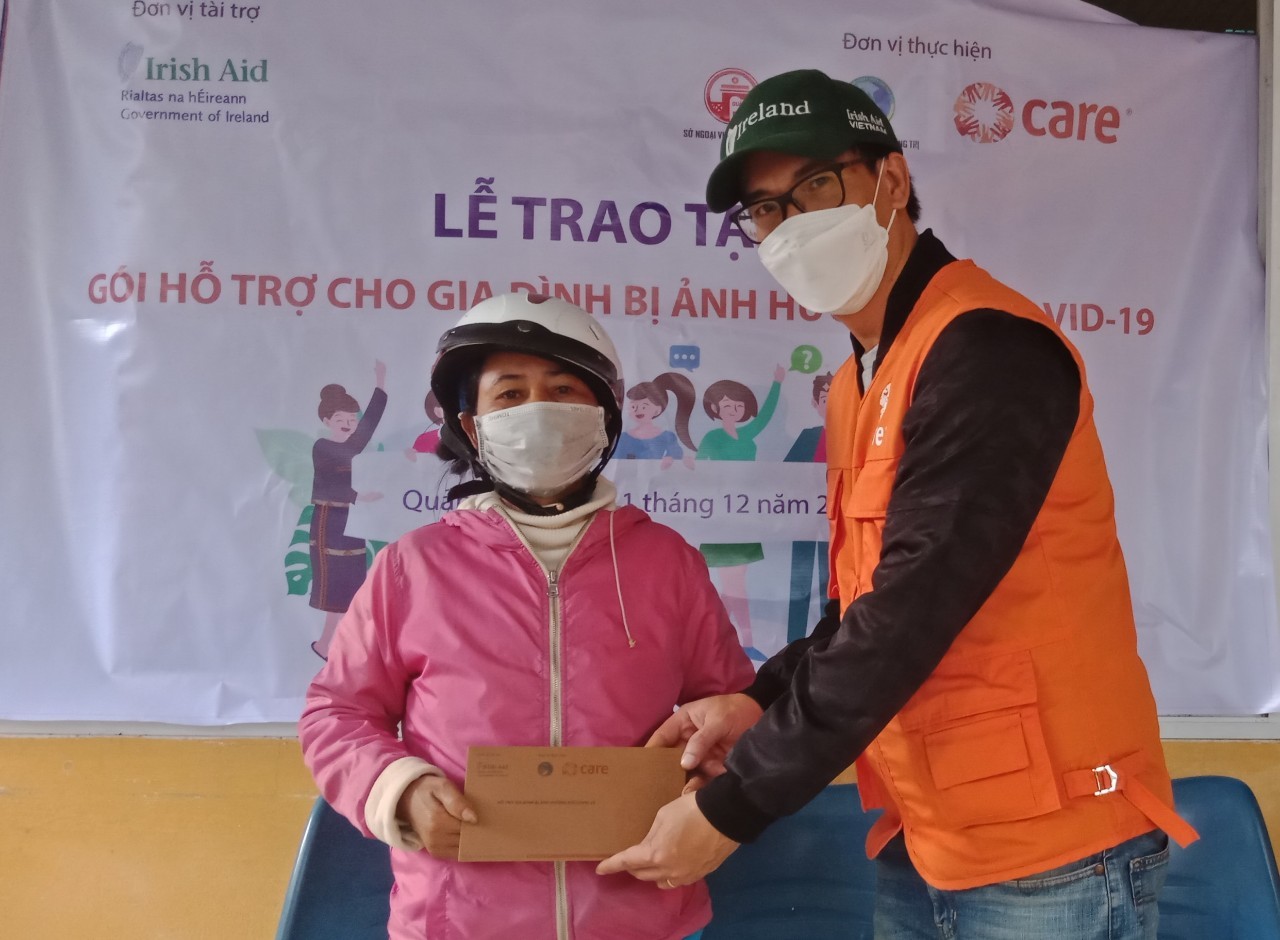 Representative of CARE International in Vietnam, Nguyen Duc Thanh (right) presents the cash support package to a household. Source: CARE International in Vietnam
Huong Hoa and Dakrong are among the poorest districts of Quang Tri Province. Recently, when Covid-19 situation has complicated developments, the locality has detected several positive cases and has taken measures to isolate, temporarily blockade some areas, and control the disease following the instructions of the higher authority.
Faced with this situation, to join hands with the authorities and localities, CARE International in Vietnam has deployed a cash support package to support families severely affected by the epidemic to restore their livelihoods. Accordingly, 135 households living in the two districts of Huong Hoa and Dakrong received VND 2 million each (US$ 86). This time, the households receiving support all have relatives who have tested positive for Covid-19 or are quarantined in their residence to prevent diseases.
The support package worth VND 270 million (US$ 11.700) for Quang Tri is within the framework of the project "Strengthening partnerships for the equitable and comprehensive development of ethnic minority communities", financed by the Irish government through Irish Aid. The project is implemented in Vietnam from 2017 to December 2021.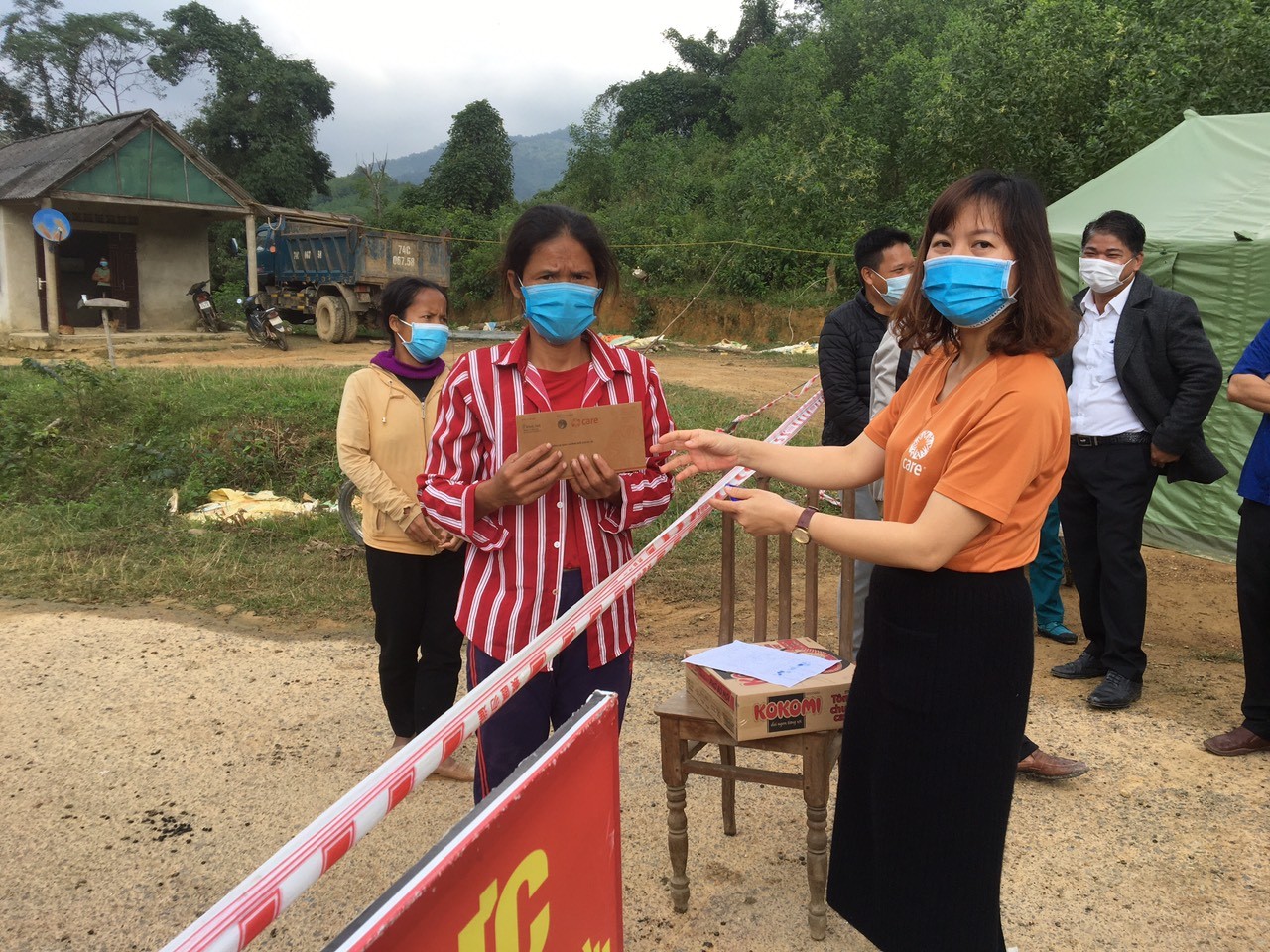 Representative of Committee of Quang Tri Committee for Ethnic Minorities presents a support package to households in areas undergoing temporary isolation. Source: CARE International in Vietnam
In Muong Ang District of the northern province of Dien Bien where the resurgence of Covid-19 has seriously affected the quality of life of households, especially the poor, near-poor families with the most vulnerable and registered children, World Vision Vietnam has increased communication and at the same time distributed necessities to 143 households and medical supplies to quarantine areas in the district.
1,430kg of rice; 143 bales of instant noodles and 143 bottles of cooking oil, worth more than US$ 4,000, has been distributed by World Vision Vietnam
The same support package includes rice, instant noodles, cooking oil, medical masks and antiseptic water was also handed over to 23 households in difficult situations in Lang Chanh, one of the poorest districts in the north-central coastal province of Thanh Hoa. After having several Covid-19 infection cases in the community, Lang Chanh local authority has recently put Lang Tro Commune in lockdown.
With a total value of almost US$ 500, this activity belongs to the Emergency Response Fund of the Lang Chanh Area Program, World Vision Vietnam, in 2022. The activity is part of a series of World Vision Vietnam's joint efforts to support Vietnamese people to effectively cope with the negative and long-term impacts of the Covid-19 pandemic globally.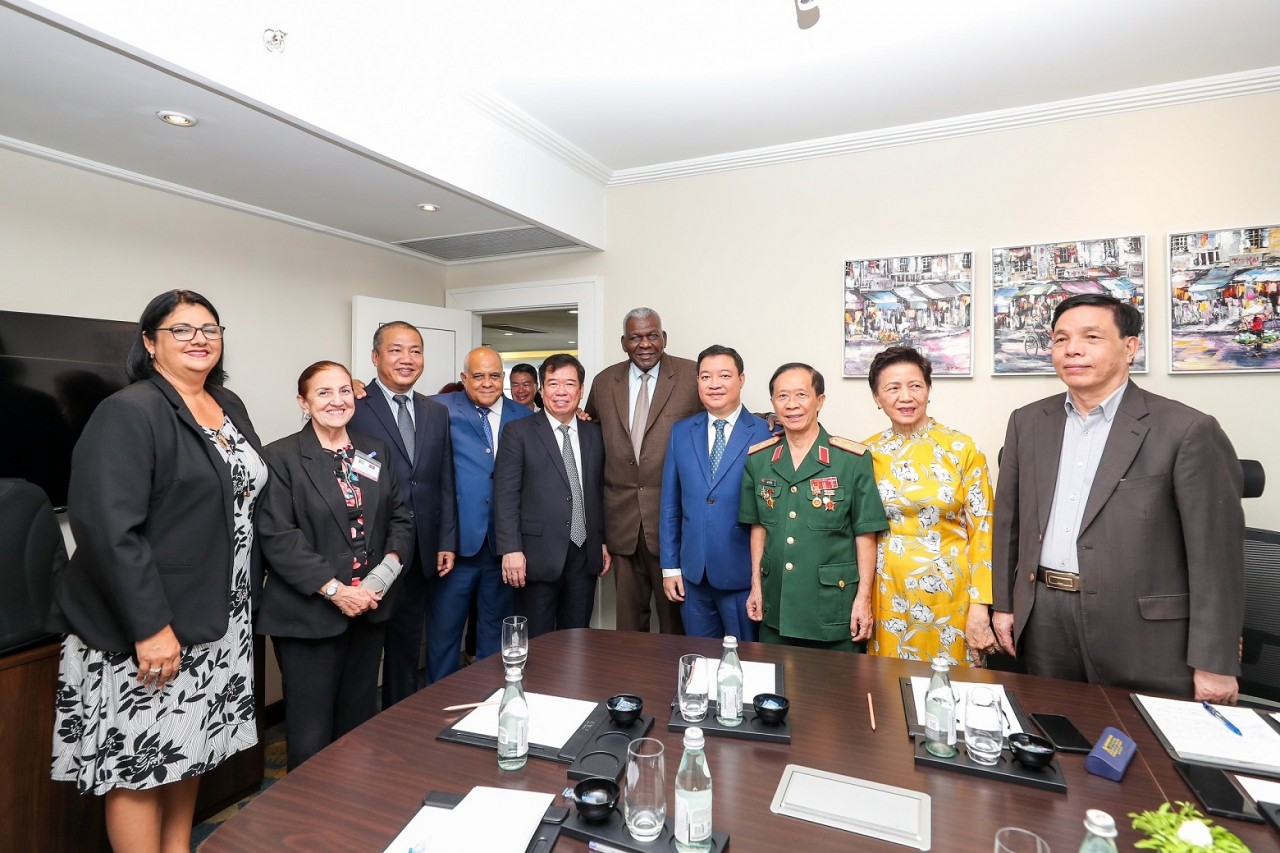 Friendship
President of the National Assembly of People's Power of Cuba Esteban Lazo Hernandez emphasized that Vietnam - Cuba is always united and faithful because they are one family.
September 27, 2023 | 15:11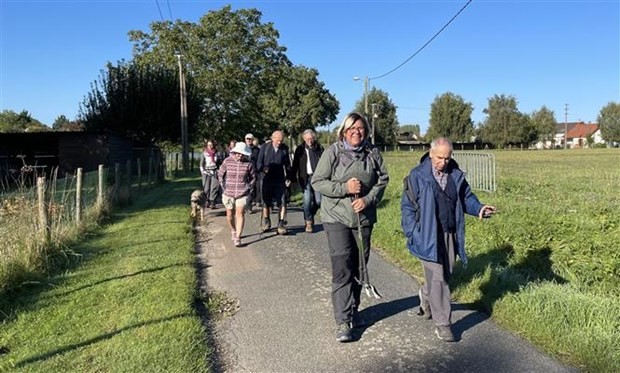 Friendship
The Children's Walk For Hope is a virtual event that will be held globally recently.
September 27, 2023 | 14:54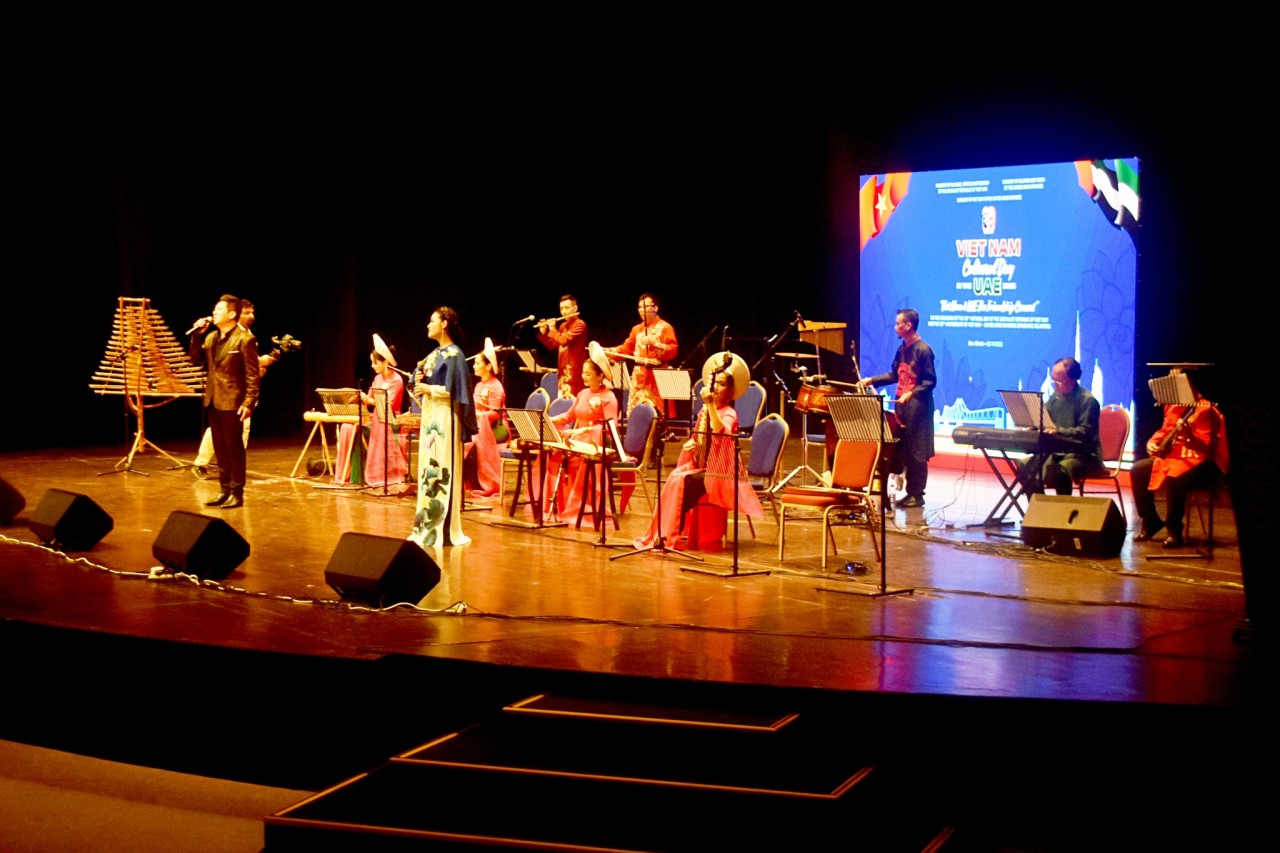 Friendship
A special art performance was held in the capital Abu Dhabi, gathering leading artists from Vietnam and the United Arab Emirates (UAE).
September 27, 2023 | 14:01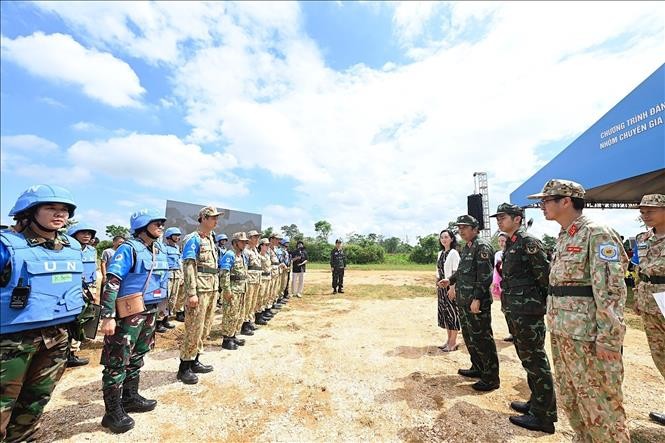 Friendship
Japan and representatives of State members of ASEAN Defence Ministers' Meeting Plus (ADMM-Plus) valued the preparations of Vietnam in hosting the Competency Evaluation Program for Prospective UN Peacekeepers (CEPPP) as well as outcomes of the program.
September 27, 2023 | 07:53