Over 300 Vietnamese citizens flown home from Myanmar amid Covid-19 pandemic
On March 4, more than 300 Vietnamese citizens came home from Myanmar on two flights, which were arranged by Vietnamese agencies, the Vietnamese Embassy in Myanmar, and Vietnam Airlines with Myanmar agencies, ensuring all safety measures throughout the flight to prevent coronavirus infection.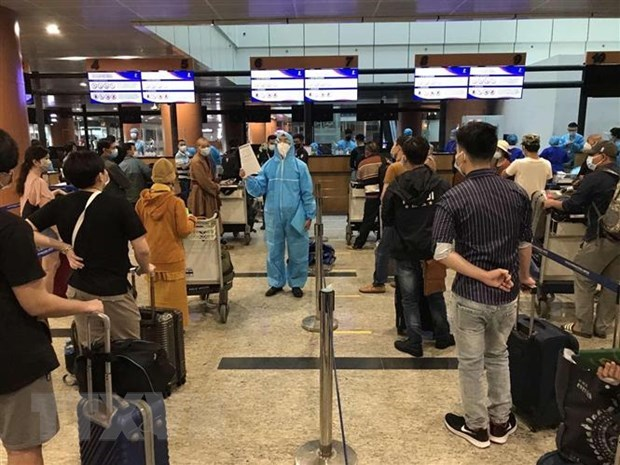 The Vietnamese embassy sends officials to the airport to assist citizens in completing necessary procedures for boarding the flight (Source: VNA)
Passengers on the flights included under-18 children, people with illnesses and those in other, especially disadvantaged circumstances.
Covid-19 prevention measures, including medical declarations, body temperature checks and wearing protective equipment were deployed throughout the flight to prevent coronavirus infection.
Amid the recent developments in Myanmar along with the complicated COVID-19 situation, the embassy has kept a close watch on the situation and contact with citizens so as to give them specific guidance for arriving at the airport safely and on time. The embassy also sent officials to the airport to assist citizens in completing necessary procedures for boarding the flights, according to Vietnamplus.
In order to ensure health for the citizens and prevent the spread of the pandemic, strict security, safety and epidemiological measures were implemented throughout the flights.
Immediately after the flights landed in Da Nang airport, passengers and crews on the flights were given health checks and sent to concentrated quarantine facilities in line with regulations.
The repatriation of citizens in disadvantaged circumstances abroad will be arranged in accordance with people's wishes, the pandemic's development and domestic quarantine capacity.
Vietnam recorded new Covid-19 cases
Vietnam recorded six new domestic Covid-19 cases Thursday evening in Hai Duong Province, taking the national tally of active cases to 530.
All the new patients, numbered 2843 to 2488, are those who had been in either quarantine zones or locked-down areas since March 2. They are now being treated at a field hospital of the northern province, according to VnExpress.
Police officers wear protective suits before guarding Covid-19 checkpoints in Hai Duong Province, February 15, 2021. Photo by VnExpress/Giang Huy.
Also on Thursday, 22 Covid-19 patients have been announced recovered from the disease.
Since a new Covid-19 wave, that has been sweeping through 13 cities and provinces, began on Jan. 28, 879 community transmission cases have been confirmed. Northern Hai Duong Province is the epicenter with 695 cases.
Those entering Hanoi and HCMC from areas in Hai Duong experiencing Covid-19 outbreaks starting Wednesday must self-isolate for 14 days, the cities requested.
The Hanoi Health Department required people entering Hanoi from Hai Duong Town (the capital city of Hai Duong Province), Kim Mon Town, Kim Thanh and Cam Giang Districts to isolate themselves at home.
They also have to medically declare themselves and install Covid-19 contact tracing apps like Bluezone or NCOVI. Those who tested negative for the novel coronavirus within three days before leaving Hai Duong would not have to isolate themselves, it added.
Though Ho Chi Minh City no longer isolates those entering the city from Hai Duong at centralized quarantine zones, people coming from 16 Hai Duong locations where Covid-19 patients were recorded in the latest outbreak must still self-isolate, according to the HCMC Center for Disease Control (HCDC).
The 16 locations are Cong Hoa Ward, Van Duc Ward, Sao Do Town, An Lac Commune, Hung Dao Commune, Nam Tran Commune, Lai Cach Town, Tan Truong Commune, Cam Dien Commune, Luong Dien Commune, Thanh Binh Ward, Nhi Chau Ward, Kim Lien Commune, Kim Dinh Commune, Ke Sat Town and Thanh Lang Commune.
Northern Hai Duong Province, the epicenter of a recent coronavirus wave in Vietnam with 684 cases, ended 15 days of province-wide social distancing Wednesday.
But over 900 Covid-19 checkpoints were still active in the province, while certain areas with coronavirus outbreaks are still under lockdown, including Kim Dinh Commune with a population of over 7,400.
Vietnam has recorded 2,488 Covid-19 cases so far, with 35 deaths.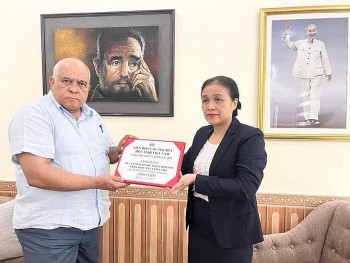 Focus
According to Cuba's News Agency Prensa Latina, on August 16, President of Vietnam Union of Friendship Organizations Nguyen Phuong Nga said that Vietnamese people will always stand by and support Cuba no matter what difficulties our friend is facing.