Over 3,600 Vietnamese stranded in Asian destinations to repatriate
The government has given permission to carriers to operate flights in the next few weeks to bring home 3,640 Vietnamese stuck in Japan, South Korea, and Taiwan.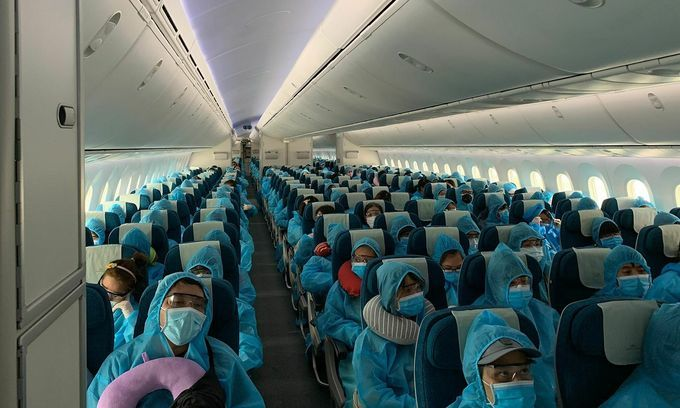 Vietnamese citizens on a repatriation flight from Taiwan, May 29, 2020. Photo courtesy of Vietnam Airlines.
All returnees will be quarantined for 14 days and tested for Covid-19.
Vietnam Airlines would operate six flights to carry 1,600 people back from South Korea and Taiwan, the country's largest labor export markets, from now until the end of next month, Phap Luat TPHCM newspaper reported.
Budget carrier Vietjet Air will bring 1,380 people from South Korea, Taiwan, and Japan on six flights to Cam Ranh and Da Nang airports in central Vietnam, according to Vnexpress.
Bamboo Airways will deploy three flights to carry 660 Vietnamese from Japan and Taiwan.
The passengers will pay their own fares as well as quarantine and testing expenses.
Vietnam has suspended all inbound international commercial flights since March 2020, though the government has been allowing repatriation flights and special flights to bring foreign experts and investors to the country.
Over 75,000 people were repatriated last year.
Vietjet Air resumes commercial flights to Northeast, Southeast Asia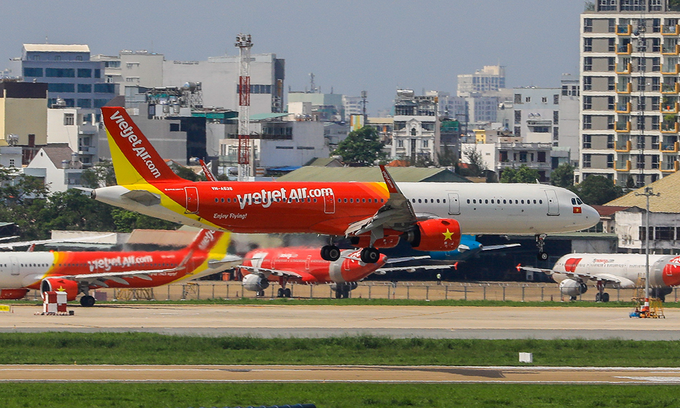 A Vietjet aircraft prepares to land at Tan Son Nhat International Airport in Ho Chi Minh City in June 2020. Photo by VnExpress/Quynh Tran.
Budget airline Vietjet Air has reopened international commercial flights connecting Hanoi and HCMC with Thailand, South Korea, Japan, and Taiwan starting April 1.
Flights from HCMC to Thailand's Bangkok will depart every Friday, while there will be 13 flights connecting Hanoi and Japan's Tokyo this month, with the first scheduled to take off on April 6, the airline said in a press release.
The budget carrier will operate one flight from Hanoi to Taiwan's Taipei City on April 11 and another from the capital city to its South Korean counterpart, Seoul on April 15.
Air tickets are now available on the carrier's website.
Airline officials said the international routes would carry Vietnamese citizens wishing to study and work abroad, as well as stranded foreigners wanting to return home.
On return trips, the carrier would only carry Vietnamese citizens being repatriated or foreign experts with permission to enter the country as per government regulations.
Vietnam Airlines to resume commercial flights to Asian destinations
An aircraft of Vietnam Airlines prepares to take off from Noi Bai International Airport in Hanoi. Photo courtesy of Vietnam Airlines.
Vietnam Airlines has reopened international commercial flights connecting Hanoi and HCMC with several Asian destinations including South Korea, Japan, and Australia, starting April 3.
The national flag carrier said flights from Hanoi to South Korea's Incheon City will depart every Thursday while there will have seven flights from Hanoi to Japan's Narita City in April.
The carrier will also operate one flight from Hanoi to Australia's Sydney every Saturday, while flights from HCMC to Sydney would depart every Thursday and Sunday.
A representative of the carrier said the resumption of these international routes is meant to meet the growing travel demand of Vietnamese citizens wishing to study and work abroad as well as stranded foreigners longing to return home.
In addition to these routes, the national flag carrier is planning to operate inbound commercial flights to carry passengers from Japan, South Korea, and Taiwan, but is awaiting the government's approval for this move.
Vietnam Airlines had said earlier that it is awaiting approval from the U.S. government to launch regular direct flights to that country.
Vietnamese aviation authorities proposed allowing vaccinated foreign passengers into the country from September without requiring centralized quarantine.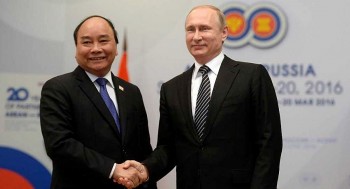 Friendship
The visit is expected to boost bilateral cooperation in Covid-19 prevention and control, especially in promoting Russia's support for vaccine production and technology transfer.