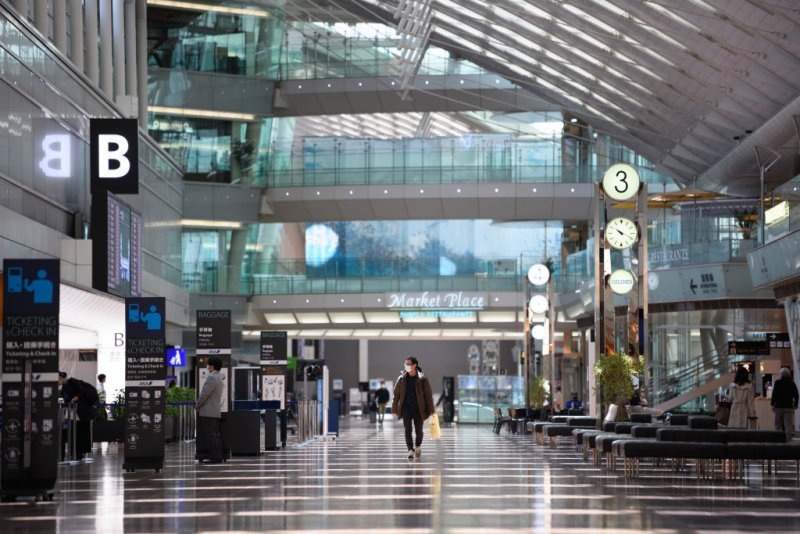 A man walks through the departures lobby at Haneda Airport in Tokyo, Japan, on April 23, 2020.
Akio Kon—Bloomberg/Getty Images
The move comes after the Japanese and Vietnamese Government have agreed to partially lift travel bans and ease restrictions step by step as a way to reopen economic and bilateral exchanges between the two Asian nations where coronavirus infections have largely been taken under control.
"Both sides will discuss specific measures and procedures via diplomatic channels," the Vietnamese Foreign Affairs Ministry stated in a press release Friday.
According to the sources, Vietnam Airlines will fly chartered planes for three days from Thursday between Narita International Airport near Tokyo and Van Don airport in northern Vietnam, transporting a total of over 400 Japanese business people, mainly expatriates.
On arrival, the business people will take coronavirus tests and other required steps and be quarantined for 14 days at hotels.
Japan has imposed entry bans to 111 nations as part of coronavirus measures.
Japan lifted a seven-week pandemic emergency in late May and has started reopening social and business activities to minimize economic damage. All domestic restrictions are removed Friday and people can now start traveling anywhere in Japan, although physical distancing and other preventive measures are requested.
Prime Minister Shinzo Abe said Thursday aggressive virus testing is crucial to quickly finding and isolating patients as the country resumes social and economic activity safely. He said testing centers for foreign visitors are also being planned.
Japanese Foreign Minister Toshimitsu Motegi said Japan seeks to step up "strategic partnership" with Vietnam and further promote economic and people exchanges. Vietnam has reported only 342 cases and no deaths. Japan has 17,740 cases and 935 deaths.
"It is important to resume international exchanges of people partially and gradually, as we try to get the economy back on the recovery track while balancing it with the coronavirus measures," Motegi said.
Jennifer Tran