Over USD 1.17 Million Raised for Covid-19 Support Campaign
Over USD 1.17 million have been raised for VinaCapital Foundation's campaign "Help Vietnam Breathe"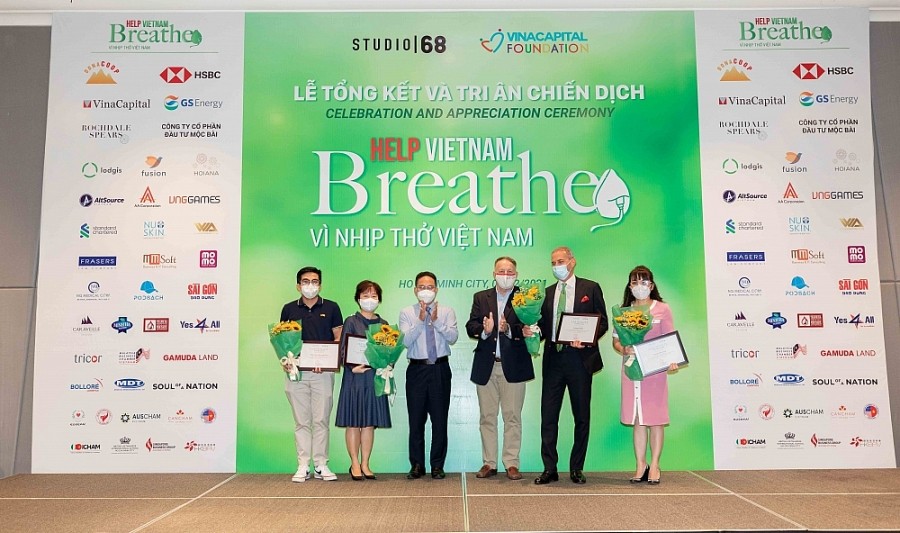 At the event.
The VinaCapital Foundation (VCF) has announced that it raised over VND 27 billion (USD 1.17 million) for the "Help Vietnam Breathe - Vì Nhịp Thở Việt Nam" campaign from July to November.
During a ceremony reviewing the campaign in Ho Chi Minh City on Dec. 1, the VCF said it used the sum to present 57 ventilators, one ECMO machine and 10,050 personal protective suits to front-line medical system during the fourth Covid-19 wave in Vietnam.
"Help Vietnam Breathe" is a program implemented by VinaCapital Foundation to raise funds for purchasing essential pandemic-fighting medical equipment and supplies for frontline medical facilities as the pandemic prolongs and the number of newly infected cases increases dramatically, especially in HCM City.
It also partnered with the Vietnam Fatherland Front Committee of HCM City, departments and agencies of Long An, Can Tho, Binh Duong, Tay Ninh and Quang Nam to distribute medical supplies to the areas of most severe critical need.
The campaign also received support from artists, football players, 800 businesses and individuals at home and abroad.
Several famous artists, celebrities and the players of the National Football team along with 800 businesses and individuals at home and abroad also joined hands with the VinaCapital Foundation to call for donations to the program.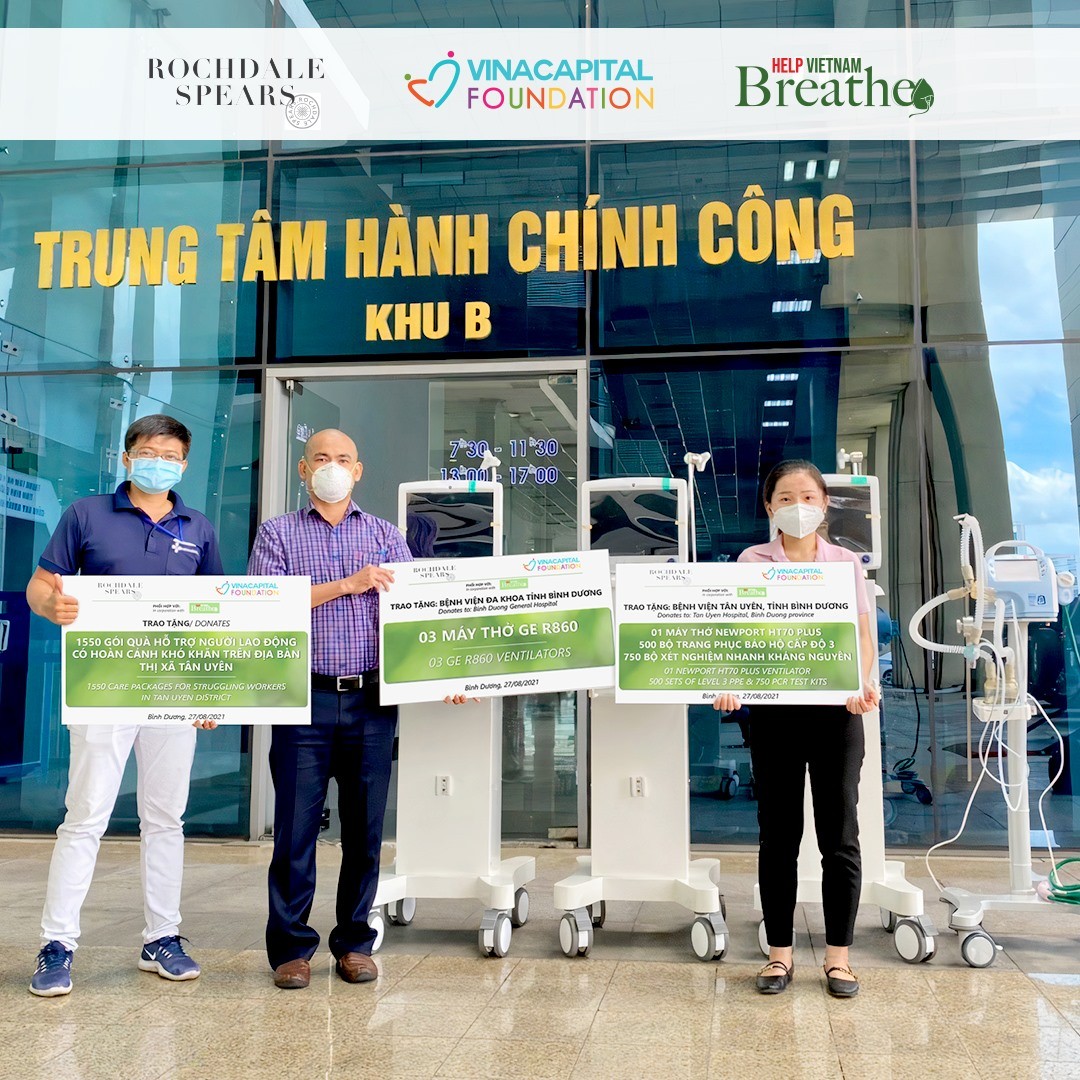 Rochdale Spears, in collaboration with the program "Help Vietnam Breathe" of VinaCapital Foundation donate 4 ventilators, 500 sets of level 3 personal protective equipment (PPE), 750 PCR test kits to Binh Duong General Hospital and Tan Uyen Commune Health Center and 1,550 care packages for struggling workers in Binh Duong province with a total value of nearly VND 3 billion (USD 125,000).
Founded in 2006, the VinaCapital Foundation aims to empower the children and youth of Vietnam, by providing opportunities for growth and improvement through health and education programs for millions of Vietnamese in 63 provinces every year.
In November, strictly complying with regulations on pandemic prevention, Vo Lam Truyen Ky Game series from Game Studio 1 VNG Corporation, in collaboration with VinaCapital Foundation, donated 35 laptops to the"Care to Rise" program and one large Newport e360 ventilator to the "Help Vietnam Breathe" campaign with a total value of VND 800 million (equivalent to USD 35,500).
With the cooperation of VNG, VCF can preserve the lives and livelihoods of those with serious Covid-19 complications at HCM City-based Nguyen Trai Hospital and provide remote learning communication devices for disadvantaged children affected by Covid-19 in HCM City and Da Nang so they can access the educational platform and continue their education.
The prolonged outbreak of the Covid-19 pandemic in many provinces and cities across the country forced schools to close their doors and move classes online. This required students to be equipped with appropriate online learning devices, which is a big challenge for financially difficult families. The laptop assistance program have the support of ASUS Technology Vietnam Company Limited with the ASUS BR1100F laptop model from the ASUS Education specialized product line that provides low-income students the ability to perform school education requirements that require internet and communication devices.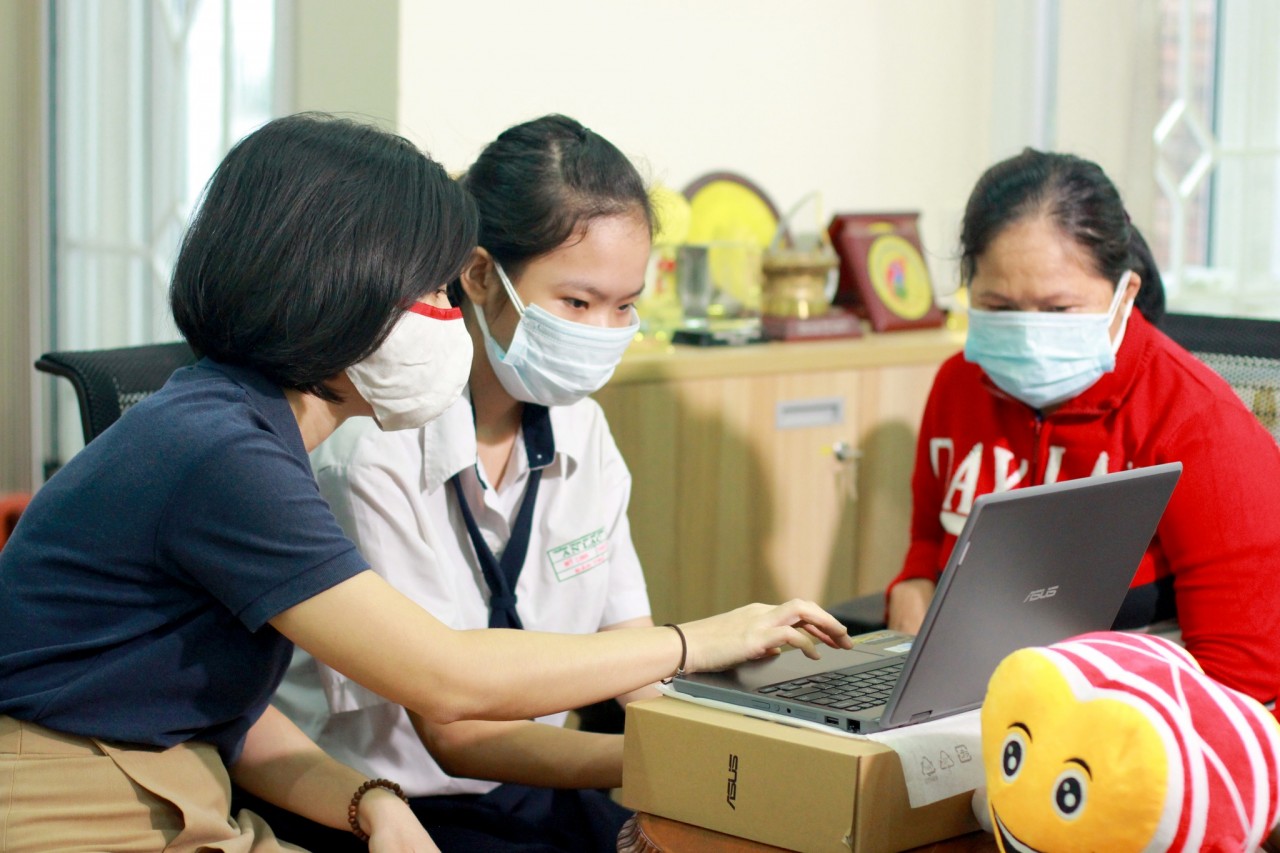 Laptops donated to disadvantaged children affected by the pandemic.
Accordingly, the program "Care to Rise – Yêu thương nâng bước" was launched on Nov. 25 by VinaCapital Foundation in collaboration with the Youth Union of Ho Chi Minh City at a signing ceremony.
Care to Rise is an outgrowth of the existing successful partnership between VCF and Youth Union – the Grassroots Assistance Program, which addressed Covid-19 generated lockdown problems in HCM City such as Vietnamese families' nutritional and other critical needs, assisting indigent dislocated foreigners, and the provision of support services for healthcare professionals battling the pandemic.
Its purpose is to provide for, protect and encourage the 2,000 orphans created by the Covid-19 pandemic to adulthood. To accomplish this, the program begins with a survey visit to every Covid-19 orphan and/or disadvantaged child to fully assess each beneficiary, their new environment and to then determine three crucial areas of need: nutrition and other basic needs, health/vision issues and possible anxiety disorders caused by the abrupt loss of parents and dislocation, and the ability to attend and/or perform school education requirements that currently require internet and communication devices.