Overseas Vietnamese Bringing Warm New Year For The Needy
Vietnamese communities abroad are organizing numerous activities for local people
Taking care of the needy has become a tradition of Vietnamese, reflecting the fine teaching of "the haves helping the have nots".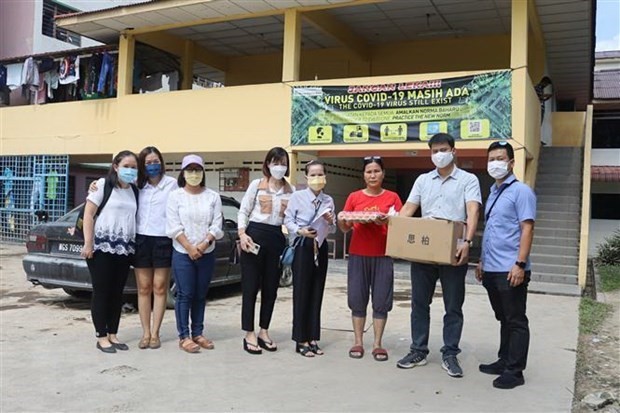 Representatives of the Vietnamese Embassy in Malaysia and donors present gifts to Vietnamese labourers who are affected by recent flood in Selangor state. Photo: VNA
Representatives from the Vietnamese embassy and Vietnamese community in Malaysia have visited and handed over 50 gifts to Vietnamese people who are working and living in Selangor state and affected by the recent flood, VNA reported Monday.
Heavy rains last weekend caused serious flooding in Malaysia, especially in the industrial state of Selangor - the hardest-hit area. It is also home to a large number of Vietnamese workers.
Vu Duc Minh, Second Secretary at the embassy in charge of the Vietnamese community in Malaysia, said this is just one of the embassy's activities to support Vietnamese citizens in the country.
The Vietnamese embassy will continue to work together with donors to ease difficulties for flood-stricken Vietnamese people in Pahang state as well as those who were affected by the Covid-19 pandemic in Penang state, he said.
Dinh Thi Thu Huong, who has been working in Malaysia for seven years, said the attention and support from the Vietnamese embassy and Vietnamese community in Malaysia give her more confidence and encouragement to overcome difficulties, adding that the recent flood has damaged all household appliances in her house.
President Nguyen Xuan Phuc on Dec. 23 has sent a message of sympathy to Malaysia's King Abdullah Billah Shah over heavy losses caused by torrential rains and wide-scale flooding in many states of Malaysia.
The same day, Foreign Minister Bui Thanh Son also extended sympathy to his Malaysian counterpart Saifuddin Abdullah.
A weekend of torrential rain caused rivers to overflow, flooding towns and villages and cutting off major roads, with many motorists left trapped in their vehicles for hours.
According to official data, the number of people displaced by floods has reached over 51,000 with the worst-hit area being the eastern state of Pahang, where some 32,000 were forced to flee from their homes.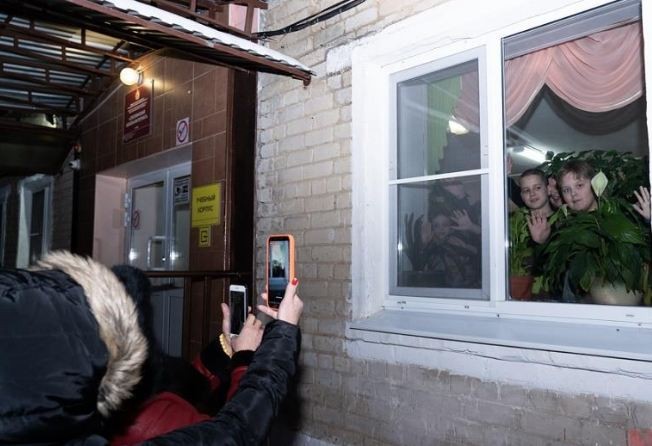 The benefactors greet the children from afar, due to the complicated Covid-19 situation. Photo: Thanh The/NDO
Meanwhile, the Vietnamese community in Moscow, Russia in coordination with the Sadovod Trade Centre, Russian social and charity foundations, organised a charity trip on Dec. 24, to present gifts to boarding schools and centres for disadvantaged children in Ryazan province, about 200 km southeast of Moscow, according to NDO.
After two weeks, the organising committee of the "Warm Winter" programme had received more than 100 boxes of clothes and personal belongings from Vietnamese and Russian benefactors. All gifts have been and are being delivered to disadvantaged children.
Meeting with Vietnamese benefactors, Galina Eroshina, director of the boarding school named "Trust" in Ryazan city, expressed her thanks to Vietnamese contributors, saying that the gifts from the Vietnamese community in Moscow will help the children have more joy, overcome difficulties and rise up in life.
Tatiana Nenastina, president of the Russian "Women of Our City" social organisation said that Russian social organisations are very happy and ready to help connect Vietnamese people in Russia - a kind and compassionate community - with centres and schools that are caring for children in need.
"Warm Winter", is an annual charity programme that has been widely welcomed by the Vietnamese community in Moscow and appreciated by the Russian people.
Each year, in addition to Christmas and New Year gifts, the Vietnamese here also support and donate gifts to children in the summer, with an aim to share difficulties with disadvantaged children.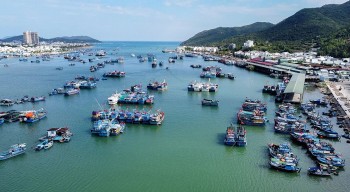 Economy
GDP growth quickened to 7.72% in the quarter ended June, beating the government's 6%-6.5% target.