Overseas Vietnamese present donations for Covid-19 fight
Vietnamese people around the world are all enthusiastically joining hands to make a small contribution towards the frontline in the fight against Covid-19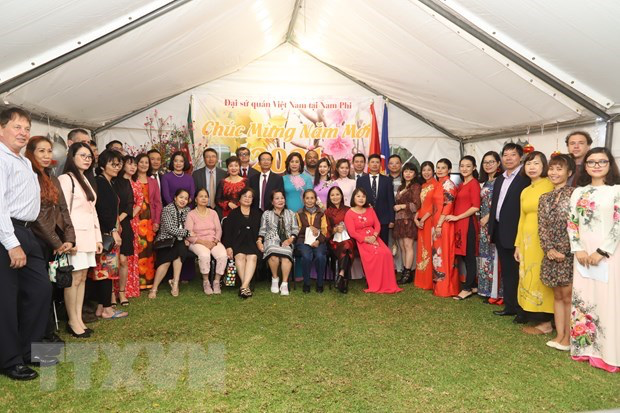 Representative of the Vietnam embassy and community in South Africa. Photo: VNA
For more than a month, websites and applications announcing the Covid-19 pandemic situation in Vietnam have become a familiar to Luong Mai Huong, who lives in the South African capital of Pretoria.
Huong said her family and relatives were living in Yen Dung district, one of the localities heavily affected by the Covid-19 pandemic and so far still one of the three districts that continue to implement social isolation.
On learning that the Covid-19 Vaccine Fund was officially launched in Vietnam and the Vietnamese Embassy in South Africa had launched support for Covid-19 prevention activities in the country, Huong and her family responded immediately.
At the launch ceremony of donations for Vietnam's Covid-19 Vaccine Fund at the South African Embassy in Pretoria on June 10, Ambassador Hoang Van Loi emphasized that organizing donations and supporting domestic pandemic prevention activities, especially the Covid-19 Vaccine Fund launched on June 5, was a meaningful and important job.
The ambassador said that during the pandemic, the embassy decided to organize a safe donation launch ceremony with participation of employees of Vietnamese agencies in South Africa. Each person contributes at least one day's salary and the embassy has sent notices to the Vietnamese community in South Africa. Donations will last until June 16.
Immediately after receiving the information, Nguyen Van Thuc, a longtime overseas Vietnamese in South Africa, drove more than 600 kilometers from the port city of Durban to the capital Pretoria to hand his donation to the embassy.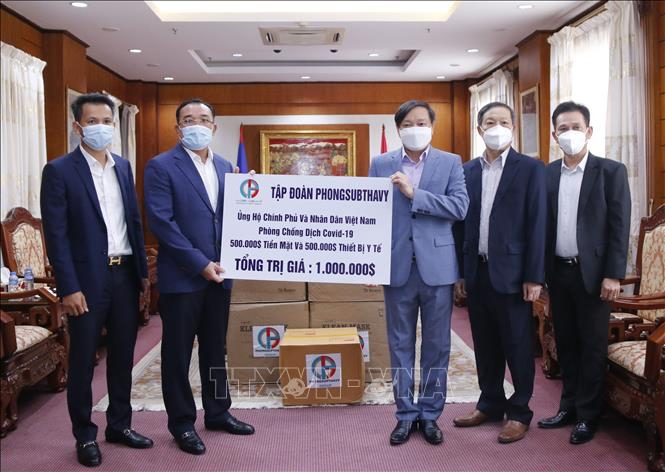 Chairman of Phongsubthavy Group Phongsavath Senaphuan (left) gives Ambassador Nguyen Ba Hung a check worth to support Vietnam's Covid-19 Vaccine Fund. Photo: VNA
In order to join hands with the Vietnamese government and people in the fight against Covid-19, on the morning of June 10, Chairman of Phongsubthavy Group of Laos Phongsavath Senaphuan went to the headquarters of the Vietnamese Embassy in Vientiane to donate money and medical supplies worth US$ 1 million to Vietnam's Covid-19 Vaccine Fund.
Phongsavath said that from a young age he had heard and learned about the Laos-Vietnam friendship, so he regularly watched news about the situation in Vietnam.
When he learned that Vietnam was facing is fourth wave of Covid-19, he discussed with the group's leadership and decided to support Vietnam's Covid-19 Vaccine Fund with US$ 500,000 in cash, medical equipment and supplies including medical masks, antiseptic water, hospital beds and medical protective suits worth US$ 500,000.
On behalf of the Party, the government and people of Vietnam, Ambassador Nguyen Ba Hung sincerely thanked Chairman Phongsavath and all employees of the group. He said that he would quickly transfer the money and medical supplies to Vietnam.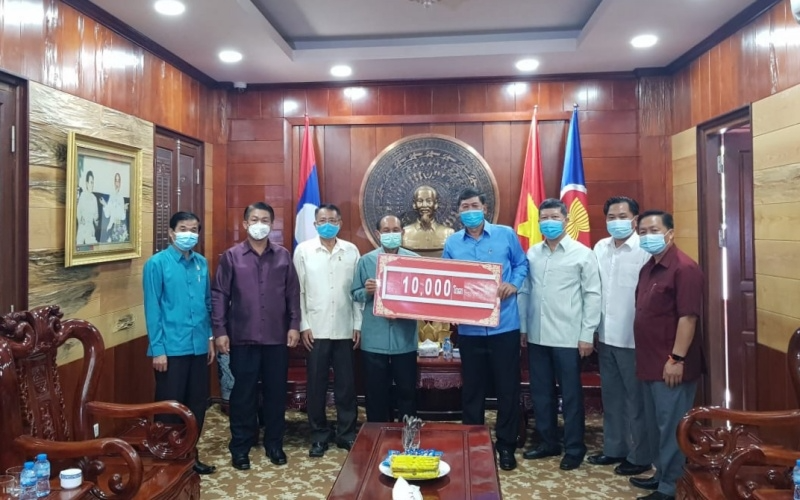 Secretary and Governor of Luang Prabang Province Khamkhan Chanthavisuk (left) hands over support to Consul General Nguyen Dang Hung, June 8.
With the traditional spirit of solidarity and friendship between the two countries Laos and Vietnam, on June 8, the Secretary - Governor of Luang Prabang province, Khamkhan Chanthavisuk went to the Consulate General of Vietnam in Luang Prabang to present an amount of US$ 10,000 to help Dien Bien province have more funding to fight the pandemic.
On the same day, Khampheng Tadsavath, director of Xayyaburi Provincial Department of Foreign Affairs also donated 260 million kip (equivalent to US$ 28,375) to support the pandemic prevention funds of five provinces: Yen Bai, Quang Ninh, Son La, Thai Binh and Dien Bien.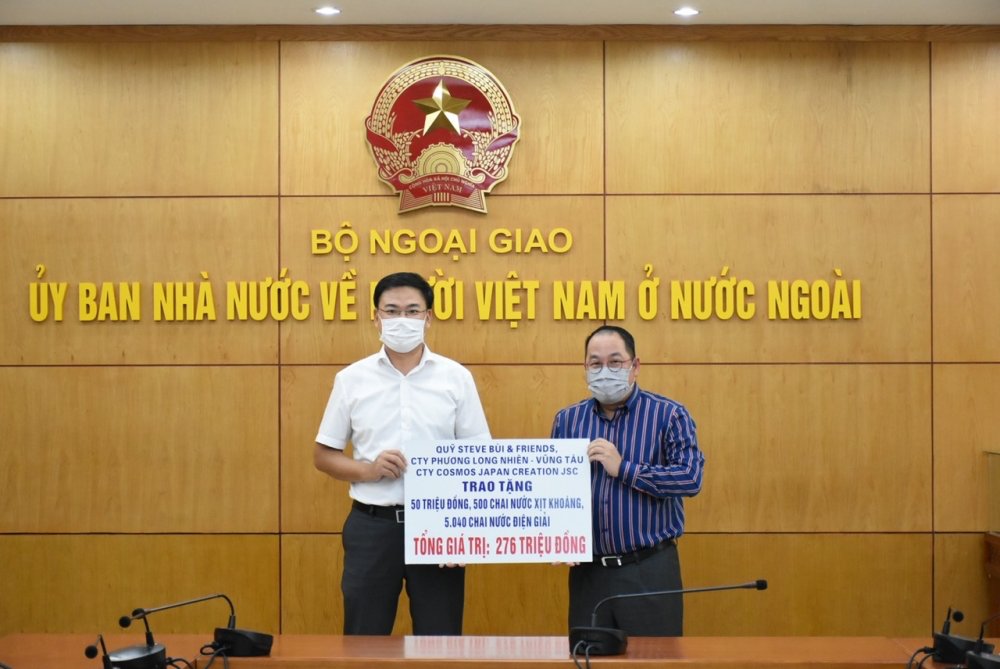 The Steve Bui & Friends Foundation and companies donate to support the fight against Covid-19.
A ceremony was held in Hanoi on June 10 to receive donations in cash and kind from the Steve Bui & Friends Foundation, the Phuong Long Nhien Co. Ltd., and the Cosmos Japan Creation JSC in support of Vietnam's fight against Covid-19.
The Foreign Ministry's State Committee for Overseas Vietnamese Affairs received VND 50 million for the Covid-19 Vaccine Fund, as well as 500 mineral spray bottles worth VND 100 million, and 5,040 water bottles valued at VND 126 million to support frontline medical staff in the northern provinces of Bac Giang and Bac Ninh.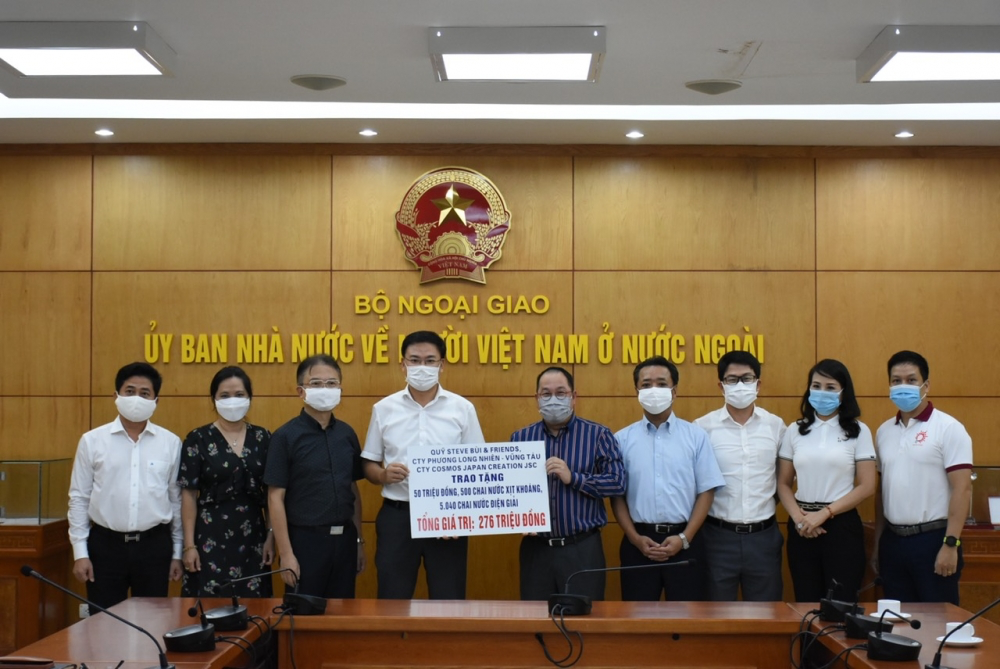 Deputy Minister, Chairman Pham Quang Hieu thanked the important and timely contributions of overseas businesses to the prevention and control of Covid-19 pandemic in the country.
Pham Quang Hieu, deputy minister of foreign affairs and chairman of the State Committee for Overseas Vietnamese Affairs, thanked the overseas Vietnamese companies for their important and timely contributions to the national Covid-19 Vaccine Fund.
Launched on June 5, Vietnam's Covid-19 Vaccine Fund has received donations from individuals and organizations at home and abroad, including Vietnamese communities in the United States, Egypt, Mozambique, Cambodia, Thailand, Singapore, Laos, Germany, Russia, and Switzerland.