Overseas Vietnamese Share Ideas to Expand Vietnamese Culinary Spaces
Food is a major "catalyst" in promoting Vietnamese culture to the world. Over the years, the introduction of Vietnamese culinary culture abroad organized by Embassies, overseas Vietnamese associations, and expatriates have contributed to the promotion of Vietnamese culinary culture to international friends.
Dedication to promoting Vietnamese culinary culture
Born in 1994, Ta Tuan Linh is the second generation of overseas Vietnamese in Ukraine. He says that his time in Vietnam has helped him understand and come to love Vietnamese food culture. He wants to promote the uniqueness of his homeland's culinary culture to the world.
In the summer of 2018, he opened a Vietnamese restaurant. "The restaurant called Golden Rice is located in the center of a Ukrainian city to introduce Vietnamese cooking and culinary culture to natives who have not had the opportunity to visit Vietnam or those who love Vietnam and have had a taste of Vietnamese culinary culture", Tuan Linh says.
Foreigners enjoy Vietnamese food at Golden Rice.
Golden Rice possesses Vietnamese characteristics with decorative materials imported from Vietnam such as bamboo. Linh himself also designs and paints the restaurant wall featuring Hoi An ancient town. The restaurant uniform is the traditional Vietnamese ao dai.
Golden Rice has gradually become a famous dining destination for many families in Odessa and tourists in Ukraine. This is a place for them to enjoy Vietnamese food and experience a cozy atmosphere with their family, friends, and relatives.
Like Tuan Linh, many generations of Vietnamese living abroad regard cuisine as a bond between them and their homeland and take great pride in introducing their homeland to international friends. Vietnamese culinary spaces have become a popular destination for natives in many countries.
Hoang Xuan Binh, President of the Vietnam Business Association in Poland, informs that Poland alone has 700 Vietnamese restaurants, each selling an average of 100 spring rolls and 20 bowls of pho every day. The overseas Vietnamese community's dedication to promoting culinary culture has helped international friends get to know about Vietnam and its food culture.
Vietnamese dishes such as pho, fried spring rolls, and chung cakes are already well-known worldwide. The names of these dishes need no translation in English or French dictionaries, or other languages for foreigners to understand.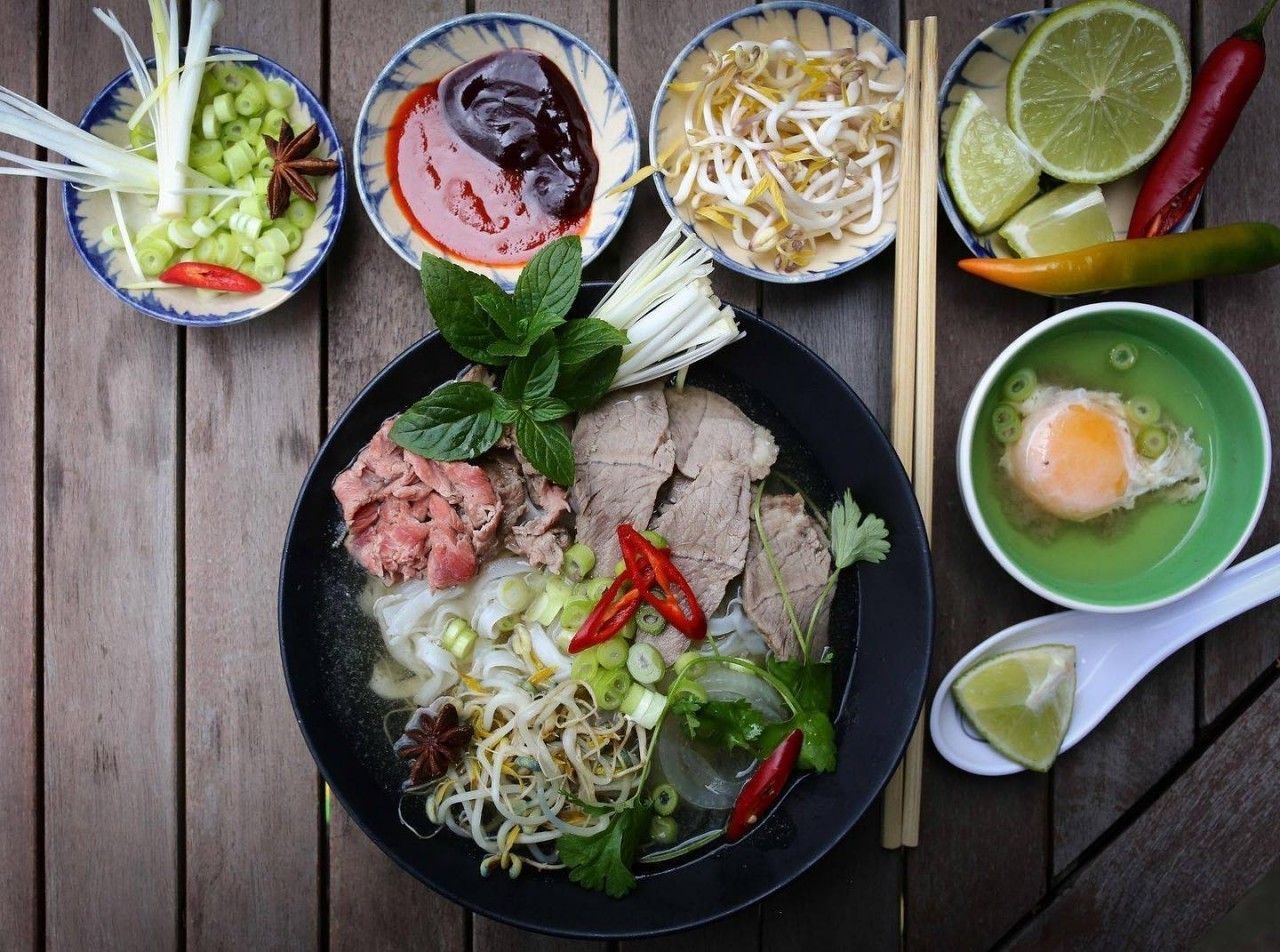 Vietnamese cuisine is a hit with foreigners.
Stepping up efforts to promote Vietnamese culinary culture
President of the Vietnam Business Association in Poland Hoang Xuan Binh states that it is necessary to expand Vietnamese culinary spaces in countries around the world so that more and more people know about Vietnam and its culinary culture.
Prof. Dr. Phan Van Ngan, a famous scientist at the University of São Paulo, says that there is a restaurant selling Vietnamese food in Brazil.
"The owner of the restaurant was fascinated by Vietnamese cuisine upon her trip to Vietnam, during which she learned how to make some Vietnamese dishes. These dishes were included in her restaurant's menu when she returned to Brazil", Phan Van Ngan remarks.
He deems it necessary to open training classes to make Vietnamese food for restaurant and hotel owners and Brazilians alike. It is one of the effective ways to spread Vietnamese cuisine to the world.
Chu Hoang Dai, an overseas Vietnamese from Laos shares that his Lao friends are impressed by the photos of Vietnamese dishes posted by him. They frequently ask him about the dishes, their ingredients and cooking techniques, and Vietnamese culinary culture. The promotions of Vietnamese cuisine should be done on a variety of platforms such as Facebook, Instagram, Twitter, and other applications, Dai notes.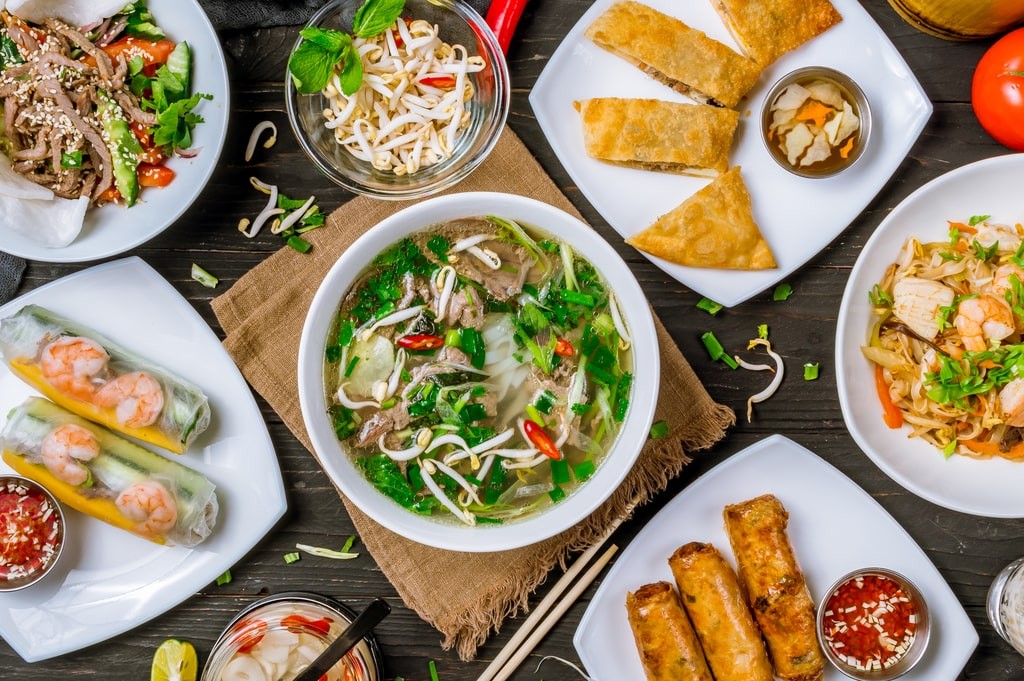 Vietnamese cuisine has rich and balanced flavors (Photo: guidevietnam.com).
According to culinary experts, Vietnamese cuisine has rich and balanced flavors, more appealing to Western tastes than other cuisines in the region. However, Vietnam still "lags behind" regional countries in its promotion. It is thus necessary to diversify and strengthen the promotion of Vietnamese culinary culture to friends all over the world.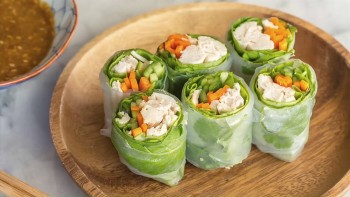 Travel
Rolls are a easy-to-make dish that is loved by many Vietnamese diners as well as Korean stars.