Overseas Vietnamese Students Uncertain About Tet
After being unable to return home for so long due to the pandemic, this Tet holiday Vietnamese students face the choice of staying or returning to their home country.
Happy to be home
After over two years of being unable to go home, Vo Ngoc Anh Thu, 21, an international student at Hanyang University, Korea, returned to Ho Chi Minh City in January.
She plans to celebrate Tet with her family at the end of February.
"Tet is a precious time, so I'm very happy to be back for the occasion," Thu said.
Thu said that despite the stress of the pandemic in Korea and Vietnam, she tries to take care of herself and limit going out to maintain the best health.
According to Thu, immigration procedures are easy because Korea has reopened commercial flights to Vietnam.
"In Korea, I only need to apply for a re-entry permit to be able to return after the vacation, and when returning to Vietnam, I need a negative PCR test certificate within 72 hours before entering the country," she said.
After a year of not being able to come home for Tet, Anh Thu can now enjoy New Year's Eve with her family NVCC
"This Tet holiday, I want to spend more time with my family and friends, because these are not easy experiences after two years of the pandemic. The pandemic has left me with valuable lessons on how to cherish relationships in the present," she added.
Nguyen Hoang Duy, 20, a student at Ohio University, is looking forward to returning to Vietnam to celebrate Tet.
"Nostalgia for family and the homeland is the driving force for me to go home," he said.
However, Duy can only stay until January 24, which is a week before Lunar New Year's Eve 2022.
This is what he regrets the most. Therefore, he will try to take advantage of this time to enjoy as much Vietnamese food with his family as possible, learn to drive a car and interview for a new visa to be able to return to the U.S. to continue his studies.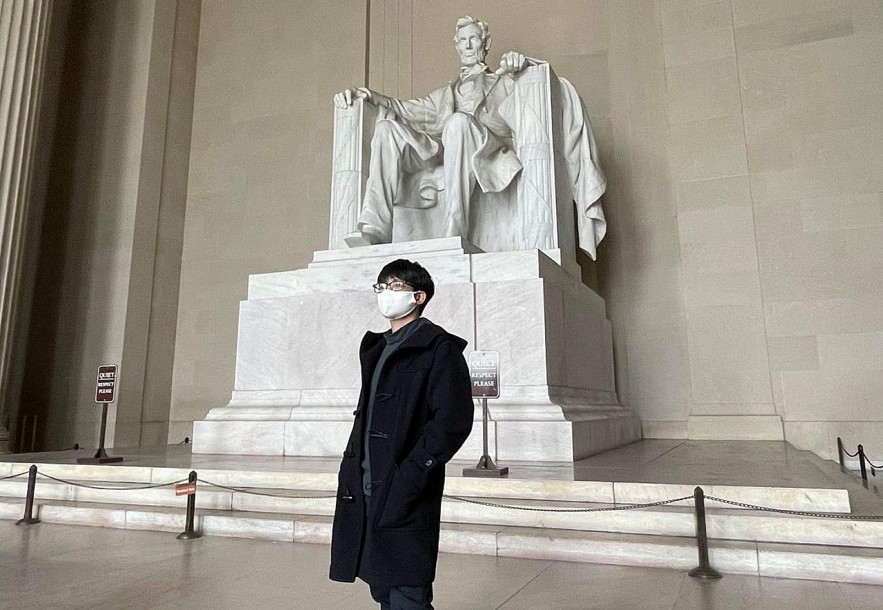 Despite being able to visit his family, Hoang Duy regrets not being able to be with his family during the Lunar New Year's Eve.
"Industrial life and material pursuits in the West make Asian international students like me feel lost and sometimes lonely and strange. Spending time with family will help me recharge," he said.
Tet is far from home but not far away
Leaving Vietnam to study in Australia at the end of February 2020, Vu Thien An, 20, a student at TAFE NSW Vocational College said that it has been almost two years since she has been able to eat her favorite dishes such as vermicelli and noodles.
"I miss the taste and atmosphere of the street vendors in Ho Chi Minh City," the international student shared.
Thien An misses the taste of vermicelli and noodle soup in Ho Chi Minh City
She has put aside the idea of ​​​​going home for the 2022 Lunar New Year for financial reasons.
"If I return, I still have to pay rent to keep the place, the airfare is high, not to mention the risk of losing a part-time job. Besides, the pandemic situation is complicated, so I decided to stay in Australia," she said.
Also choosing to stay in a foreign land this New Year, Vu Nguyen Van Anh, 20, a student at the University of Amsterdam, said that airfares are expensive and there was lack of direct flights from the Netherlands to Vietnam.
"Besides, my school schedule is also continuous until the summer, so I don't have any free time," Van Anh said.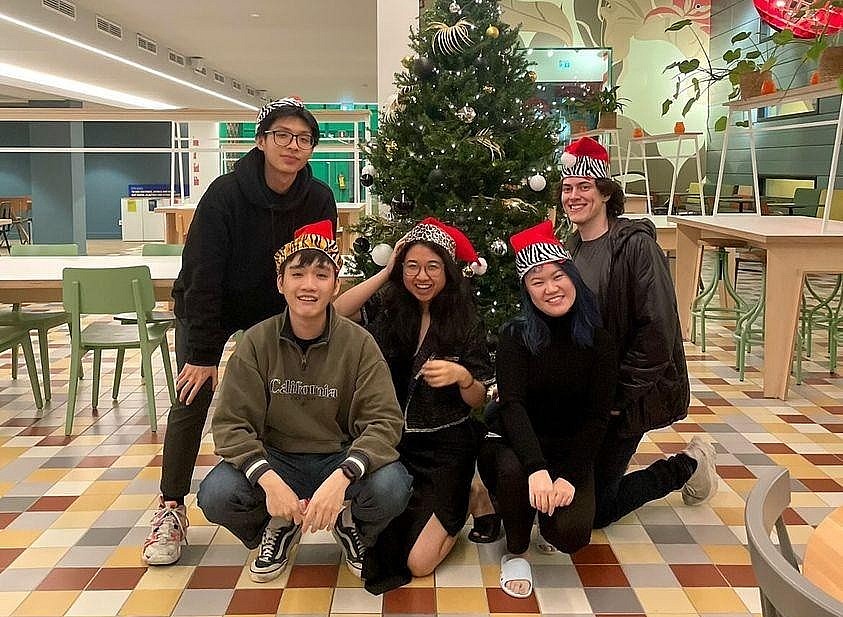 Van Anh (seated row, center) celebrates Christmas with friends in the Netherlands
The Netherlands is one of the European countries that is applying strict disease prevention measures because of the Omicron strain.
Entertainment services such as restaurants and cinemas in the city of Amsterdam where Van Anh lives must be closed.
She said she has to study online until the end of January and by law is not allowed to invite more than two guests to her home, making it difficult for celebrating Tet. However, she feels lucky because her parents still text and call her weekly.
Van Anh said she would send gifts and lucky money to her family, as well as make video calls to show off her life in the first days of the year in a foreign country.
In the new year, she hopes that her family will stay healthy, and wishes to be able to travel to many European countries.
.
Thanh Niên