Part 1: Humanity- The Center Of Every Policy In Vietnam
Protecting and promoting human rights is the consistent policy of Vietnam. This policy is reflected throughout the Constitution, laws and socio-economic development strategies and plans as well as the respect and implementation of international obligations and commitments in the field of human rights. Among them, there are recommendations under the Universal Periodic Review (UPR) Mechanism that Vietnam has accepted at the third cycle in 2019.
Positive, comprehensive in many fields
Achievements in human rights in Vietnam in recent years have been comprehensively implemented in all fields. Vietnam launched synchronous measures, prioritized many resources to invest in socio-economic development and improved people's living standards. Achievements in economic and social development and increasing international integration have created successful conditions for Vietnam to secure the basic rights and freedoms of people.
Regarding the economic field, Vietnam continues to achieve the goal of reducing poverty in a multi-dimensional, inclusive and sustainable manner, limiting generational poverty; supporting the poor and poor households to rise above the minimum standard of living; accessing basic social services according to the national multidimensional poverty line, and improving the quality of life.
The national target program on sustainable poverty reduction in the 2016-2020 period has had positive results. Particularly, the poverty rate of the whole country is about 2.75%, the average reduction in 5 years is about 1.43% per year; the rate of poor households in poor districts is about 24%, which has decreased by 5.65% over the last 5 years.
In the field of education, Vietnam gave top priority to the allocation of the education budget and ensured that the state budget spends at least 20% of the total state budget expenditure on education and training. Not only formal education, Vietnam also created favorable conditions for people to study continuously everywhere in many different forms.
Vietnam has also issued many policies on tuition fee exemption and reduction; supported study expenses for disadvantaged groups; focused on supporting students in ethnic minority, remote and isolated areas, students with disabilities.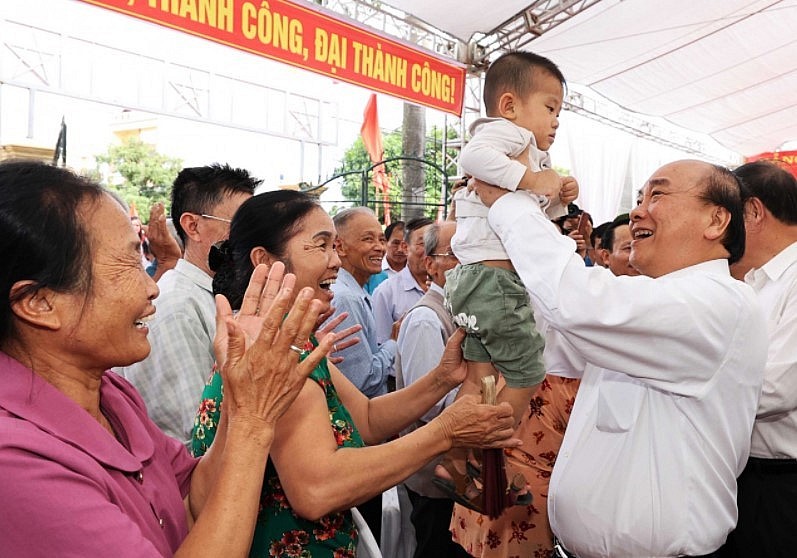 Protecting and promoting human rights is the consistent policy of Vietnam. Photo: VNA
Regarding the right to religious freedom, Vietnam currently has 43 organizations belonging to 16 religions recognized by competent state agencies and thousands of independent religious groups registered for religious activities. Religious activities of foreign organizations and individuals entering Vietnam are facilitated with registering for concentrated religious activities, inviting foreign dignitaries or Vietnamese dignitaries to preach, and permitting the import of religious cultural products from abroad to Vietnam.
After the implementation of the Law on Beliefs and Religions, international relations activities of religious organizations and individuals have become more and more exciting in levels, number and scope of activities. Many major international activities have been successfully hosted and organized by Vietnamese religious organizations in Vietnam.
Up to now, Vietnam has completed most of the Millennium Development Goals (MDGs) ahead of time and is actively implementing the Sustainable Development Goals (SDGs).
Ensuring human rights in the context of Covid-19 pandemic
Covid-19 pandemic has worsened efforts to ensure human rights of many countries, including Vietnam. With the highest goal being for people, Vietnam has quickly introduced policies and measures, in which the top priority is disease control to protect health, ensure the ultimate right to life.
The Government of Vietnam attaches special importance to ensuring free vaccination against Covid-19 for the people according to the priority subjects as recommended by the World Health Organization (WHO). By October 10, 2021, Vietnam had injected 81.7 million doses of Covid-19 vaccine to people despite many difficulties such as the world's scarcity of supply and limited economic conditions.
Vietnam established a vaccine fund for Covid-19 prevention (as of October 14, 2021, VND 8,784.4 billion has been mobilized, equivalent to USD 385,353.68), with the goal of receiving, managing and using funding and support sources, together with state budget resources, purchase and import vaccines, research and produce domestic vaccines to immunize the people, ensuring a sustainable financial source for vaccination against Covid-19, ensuring the right to health. Besides, Vietnam also establish a Working Group on vaccine diplomacy chaired by the Minister of Foreign Affairs to promote and mobilize aid for vaccines, therapeutic drugs, and medical products for Covid-19 prevention and control; to transfer technology vaccines and therapeutic drugs from bilateral or multilateral partners.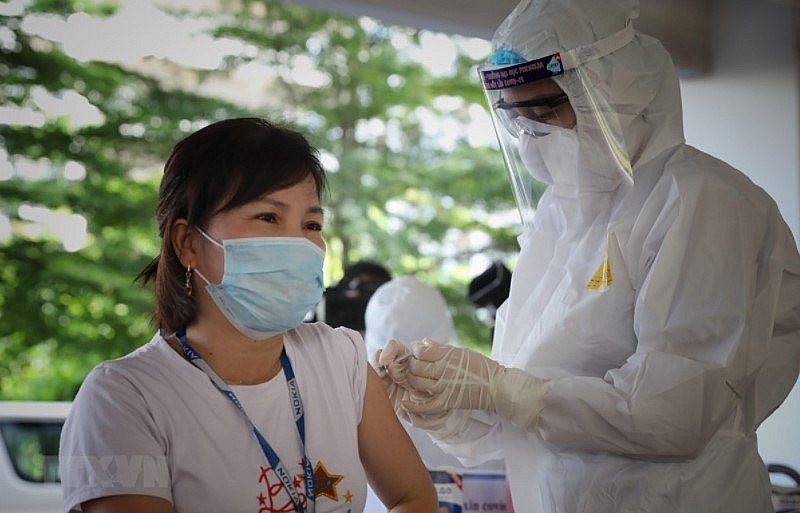 Photo: VNA.
Up to now, most of the important partners and traditional friends have supported Vietnam with millions of doses of vaccines (as of August 27, Vietnam has received over 26 million doses of Covid-19 vaccine).
Vietnam also effectively and synchronously implemented solutions to minimize the impact of the pandemic on the economy, maintain and restore production and business, ensure jobs, social security and people's lives, especially the vulnerable ones.
With the efforts of the whole political system and the consensus and cooperation of the people, despite facing many difficulties and challenges, Vietnam has achieved positive results and achievements with economic growth reaching 2.91% in 2020 and is expected to be about 2.5-3% in 2021. In 2020, Vietnam has risen to become the 4th largest economy in ASEAN, ranked 37th in the world.
According to the World Bank's forecast, Vietnam's economic fundamentals remain solid and the economy could return to pre-pandemic GDP growth of between 6.5 to 7% from 2022 onwards.
Vietnam also has the opportunity to take advantage of the recovery momentum after the Covid-19 pandemic and from the implementation of economic restructuring to take full advantage of the 14 Free Trade Agreements (FTAs) in progress with partners, including the Free Trade Agreement with the EU (EVFTA), the Regional Comprehensive Economic Partnership (RCEP), the Comprehensive and Progressive Agreement for Trans-Pacific Partnership (CPTPP).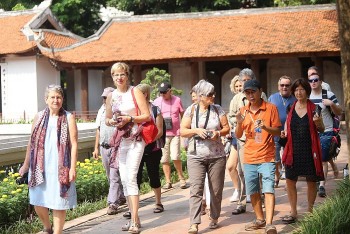 National
Vietnam News Today (May 24): Covid-19: Vietnam records 1,179 new cases, 3,862 recoveries on May 23; Foreign arrivals soar two months after border reopening; Vietnam, Cambodia boost defense ties; Heavy rain floods parts of northern Vietnam.