Party Central Committee's Secretariat Reviews Tet Organisation
Party General Secretary Nguyen Phu Trong on February 8 chaired a meeting of the Party Central Committee's Secretariat to review the organisation of the Lunar New Year (Tet) holiday.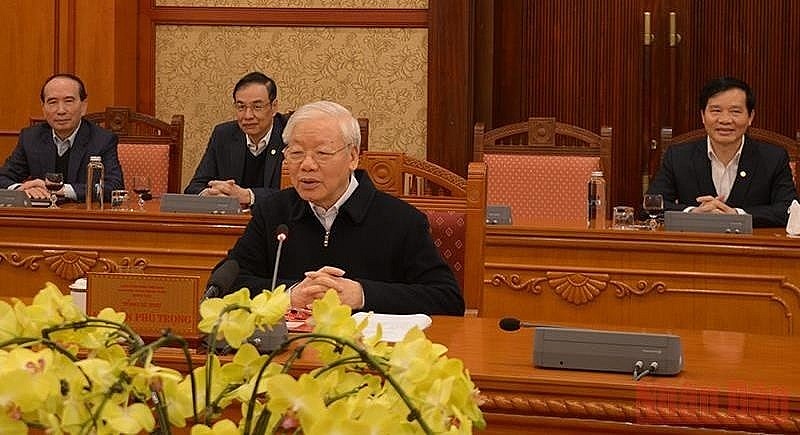 Party General Secretary Nguyen Phu Trong speaking at the meeting.
According to a report presented at the event, Party and State leaders paid Tet visits to all the 63 provinces and cities, including remote villages and border guard posts. They also presented gifts to people with disadvantages, the workers not returning to their homelands during the country's biggest traditional festival, frontliners in the COVID-19 fight, and persons on duty on this occasion.
All-level authorities and sectors organised celebrations of Tet and the Party's founding anniversary (February 3) while firmly safeguarding sovereignty, territory, security, and social order and safety. Besides, most of the localities have made plans to launch the tree planting festival, an annual activity held every spring.
Party General Secretary Trong said people nationwide enjoyed a merry Tet, applauding all-level Party committees and administrations' serious implementation of the Secretariat's and the Prime Minister's directives on the holiday organisation.
At the meeting, the Secretariat requested that agencies and units immediately pay attention to performing political tasks, swiftly bring activities back to normal, ensure public services meet people's demand well, remove obstacles to production and business, and provide timely support for people and enterprises.
In addition, Party committees and administrations were told to press on with COVID-19 prevention and control, with a focus on the Government's Resolution No. 128/NQ-CP, issued last October, on temporary regulations on safe and flexible adaptation to and effective control of the pandemic.
They also need to prepare for safe school reopening, increase safeguarding political security and social order and safety, and step up the crime combat, according to the Secretariat.
General Secretary Trong also ordered a good grasp of possible circumstances so as to ready response measures.
Nhandan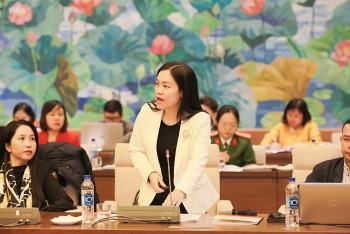 Friendship
Doan Thu Huyen, Vietnam Country Director for Campaign for Tobacco-Free Kids, made the statement at the "Child Downing Prevention" seminar.