PeaceTrees Vietnam and 25 years turning the impossible into possible
PeaceTrees Vietnam - the first international non-governmental organisation (NGO) permitted by Vietnam to engage in humanitarian demining work, held an online ceremony in Seattle, Washington, on October 19 (October 20 Vietnam time) to celebrate its 25th founding anniversary.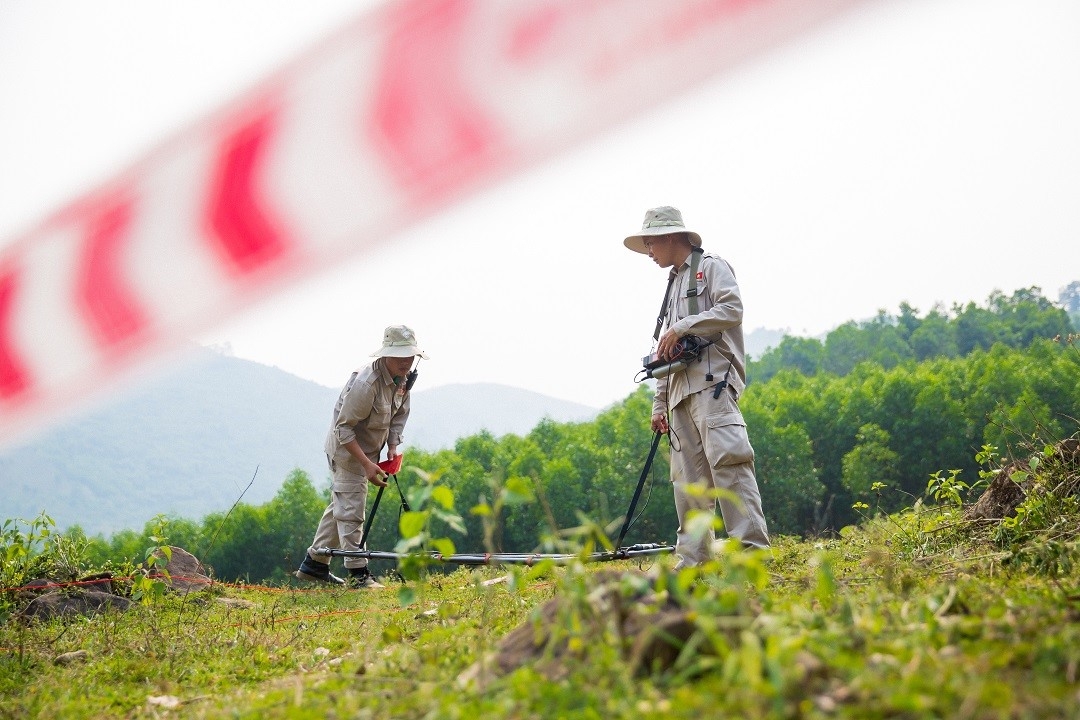 Founded in 1995, PeaceTrees was the first US organisation permitted to sponsor humanitarian demining efforts in Vietnam and continues to be the only US organisation working to remove unexploded bombs and mines today. Source: PeaceTrees Vietnam
Founded in 1995, PeaceTrees Vietnam's mission is to heal the legacy of war by removing explosives, returning land to safe use, promoting peace and cultivating a brighter future for the children and families of Vietnam.
The organisation has handled more than 123,000 explosives, and planted over 44,000 trees so far, according to Peace Trees Vietnam founder Jerilyn Brusseau.
Speaking at the ceremony, Jerilyn Brusseau, Founder of PeaceTrees Vietnam recalled the history of the NGO. She was the sister of an American soldier who died in Quang Tri, Vietnam in 1969. When Vietnam and the US normalised relations in 1995, Jerilyn Brusseau and her family members established PeaceTrees to carry out activities to support Vietnam to overcome the consequences of war and heal the pain of war.
The work of the last 25 years has expanded from demining efforts and Citizen Diplomacy Trips to education and economic development efforts.
PeaceTrees Vietnam, so far, has safely removed and destroyed more than 123,000 pieces of unexploded ordnances and planted over 44,000 trees. They also provided mine risk education for 150,000 children and family members; provided survivors of landmine accidents long-term and direct economic support. Up to 18 kindergardens and 12 libraries have been built.
Nguyen Phuong Nga, President of the Vietnam Union of Friendship Organisations (VUFO), said Vietnam treasures Americans' efforts in ending the war, helping Vietnamese people heal war wounds, and pushing ahead with the normalisation of relations between the two countries.
"We have come a very long way, from former enemies to partners. Besides activities of organisations like Peace Tree, we also held meetings between veterans and relatives of fallen soldiers on both sides. I have personally witnessed the thrill of the encounters and thought it was really unbelievable. We have made the impossible possible," said Nga.
Nga also highlighted results of the bilateral collaboration in economy, trade and education. Currently, Vietnam has about 30,000 pupils and students living and studying in the US, they are the bridges between the two countries, Nga stressed.
Regarding cooperation in humanitarian issues, the people and the government of Vietnam have supported the search of missing soldiers, solving the problem of Agent Orange victims... Along with PeaceTrees Vietnam, there are many veteran associations and other groups are very enthusiastic and actively supporting Vietnam.
NGOs play an active role in Vietnam's activities, she said, adding that the country has maintained relations with more than 1,200 international NGOs.
NGOs of the US has provided financial support for Vietnam, helping the country deal with war consequences, reduce poverty, improve living standards, health care and educational quality, and cope with non-traditional challenges like climate change, Nga stressed.
"Besides financial and technical assistance, American NGOs also make great efforts to increase mutual understanding and promote normalisation of relations. Vietnam has made great strides in economic development, but we have also faced many difficulties and challenges. For example, the current flooding and landslides in the central provinces, together with global challenges like the COVID-19 pandemic... I think NGOs, including American organisations, play an important role in Vietnam, helping Vietnam to develop sustainably and leaving no one behind," said the VUFO President.
US Ambassador to Vietnam Daniel J.Kritenbrink attributed the fine bilateral ties to efforts of peoples and leaders of both countries for a long time.
Vietnamese Ambassador to the US Ha Kim Ngoc said Vietnam and the US share many common interests such as peace, rules-based security and safety, and strategic balance.
Delegates at the ceremony also discussed issues regarding the fight against COVID-19 and orientations for the Vietnam-US relations in the future, among others.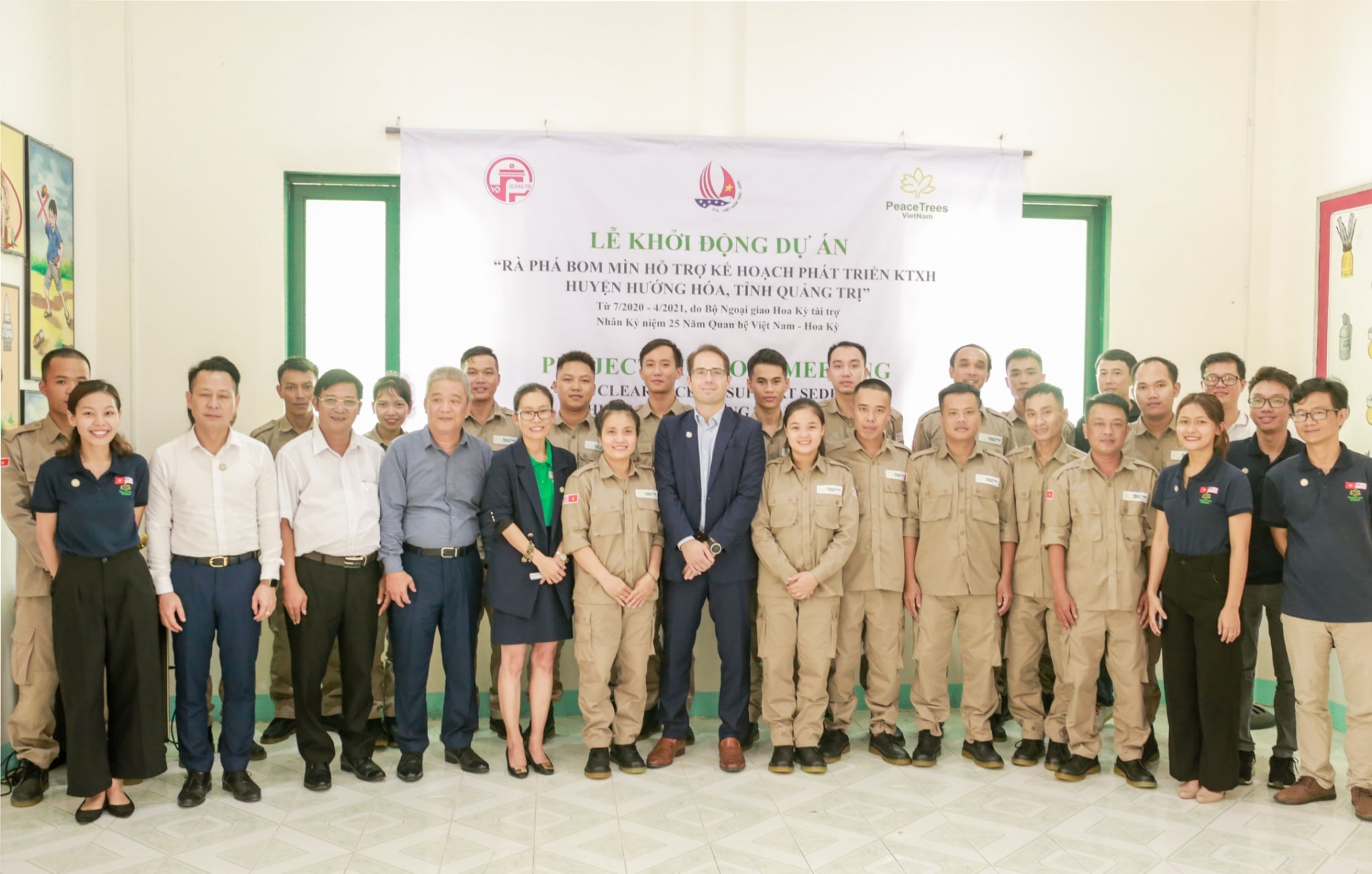 The kick-off meeting of the project "UXO Clearance to support socio-economic plan of Huong Hoa, Quang Tri province". Source: PeaceTrees Vietnam
Earlier of this month, PeaceTrees Vietnam has held a kick-off meeting of the project "UXO Clearance to support socio-economic plan of Huong Hoa, Quang Tri province" with the participation of representatives of the US Embassy in Hanoi, Deputy Political Counselor Joshua Goldberg, representatives of Quang Trị Department of Foreign Affairs and Huong Hoa District People's Committee.
The project is funded by the US Department of State, Office of Weapon Removal and Abatement (WRA) to recognize all that both countries have accomplished together over the past 25 years, in honor of the 25th Anniversary of PeaceTrees Vietnam and the 25th Anniversary of US - Vietnam diplomatic relations.
Its objective is to clear and return land safe from UXO contamination at areas where social welfare projects, such as school, public facilities, will be built; enhance socio-economic development opportunities and safety in Quang Tri generally and in Huong Hoa particularly./.