People-to-people Diplomacy To Play Its Unique Role As A Pillar of The Comprehensive and Modern Vietnamese Foreign Policy
President of the Vietnam Union of Friendship Organizations (VUFO) Nguyen Phuong Nga, when attending the the National Conference on Foreign Affairs for implementing the Resolution of the 13th Party Congress, made her presentation that: "People-to-people diplomacy, as a pillar of the comprehensive and modern Vietnamese diplomacy, to play role and improve effectiveness in its activities"
According to VUFO President Nguyen Phuong Nga, professionals devoting themselves to people to people relations are excitedly motivated by the 13th Party Congress' policy for the first time states that "Continuing to carry forward Vietnamese Diplomacy's pioneering role in setting up and maintaining peace and stability as well as mobilising resources to spur national development; improve the country's position and prestige. Building a comprehensive and modern Vietnamese diplomacy based on three pillars: Party diplomacy, State diplomacy and People-to-people diplomacy"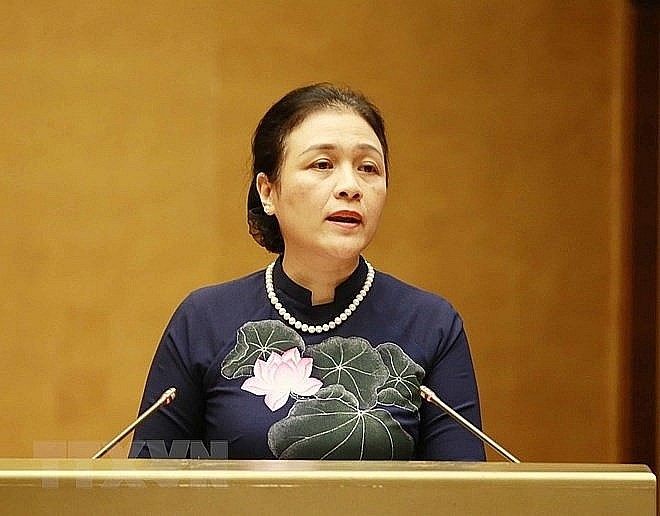 President of the Vietnam Union of Friendship Organizations Nguyen Phuong Nga presented at the National Conference on Foreign Affairs on the morning of December 14, 2021.
People-to-people diplomacy in the Vietnam's foreign policy is both a unique and creative feature and an asset, precious and valuable experience for international relations. In the context of the complex world situation, challenges and opportunities, objects and partners are intertwined, both struggling and cooperating, more than ever, it's time for people-to-people diplomacy to promote the potential and position of the country, take its advantages and the lead in building and consolidating trust, friendship with social communities in other countries, attract international support and resources, create a peaceful and favorable environment for strengthening relations between countries, effectively and efficiently support Party and State diplomacy.
To improve efficiency and promote the role of the "People-to-people diplomacy pillar" in the coming time, the Vietnam Union of Friendship Organizations has proposed three groups of solutions and two recommendations as following:
The three groups of solutions:
First, Deeply grasping the Resolution of the XIII National Congress, raising awareness of unity throughout the political system on the role, position and importance of People-to-people diplomacy, ensuring comprehensive and excellent leadership of the Party and the centralized management of the State, close and effective coordination, role distribution and support among the pillars of foreign policy, between central and local people's organizations, to develop leverage and specific strengths of each organization, each pillar, and the synergy of Vietnam's foreign policy.
Second, Strongly renewing contents and methods, improving the quality of activities in all fields, adapting to new situations and tasks. Sticking to the motto "proactive, flexible, creative, effective", applying information technology, consolidating, expanding and diversifying the network of partners, forces, scope of activities, creating interweaving interests and reliability, well perform the role of "bridge", contributing to promoting the friendship and cooperation between Vietnam and other countries, especially the peoples of neighboring countries, ASEAN, strategic partners, comprehensive, traditional friends, going into depth, stability, sustainability and mobilizing international resources to realize the country's development goals. Creativey promote and protect the interests of the nation, enlist the support of international friends and our overseas compatriots, and contribute to the efforts of the international community, promoting dialogue, abiding by international law, for peace, stability and sustainable development.
Third, Building a "consolidated and strong" people-to-people relation force. Strengthening the organization, perfecting mechanisms and policies to ensure financial and human resources for people-to-people diplomacy, focusing on training, fostering, and building a stable contingent of full-time officers and professionals working in the field of people-to-people relations, with revolutionary qualities and ethics, political bravery, enthusiasm, and capability of meeting the tast requirements.
The two recommendations are:
Firstly, the Secretariat of the Party Central Committee to soon issue a new Directive on people-to-people diplomacy replacing the former Directive No. 04-CT/TW dated July 6, 2011 of the Secretariat (XI term) to enable its new role and mission as one pillar of Vietnam's foreign policy.
Secondly: State management agencies to timely institutionalize and consistently implement the Party's guidelines and policies, create favorable conditions, and ensure appropriate resources for people-to-people relations to fulfill their tasks.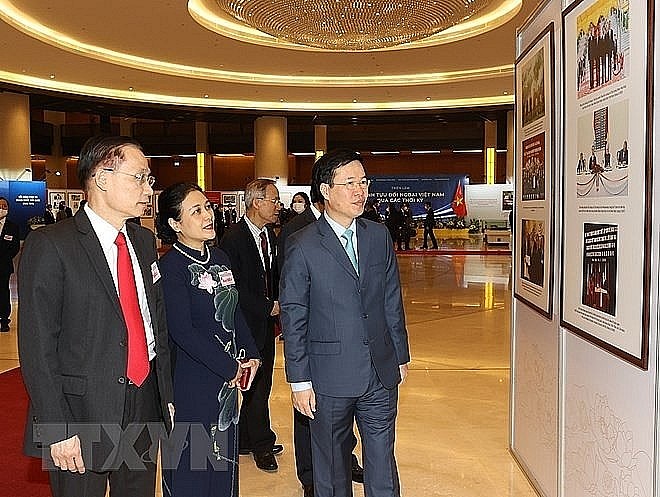 Standing Secretary of the Secretariat Vo Van Thuong and leaders of the Party and State visited the exhibition of Vietnam's international relation achievements over the periods. (Photo: Tri Dung/VNA)
President Nguyen Phuong Nga also emphasizes that professionals and staffs working in people-to-people diplomacy understand to do their best making people-to-people diplomacy really a pillar of the comprehensive and modern Vietnamese diplomacy, contributing to the realizing the aspiration for building a powerful, prosperous and developed Vietnam, and to strengthen peace and friendship among peoples all over the world.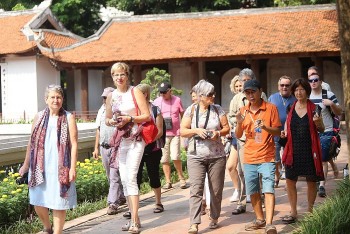 National
Vietnam News Today (May 24): Covid-19: Vietnam records 1,179 new cases, 3,862 recoveries on May 23; Foreign arrivals soar two months after border reopening; Vietnam, Cambodia boost defense ties; Heavy rain floods parts of northern Vietnam.