People Volunteer at Frontline of Covid-19 Pandemic
In the fight against Covid-19 in Ho Chi Minh City, there is a significant contribution of volunteers from provinces and cities across the country. They are not afraid of difficulties, volunteering on the frontline so that the city can soon overcome the pandemic.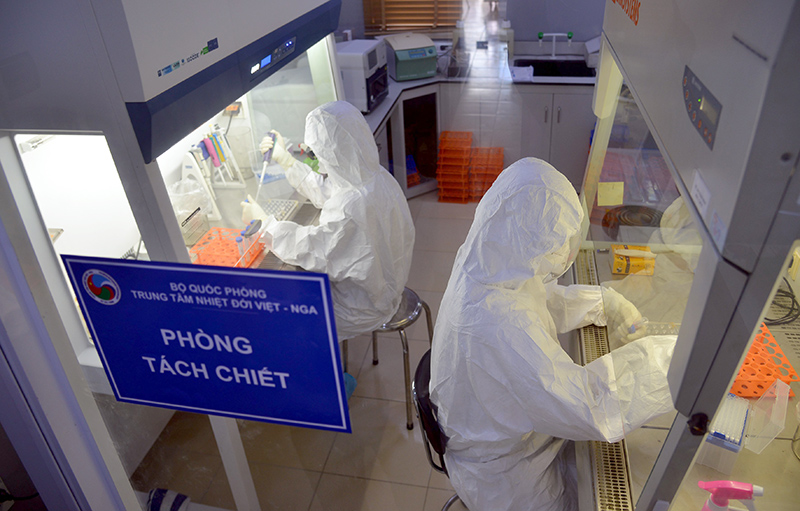 Covid-19 testing at Vietnam - Russia Tropical Center, southern branch (Ho Chi Minh city). Photo: NDO
The delegation of the Vietnam - Russia Tropical Center (Ministry of Defense) entered Ho Chi Minh City to support testing work for more than three weeks ago. Since volunteering with the group to go to the city to fight the pandemic, almost every day, Dr Duong Van Nghia finishes his work at 2-3 a.m.
Duong Van Nghia said: "The delegation that entered the city this time had three female members, so we prioritized those comrades. Me and the rest of the male members are in charge of the evening shift. On a day with a lot of samples, we work until 4 a.m."
Not long ago, he and the delegation of the Vietnam - Russia Tropical Center participated in fighting the pandemic in Bac Giang.
"The center has participated in the fight against pandemic in Da Nang, Quang Binh, Bac Giang and some other cities and provinces. With a lot of accumulated experience, this time, the delegation continued to participate in the fight in Ho Chi Minh city, with seven comrades. We combined with the unit's working group in Ho Chi Minh city to form a team of 16 comrades directly involved in pandemic prevention and control," Dr Hoang Duc Hau said.
The unit was assigned to test samples in district 10 and Phu Nhuan district. Due to the continuous return of samples, staying up all night for testing became a "normal" routine for the members. As of July 24, after 20 days in Ho Chi Minh City, the unit received 13,632 samples, equivalent to more than 118 people, and found 923 positive samples."
Volunteering to enter Ho Chi Minh City, Dr. Tran Duc Ly, head of the medical team of Ha Nam province supporting Ho Chi Minh City, has determined that this is a long-term "war." The delegation consisted of 40 people, including eight doctors, 27 nurses and five technicians who were assigned to work at Field Hospital No. 9 in Hoc Mon district.
Ly said this was a force with experience in pandemic prevention and control, and many doctors had participated in pandemic prevention and control in Bac Giang and in Ha Nam province.
On the first day of coming to work at Field Hospital No. 9, the delegation received nearly 100 patients, all doctors and nurses had to work until 2 a.m. the next morning to stabilize everything. "With the number of patients every day is approximately 700, we always determine to finish all the work," Dr Ly said.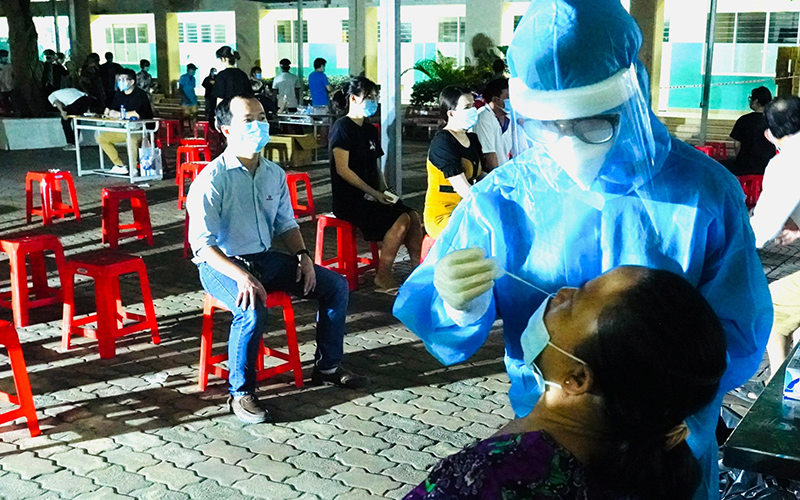 Students at Hai Duong Medical Technical University take samples in Binh Thanh district, Ho Chi Minh city.
Hoa Phu field hospital was established on July 7 in Long Ho district, Vinh Long province, the area of the the leather shoe factory Ty Xuan Co., Ltd. has the most Covid-19 infections in the community in Vinh Long.
On July 8, Nguyen Le Quoc Binh, a nurse at Vinh Long Eye Hospital, volunteered to join Hoa Phu Field Hospital. Currently, he works as a nurse, taking care of F0 patients, and their medicines and daily activities.
"Regularly in contact with patients, I feel that they are very worried about their medical condition, so we have to encourage patients, and strictly follow the treatment process and protocol," Binh said.
The hospital has 50 beds. Personnel here include the hospital's on-site force and the dispatching force to support from other places. Like Binh, they are all volunteers on the frontline against the pandemic, working and living in the field hospital campus 24/7, completely self-isolating from the outside.
"The place is both a stressful front line against the pandemic, as well as a united family, together through each quick meal in the middle of the shift, or the nights sharing," Dr. Nguyen Ba Khanh Linh said "The first days I came here, everything was very new, from the workplace to my friends and colleagues, I worried a lot. However, after only about a week, everything was fine. For doctors, patients are relatives, we make every effort to treat them and hope for them to recover soon."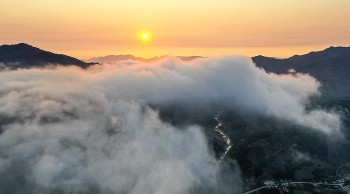 Multimedia
The gorgeous dawn behind a sea of fluffy white clouds creates a wonderful and beautiful picture of Truong Son Dong peak, Quang Ngai.