Hanoi Markets Use Creative Ideas to Protect People During Pandemic
While Hanoi is applying stringent Covid prevention measures, traders at traditional markets have erected plastic shields to protect themselves and buyers from the spread of the virus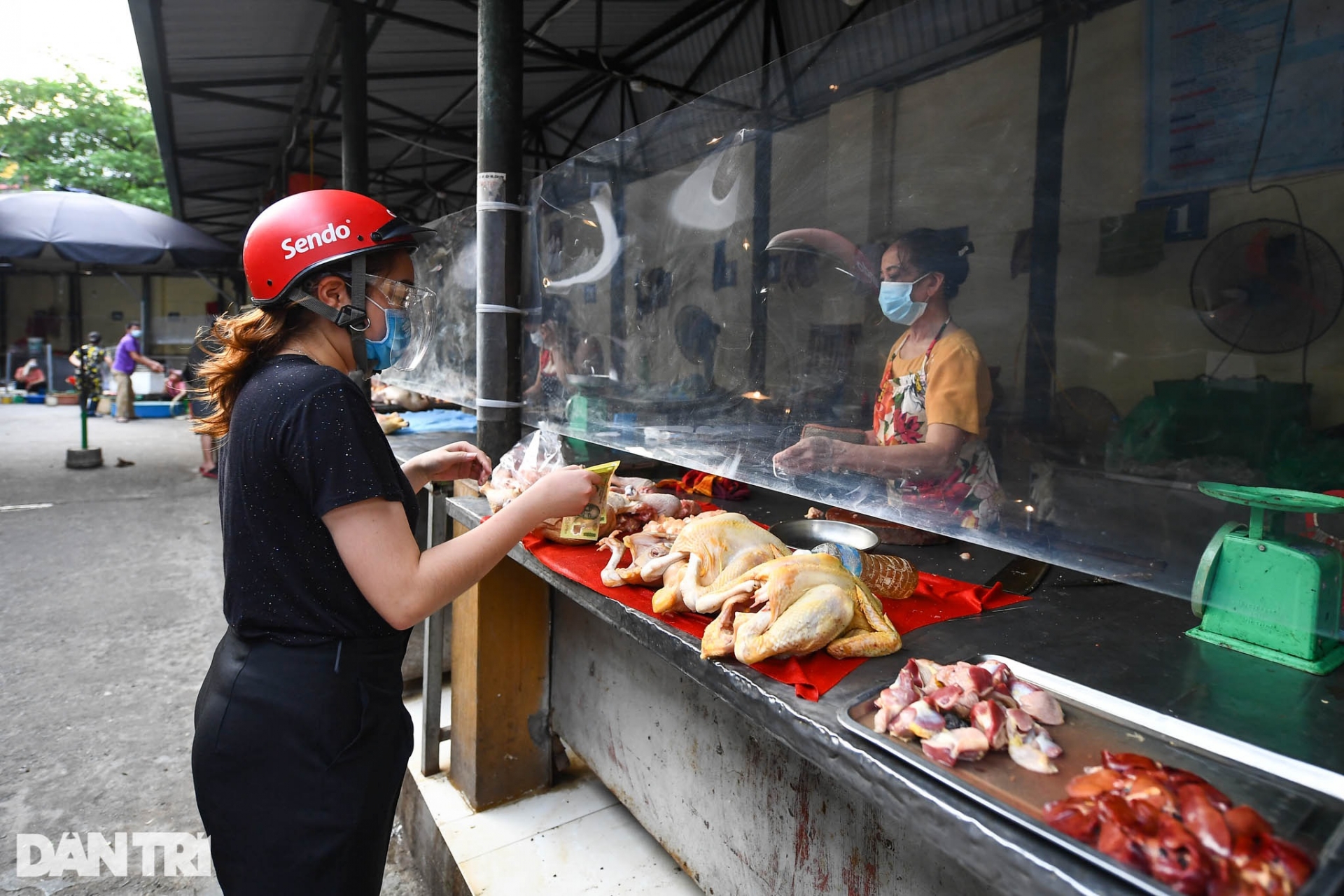 Traders at Bach Khoa market in Hanoi have erected plastic shields at their food stalls. Photo Dan Tri
Bach Khoa market in Bach Khoa ward is the first traditional market in Hanoi to have plastic shields at food stalls. Both sellers and buyers say they feel safer with such protection.
Hanoi started to a 15-day social distancing period from July 24. Local authorities of Back Khoa ward have called on traders to erect plastic shields around their stalls.
Traders spent their own money to erect the shields.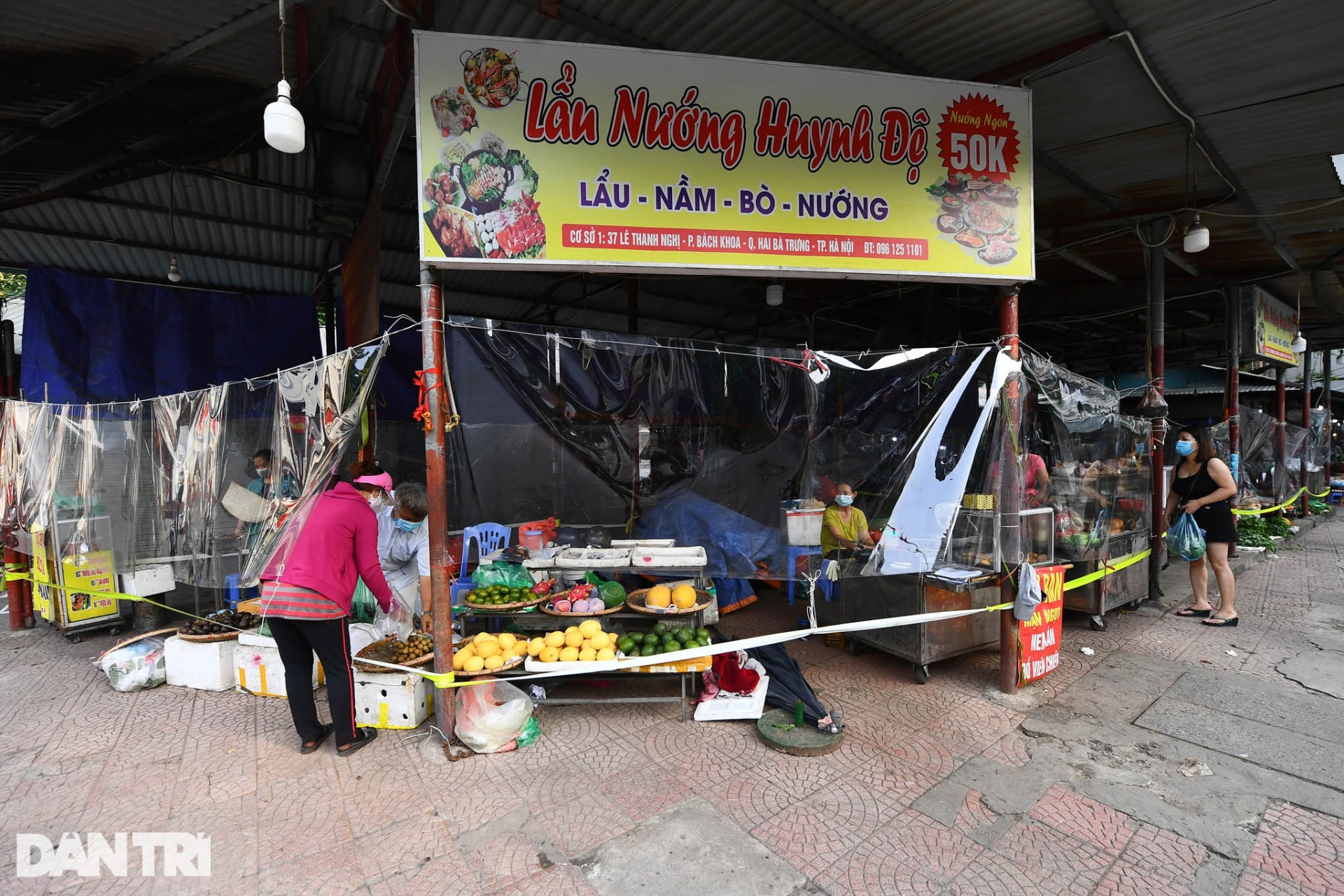 Photo Dan Tri
Traders said they were in favor of this solution and did not find anything inconvenient with the new protection gear.
The plastic shields will limit interaction between sellers and buyers, reducing infection risks in the community and ensuring safety for trading.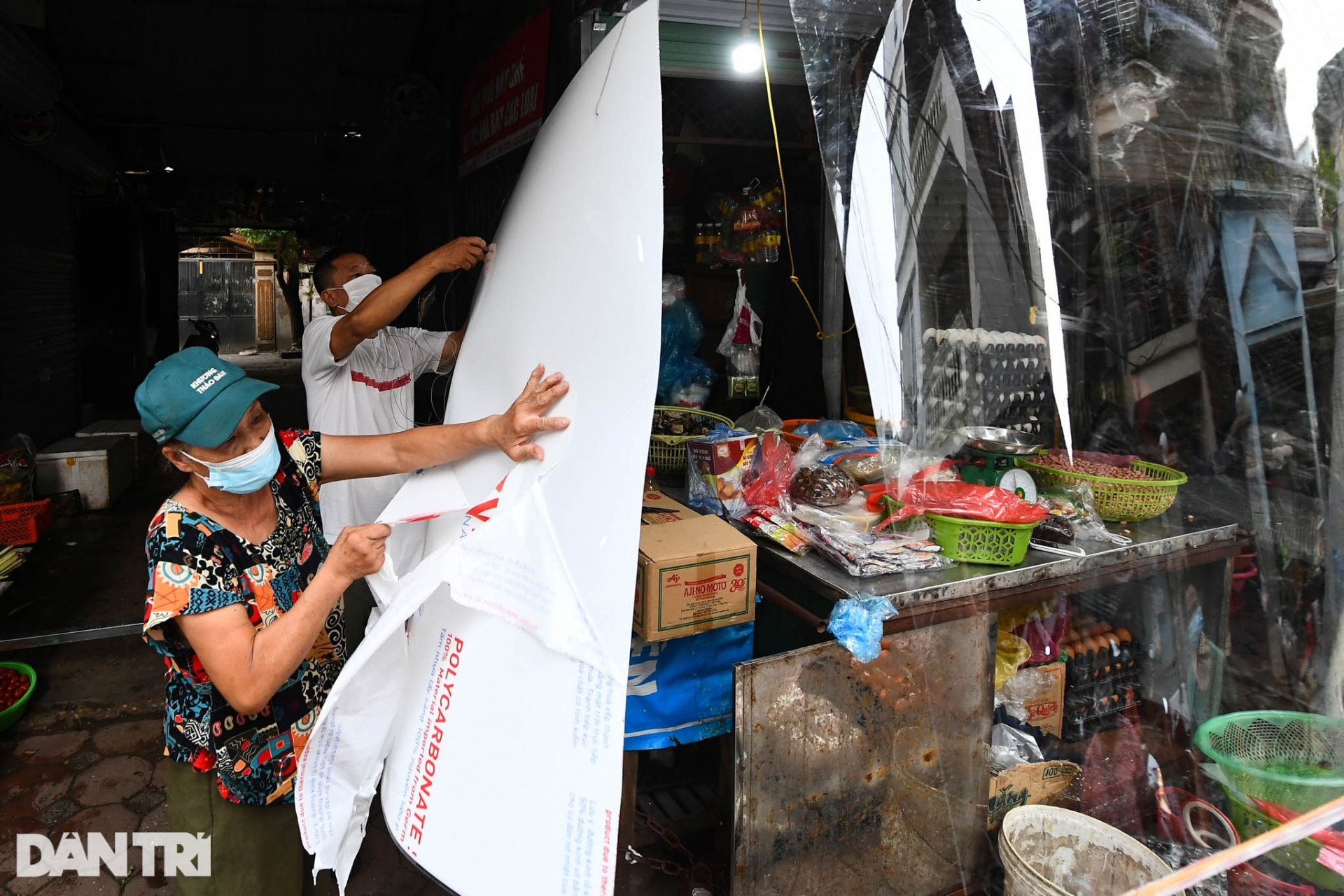 The shields look like plastic curtains with a height of about 2m and the width of 3 to 6m. Photo Dan Tri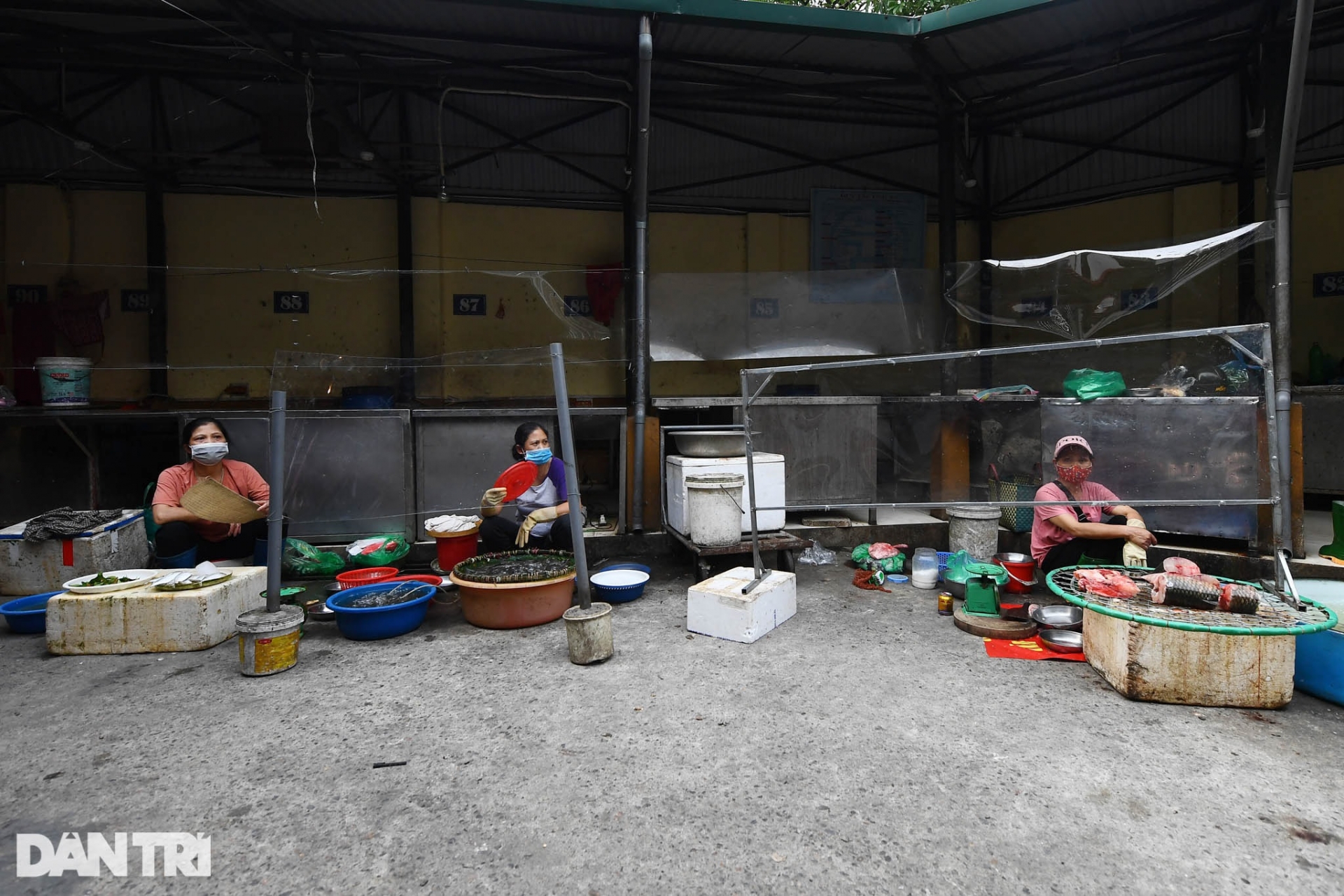 Smaller stalls which sell food on the road have smaller shields. Photo Dan Tri
Tran Thi Thom, a seller at Bach Khoa market, said "Both sellers and buyers feel very safe thanks to the shields. The buyers stay outside and are not allowed to cross the shield to select food."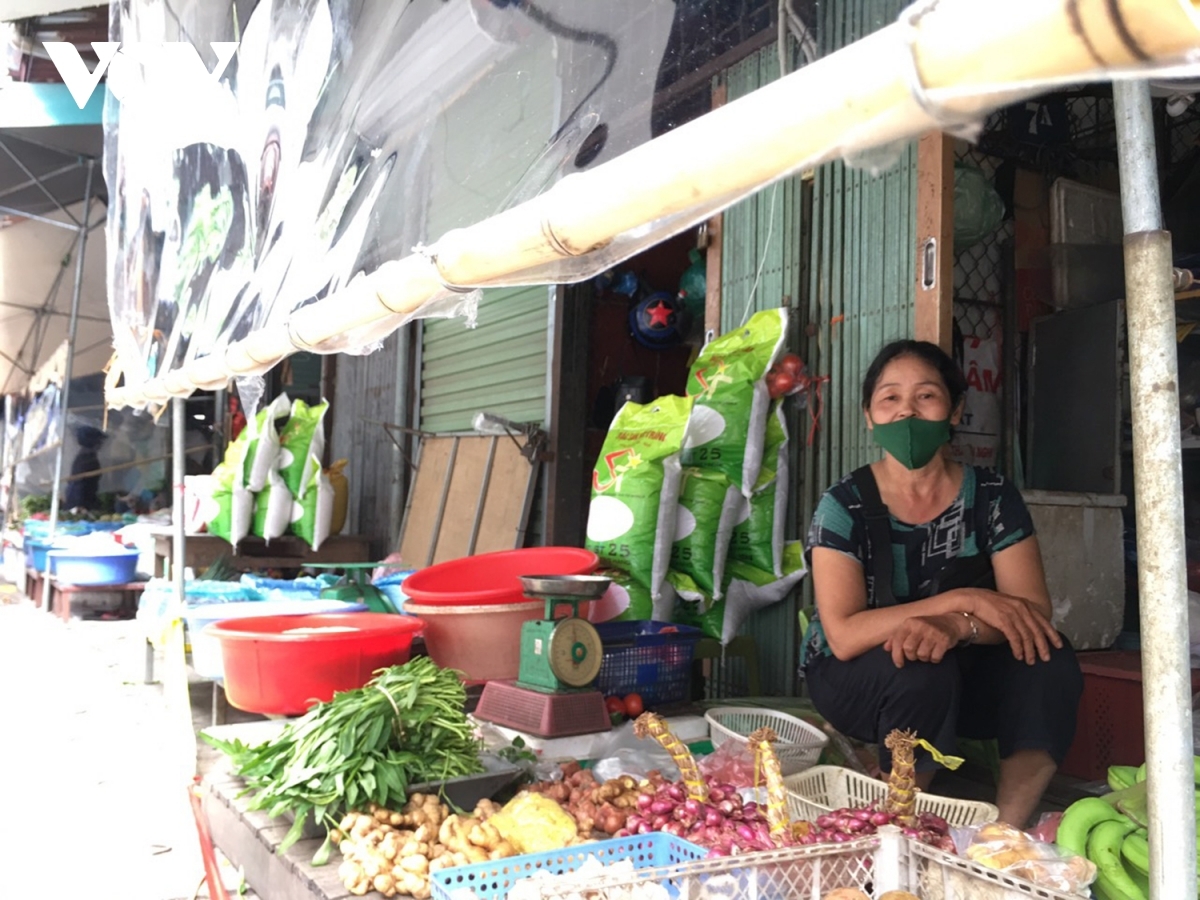 Seller Tran Thi Thom at Bach Khoa market. Photo VOV
A total of 150 food stalls at Bach Khoa market take turns to sell food on odd and even days. There are only 70 stalls open each day. Security guards are also on duty to supervise observance of Covid prevention protocols.
The market is usually open in the morning but on social distancing days, to meet customers demand, the stalls are open in the morning and in the afternoon.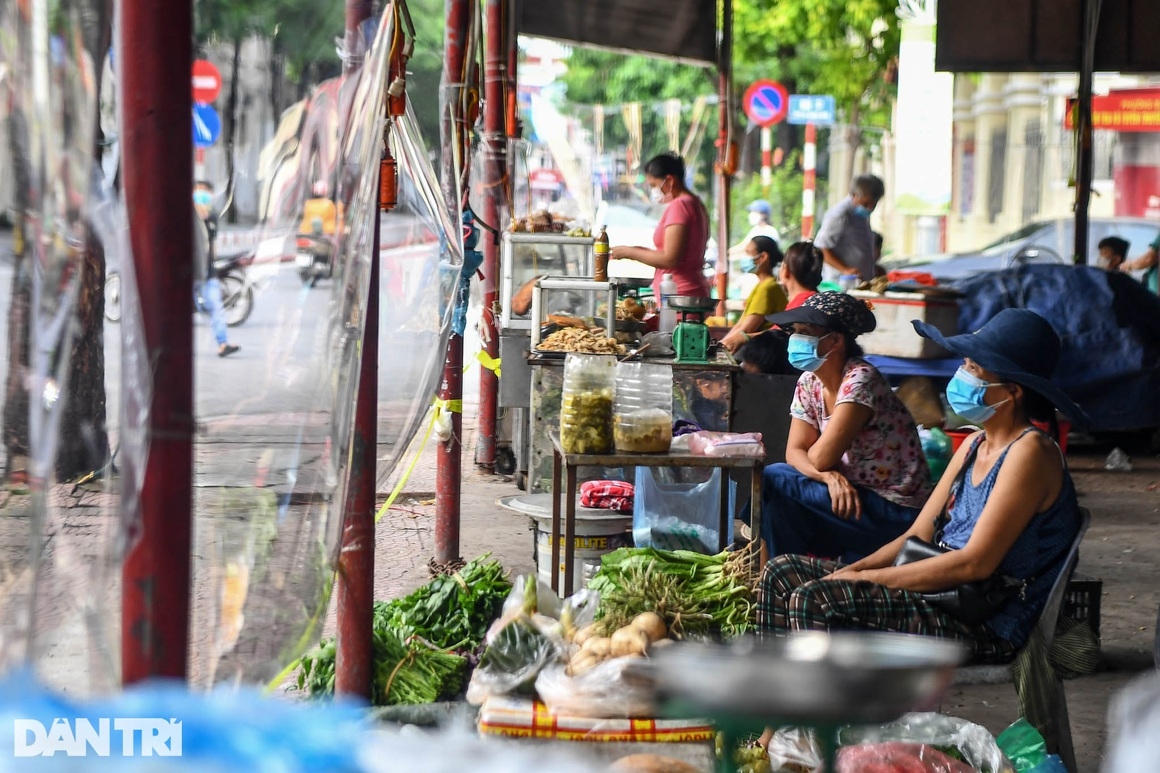 Photo Dan Tri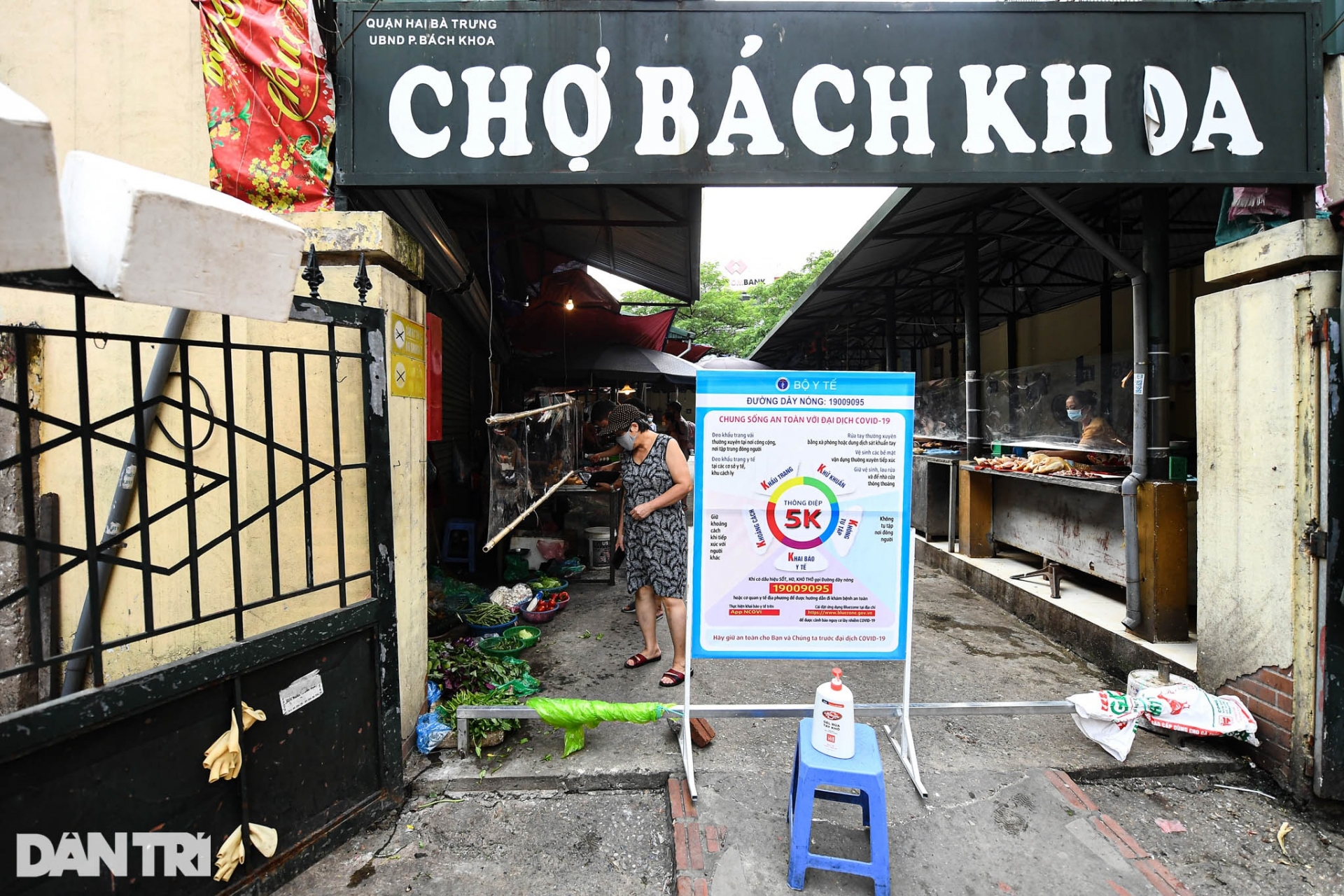 A barrier is erected at the gate of Bach Khoa market. No vehicles are allowed to enter the market as usual. Shoppers have to park their vehicles and walk into the market. Photo Dan Tri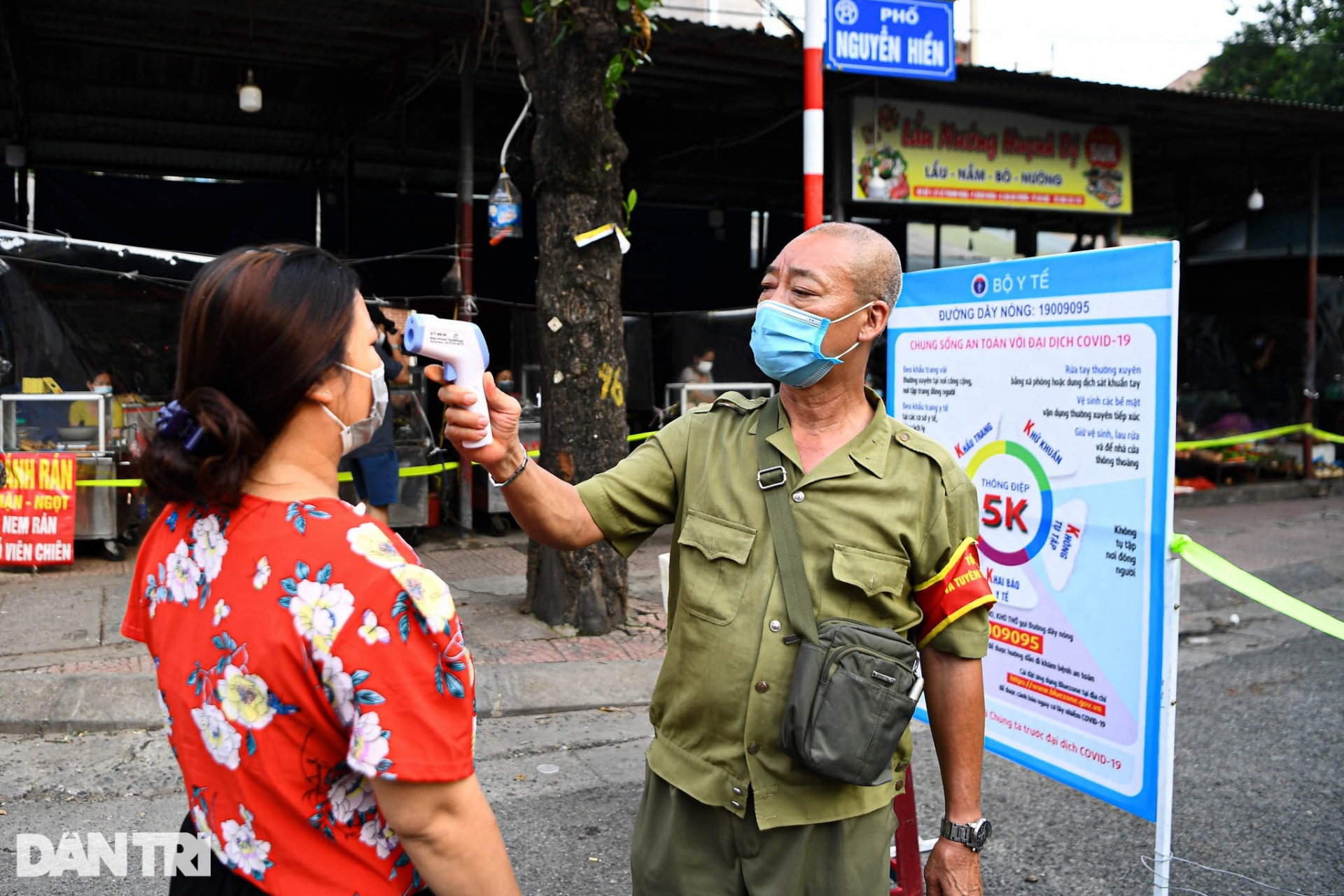 Before entering, everyone must have their hands sanitized and body temperature checked. Photo Dan Tri
Bach Khoa market is located on Le Thanh Nghi street, next to some current hot spots of Covid-19 in Hanoi like B6 Trai Gang (Thanh Nhan) and Hanoi Lung Hospital.
At a small market on Nguyen Thien Thuat street, Hoan Kiem district (near Dong Xuan market), local authorities painted white lines on the street to mark standing points of buyers, making sure they stay 2m from each other as required by Directive 16.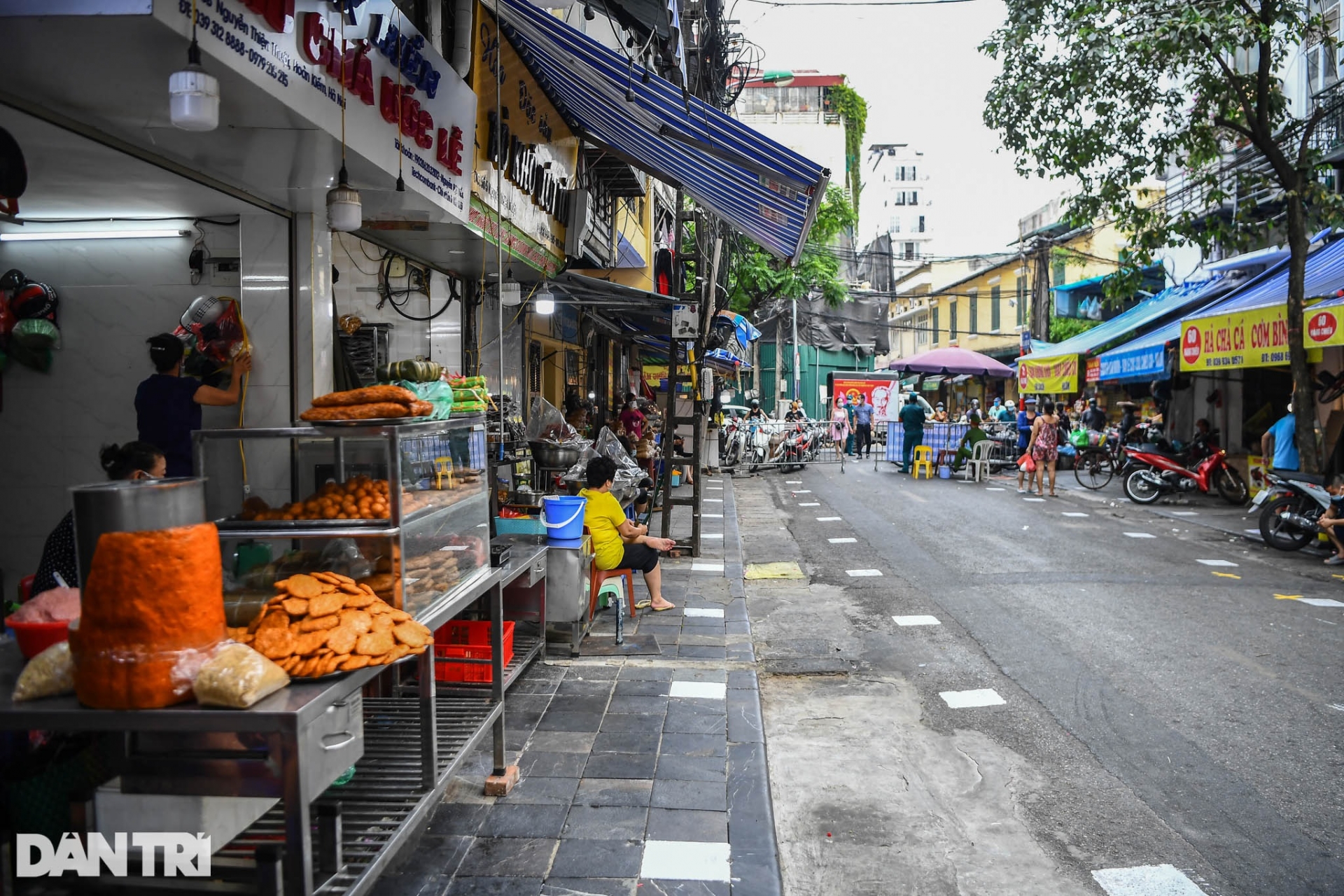 Photo Dan Tri
Buyers strictly follow the distancing rules. Security guards usually remind those not observing the protocols.
Sellers can refuse those who do not follow the distancing rules.
Photo Dan Tri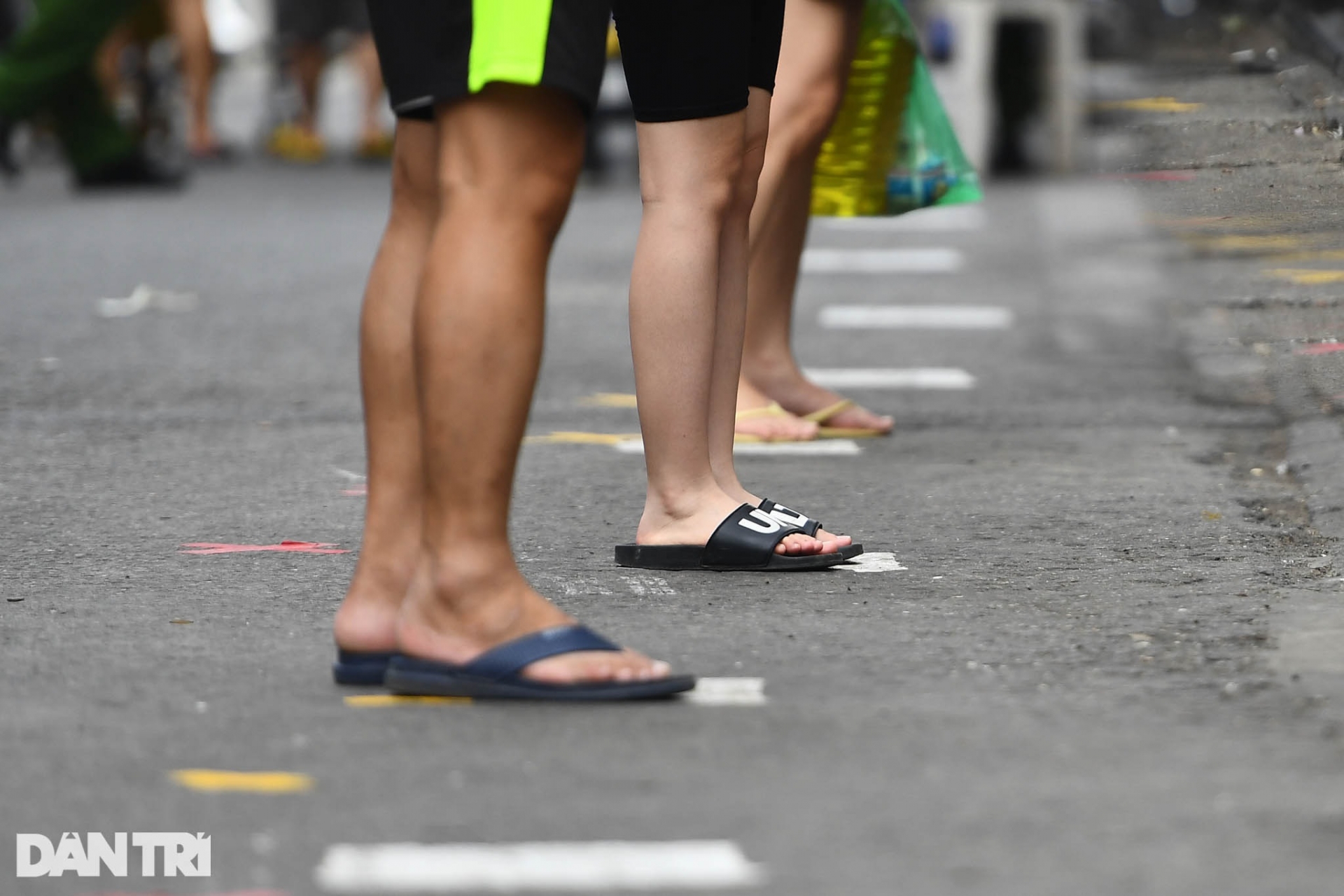 Photo Dan Tri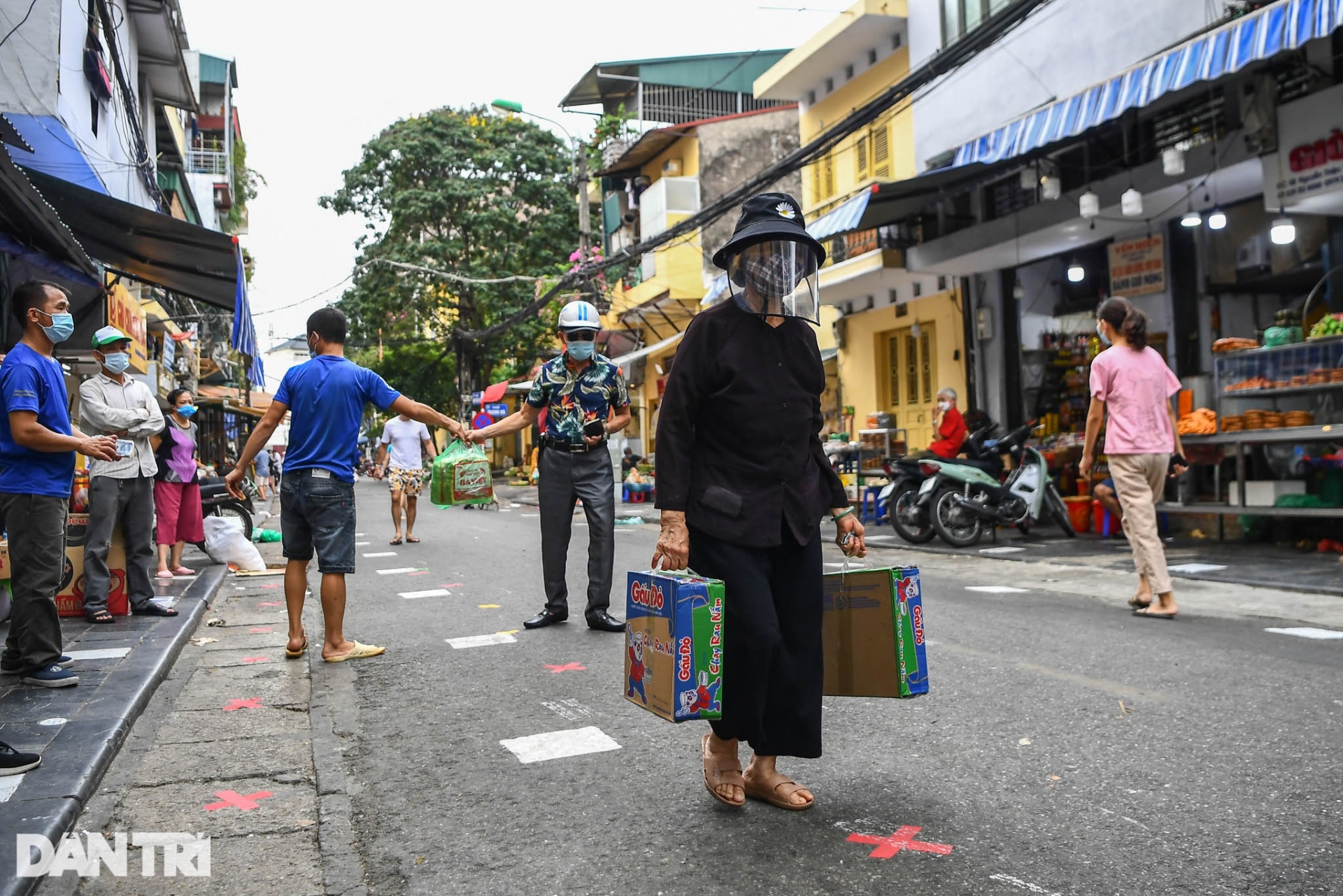 Photo Dan Tri
Markets are one of the essential services still open while Hanoi is applying social distancing measures.
Malls, supermarkets, traditional markets and wholesale markets in the city are to ensure adequate supply of daily necessities for the local population, arrange stalls and reception procedures (from parking to entry) to reduce the number of customers in the same place at the same time, minimize close contact and encourage online shopping and delivery.
Hanoi reported 21 new cases of Covid-19 on Monday morning. Nine cases with unknown sources were detected at Hanoi Lung Hospital.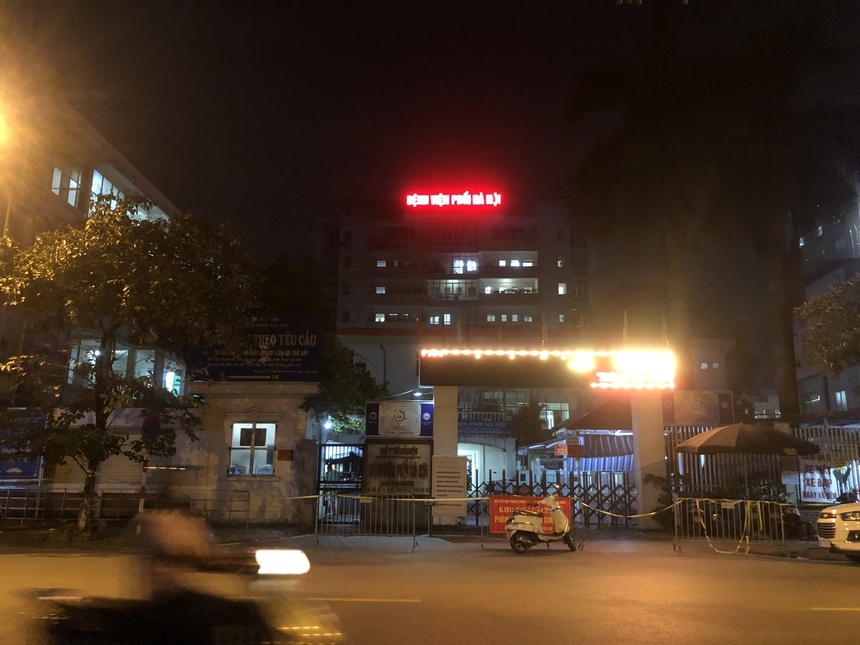 Hanoi Lung Hospital stopped receiving patients from Sunday night after positive cases were confirmed. Photo Zing News
Pham Huu Thuong, Hanoi Lung Hospital director, said lungs were a target of SARS-CoV-2, so the hospital stands at high risks of infection as cases were detected among patients and medical workers at the Department of Internal Medicine 3, which treats lung-related diseases.
Since the resurgence of the fourth Covid wave in Vietnam in late April, Hanoi reported 751 cases. Among those, 457 cases were detected in the community.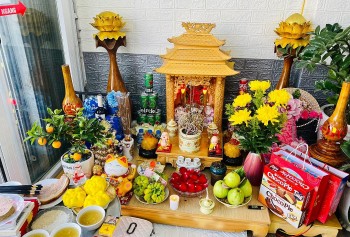 Handbook
Learn more about an ancient Vietnamese tradition that may bring you good fortune!