Peruvian Communist Party Looks to Consult Vietnam's Path to Socialism
In a meeting with President of the Viet Nam Union of Friendship Organizations Phan Anh Son in Hanoi on Nov. 19, General Secretary of the Peruvian Communist Party Luis Villanueva Carbajal said the party hopes to Vietnam's path to socialism.
According to Luis Villanueva Carbajal, Vietnam, and Peru have a good traditional friendship. However, the current bilateral relationship is not commensurate with the two sides' potential and tradition of friendship. The visit of the Peruvian Communist Party's high-ranking delegation to Vietnam from November 9 to 19 aimed to learn about Vietnam's path to socialism, Vietnam's current foreign policy, how the country consolidates and develops relations with other countries, especially major powers, based on ensuring the principle of respect for independence, sovereignty, territorial integrity, and political regime, and non-interference in each other's internal affairs. The delegation also wants to discuss with partners and friends, finding ways to contribute to promoting friendly relations between the two countries.
Informing the Peruvian Communist Party's General Secretary, President Phan Anh Son said that after nearly 40 years of Doi Moi (Renovation), Vietnam is now a developing country with a population of nearly 100 million people. Its GDP in 2023 is expected to reach nearly USD 430 billion. Vietnam aims to become an upper-middle-income country by 2030 and a high-income country by 2045. The 13th Congress of the Communist Party of Vietnam agreed on a socio-economic development strategy for the period 2021-2030, which identifies three breakthroughs in infrastructure, institutions, and human resource development.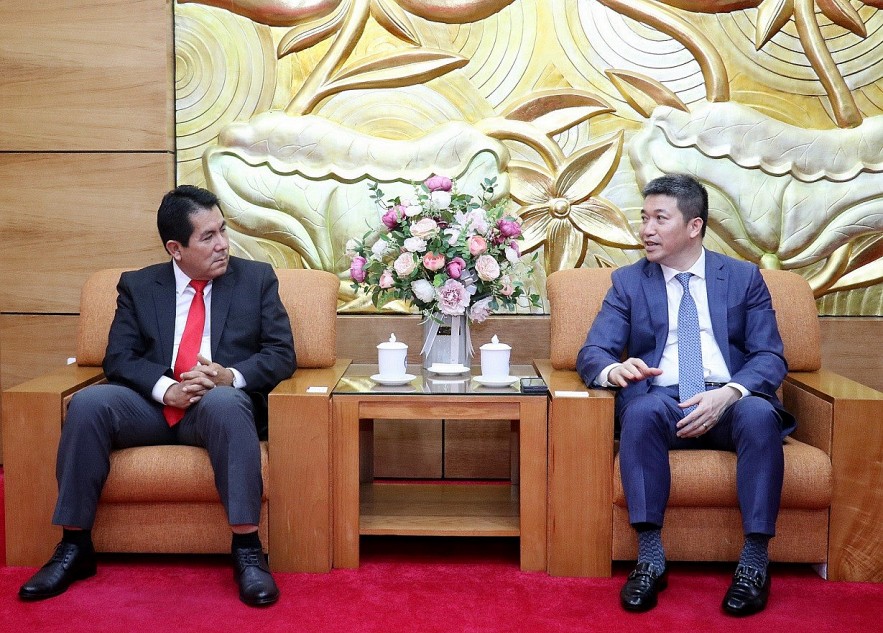 President of the Viet Nam Union of Friendship Organizations Phan Anh Son met with General Secretary of the Peruvian Communist Party Luis Villanueva Carbajal in Hanoi on Nov. 19. (Photo: Thu Ha)
In the new situation and context, Vietnam adjusted its foreign policy but steadfastly maintained and promoted Ho Chi Minh's diplomatic ideology, which are: National independence associated with socialism; Independence, autonomy, international solidarity; Peace, openness, more friends, fewer enemies. This is reflected in the foreign policy of diversification, multilateralization, and comprehensive and extensive international integration; Vietnam is a friend, a reliable partner, and an active and responsible member of the international community. Currently, Vietnam has established relations with 193 United Nations member states and 247 political parties in 117 countries.
Phan Anh Son said that Vietnam is steadfast on the path to socialism, aiming for the goal of "Wealthy people, strong country, just and civilized society." To achieve that goal, it is necessary to develop the economy while still protecting the environment, and social justice, narrowing the gap between the rich and the poor, and ensuring that all economic sectors play different important roles in the country's development. Regarding culture, it is necessary to preserve and promote good traditional culture and, at the same time learn the quintessence of global culture. Regarding leadership and national governance, there need to be development mechanisms and policies appropriate to the times, scientific and technological advances, laws, and global trends. It is necessary to build a team of officials that meets the requirements set by the country and the Party. They need to have expertise, experience, leadership, and management talent; put the interests of the nation, nation, and people above all; and commit to conduct no corruption or waste.
Luis Villanueva Carbajal congratulated Vietnam's development achievements. The two sides agreed to continue connecting, exchanging, and cooperating in the coming time.
Peruvian Cuisine Introduced in Hanoi

The Embassy of Peru to Vietnam collaborated with Asia-Europe Career to hold a demonstration of traditional Peruvian dishes and drinks in Hanoi on October 24.