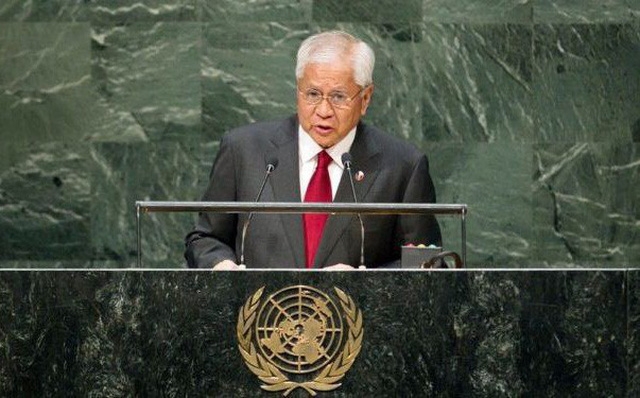 Philippine Former Foreign Secretary Albert Del Rosario
"We therefore respectfully urge our government to protest this recent action of China, as it rightly did over the sinking of the Vietnamese fishing boat on April 8, 2020," Del Rosario said in a statement.
He also accused China of exploiting the new coronavirus pandemic to advance its "illegal" claims in the waters.
"These recent events in the South China Sea remind us Filipinos to be eternally vigilant in the defense of our country's territory and sovereign rights even as we confront a very grave threat as COVID-19," he said.
The Chinese Ministry of Civil Affairs announced on April 18: "The State Council has recently approved the establishment of the Xisha and Nansha districts under Sasha city."
According to the notice, the Xisha administration will be based in Woody Island, also known as Yongxing Island. Meanwhile, the Nansha administration will be placed in the Fiery Cross Reef, referred to Youngshu Reef in Chinese.
"These show that China has been relentless in exploiting the COCID-19 pandemic as it continues to pursue its illegal and expansive claims in the South China Sea to the prejudice of Filipinos, the ASEAN States and the international community as a whole," Del Rosario said.
Responding to such violation of sovereignty, Vietnam's Foreign Ministry spokeswoman Le Thi Thu Hang said on Sunday Vietnam strongly protested China's so-called 'Sansha city' on Hoang Sa (Paracel) and Truong Sa (Spratly) Islands.
"Vietnam has full legal basis and historical evidence to affirm its sovereignty over the archipelagos.
"Vietnam's consistent stance is to strongly protest the formation of the so-called 'Sansha City' and related behavior as they seriously violate Vietnam's sovereignty, are unrecognized, have no value and are not beneficial to the friendly relationship between countries, while complicating the situation in the East Sea, the region and the world," Hang said.
Vietnam requires China to respect Vietnam's sovereignty, cancel wrong decisions related to such actions and not repeat similar actions in the future.
Jennifer Tran