Philippines Accuses China of 'Harassment' in South China Sea
The Philippines continuously voice against China's recent movements on the South China Sea.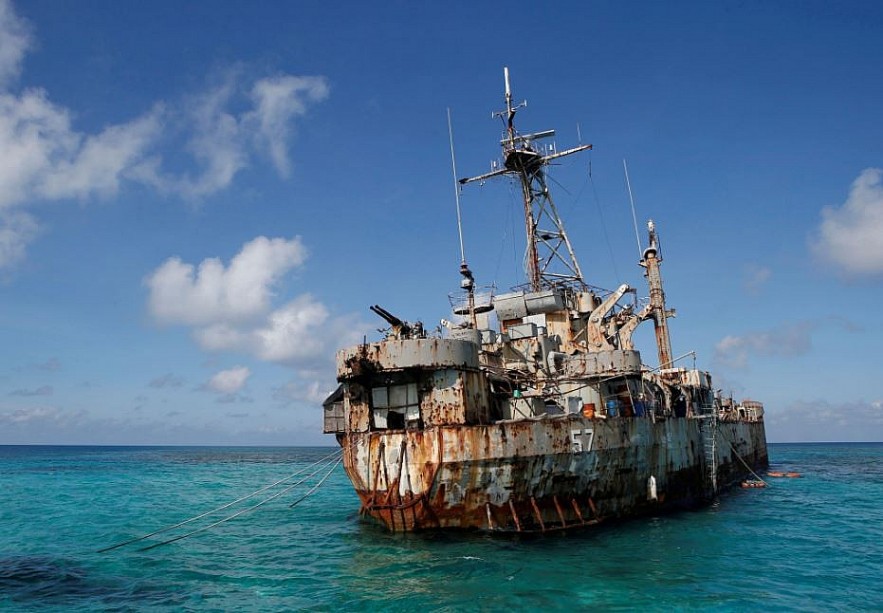 The Philippines' BRP Sierra Madre ran aground on Second Thomas Shoal in the Spratly Archipelago under Vietnam's sovereignty. (Photo: Reuters)
Manila's defense minister accused the Chinese coastguard of "intimidation and harassment" after Philippine navy personnel were filmed and photographed unloading goods in the disputed South China Sea (Bien Dong Sea) on Nov. 21.
Defense Secretary Delfin Lorenzana said the two wooden boats carrying navy personnel reached the marines stationed on a military ship at Second Thomas Shoal without any major incident. President Rodrigo Duterte expressed disgust on Monday in a regional summit led by Chinese President Xi Jinping over last week's Chinese blockade of the supply boats.
However, Lorenzana said that while the Philippine navy personnel was unloading supplies from the boats, a Chinese coast guard ship deployed a rubber boat with three personnel who took pictures and video of the Filipino forces. "I have communicated to the Chinese ambassador that we consider these acts as a form of intimidation and harassment," Lorenzana said.
He said the resupply boats reached the shoal without a Philippine military escort in accordance with a request by China's ambassador to Manila, who assured him over the weekend that the boats would not be blocked again. But a Philippine military plane flew over as the supply boats arrived around noon at the remote shoal, which has been surrounded by Chinese surveillance ships in a years-long territorial standoff, according to NPR.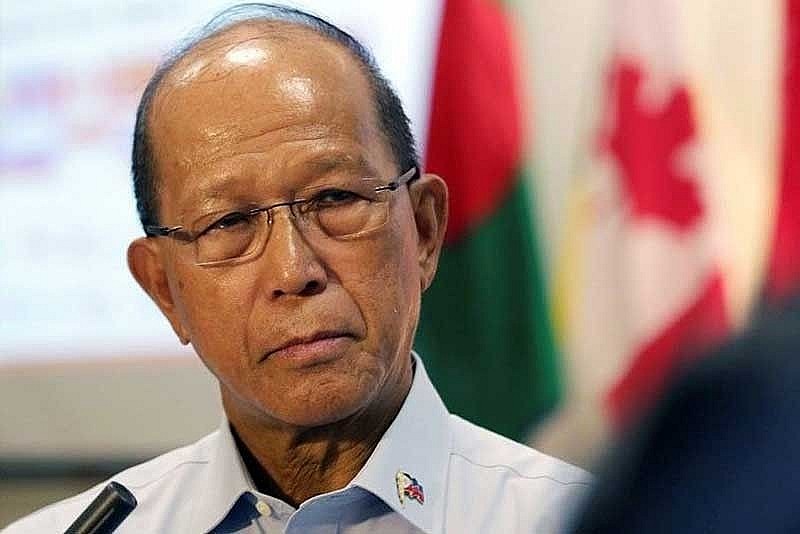 Manila's defense minister (Photo: PLO)
Previously, Philippines President Rodrigo Duterte condemned the latest flare-up in the disputed South China Sea after Chinese coastguard ships fired water cannons at Filipino boats on Nov. 22.
Duterte made the remarks at an Asian regional summit hosted by Chinese President Xi Jinping, who vowed his country would "never seek hegemony, and certainly not bully the small," according to AFP.
Tensions over the resource-rich waters have spiked in the past week after Chinese coastguard ships fired water cannons at Philippine boats delivering supplies to marines at Second Thomas Shoal in the contested Spratly Islands. Manila expressed outrage over the attack which forced the Philippine boats to abort their mission. But Beijing said the vessels had entered its waters without permission.
Beijing has ignored a 2016 ruling by The Hague-based Permanent Court of Arbitration that its historical claim is without basis, said The Jakarta Post.
Regarding Vietnam's viewpoint on its sovereignty over the Hoang Sa and Truong Sa archipelago, Spokeswoman of the Ministry of Foreign Affairs Le Thi Thu Hang has said that Vietnam has sufficient legal grounds and historical evidence to affirm its sovereignty over Hoang Sa and Truong Sa archipelagos that is in line with international law.
Regarding the report that the Philippines accused China of blocking its supply ships in the South China Sea, the spokeswoman said Vietnam's stance on the sovereignty over Hoang Sa and Truong Sa archipelagos, as well as the South China Sea issue as a whole, is clear and consistent.
Vietnam calls on the parties concerned to comply with international law and the 1982 United Nations Convention on the Law of the Sea in every activity in the South China Sea, and not take any action that may complicate the situation so as to help maintain peace, security, stability, and legal order at sea in the region, she added.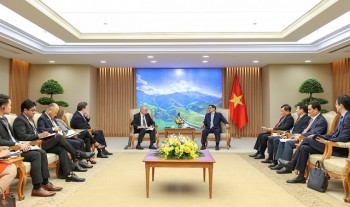 National
Vietnam News Today (Dec. 6): Vietnam records 427 new Covid-19 cases on December 5; PM hosts USABC, US corporation leaders in Hanoi; Proper investment needed to develop night-time economy; Vietnam welcomes New Zealand investors for win-win partnership.