Photo: How Vietnamese Celebrate Christmas in Pandemic
In the midst of the outranging pandemic, people in Vietnam welcome Christmas in a strange atmosphere.
Hanoi - Strange Christmas in St. Joseph's Cathedral
St. Joseph's Cathedral, usually called "the big cathedral" by Hanoian, has always been the center of Christmas celebrations for many years. However, due to construction and the pandemic, the place only welcomed a limited number of guests this year.
The Archdiocese of Hanoi held an offline celebration on Dec. 24, yet most of the parishioners had to join online. Those who participated in the in-person event had to own an invitation letter and a negative test result.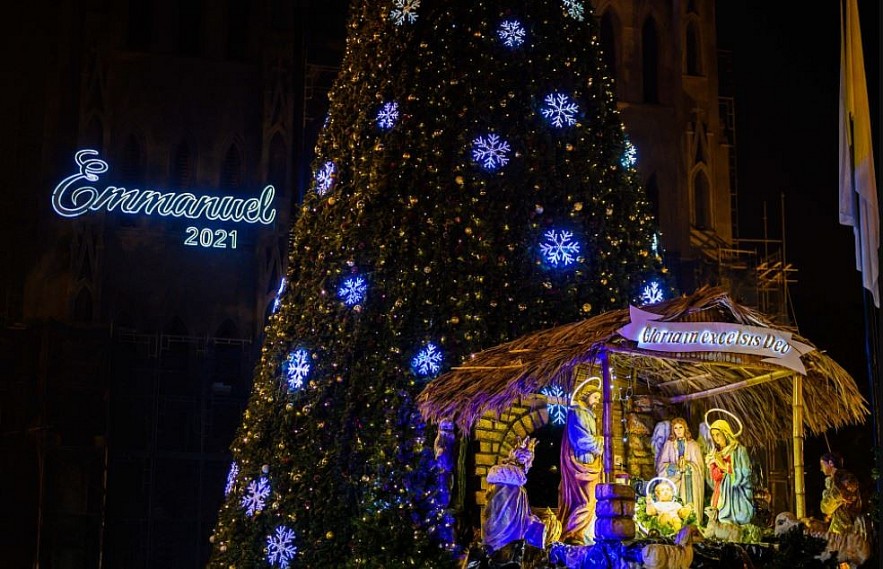 St. Joseph's Cathedral. (Photo: Zing News)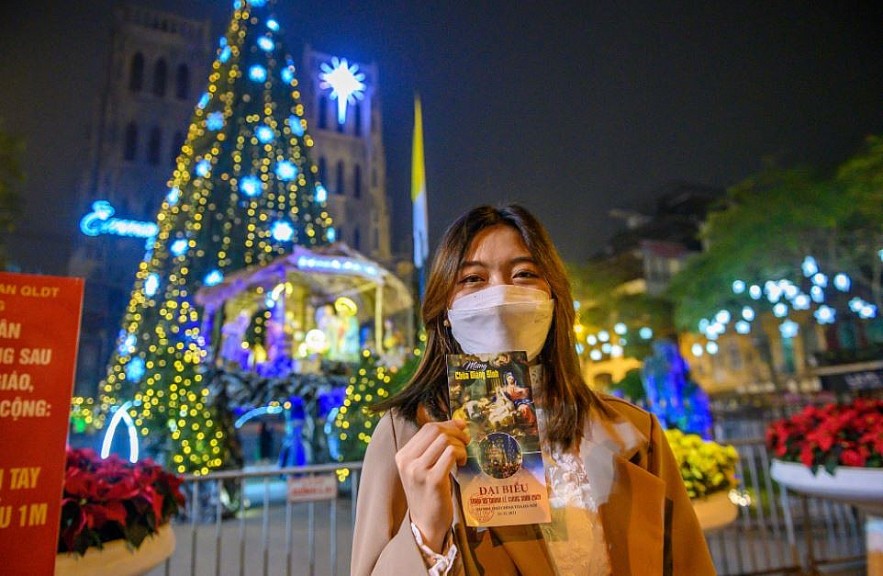 Hanoian shows an invitation to the St. Joseph's Cathedral. (Photo: Zing News)
"This is an unprecedented Christmas," said Le Thai Vinh, a resident in Ha Dong district.
Nguyen Thi Thuy (Dong Da district) said that this year's Christmas was special. "Last year, the church was crowded. This year, only people with invitations can enter."
Many foreigners are invited to the ceremony. They had to take a quick Covid-19 test before entering. Many roads in the city center were congested from 9 pm when people flocked to the old quarter to celebrate Christmas.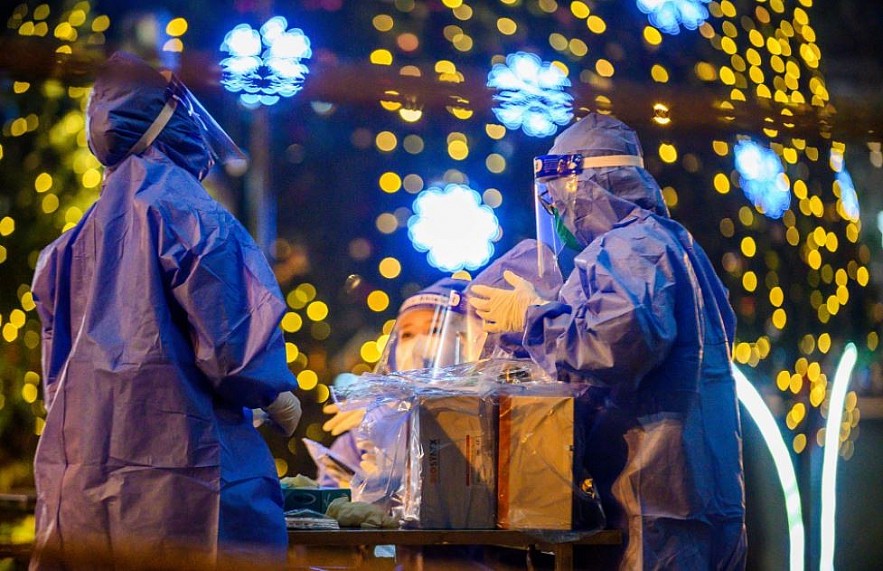 (Photo: Zing News)
(Photo: Zing News)
Hang Ma street was filled with people wearing festive clothing from 6 pm. Groups of youngsters walked along the street, buying souvenirs and taking photos. The barricade was set up 30 minutes later by the ward police force to limit the gathering of people. The old streets were quite deserted, including routes leading to St. Joseph's Cathedral.
At 9 pm, the streets of Hang Ma and Hang Luoc began to be congested with people. The traffic jam stretched from Dong Kinh Nghia Thuc Square to the intersection of Trang Thi - Ba Trieu - Hang Khay at 9:30 pm.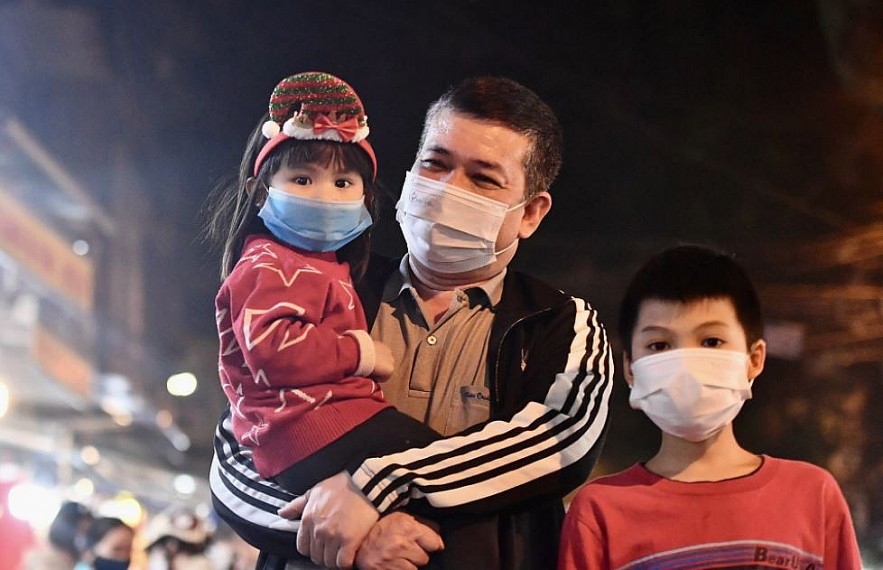 A family goes out on Christmas. (Photo: Zing News)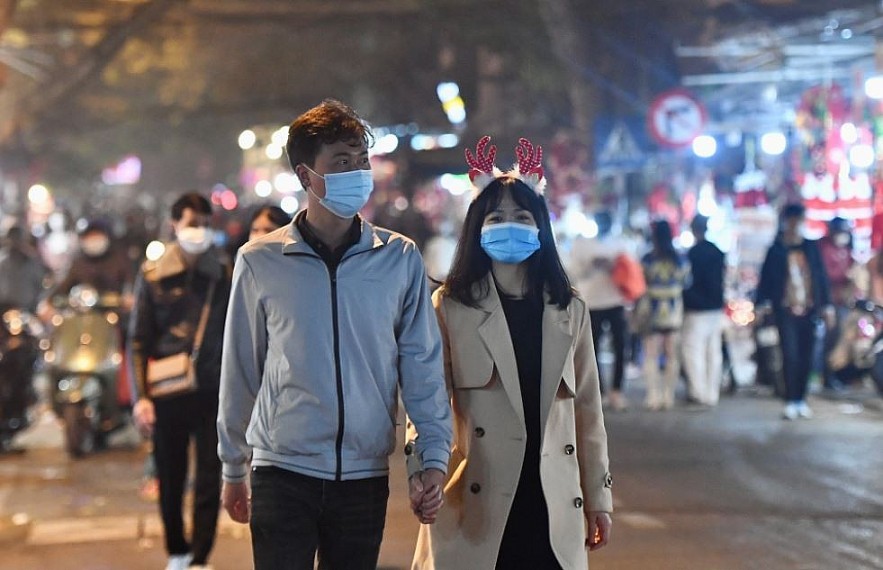 Young people still wear masks on the street. (Photo: Zing News)
While the old streets were crowded, many people chose to stay home. Many youngsters were no longer excited to go out. Instead, they stayed at home, held small parties several days prior to the festival.
Duong Quynh Lan (25 years old, Hai Ba Trung district, Hanoi) said she used to love the festive vibe so much that she bought new clothes, accessories for the event every year. However, due to the pandemic, she tried to avoid going out this year.
"I want to stay at home to prevent the risk of infection, especially when I live with my elderly parents," Lan told a reporter. "My family even teased me when seeing me staying at home. A lot of my friends still go out, they have book tables at famous restaurants and pubs. They invited me to join, but I turned them down."
St. Nicholas Cathedral, Dalat. (Photo: Zing)
Dalat bustles on Christmas Eve
The center of Da Lat began to be crowded with vehicles and tourists from the afternoon of Dec. 24. The intersection of Da Lat market was constantly congested during the evening. The streets around Hoa Binh, Tran Quoc Toan, and Nguyen Van Cu were also in traffic jams. The road around Xuan Huong Lake was lit with sparkling lights from surrounding cafes.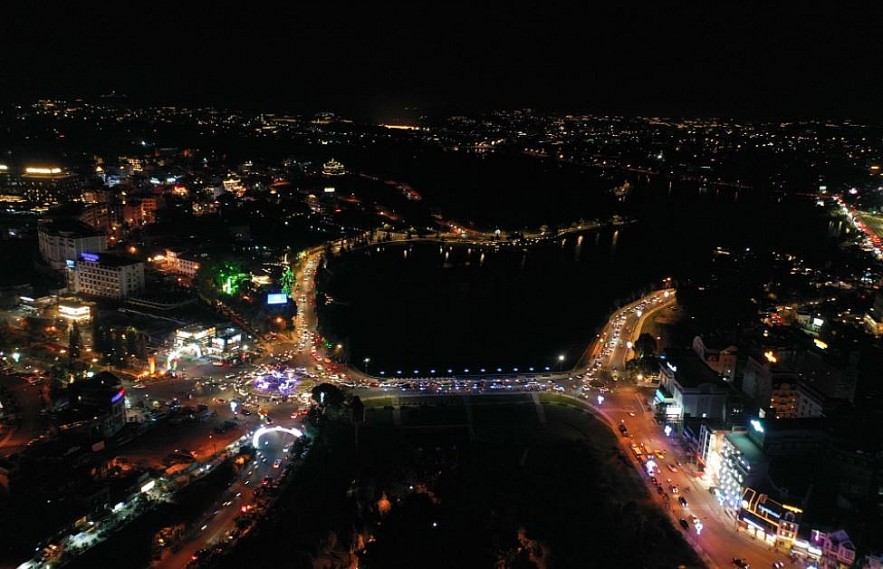 Da Lat viewed from above. (Photo: Zing)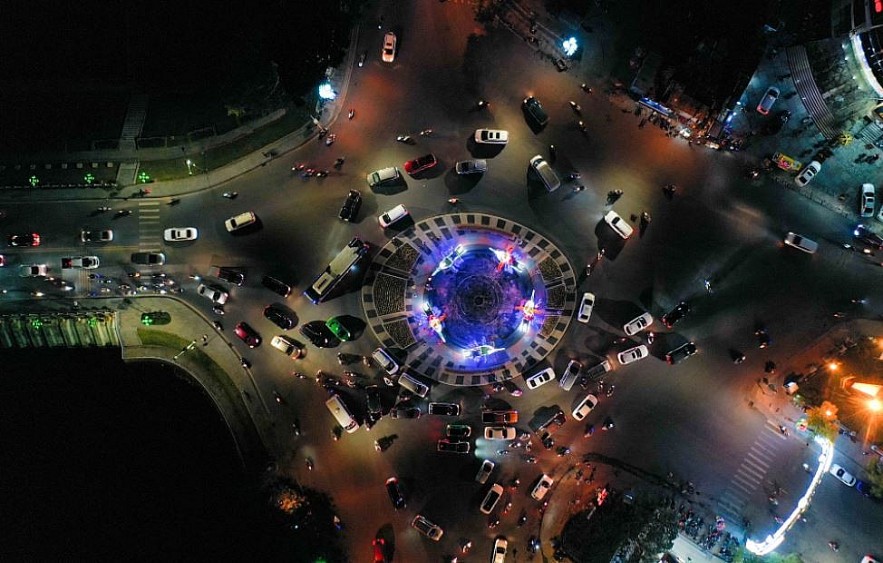 Da Lat viewed from above. (Photo: Zing)
Ho Chi Minh City's streets crowded
Thousands of people flocked to Pham The Hien Street (District 8) - the most well-known Christian hamlet in Ho Chi Minh City from 7 pm. Under the decorative lights hanging along the two roads, cars followed each other in the 3 km congestion. Churches closed their gates to avoid gathering, therefore, people walked on the streets to enjoy the festive vibe.
Nguyen Hue walking street was also crowded with people. "This is the second year that I bring my children here to celebrate Christmas. The atmosphere this year is a bit colder than last year," said Lan, Saigon resident.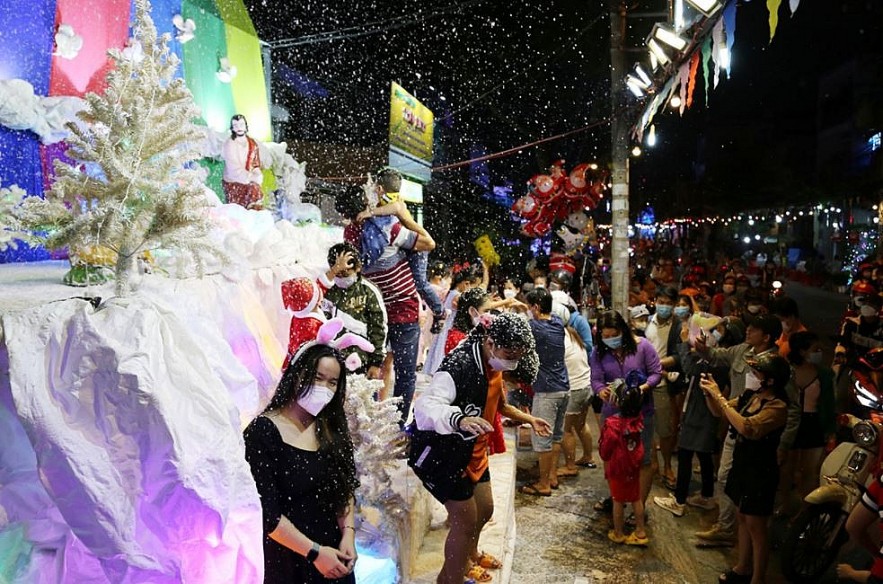 People enjoy Christmas in Ho Chi Minh City. (Photo: VN Express)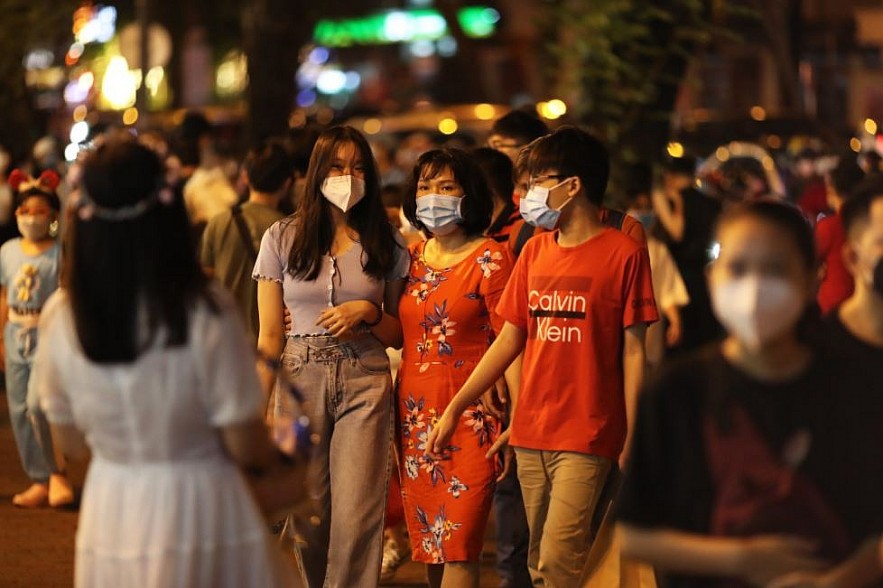 People enjoy Christmas in Ho Chi Minh City. (Photo: VN Express)
Compared to previous years, Christmas in Ho Chi Minh City, although bustling, is not as crowded, partly because of the complicated pandemic. Commercial centers and amusement parks are also not decorated as flattering as in past years.
"Since the city eased the lockdown regulations in early October, I have not seen any traffic jams like this," said Nam, a security staff for a store in the city center.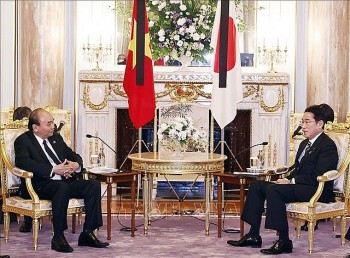 Friendship
Vietnam always treasures the extensive strategic partnership with Japan and views Japan as an important and long-term strategic partner, President Nguyen Xuan Phuc told Japanese Prime Minister Kishida Fumio in Tokyo on September 26.