Phuong Uyen Tran: The Untold Stories of 100 Days On-site Fights Against Covid-19
Tan Hiep Phat Deputy General Director Phuong Uyen Tran opened up for the first time about to ups and downs as her company adapted to the three-on-the-spot model.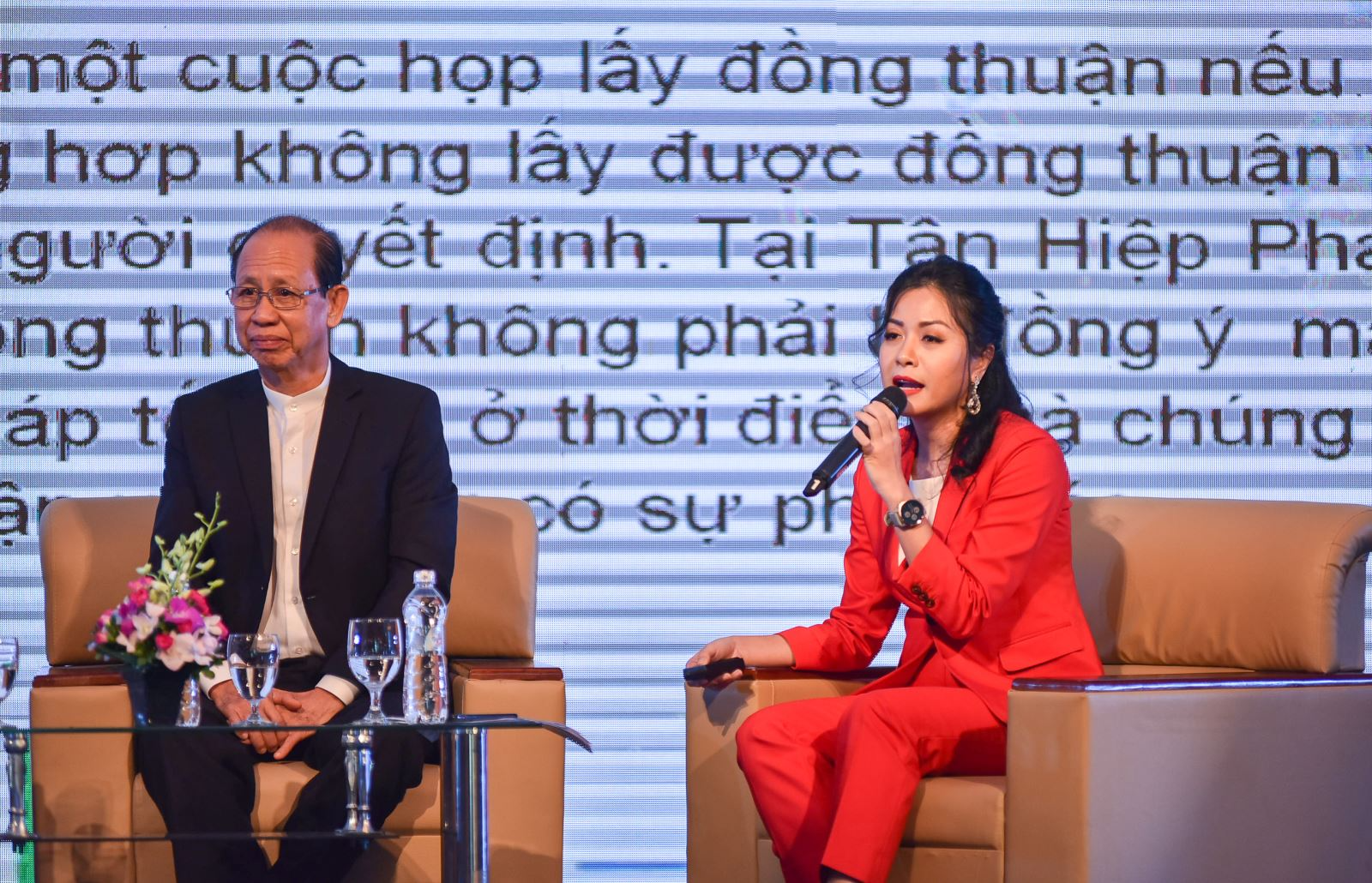 Phuong Uyen Tran- Deputy CEO of the THP Beverage Group
After three decades of establishment and development, despite being a young firm, Tan Hiep Phat (THP) is among 3-4% of "medium and large" enterprises as defined by VCCI. That achievement stood the test of time during the current Covid-19 crisis.
Some call it luck, but Phuong Uyen Tran knows that it took much more than that. Located in Binh Duong epidemic, many of Tan Hiep Phat factories still run while maintaining safety during the three months of on-site implementation.
To achieve the unthinkable, they had to do adapt to the ever-changing nature of the Covid-19 pandemic.
Modern challenge, modern solution
The female leader opened up for the first time about the company's one-of-a-kind stories, as well as its core values. They are valuable lessons that can help other family businesses in Vietnam.
Phuong Uyen Tran shared the THP had changed to adapt to the new situation. Photo: Tai Nguyen Moi Truong
Phuong Uyen Tran emphasized that Tan Hiep Phat always communicates to employees and lets them know the company is their second family. Hence the company builds a professional model, which is beneficial for both the development of the business and in accordance with the benefits of the employees.
"For Tan Hiep Phat, we have changed to adapt to the new situation. We change by building new business model, creating a mechanism where employees can have control: proposal, production, management. We consider our employees the members of the THP family," shared Phuong Uyen Tran.
According to THP Deputy Director, crisis only makes THP stronger because after each crisis, the business has changed and helped its own internal strength to be stronger and to continue developing.
"The most important things for Hiep Phat is the word family. However, it has not always been easy running a family business, it is both an advantage and disadvantage. We achieve success when we are happy, not like when we are in difficulty. Vietnamese historic legends had proven that only in crisis, we have to hold hands to unite, to give each other strength to overcome challenges", emphasized Phuong Uuyen Tran
Tan Hiep Phat hold the same value when safely carrying out the three-on-the-spot model. They decided to start implementing 3T on July 19 in Binh Duong, one of the largest epidemic centers in the country, before implementing it in Hau Giang and Ha Nam. At all three provinces, the preparation time was very short.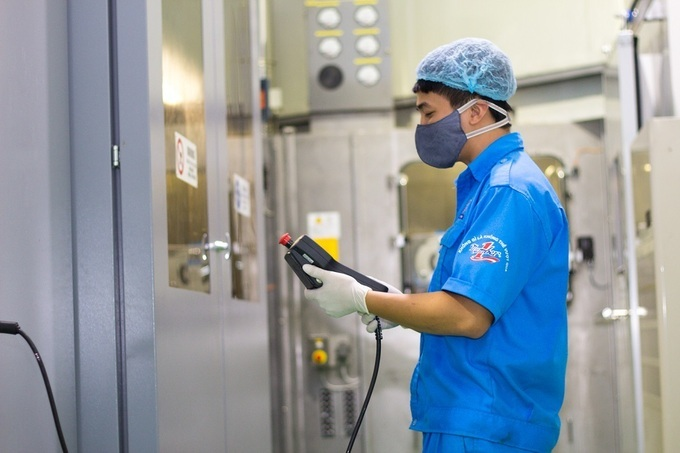 Tan Hiep Phat Group has implemented a series of measures, prioritizing workers' health over business results at a time of crisis.
"We moved fast and conducted three-on-the-spot model just 24 hours after being appointed. Even though we learned from our experience in Binh Duong, to be honest, confusion is inevitable, especially for the workers at production sites." shared Tran Uyen Phuong.
Unforgettable 100 Days of Three-on-the-spot
In the first stage of implementing 3T model, THP employees did not think they would have to stay at the company for more than 120 days. Humorous, embarrassing and also emotional, the Deputy General Director cannot count how many different emotions she and the employees went through during those days.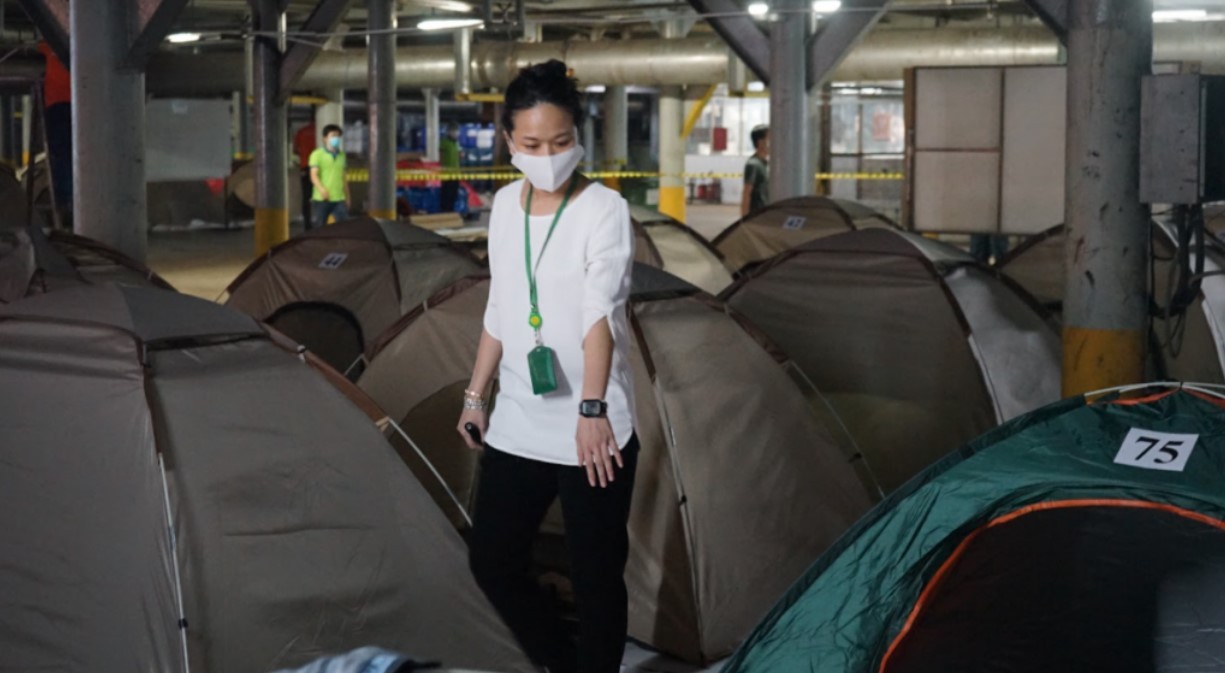 Phuong Uyen Tran is guiding how to arrange workers' sleeping tents at the factory. Photo: kinhtevadubao.vn.
A lot of people go into the factory doing 3T with only 3 suits. On sunny days, these clothes are enough but they sometimes went "missing" over the period.In addition to the fear of anti-epidemic, many employees of Tan Hiep Phat have additional worries that their clothes do not dry quickly enough to have clothes to wear.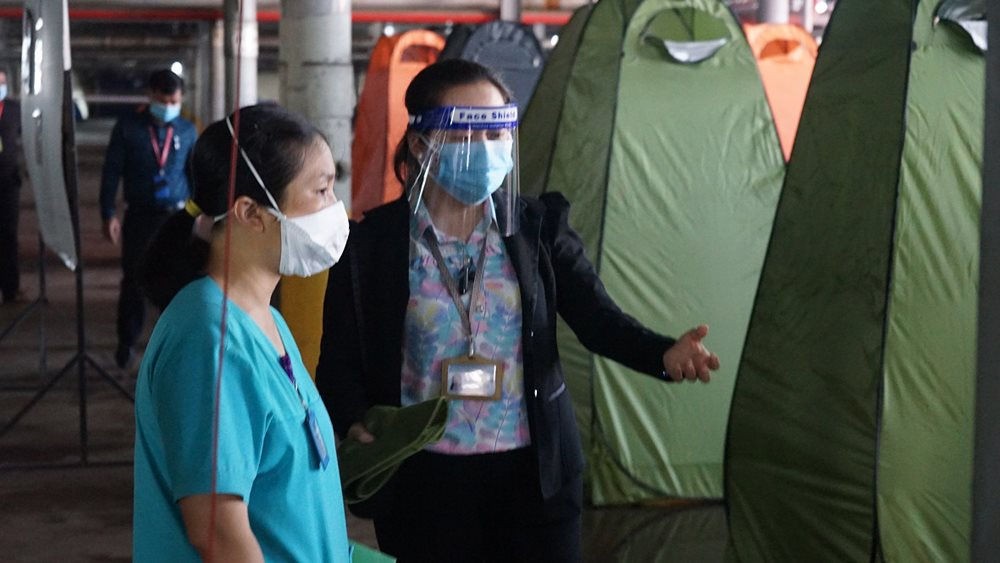 Photo: Tai Nguyen Va Moi Truong
Phuong Uyen Tran recalled those funny but very memorable" memory: "There was a friend who texted Phuong saying,' I brought 2 pairs of pants, but but now I don't know who took one from me by mistake, now I'm just afraid that if I wear it but it doesn't dry in time, I won't have any pants to change."
Before the pandemic, perhaps no deputy general director of a billion-dollar corporation thought they would receive such a message. And perhaps, after the pandemic, there will be no such messages. The pandemic has completely changed up our lives
"I suggested that she 'borrow someone's pants that I think she would fit'," said the female leader Phuong. She spoke to the employee, not as a superior boss but as a fellow friend wanting to share the hardship.
"Those are memories showing the cohesion in the Tan Hiep Phat family. We always try to make everyone feel the presence of the leadership. Such value is a guideline to build trust", said Phuong Uyen Tran.
On the other hand, THP Founder Tran Qui Thanh and his wife were also on the factory premises in Binh Duong during the 3T implementation on the spot continued to show their commitment to the employees.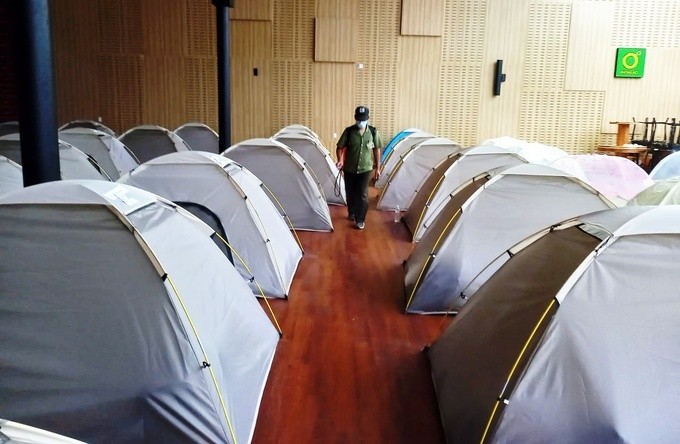 For THP leaders, they did not think about their own safety when that Tan Hiep Phat is not safe,"
This is part of the culture of Tan Hiep Phat, the presence of leaders with employees in the most difficult period brings many values ​​of trust, becomes a spiritual support, and brings peace of mind to employees.
Phuong Uyen Tran herself and ther leaders were also quite surprised when there were about 1,000 people willing to stay at work at Tan Hiep Phat factory in Binh Duong. This number is many times larger than in other enterprises.
No profit, no problem
To ensure the safety of more than 1,000 people in Binh Duong, THP must sacrifice several important aspects of their business, including making profit.
"If we put profit first, we wouldn't have made such sacrifice. For THP, we must maintain production before we can think of recovery. If stopped, the production will be extremely difficult to restore it later",said Phuong Uyen Tran.
She determined to maintain the company's production activities to prevent stagnant in production chain. And to ensure the life of employees, the leader also require employees to follow discipline.
"It sounds very simple to say discipline, but there are actually very basic needs, such as smoking, that will force change. Normally, outside of working hours, they are allowed to smoke and drink. However, with the three-on-the-spot model, people need to be determined to overcome those temptations and contain themselves if they crave a smoke or a home-cooked meal."said Tran Uyen Phuong.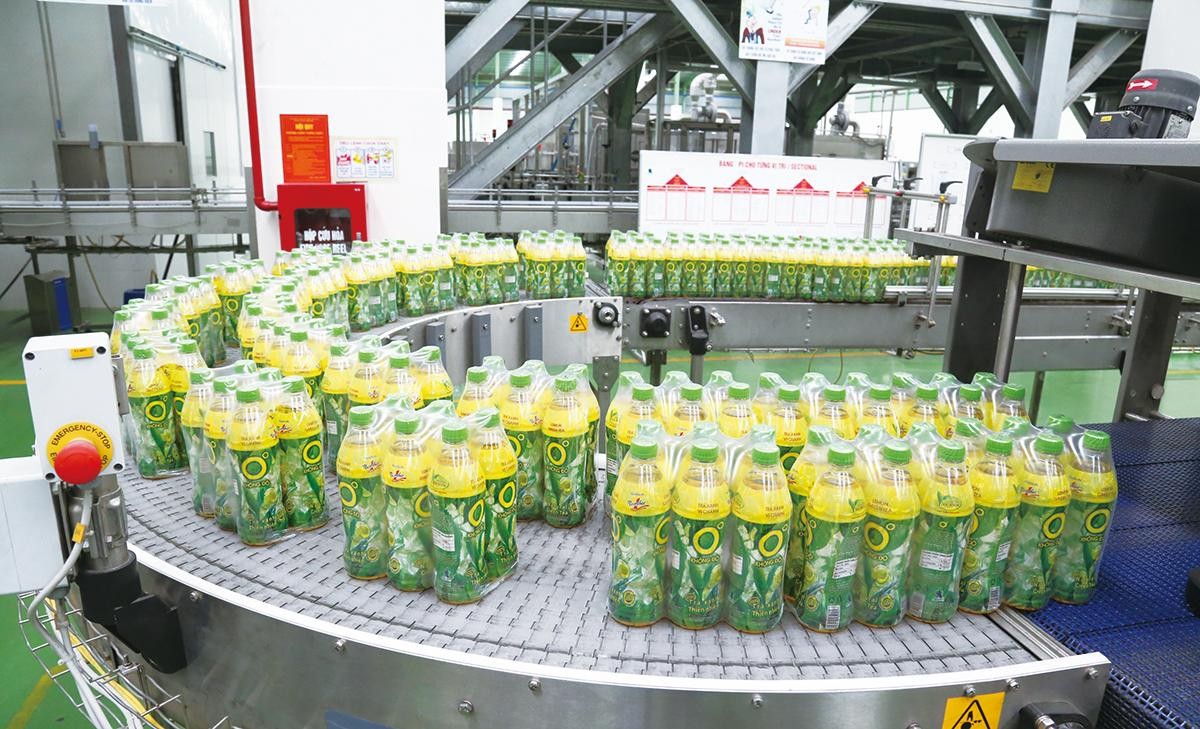 Photo: Thanh Nien Online
Another reason to maintain production is because THP workforce can recover immediately after the peak of the epidemic. They had been warned by the he wave of workers leaving industrial centers to repatriate in the past so they shall not make the same mistake.
When many businesses choose to attract workers by increasing wages by 3-5 times, THP use the success in the anti-epidemic process combined with THP's culture to show the potential for sustainable development to the whole business.
"For employees, it's not just salary but career development opportunities contribute a lot to an individual's attachment to the organization." emphasized Phuong Uyen Tran.
Despite Covid crisis, THP shall rise again
To overcome the impacts of Covid-19, THP aims to bring self-improvement, learning, nurture it into a positive workplace culture - one of the criteria of leaders.
Thus, improving qualifications and productivity for employees is not only associated with development but also sustainable development.
Annually, the relationships between associates and colleagues in addition to cultural processes and policies create a cohesive chain, promoting the development of THP.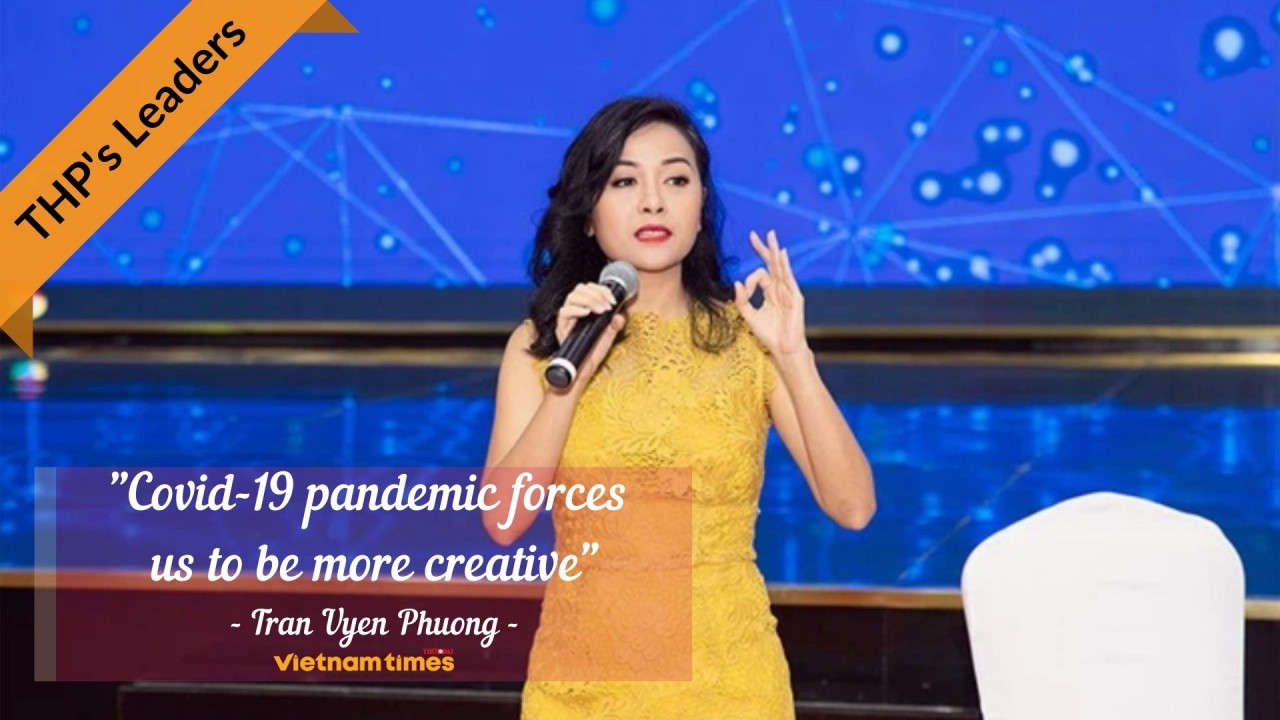 Ms. Tran Uyen Phuong, Deputy General Director of Tan Hiep Phat Group. Photo: VNT.
The firm is also accelerating the application of technology in operations, not only in production but also in management. Change is difficult but still it is very well-received by employees.
They are necessary change for the development of each individual and the organization as a whole.
The female leader strived to turn the Covid-19 pandemic into a driving force to accelerate digital transformation in its operations. While many difficulties and challenges that still exist, THP's experience shows that this is not the time to have massive change in business goals.
"Everyone has the mentality that they need to do something different, bigger because it's been 4-5 months at home. But with a company that has gone through so many crises, I realized that I shouldn't make the decision to change when I am stressed.," said Phuong Uyen Tran.
For now, changes will only come from pressing and stressful situations. The leader only wants the best for her company.
"Top priority for Tan Hiep Phat today is maintain the stability of the organization." said Phuong Uyen Tran.