Picturesque Destinations to Admire Buckwheat Flowers in Ha Giang
In Ha Giang, November comes with buckwheat flower season. As the rough rocks are covered by purple and pink flowers, tourists flock to Ha Giang's plateaus to enjoy the romantic but majestic scene and the lively local festivals.
In the three-month-long buckwheat flowers season, Ha Giang is crowded with domestic and international tourists. According to experienced backpackers, each destination in Ha Giang has its unique charm during the seasons. For those who do not have enough time to discover all of Ha Giang's buckwheat fields, below are recommendations of the most popular and beautiful destinations.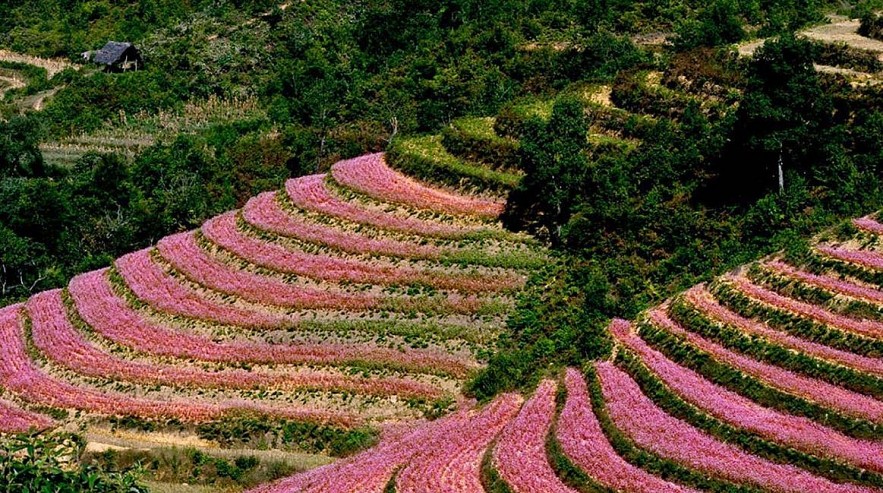 Buckwheat fields under Lung Cu tower. (Photo: Gonatour)
Lung Cu flag tower
Unlike most parts of Ha Giang, buckwheat in Lung Cu is planted on terraced fields. To reach Lung Cu flag tower, tourists have to pass a 1,5-kilometer-long mountain road, a 389-step stone stair, and a 140-step spiral stair. From the tower, tourists have a broad view downwards Ha Giang's terraced fields and rocky mountains.
Lung Cu was built to mark the northernmost point in Vietnam. Lung Cu Flag Tower is built in the peak of Rong (Dragon) Mountain at an altitude of nearly 1,700m. This is the landmark with historical significance, marking Viet Nam's territorial sovereignty. A commemorative house lies at the foot of the tower, displaying work tools, costumes, and cultural products of the ethnic groups in Ha Giang Province.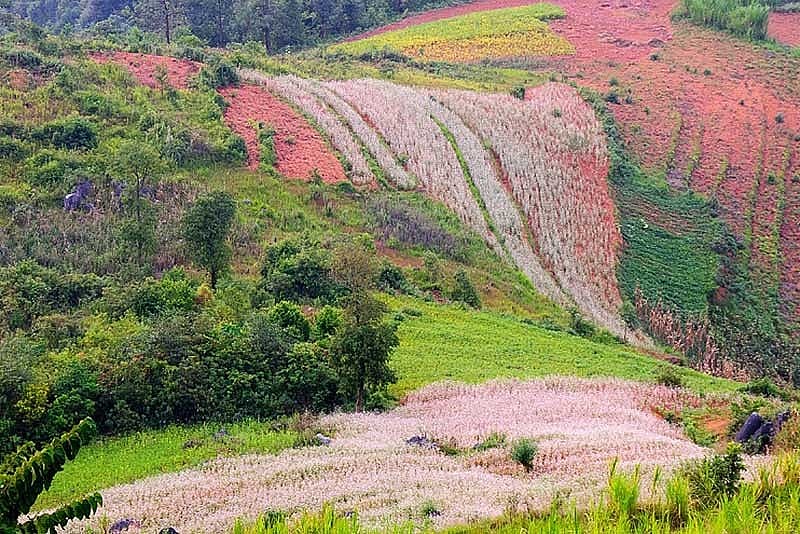 Sung La village. (Photo: Goody)
Sung La commune
Sung La is located on 4C Highway, more than 20 kilometers from Dong Van district. Unlike most famous buckwheat fields in Ha Giang, Sung La remains idle and unspoiled. Sung La locals plant buckwheat together with vegetables, corn, and rice, creating a lively scene of vibrant colors, from the pink buckwheat flowers, the light green grass, dark green forest, the yellow mustard flowers to grey stone mountains.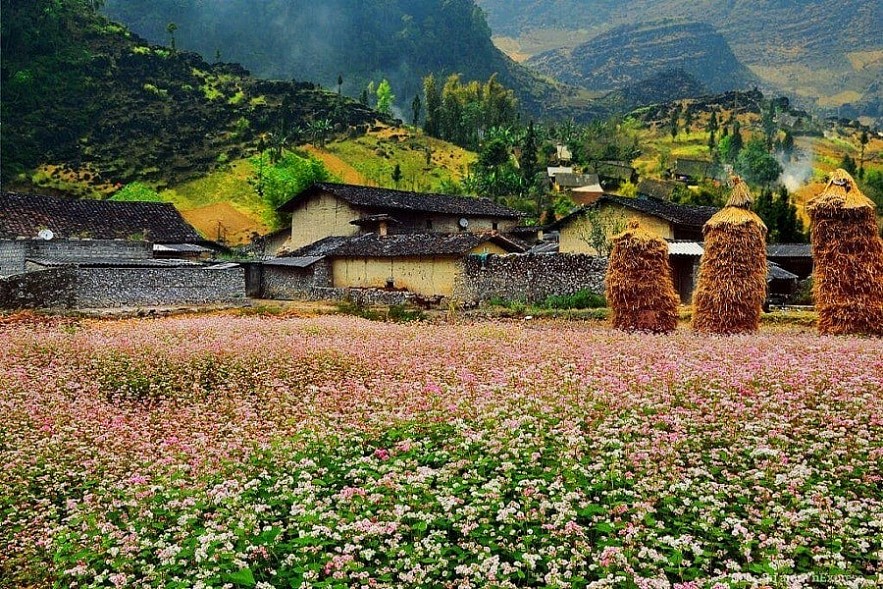 Lung Cam cultural village (Photo: Tim Chuyen Bay)
Lung Cam cultural village
Lung Cam, a village in Sung La, is home to 61 households of three ethnic groups living in their ancient houses, some of which were built 100 years ago. Lung Cam has the largest buckwheat field in Sung La, and is the shooting destination of the famous "Pao's story" movie. The movie's main set, a mud house of H'mong people, is now open for tourists.
In addition to the buckwheat, Lung Cam has a field of roses. Tourists can rent H'mong dresses to take photos in the flowers fields.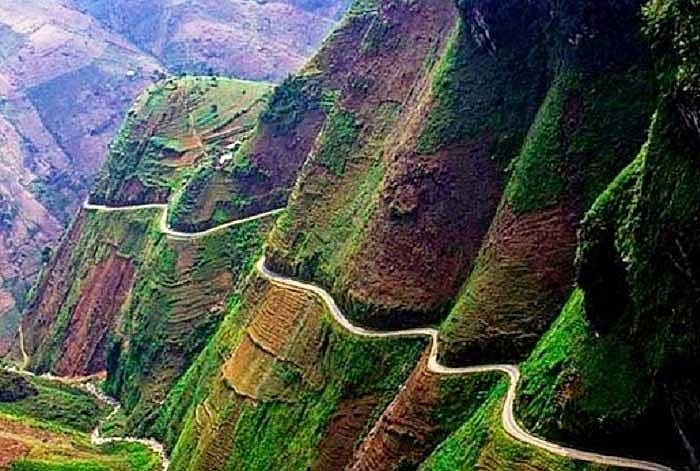 Ma Pi Leng Pass (Photo: Authentik Travel)
Ma Pi Leng Pass
Ma Pi Leng has become so famous that most tourists put it on their bucket list. Buckwheat fields in Ma Pi Leng nest between two large mountain ranges and are surrounded by majestic forest, intensifying the pass's bold charm. To capture Ma Pi Leng's beauty, tourists are recommended to prepare wide-angle cameras. The pass, named as one of the four greatest passes in the northwest of Vietnam, is sure to leave unforgettable memories in those who conquer it.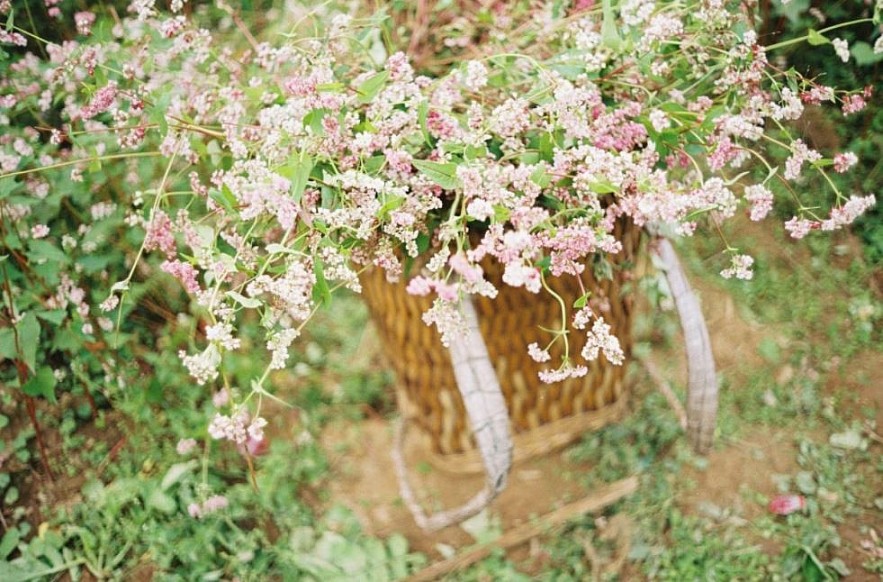 Photo: Du Lich Chat
Pho Cao commune
Pho Cao, a commune in Dong Van district, has recently emerged as a new spot to admire buckwheat flowers. Pho Cao has a total population of around 5,000, most of whom are H'mong. Home to many houses of over 100 years old surrounded by rock walls, Pho Cao welcomes tourists to explore its local life.
The commune's market fair is a unique gathering event for people in the region. The fair does not have a fixed date, which is its special trait. On the fair day, many people of Han, Dao, Giay, Tay, H'mong groups depart from their villages in the early morning, bringing their homemade goods to sell.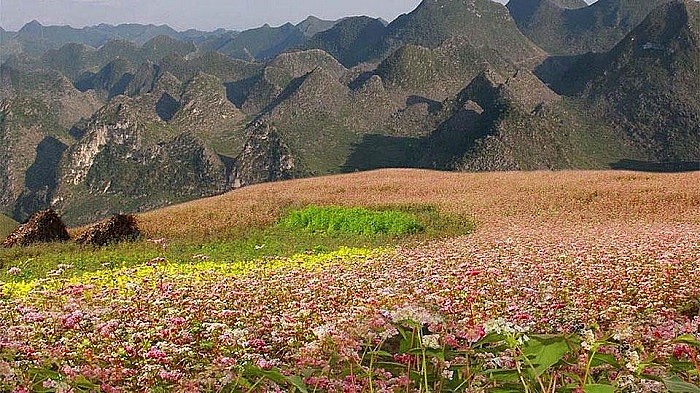 Lung Tao hillside (Photo: Du lich Viet Nam)
Lung Tao hillside
When visiting Lung Tao, tourists usually pay attention to the majestic mountains only, however, the hill's large buckwheat field should not be ignored. To admire the whole field, visitors need to climb on a rather tall hill. However, admiring buckwheat from an above angle is a fresh experience that one should try if he loves adventurous activities in the bold Ha Giang.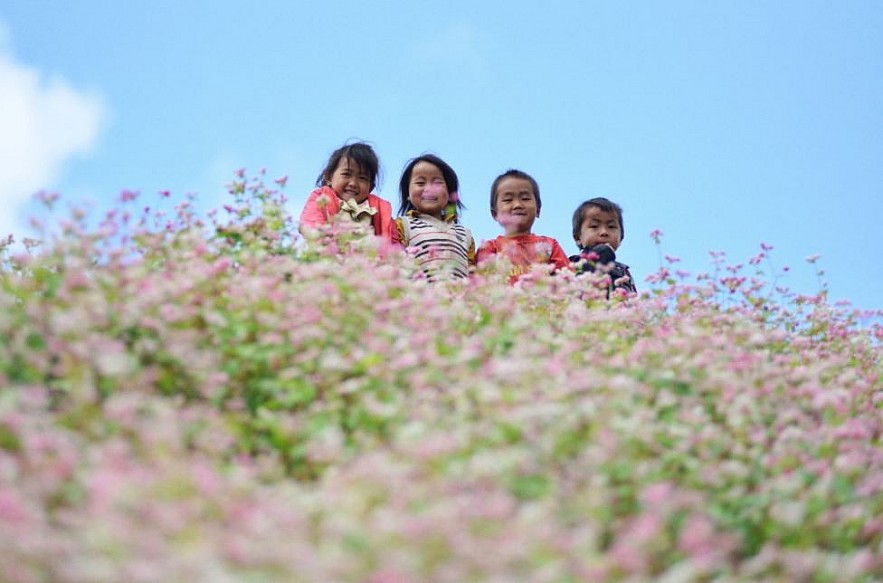 Photo: VN Express
Quan Ba heaven gate
Quan Ba heaven gate is a narrow slit between two mountain peaks, just enough to form a small road. From the gate, tourists have a view toward the Twin Mountain lying in the middle of a flat valley. A buckwheat field was planted near the mountain.
In Quan Ba, besides sightseeing, tourists can go deep into the villages, experience the daily life of the ethnic minorities. In their traditional houses, peace replaces the noisy and bustling vibe of cities.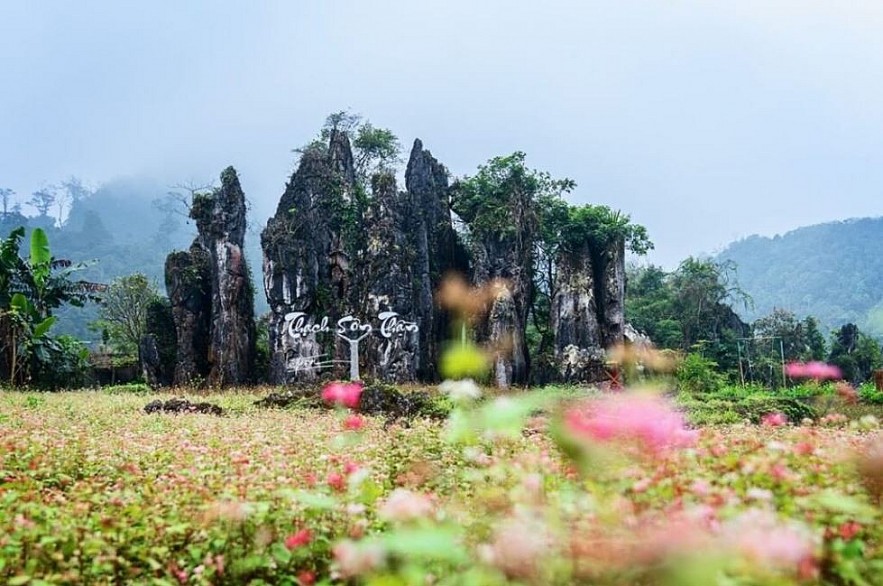 Thach Son Than plateau. (Photo: Du Lich Dan Gian Ha Giang)
Thach Son Than plateau
Thach Son Than seems to be wearing a new "shirt" in the buckwheat flower season. As the season comes, the plateau's rough dark grey rocks are covered in pink. If visitors want to take fanciful photos, take a tour to Thach Son Than's local houses and gardens, which still retain their traditional styles over the years.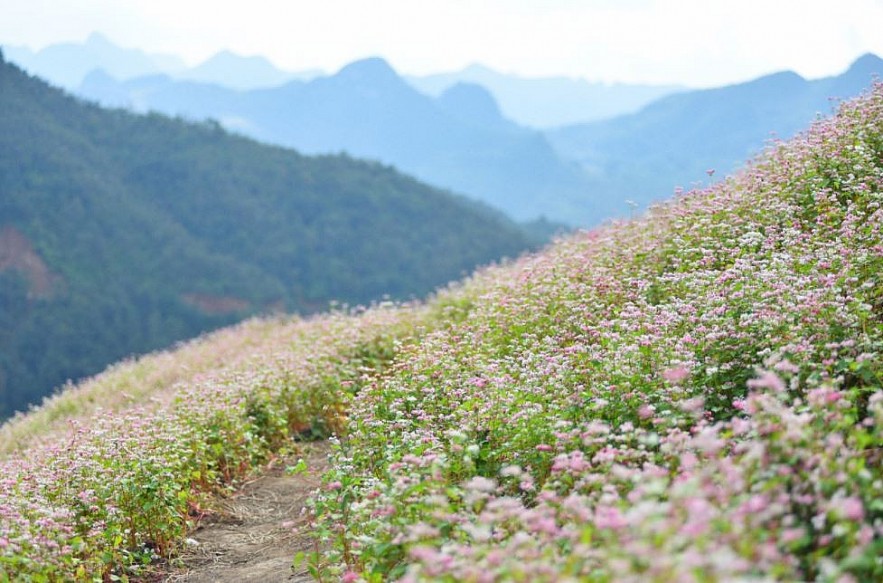 Photo: VN Express
Yen Minh
Yen Minh, an eco-tourism destination, offers both poetic and majestic features. In Yen Minh, tourists can find mystic pine forests, peaceful rows of bamboo surrounding villages, winding slopes around the mountains, and of course, buckwheat fields.
Yen Minh has more than 10 hectares of buckwheat field concentrated in Lao Va Chai and Na Khe villages. The town offers quite professional services for tourists who want to admire the buckwheat fields and take part in the daily activities of local people.
Dangerous Roads of Divine Ha Giang

Ha Giang's winding curves look like a soft, silk strip but are full of adventures. In this mountainous province, tourists can easily find interesting places ...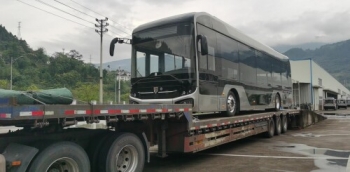 Economy
Ev Dynamics (Holdings) Limited is a pioneer and a prominent player in China's new energy commercial vehicles market, as well as a whole-vehicle manufacturer of specialty passenger vehicles and new energy passenger vehicles.