Photos: The Majesty of Rice Paddies in Ha Giang
The waves of green rice winding vividly on the hill of Ha Giang's valleys of Ha Giang turn the harsh mountains into a symphony of natural beauty and farming effort.
Phan Tuan Anh, a photography enthusiast, took the below photo set to keep the best moment of Ha Giang's terraced fields during his trips to the provinces over the last two years. Tuan Anh said his 'rice hunting route' started from Cao Pha valley to La Pan Tan, Sang Nhu, Mu Cang Chai (Yen Bai), to Lao Cai, then to Ban Phung, Hoang Su Phi and Quan Ba, Doc Chin Khoanh on Dong Van (Ha Giang).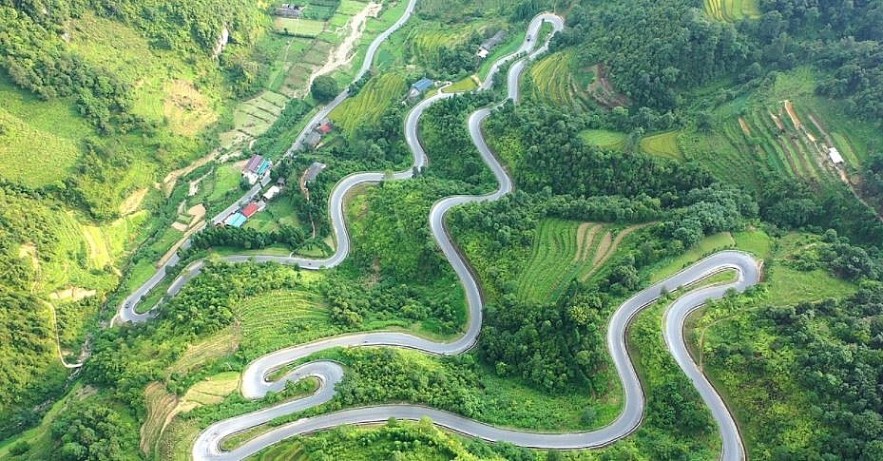 Doc Chin Khoanh (Photo: VN Express)
The picture shows the terraced fields on the side of Doc Chin Khoanh, a section of National Highway 4C connecting Pho Cao and Sung La commune in Dong Van district.
(Video: VN Express)
The video shows 'raspberry hill - an iconic terraced field that most visitors put on their must-check-in list when visiting Ha Giang. The hill belongs to Han Chong village, La Pan commune.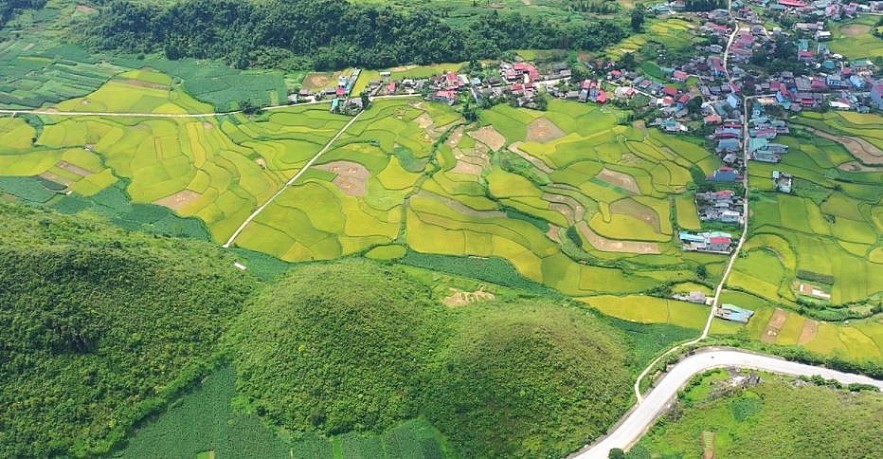 Twin mountain (Photo: VN Express)
In the journey to record photos of Ha Giang's stunning fields, Tuan Anh was overwhelmed by the natural scenery, culture, and folk of each region.
The photo above was taken in the Twin Mountains, sometimes called the Fairy Mountain. In local folk, Fairy Mountain is the breast of a fairy who runs from heaven to marry a human in Quan Ba valley. Angry with the fairy's decision, king father forces her to return to heaven. The fairy obeys but leaves her breast on earth to raise the couple's child.
Consisting of two mountains adjacent to each other, Twin Mountain in Quan Ba valley, Tam Son town becomes a well-knowned tourist destination.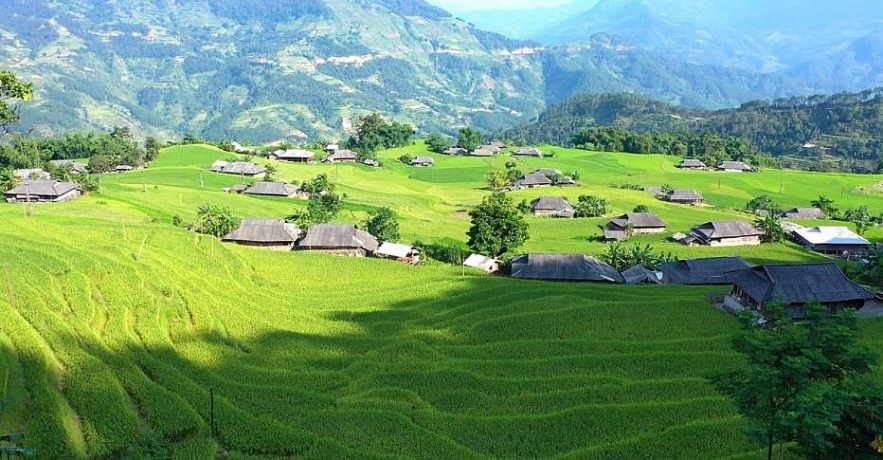 Ban Phung, Ha Giang (Photo: VN Express)
The symphony of highland terraced fields led Tuan Anh to Ban Phung, Ha Giang. To reach the commune, visitors should start from Ha Giang city, take a 3-hour-ride to Vinh Quang town, Hoang Su Phi district, then drive another 30 km to Ban Phung commune. The road to Ban Phung is bumpy with many dangerous bends, however, in return for that effort, the commune offers visitors a great view of La Chi ethnic people's houses lying on the endless green paddy field.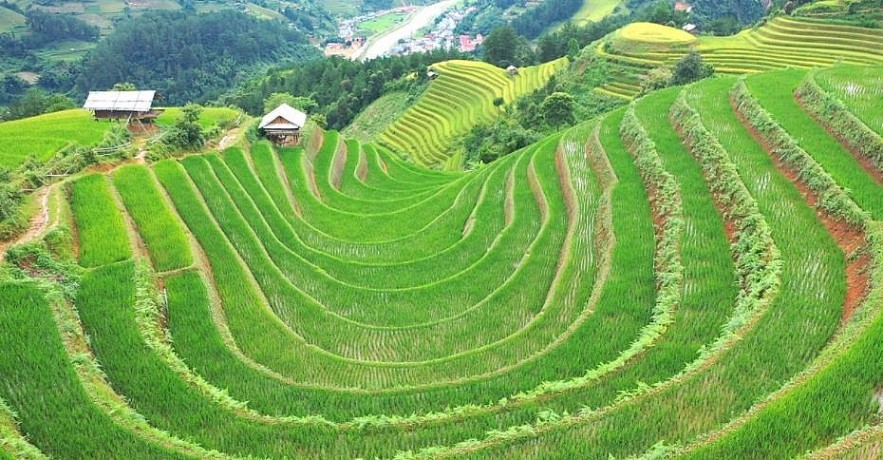 A terraced field in Sang Nhu (Photo: VN Express)
'I started sharing travel videos eight months ago. To keep up with the profession of travel content creator, besides passion, one must put in a lot of effort. He has to move here and there constantly and invest in equipment to record the most impressive scenes," Tuan Anh said.
'Many people say that I am too old to travel across the country. I don't think so, if you stop trying, developing yourself, bringing values to the community, then even if you are in your 20s, 30s, or 60s, you lose a part of your life's meaning,' he said.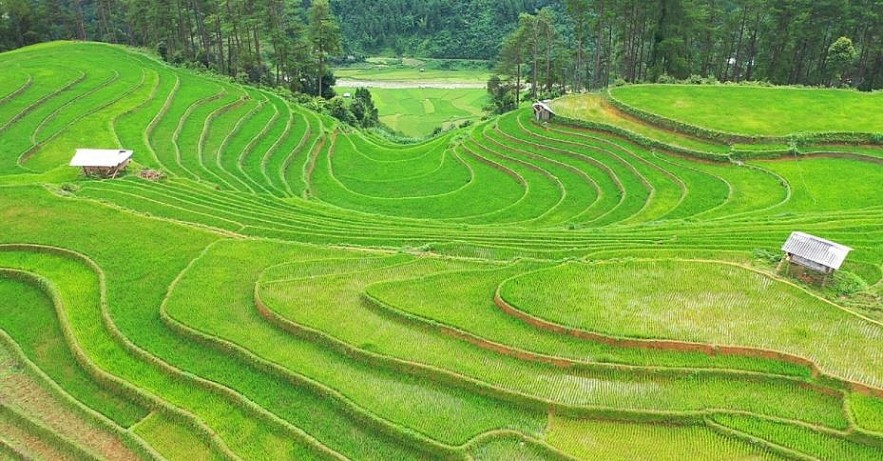 A terraced field in Sang Nhu (Photo: VN Express)
Sang Nhu is home to terraced fields of various shapes, creating lines that look like horseshoes, shoe toes, or sometimes eyes. The two photos above were taken in a Sang Nhu's terraced field that looks like a horseshoe, about 2 km from the center of Mu Cang Chai town.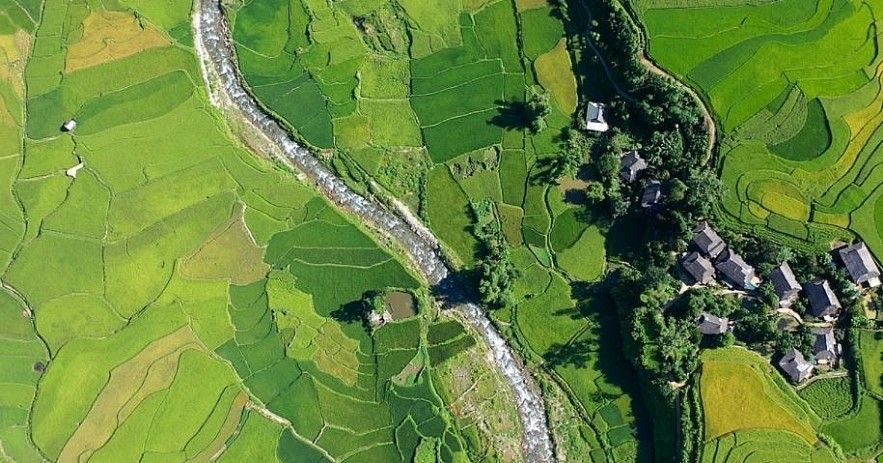 Khau Pha Pass (Photo: VN Express)
Crossing Khau Pha pass, which lies between the high mountains and watching the terraced fields brought Tuan Anh unforgettable experiences. The ripe rice seasons in the highlands fall around August - October, depending on the weather, farming, and harvesting methods of the local people. Normally, the early ripening season in Lao Cai falls in August-September, then later comes to Yen Bai and Ha Giang in October. This year, the highland provinces welcome no tourists in the ripening season, mainly due to the pandemic.
Ha Giang travel guide
Ha Giang is often known as a place of mountains, fresh nature, endlessly winding roads, colorful highland markets. Situated in the northern highlands of Vietnam. Ha Giang is a majestic mountain range with a high altitude ranging from 800 m to 1,200 m above sea level.
Ha Giang is beautiful all year round. Those who love wild flowers should travel to the province in January and February when spring covers the hills and forests with cherry blossom and plum flowers. The signature rice season comes in September and October, while the charming buckwheat flower season, said to be the most beautiful period of Ha Giang, lasts from October to December.
Ha Giang currently has no airport. To get to the province, you can take a bus or drive your own vehicles from Hanoi. However, due to the long and dangerous road, transportation services are highly recommended.
Once you reach the province, we recommend checking out Dong Van Karst Plateau Geopark, Vuong's Palace, the terraced fields of Hoang Su Phi and Mu Cang Chai, Khau Vai love market, Lung Cu flagpole, Ma Li Peng pass – Nho Que river.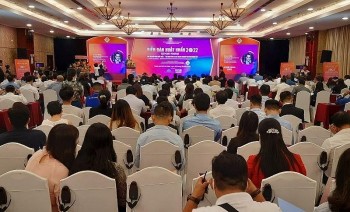 Focus
Vietnam News Today (Dec. 9): Vietnam - Singapore innovation centre helps firms transform production; HCM City among most searched destinations by travelers; Vietnamese digital technology industry's revenue estimated at 148 billion USD in 2022; Two Vietnamese films up for consideration at Oscars.