Picturesque fishing villages in Quy Nhon
Nhon Hai, Nhon Ly, Bai Xep, and Hai Minh are long-standing fishing villages with spectacular and peaceful scenery which attract both domestic and foreign tourists.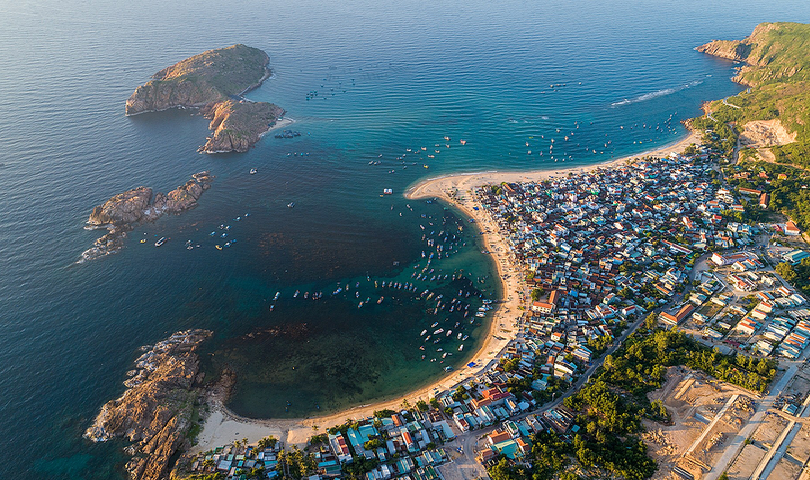 Nhon Hai fishing village from a bird-eye view Photo: VNExpress
Nhon Hai is one of the renowned fishing villages in Binh Dinh. It is far away from the central city nearly 20 kilometers. When coming here, visitors can explore the peaceful life of the fishing village hidden mountain ranges along the coast.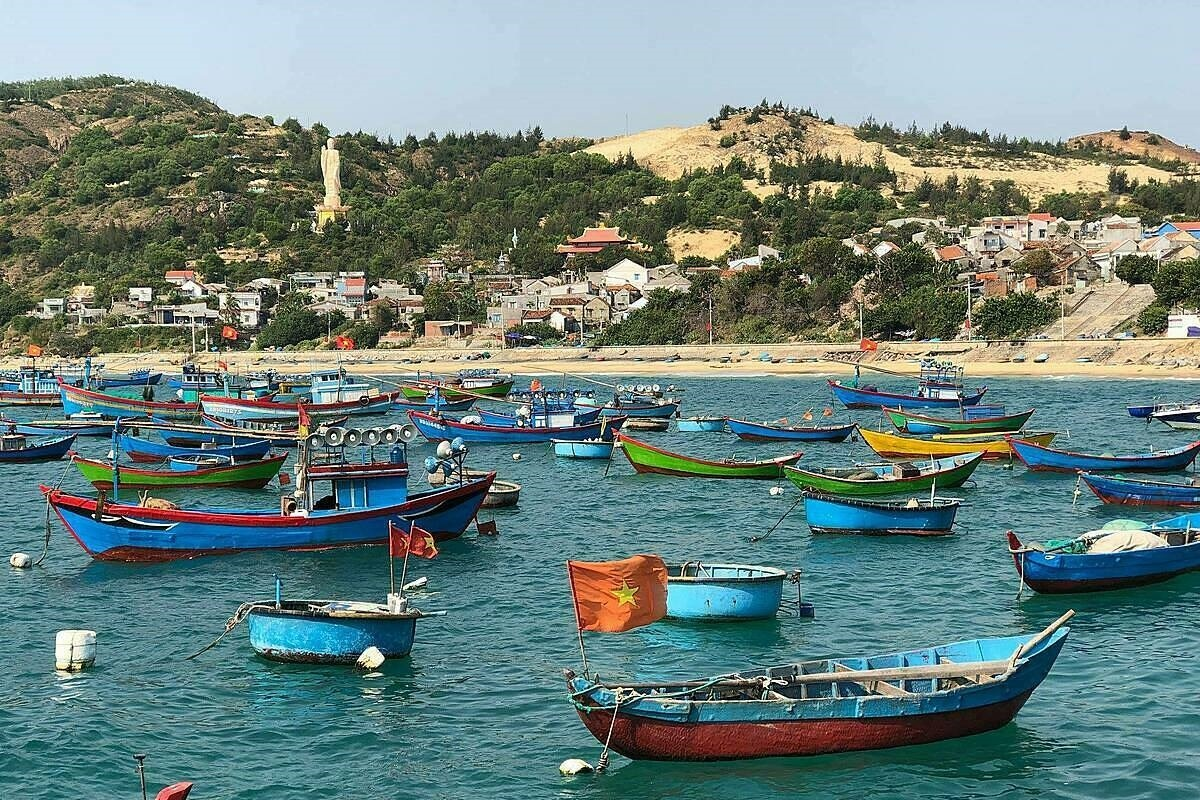 The fish-catching boats in Nhon Hai Photo: VNExpress
One of the most famous destinations of Nhon Hai is Hon Kho. From Nhon Hai fishing village, tourists can go by canoe or boat. There is a wide range of unforgettable experiences here like catching snails, fishing, snorkeling, and swimming in the cool turquoise water. Perhaps the strongest impression for tourists would be a wooden bridge located on the cliffs, a famous "check-in" place.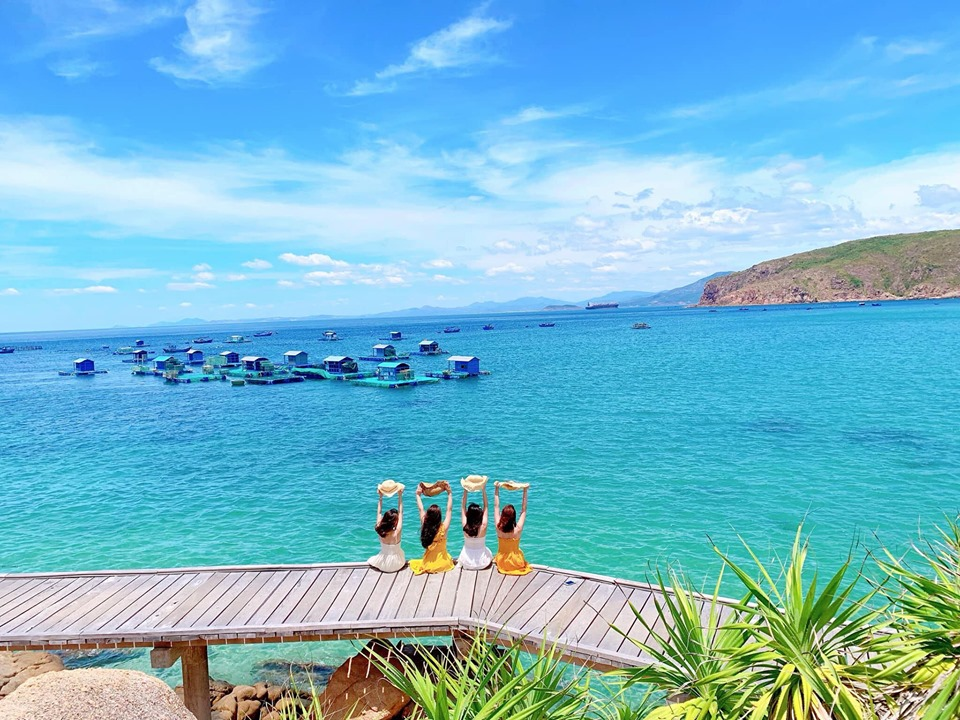 Hon Kho Island Photo: VN Trip
Hon Kho offers tourists with many food stalls selling fresh delicious seafood which do not cost you an arm and a leg so feel free to order what you want to eat while enjoying the spectacular views here, reported Vietnam Discovery.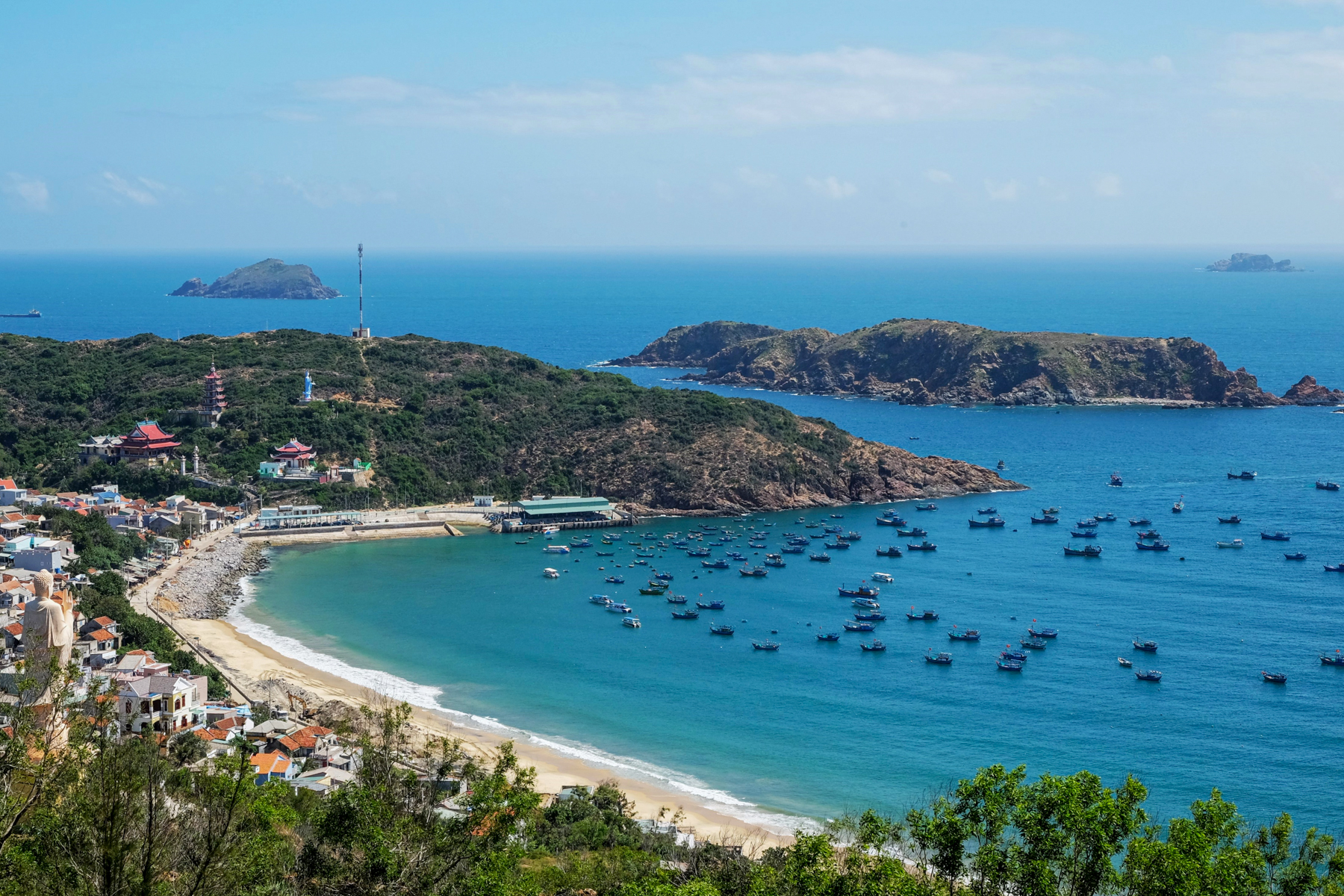 Nhon Ly fishing village Photo: VNExpress
Nhon Ly is about 18 km from Nhon Hai. To come here, tourists have to go through Thi Nai Bridge from the city center and visit well-known destinations such as Eo Gio and Ky Co. For people interested in communal house culture can visit Hung Luong, Xuong Ly, Phuoc Sa pagoda, revealed VNExpress.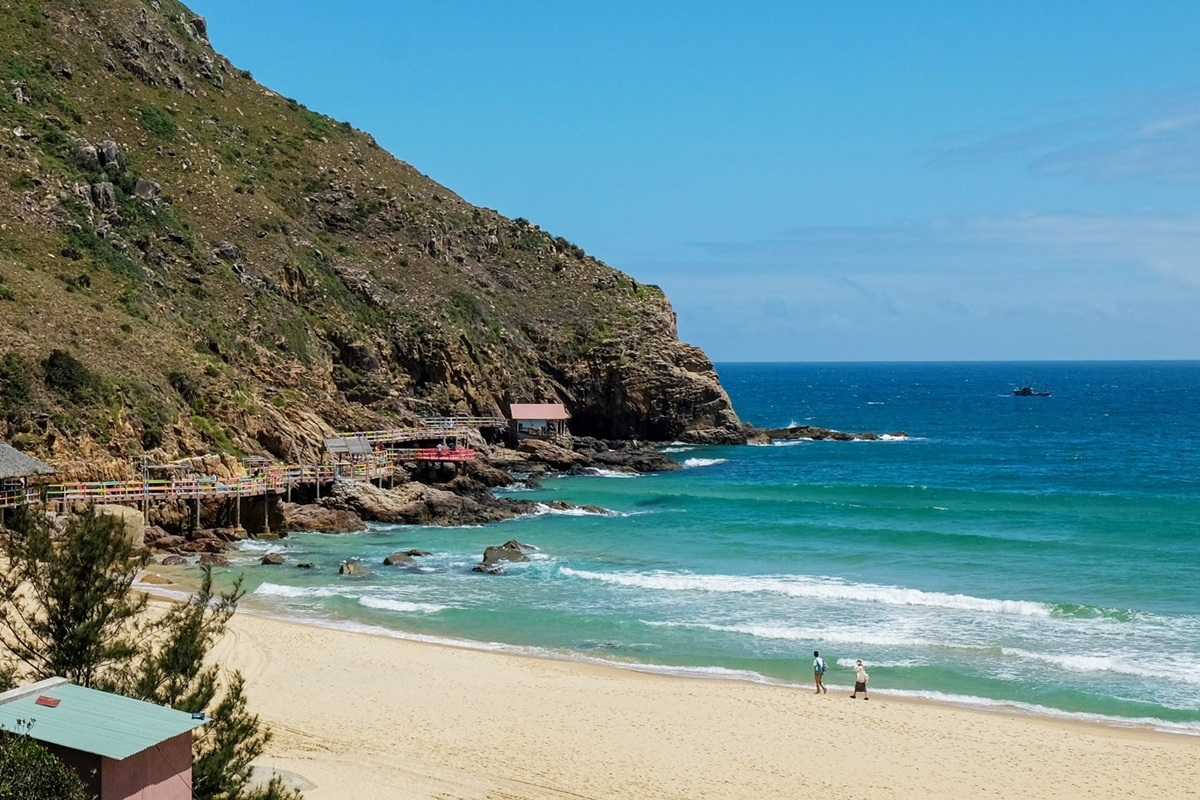 The turquoise beach in Nhon Ly fishing village Photo: VNExpress
The winding roads along the mountain cliffs in Nhon Ly fishing village are ideal spots for strolling, view magnificentbeaches, and enjoy glorious dawn. Coming here in the afternoon, travelers escape from sweltering sunshine and walking under the shady space covered by mountain chains.
Houses in Nhon Ly are close like Hoi An ancient town's. Dotted in newly built houses are ones dating back from the 1970s with mossy walls, bougainvillea, and green windows. These have become "virtual living" places for many the young.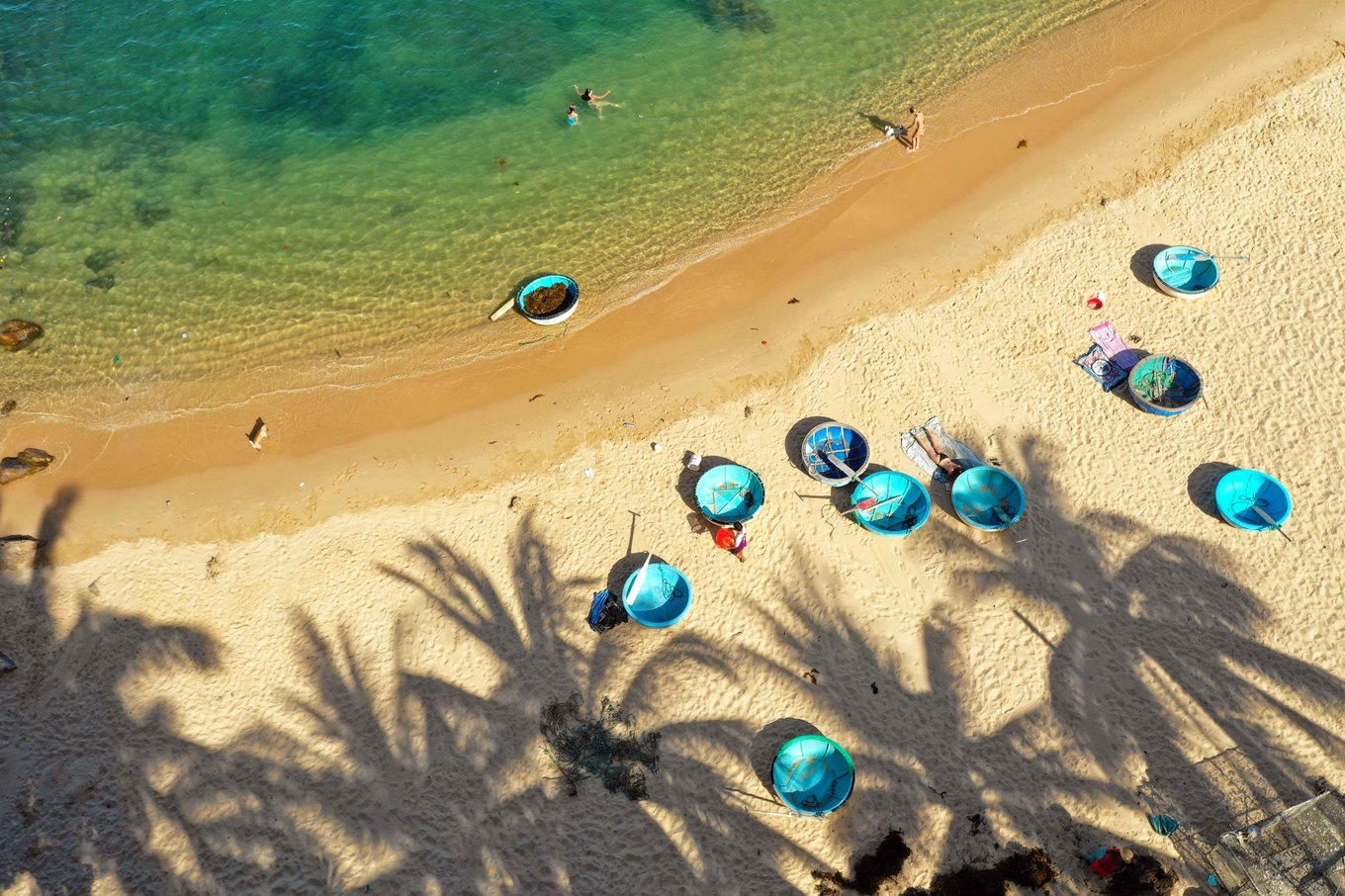 The pristine beauty of Bai Xep fishing village Photo: VNExpress
Dubbed the "Pearl in the rock", Bai Xep fishing village located on a stretch of white sand beach in Quy Hoa, Ghenh Rang Ward, about 13 km from Quy Nhon. To reach Bai Xep, visitors can travel by any means of transport such as taxis, buses or motorbikes. With untouched beauty and a peaceful atmosphere, Bai Xep is the top destination for people wishing to escape from the hustle and bustle of city life. The combination of crystal beach, white sand, and diverse rocky mountain make Bai Xep distinguished from other beaches in Quy Nhon.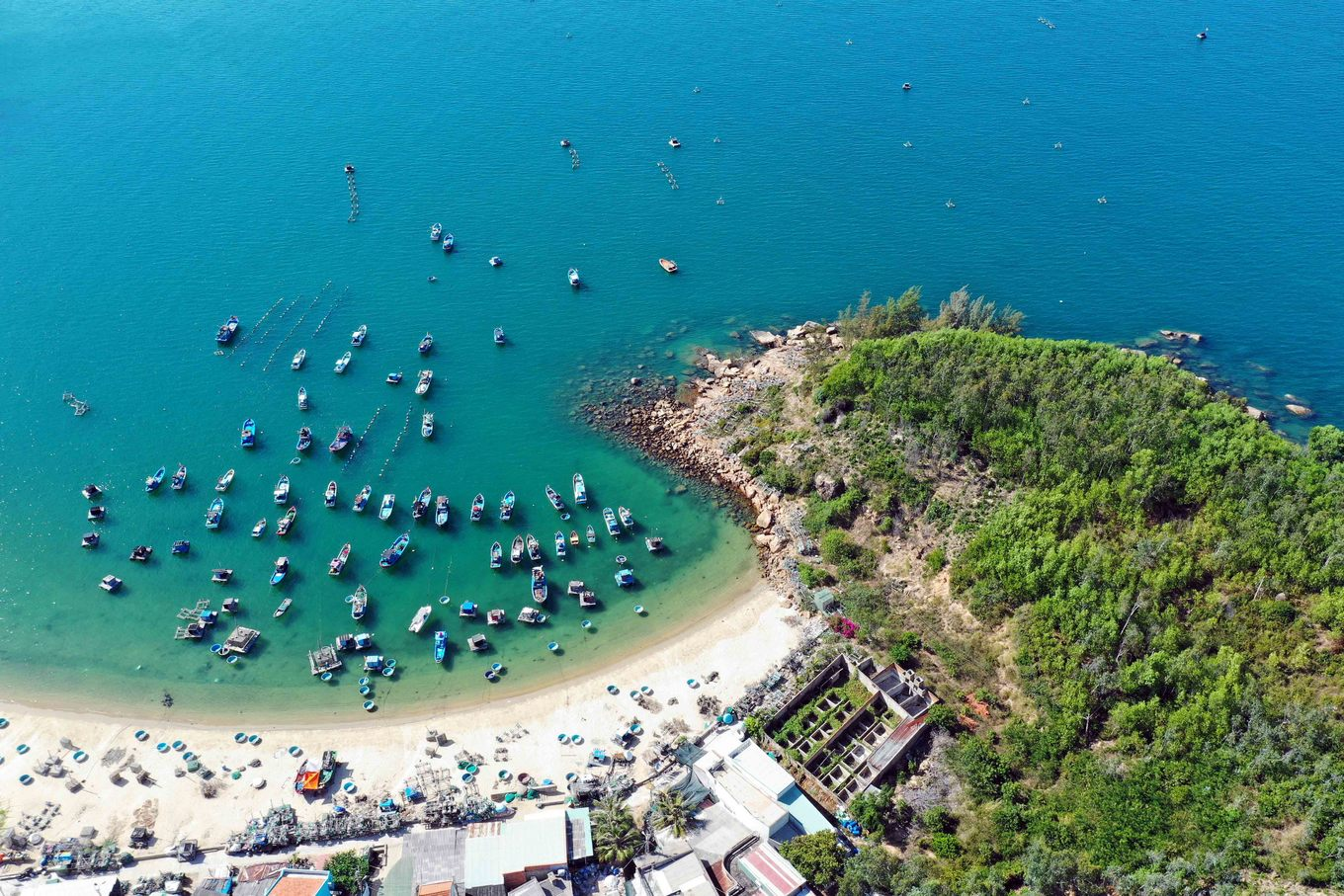 Bai Xep fishing village from a bird-eye view Photo: VNExpress
The "must-discover" thing here is watching locals catching fish in the ocean. Their techniques may be different from those in other places. Besides, trying to catch fish by yourself may give you special moments and experiences.
Hai Minh fishing village Photo: VNExpress
Hai Minh is a tiny fishing village situated on Phuong Mai peninsula with breathtaking mountains. Tourists can travel to Hai Minh by boat which takes only minutes. The small alleys in the village are filled with lush greenery and lots of fishing nets and fishing boats. The fishermen here are incredibly sincere and hospitable.
One destination which cannot be missed when coming here is Tran Hung Dao statue. This 17m high statue has been erected on a promontory, 40m above sea level, which overlooks the village. Standing at the foot of the majestic statue, people can enjoy the stunning and panoramic view of the coast, along with the Thi Nai Bridge, the longest sea-crossing bridge in Vietnam with a length of 2477 meters, and width of 14.5 meters, according to Vietnamnet.