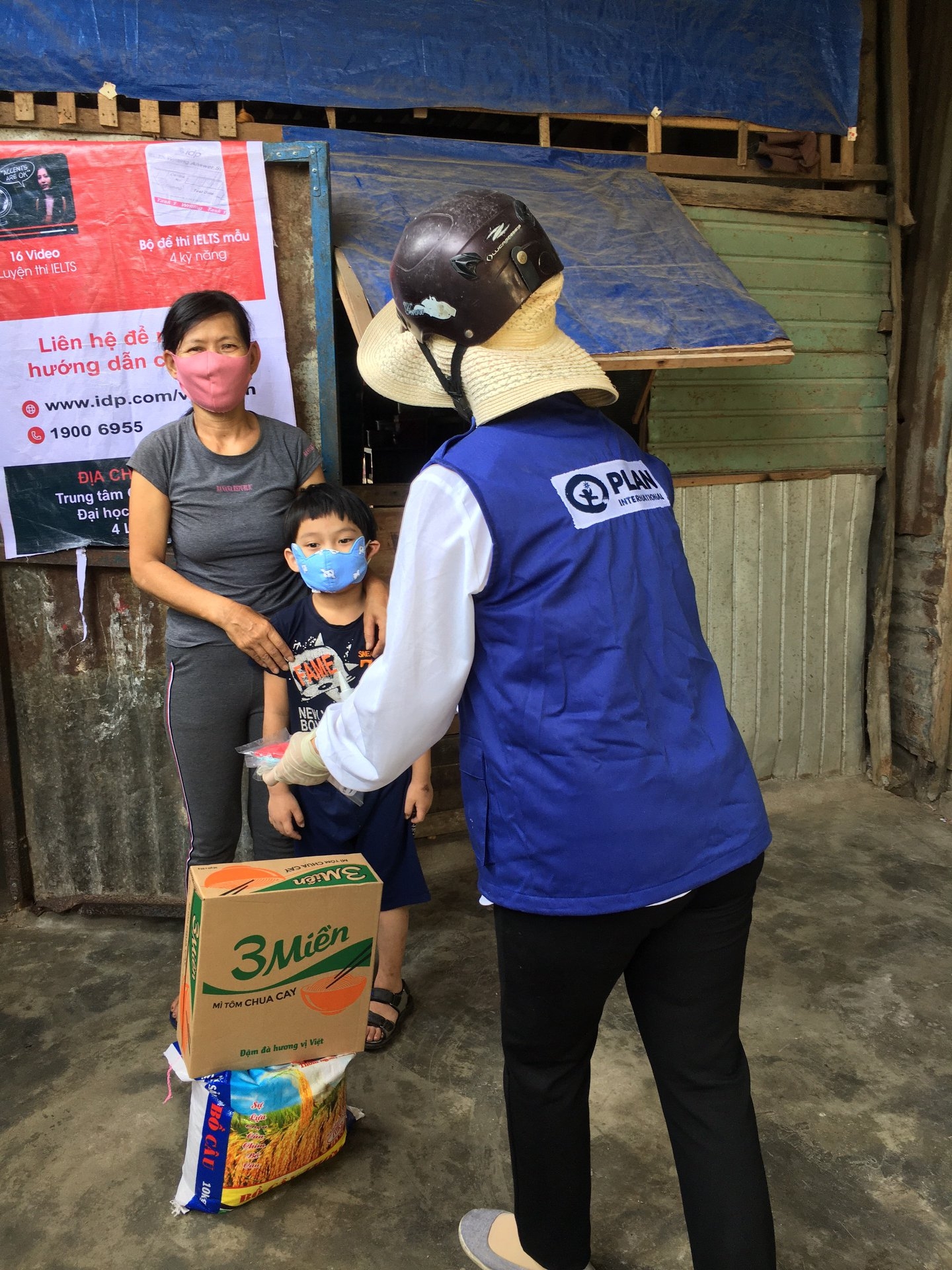 Plan International Vietnam provides support package for over 400 families in Thua Thien Hue. Photo: Plan
Vietnam has reported 262 COVID-19 cases, and no deaths so far, but as a result of a 15-day social distancing programme beginning on Mar 31, many small businesses have been shuttered and thousands of people temporarily laid off from work.
Many vulnerable people, poor and near-poor households with children living on the streets found their lives even more difficult. Their unstable income turned non-existent, they can't work from home, they don't have health insurance, they don't have any contingency plan,...
Understanding the hardship they're facing, starting April 7, Plan International Vietnam has partnered with Cycad to donate over VND 125 million (USD 5.358) to support 431 poor households in 8 project areas around Thua Thien Hue province. Each support package given consists of food (rice, cooking oil, instant noodle, etc.), textile fabric face mask (washable and reusable), hand washing soap and a small amount of cash for each family to help them afford their actual needs.
This support package is a part of the "A brighter future for disadvantaged youths in Thua Hien Hue" project, aiming to support vulnerable people, poor and near-poor households, children living on the streets and female youths facing difficulties.
Plan International Vietnam is an international non-governmental organisation working in the field of early childhood care, child protection and disaster relief.
With more than 80 years working in 75 countries, Plan International is one of the world's largest child rights and humanitarian organisation. In Vietnam, Plan International was established in the northern and central regions of Vietnam in 1993 and focus on supporting marginalised children and youth, especially adolescent girls, to grow in a society that respects their rights and safety.
By 2021, Plan International Vietnam aims to improve the lives of 2 million girls in Vietnam so they can learn, lead, decide, and thrive./.
Seven issues we need supports

Ms. Pham Thu Ba - People and Culture Manager at Plan International Vietnam granted an interview to Vietnam Times newspaper during which she pointed out ...
Hannah Nguyen