PM asks Korean businesses help Vietnam attract FDI hi-tech projects
The Vietnamese Prime Minister suggested that Korean businesses pay attention to the product localization process, improve skills and high-quality human resources in Vietnam.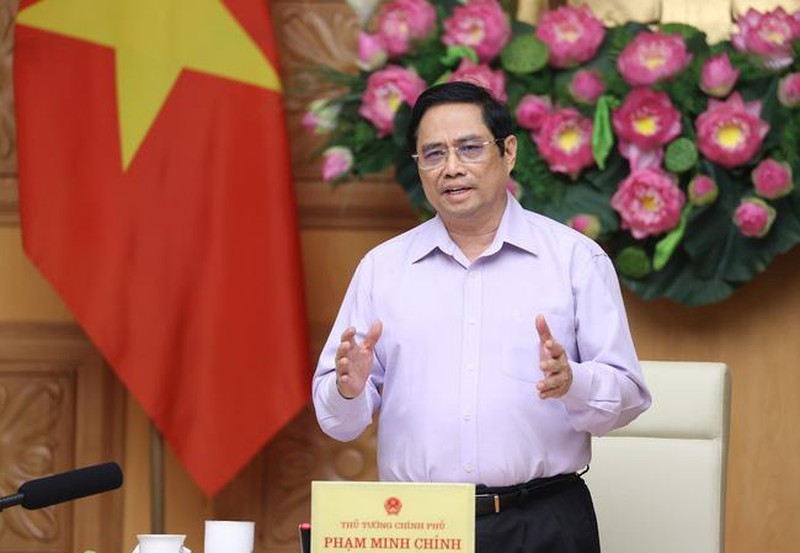 Prime Minister Pham Minh Chinh speaks at the event. Photo: VGP
Prime Minister Pham Minh Chinh has received ambassador of the Republic of Korea (RoK) to Vietnam Park Noh Wan and CEOs of RoK companies operating in Vietnam, in Hanoi on Sep.14.
The government of Vietnam is making every effort to soon bring the ongoing Covid-19 outbreak under control so as to create conditions for domestic and foreign businesses, including those from the RoK, to maintain their production and supply chains, said the PM, as reported by VNA.
PM Chinh said Vietnam consistently pursues a foreign policy of independence, self-reliance, diversification, multilateralisation, proactive and active international integration; being a friend, a reliable partner and responsible member of the international community.
For businesses, Vietnam partners with them in the spirit of harmonising interests and sharing risks, he said, adding that the Vietnamese Government advocates offering all possible support to firms to restore production while ensuring pandemic prevention and control.
Vietnam always attaches great importance to the relations with the RoK and wishes to continue developing the Vietnam – RoK Comprehensive Partnership on the basis of mutual benefits, contributing to maintaining stability, cooperation and development in the region and the world at large, Chinh said.
He also thanked the Korean Government and people for assisting Vietnam in the fight against Covid, and hailed Korean firms such as Samsung, LG and SK for joining hands with Vietnam in actively combating the pandemic and continuing to do long-term business in the country.
He then briefed his guests on Covid prevention and control measures the government has adopted and implemented, which he said are proving effective, helping to curb the spread of the virus in many localities.
Vietnam is promoting vaccine diplomacy by making full use of all vaccine sources and transfer of technology to produce vaccines and drugs for Covid treatment, he said.
Vietnam has reached agreements or signed contracts to secure more than 100 million doses of vaccines for inoculation. It has so far received approximately 35 million doses which have then been allocated to localities. Localities are speeding up vaccination to increase the vaccination coverage and soon achieve herd immunity by early 2022.
The PM also assured his guests of Vietnam's measures to maintain production and supply chains as well as circulation of goods. He reiterated the government's stance of creating all favourable conditions for businesses to restore production but to ensure safety in pandemic prevention and control. Accordingly, he said the government is developing a scenario for socio-economic recovery to adapt to the new normal status.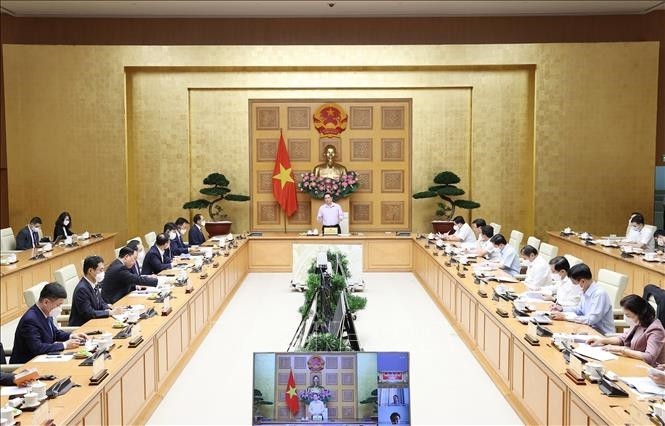 At the meeting. Photo: VNA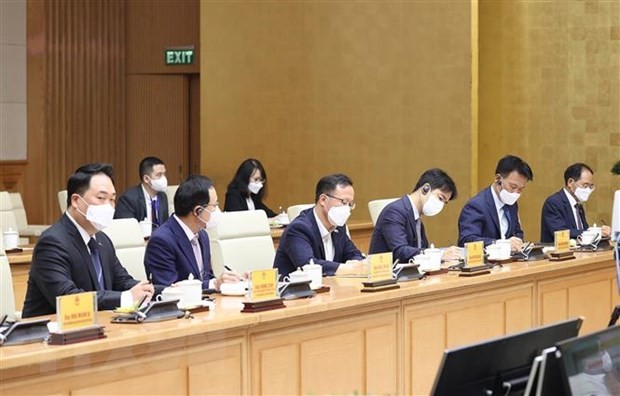 RoK ambassador to Vietnam Park Noh Wan (first from left) and CEOs of RoK companies operating in Vietnam attend the meeting, raising questions relating to Vietnam's COVID-19 prevention and control measures. Photo: VNA
Participants put forth a number of measures to maintain supply chains, transport and circulation of goods and continue business and production activities.
PM Chinh affirmed that safety from the pandemic is not something taken for granted but a result of efforts by every individual, agency, unit and business and the whole society.
Answering the questions of some businesses about vaccines rollout, the PM reaffirmed the free vaccination for the entire population, in which there were specific instructions on establishing contact points and vaccination for foreigners residing in Vietnam.
Regarding easing restrictions on inter-provincial movement of workers, the PM said he has asked the Health Ministry to outline guidelines on safe medical isolation for localities in order to facilitate workers; movement to and from other localities in this month.
Affirming that the Covid-19 fight cannot be successful without a helping hand from international friends, PM Chinh requested that RoK diplomatic missions and businesses in Vietnam continue to join hands with the government and people of Vietnam to win the pandemic and bring life and production to a new normal soon.
He also proposed the RoK pay attention to the Vietnamese market by promoting investment and working with Vietnam to attract FDI hi-tech projects while creating conditions for Vietnam's big enterprises to cooperate with and invest in fields in which the RoK has advantages.
Park, for his part, affirmed that the Korean Government and business community in Vietnam always stand by side with the Vietnamese Government in the fight against the pandemic.
The Korean Government is also considering further donation of vaccines to Vietnam, he said.
The RoK is the biggest investor of Vietnam, which now operates nearly 9,000 FDI projects worth a total of around USD 70.4 billion, accounting for 18.5% of the Southeast Asian country's FDI inflows, as of the end of 2020. It is also Vietnam's third largest trade partner.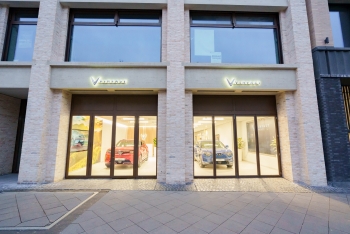 Economy
VinFast has officially opened its first two VinFast Stores in Cologne, Germany, and Paris, France.