Vietnamese Students' Association in Korea Elects New Executive Committee
On September 12, 2021, the Vietnamese Students' Association in the Republic of Korea held the 8th Congress of the Association to elect a new executive committee for the new tenure 2021 – 2023.
Due to the Covid-19 pandemic, the Congress was held in both offline and online modes.
Addressing the congress, President of the Vietnamese Students' Association in the Republic of Korea for the 7th tenure Tran Thien Quang noted that the association had successfully carried out numerous events in the previous tenure such as "Tet far from home" in 2020 and 2021, the Annual Conference of Vietnamese Young Scientists 2019, the online science conference 2021, sports festival and Student Festival.
According to Quang, to comply with Covid-prevention measures in Korea in the past five years, the Vietnamese Students' Association in Korea had been adjusting to create online programs such as the video contest "Vietnamese students in Korea – Covid, please go away," or the online Information and Communications Technology seminar "Current development and collaboration between Korea and Vietnam."
Quang said "These programs have evoked creativity and innovation, provided new knowledge and opened more opportunities for students. Our online programs have attracted not only Vietnamese students in Korea but also Vietnamese students and young scholars across the world.
In addition to developing online programs, the Vietnamese Students' Association in Korea has also mobilized hundreds of scholarships for students at all levels and connected job assistance networks, providing extra financial support to Vietnamese students during the Covid-19 pandemic and motivation for them to achieve excellent study and work results.
The association has also been carrying out activities to support the homeland, affirming the role of the association in guiding Vietnamese students in Korea to participate in community activities.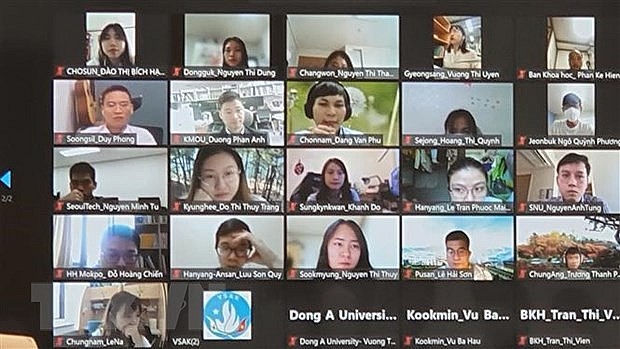 Participants joining the Congress online. Photo: Vietnam News Agency
Ambassador of Vietnam to Korea Nguyen Vu Tung expressed his empathy toward the Vietnamese students in Korea for the challenges they had been facing. He also provided advice and answered some questions posed by the participants during the congress.
The 8th Congress of the Vietnamese Students' Association in the Republic of Korea has elected a new executive committee with 30 members. Tran Thien Quang continues to be entrusted by the Vietnamese student community in Korea to serve as the president of the association in the new tenure.
In 2021, the Vietnamese Students' Association in the Republic of Korea was the only association of overseas Vietnamese students across the world to achieve excellent results and received the certificate of recognition from the central executive committee of the Vietnamese Student's Association.
The number of Vietnamese students at all levels coming to Korea has been increasing. Currently, about 60,000 students from Vietnam are studying and researching at universities across Korea.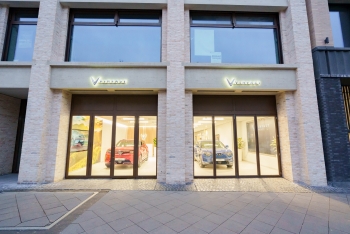 Economy
VinFast has officially opened its first two VinFast Stores in Cologne, Germany, and Paris, France.