Vietnam's Needy Get Support Post-Covid
The pandemic has set back the lives and productivity of many Vietnam's households. When social distancing was eased, localities disbursed aid to help people restart their lives.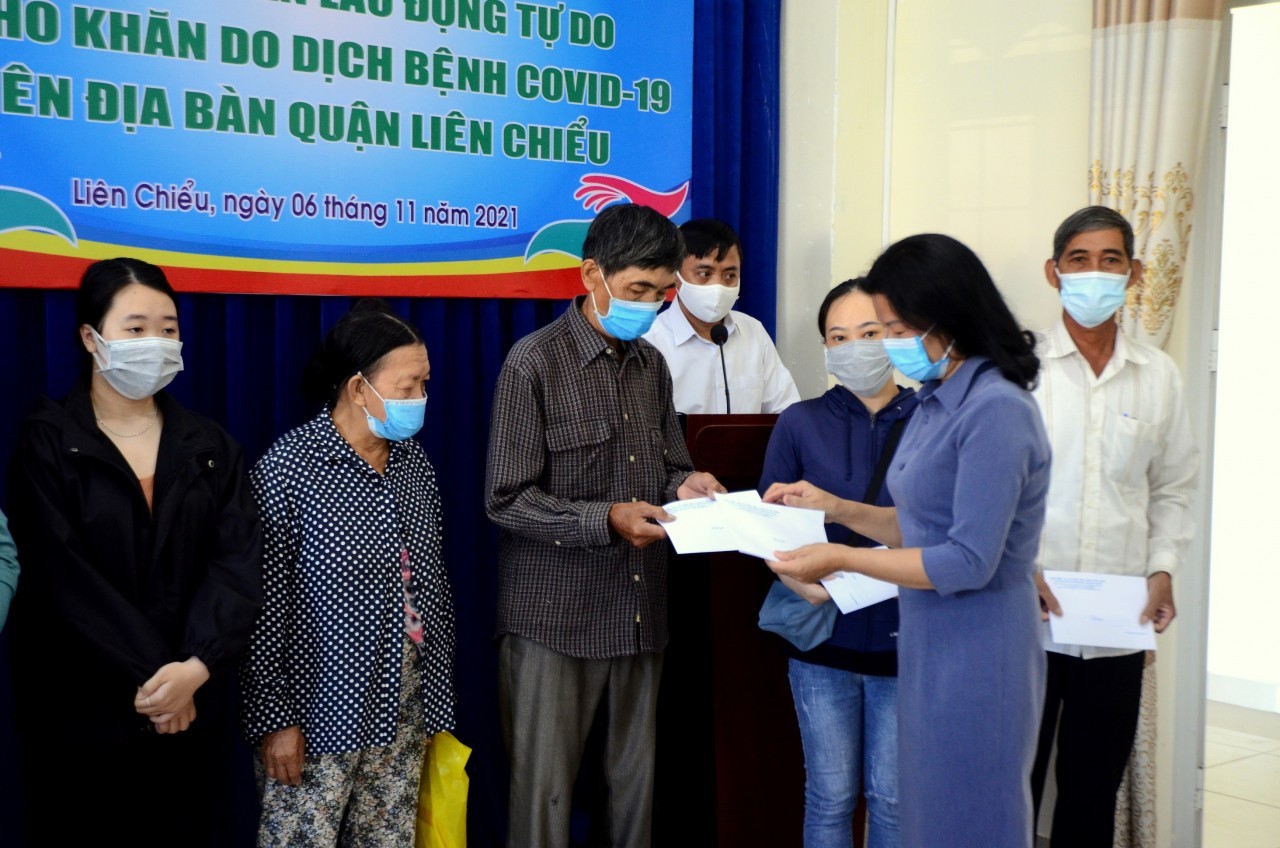 Nguyen Thi Kim Tuyen, vice president of the Union of Friendship Organizations of Da Nang City, presents gifts to support people facing difficulties because of Covid-19.
Many localities have sought ways to help laid-off workers and poor people through the assistance of foreign NGOs and international peers.
The Da Nang Union of Friendship Organizations (DAFO) coordinated with the People's Committee of Lien Chieu District and the Da Nang Project (USA) on Nov. 6 giving cash aids to 100 poor households in an effort to ease economic hardships caused by the Covid-19 pandemic.
DAFO Vice President Nguyen Thi Kim Tuyen; Nguyen Thi My Hoa, representative of Da Nang Project and Nguyen Nhuong, vice chairman of Lien Chieu District People's Committee presented the support packages to 100 people.
According to the DAFO vice president, the Friendship Organizations has mobilized and coordinated VND 100 million from the support of the Da Nang Project to support 100 households facing difficulties due to Covid in Lien Chieu District.
"This is a gift from the US friends to the people who are having difficulty in the area, hoping that the people will soon overcome the current difficulties and stabilize their lives."
In addition to organizing activities to establish and consolidate mutual understanding and friendship between the people of Da Nang and people from countries around the world, DAFO also mobilized the assistance from foreign NGOs to implement social security programs in the city, and many advocacy activities for the prevention of Covid-19.
290,000 doses of Astra Zeneca vaccine, supported by the RoK Government, arrived in Vietnam on Nov. 4.
The RoK has supported Vietnam with a total of 1,390,000 doses of vaccine, this is the largest number of vaccines supported by Korea in the bilateral framework.
In Lien Chieu district, DAFO has campaigned to present bicycles, scholarships for poor students, and repair house for disadvantaged families, and Agent Orange victims.
In 2020, the Friendship Organizations also mobilized 30,000 masks to support agencies and units in Lien Chieu District.
An online ceremony was held on Nov. 5 to receive 500,000 KF94 masks and 200 packages of shoes for children donated by the Republic of Korea's G-Foundation Social Cooperative Union to Vietnam.
At the ceremony, Chungkwan Park, founder and president of the G-Foundation Social Cooperative Union, and Steve Bui, an overseas Vietnamese in Japan and president of the Steve Bui & Friends Foundation, signed an agreement between the two organizations on distribution of charity aid in Vietnam.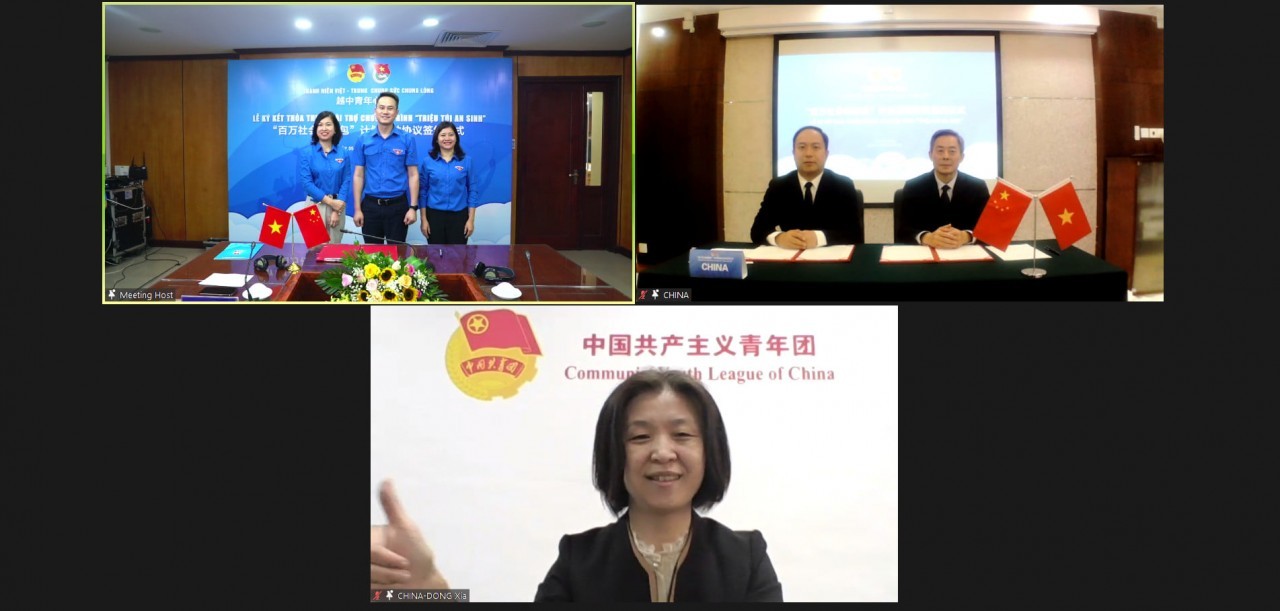 Chinese youth present Vietnam with 16,845 "welfare bags".
In an online ceremony on the same day, the Central Committee of the Chinese Communist Youth Union and the Ho Chi Minh Communist Youth Union Central Committee signed an agreement for a donation of 16,845 "welfare bags," worth 1.2 million yuan (equivalent to over VND 4.2 billion).
The Ho Chi Minh Communist Youth Union has been calling for support for its "1 million welfare bags" programme which aims to help people in need during the Covid-19 pandemic since August.
Accordingly, 1 million "welfare bags" will be distributed to residents until the pandemic is pushed back. Each bag includes food such as rice, cooking oil, eggs, dried fish, canned meat and vegetables worth VND 250,000, enough for one week.
In response to call for support to the "one million welfare bags" programme by Nguyen Anh Tuan, member of the Central Committee of Communist Party of Vietnam and first secretary of the Ho Chi Minh Communist Youth Union Central Committee, the first secretary of the Secretariat of the Central Committee of the Communist Youth League of China, He Junke, sent a letter in the gift from young Chinese.
Affirming the gift as a valuable and prompt support amidst the development of the pandemic, the Vietnamese side pledged that the funds would be used for the right purposes, helping Vietnamese young people overcome immediate difficulties, stabilising their lives and adapting to the new normal.
The Ho Chi Minh Communist Youth Union wishes to continue working with the Chinese side to make great contributions to the long-standing friendship and strategic partnership between the two countries, for the peace, stability and prosperity of each nation, the region and the world.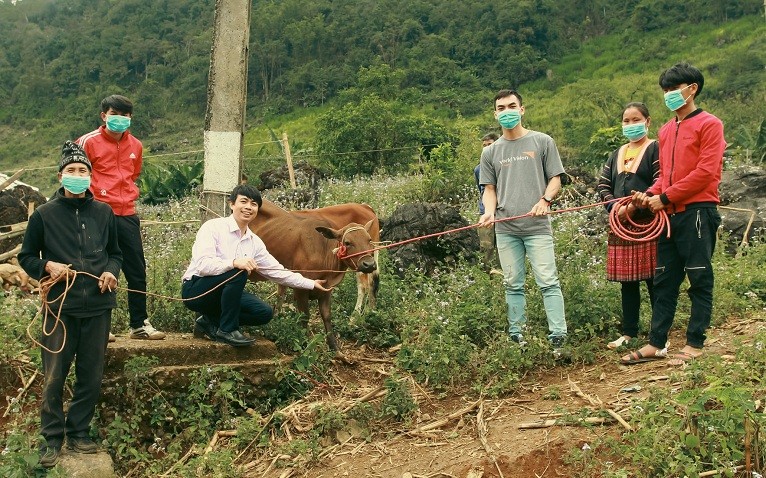 The Ultra Poor Graduation model helps households improve their livelihoods through the application of safe and sustainable livestock techniques.
Last October, World Vision Vietnam and Muong Cha Agricultural Service Center of Dien Bien Province handed over calves to households participating in Ultra Poor Graduation Model in Ha La Chu B Village, Hua Ngai Commune.
Accordingly, eight poor households received eught calves worth more than US$ 3,862.
World Vision Vietnam supported each household with US$ 392, the other benefited households contributed the remaining US$ 726.
Previously, World Vision Vietnam had also supported households participating in the Ultra Poor Graduation Model with 200 breeding geese.
The Ultra Poor Graduation model aims at the poorest households that do not have food security nor adequate health and nutrition as well as those who suffer from discrimination and social apathy, such as victims of human trafficking or other social evils.
The model will provide beneficiaries with basic resources, financial knowledge, technical training, life skills, and social support to escape poverty.
Up to now, World Vision Vietnam has supported 9 "Ultra Poor Graduation" groups with the participation of 87 poorest households in Muong Cha District.
In the fiscal year 2022, the organization will organize six more groups with about 60 households directly benefiting from the Ultra Poor Graduation Model.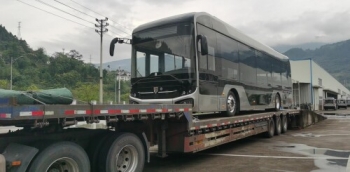 Economy
Ev Dynamics (Holdings) Limited is a pioneer and a prominent player in China's new energy commercial vehicles market, as well as a whole-vehicle manufacturer of specialty passenger vehicles and new energy passenger vehicles.